EKTOMORF Ready New Album Vivid Black

By Larry Petro, News Monkey
Thursday, October 19, 2023 @ 9:36 AM

| | | |
| --- | --- | --- |
| | | Coming December 8th; Video For "I'm Your Last Hope (The Rope Around)" Streaming |
December 8, 2023 will see Hungary's metal frontrunners, EKTOMORF, release their brand new album offering, titled Vivid Black, via powerhouse label AFM Records!

Vivid Black marks not only the already fourteenth studio album by EKTOMORF, but their most brutal and darkest to date! Even after almost 30 years of an impressive career, with chart-topping album releases and countless, international tours under their belt, the band proves to sound more intense, merciless and honest than ever before.

The Corona pandemic has left its mark on the world. This was also the case with singer and guitarist Zoltan Farkas. Due to isolation and loss, he had to fight with depression, which he processes on Vivid Black. Written in only three (!) weeks, this hateful piece of art will bang directly into yours ears and in an obscure way, gives comfort to anyone who had similar emotional difficulties during the lockdowns. At the same time, Vivid Black is a personal reckoning with everything and everyone who stirs up hate and forces people to be something they are not and do not want to be. The band's forthcoming record marks a new, honest and insanely brutal album from EKTOMORF, so better get ready for the destruction that is Vivid Black!

A first single, the fierce album opening track "I'm Your Last Hope (The Rope Around)", has just been unleashed. The song is now available on all digital services! Watch the new EKTOMORF music video now on KNAC.COM HERE.

"Vivid Black is the darkest and angriest album I wrote in my entire life," the EKTOMORF frontman reveals. "There is nothing beautiful or even nice about the songs, this album is about pain, hate, anger, disappointment of ungrateful people I had to know.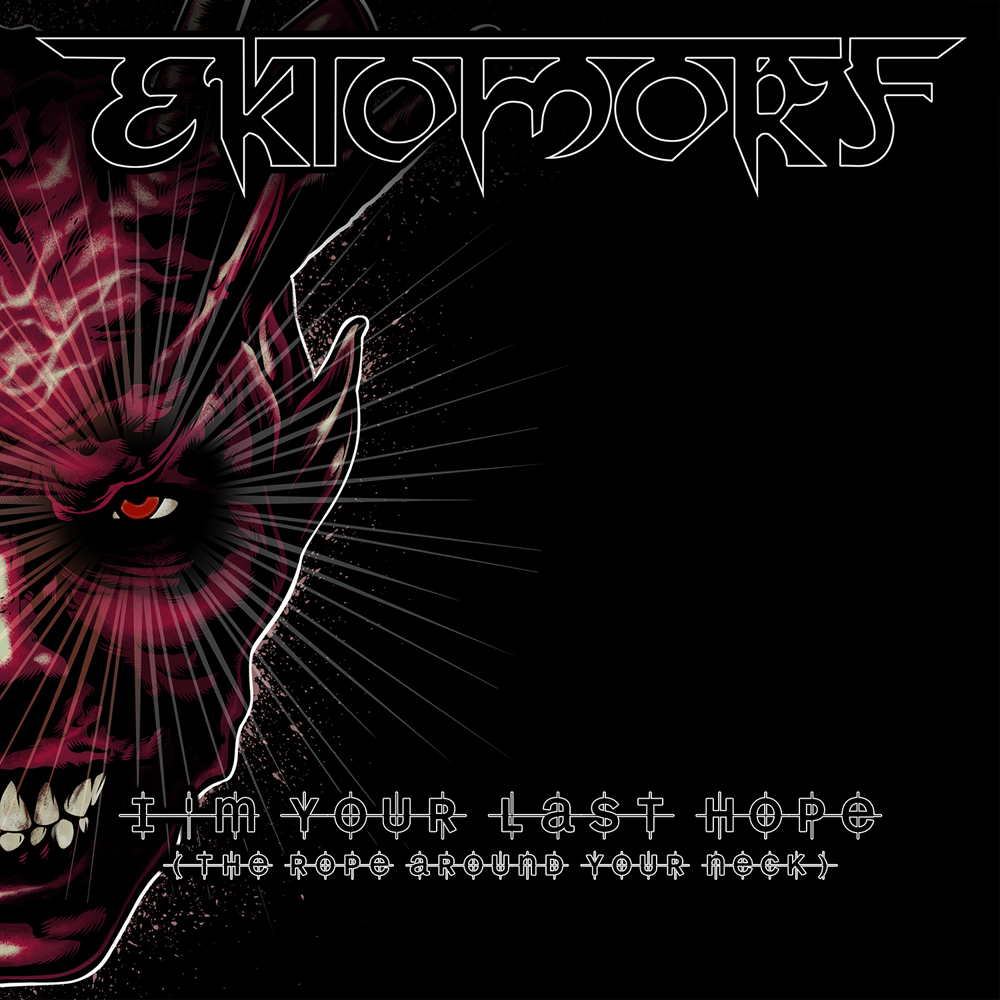 In this part of my life, and also the dark time facing loosening my Mother in long and painful sickness, I truly hate this world, no light left in me.
Vivid Black is all I am. And this record will show what I feel, with all the heaviness and anger."
On Vivid Black, EKTOMORF return to their music roots while bringing entirely new elements to light, including clear vocal passages and a modern metal sound. The iconic band remains a fixture in the European metal scene even after more than three decades, their relentless style and dedication are unmatched. With their forthcoming album and an unwavering passion, they will continue to dominate stages worldwide and get people headbanging around the globe, from small clubs to the biggest festivals. EKTOMORF prove, that music and the passion for what they do never cease.
Vivid Black was produced by Zoltan Farkas and longtime friend and renowned producer Tue Madsen. The cover artwork was created by Bramantya Ardhy Wardhana.
Vivid Black track listing:
"I'm Your Last Hope (The Rope Around Your Neck)"
"Die"
"Never Be the Same Again"
"I Don't Belong to You"
"Fade Away"
"You and Me"
"Vivid Black"
"The Best of Me"
"You Belong There"
"REM"
EKTOMORF Live 2024:
28.02. - PL - Szczecin, Krzywy Gryf
29.02. - PL - Warszawa, VooDoo Club
01.03. - LT - Vilnius, Vakaris Pramogų sale
02.03. - ET - Tallinn, Paavli Kultuurivabrik
03.03. - LE - Rīga, Klub Republika
04.03. - PL - Bialystok, 6-Scian
05.03. - PL - Krakow, Garage Pub
06.03. - DE - Erfurt, From Hell
07.03. - DE - Berlin, ORWOhaus
08.03. - DE - Cham, L.A. Live Style Cafe
09.03. - DE - Stuttgart, Im Wizemann
10.03. - DE - Hamburg, Logo
11.03. - tba
12.03. - tba
13.03. - DE - Magdeburg, Factory
14.03. - DE - Siegburg, Kubana
15.03. - DE - Weinheim, Club Central
16.03. - CH - Aarburg, Musigburg
17.03. - DE - Ubach-Palenberg, Rockfabrik
18.03. - DE - Hannover, Subkultur
19.03. - DE - Gottingen, Musa Saal
20.03. - DE - Konstanz, Kulturladen
21.03. - BE - Bilzen, South of Heaven
22.03. - DE - Leipzig, Hellraiser
23.03. - DE - Selb, Rockclub
24.03. - DE - Osnabruck, Westwerk
25.03. - DE - Dusseldorf, Pitcher
26.03. - DE - Bremen, Tower Musikclub
27.03. - DE - Essen, Zeche Carl
28.03. - DE - Munchen, Backstage
29.03. - AT - Worgl, Komma
30.03. - CZ - Brno, Fleda Club
31.03. - CZ - Liberec, Bunkr Club
01.04. - CZ - Ostrava, Garage Club
02.04. - SK - Kosice, Collosseum Club
03.04. - SL - Bracɪslava, Randal Club
04.04. - CH - Frauenfeld, Eisenwerk
05.04. - SI - Maribor, MC Pekarna Kulturni Klub
06.04. - HU - Bekescsaba, Csabagyongye