DUST BOLT Share New Single "New Flame"

By Larry Petro, News Monkey
Friday, October 13, 2023 @ 11:15 AM

| | | |
| --- | --- | --- |
| | | New Album, Sound & Fury", Out In Aarly 2024 On AFM Records |
February 23, 2024 will see German thrash metal force DUST BOLT release their much-awaited, fifth studio album, Sound & Fury, through AFM Records.

Following previously-released, first singles, "I Witness" and the thunderous album title track, today, the Bavarian four-piece has unleashed another new album banger! As vocalist & guitarist Lenny Bruce, who also produced and recorded the new album, promises: ""New Flame" is a high-energy thrasher anthem packing a punch with its straightforward yet deceptively intricate riff. Or as our bassist, Exx Tom, puts it: This is our thrash summer jam! So grab your skateboards, bikes, and surfboards, and let's hit the streets with New Flame, ready to kick some serious butt. This track embodies the spirit of embracing the new, staying open to fresh ideas, and embracing the positive side of change. All within the relentless realm of Thrash Metal. So, let's ignite that new flame and keep the fire burning eternally. We gotta move it on!"

Watch the new DUST BOLT lyric video for "New Flame", BELOW

Formed in 2007, DUST BOLT have been resolute and ruthless in their pursuit of metal glory over the last 16 years. Childhood friends with a collective passion for metal in all its various forms, the quartet have established themselves as one of Europe's leading thrash metal bands.

Yet, Sound & Fury marks an album that refines and noisily redefines the DUST BOLT sound for a new era. Written during those isolated months of pandemic lockdown, the new record represents the peak of the band's creativity, and a major leap forward in every department. The first DUST BOLT record to feature new bassist Tom Liebing, alongside Lenny Bruce, guitarist Florian Dehn and drummer Nico Remann, Sound & Fury grew from a long period of self-reflection that began when the world shut down.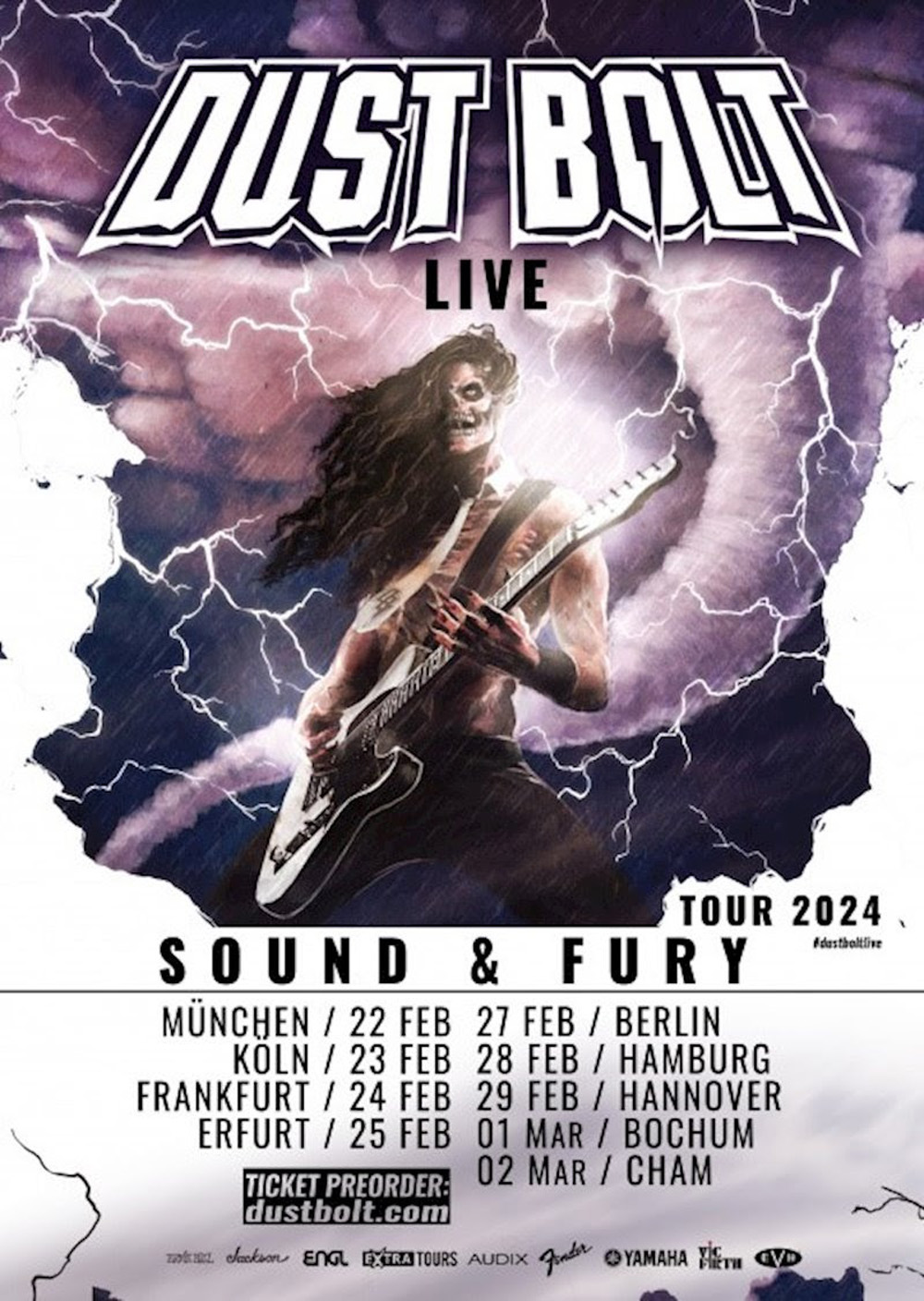 "Sound & Fury was created during the probably darkest and most difficult time for the band." DUST BOLT reveals. "First time in our lives, since we were kids, we were somehow separated from another and the dream we lived together seemed to stopped. It was during the pandemic days, when the band even decided to take a break from one another, when Flo came up with this beautiful piece of music - not knowing how he would channel and express our feelings, leading to LB putting some DUST BOLT unusual, but heartfelt vocals on it and having Nico introducing a disco beat to a metal song in the end. We didn't know what was happening - we just did it. We did know, there'd be a million voices saying we can't put this up on a DUST BOLT record. But more than that we knew, as long as we stick together, we can do anything the *** we want". Sound & Fury is a story about friendship, struggle & inner turmoil. S&F is a story about us. S&F is a different, open and honest Dust Bolt, sharing their emotion with you and your friends."
Although still rooted in thrash and old school metal, the new record adds dazzling colour and diversity to the band's trademark sound. With pummelling grooves, spine-tingling dynamics and a startling, part-melodic vocal performance from Lenny Bruce, with an analogue mix by Moritz Enders [Revolverheld, Silbermond], the new songs mark the beginning of a new era of DUST BOLT destruction. Simultaneously catchier than any previous record and grittier and heavier than before, Sound & Fury is the sound of a great band realising their full potential. Or as DUST BOLT stated earlier:
"This album marks the beginning of a new era for DUST BOLT. For Metal in & from Germany. This is just the beginning!"
Sound & Fury track listing:
"Leave Nothing Behind"
"I Witness"
"I Am The One"
"New Flame"
"Burning Pieces"
"Sound And Fury"
"Love & Reality"
"Bluedeep"
"Disco Nnection"
"You Make Me Feel (Nothing)"
"Feel The Storm"
"Little Stone"