YNGWIE J. MALMSTEEN, GLENN HUGHES In Worcester, MA With Photos!

By Larry Petro, News Monkey
Thursday, September 28, 2023 @ 11:28 AM

| | | |
| --- | --- | --- |
| | | At Worcester Palladium, September 19, 2023 |
All Photos By George Dionne/@rockisgeorge
Iconic Rock vocalist GLENN HUGHES and infamous Swedish guitar virtuoso YNGWIE J. MALMSTEEN teamed up for a fantastic night of music and nostalgia at the Worcester Palladium on September 19. 2023. Despite being a fan of both of these artists for decades, this was the first time I had witnessed either one of them live.
Despite Hughes' numerous projects and solo albums over the last five decades, this night, he was focusing on his time in DEEP PURPLE (1973-1976). I wouldn't call myself a DEEP PURPLE fan per se, but I did enjoy the albums Glenn was a part of. I couldn't think of a better song myself to kick the set off with other than "Stormbringer". Hughes was at the top of his game from the opening note until the end of his eight song set.
The set may seem short, but Glenn made those eight songs last 90 minutes, with emotional jam sessions and his trademark bluesy vocal improvs. Could he have made some of these songs shorter, to make room for more songs? Sure, but I'm not complaining about what I heard in the end. Age and time have not slowed down this legend's voice or soul.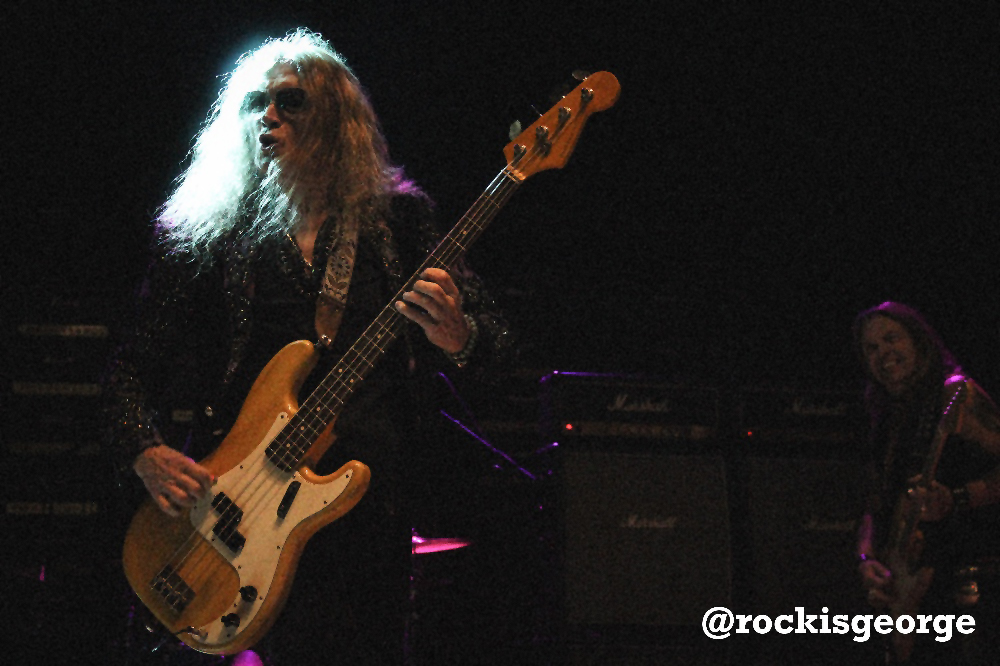 Setlist:
"Stormbringer"
"Might Just Take Your Life"
"Sail Away"
"Mistreated"
"Gettin' Tighter"
"You Keep On Moving"
"Highway Star"
"Burn"
For years, and leading up to this show, I've heard rumors and read comments that an YNGWIE MALMSTEEN show was self-indulgent and boring. What I learned from attending a show myself is that all of those people were full of shit. I'd go as far to say that all the whiners have never attended a live show.

I'm not this die-hard fan either. I love the classic years like most people, kind of checked out after that, but checked in on him here and there throughout the last 15 years or so. Could I tell you the name of his last album? No. Could I tell you the name of his first album? Of course.

As soon as Yngwie took the stage, he was a presence. He looks, acts, and has this aura of a rockstar. Sure, some of his mannerisms are a bit passe, but they strike a little something in you that triggers the memories you have of first seeing this unique individual play guitar. There was no one else like Malmsteen when he debuted, and decades later, he's still one of a kind.
I instantly knew "Rising Force", "Far Beyond The Sun", "Seventh Sign", "Trilogy", "You Don't Remember", and "Black Star" when I heard them. A lot of the material was out of the range of what I was familiar with, but they were interesting pieces and allowed Yngwie to display his guitar mastery. So much so, I'm currently delving into the parts of his catalog I've missed.
His set was mostly instrumental. Malmsteen's keyboard player handled the classic vocal material that was in the higher range, while Yngwie handled the newer vocal material. I'm still not used to Malmsteen on vocals, but he's certainly come a long way since the first time he decided to take over vocals. He's certainly better than your average auto-tuned popstar.
I don't know the names of the musicians backing up Yngwie on stage, but they were tight and in the pocket. No, they are not way off stage, hidden in the background as the trolls would have you believe. Yngwie just commands stage left and they are on the right.
If you have been avoiding YNGWIE MALMSTEEN live because of what you've read or heard, I'm here to tell you that you have been missing out on a killer night of guitar acrobatics and showmanship.
Setlist:
"Rising Force"
"Top Down, Foot Down"/"No Rest For The Wicked"
"Soldier"
"Into Valhalla / Baroque & Roll"
"Like An Angel (For April)"
"Relentless Fury"
"Now Your Ships Are Burned"
"Wolves At The Door"
"(Si Vis Pacem) Parabellum"
"Paganini's 4th / Adagio"
"Far Beyond The Sun"
"Seventh Sign"
"Overture/Arpeggios"
"Evil Eye"
"Smoke On The Water"
"Trilogy"
"Red House"
"Fugue"
"You Don't Remember"
"Black Star"
Check out some more photos from the show!
All Photos By George Dionne/@rockisgeorge