AVATAR, ORBIT CULTURE, THE NATIVE HOWL In Houston, TX With Photos!

By Larry Petro, News Monkey
Thursday, September 21, 2023 @ 11:13 AM

| | | |
| --- | --- | --- |
| | | The Chimp Mosh Pit Tour Raises The Roof At Rise Rooftop On September 19th |
All Photos By Larry Petro/Petrofyed Photography
Hail The Apocalypse! It's a Chimp Mosh Pit!
Even though the imagery invoked by the thought of a chimp mosh pit is something I would probably pay good money to see, in full disclosure no chimps were harmed during the September 19th performance of Gothenburg, Sweden's metal masters AVATAR. In fact, much to my non-serious dismay, no apes of any kind were present and in attendance for the show that included fellow Swedes ORBIT CULTURE and Detroit's own THE NATIVE HOWL that took place at Rise Rooftop just to the west of downtown Houston on this past Tuesday night. What we did get was a great night of fun and metal that will not soon be forgotten.
Opening act for the Chimp Mosh Pit Tour (so named after a song on AVATAR's most recent album Dance Devil Dance) was Detroit, Michigan natives, THE NATIVE HOWL. Playing a mashup of Thrash Metal and Bluegrass, or "Thrash Grass" as vocalist Alex Holycross called it early on in their set, the band, which included Jake Sawicki on the banjo, put on an impressive performance. And while you might scratch your head and think, "thrash and bluegrass?", this approach worked very well for the band. A brief bass/drum intro led into the first number, "Can't Sleep", and from there it was full-on thrash grass that even included several songs with banjo solos. Yes, you read that right, banjo solos! Other tracks included "Sons Of Destruction", "Devil I've Become" and set closer "Thunderhead", but perhaps the
most notable tune performed was "Harvester of Constant Sorrow", a mashup of METALLICA's "Harvester Of Sorrow" and SOGGY BOTTOM BOYS' "Constant Sorrow". Yeah, wrap your head around that one for a bit. All in all a great opener for this tour with plenty of headbanging and hoedown to go around!
Setlist:
Bass/Drum Intro
"Can't Sleep"
"Sons Of Destruction"
"Harvester Of Constant Sorrow" (METTALICA/SOGGY BOTTOM BOYS Mashup)
"Waco"
"Devil I've Become"
"Pappy"
"Thunderhead"
Next up was Sweden's ORBIT CULTURE. I had heard a bit of their music prior to this show and as they are technically classified as melodic death metal, I'm not a big fan of that genre. BUT, I always keep an open mind especially for band's I've never seen before and I have to say that this was a really good. Now setlist.fm didn't show a specific entry for this show but looking at shows before ours, they show the band performing 7 songs, but according to the actual set paper taped to the stage and a show following ours, there were 8 tracks. And of course not being a follower of the band and not counting the number of songs they actually performed I cannot tell you if there were 7 or 8 (shrug). What we did get for sure was opener "North Star Of Nija" followed but other selections from the 6 albums/EPs the band has released over their 10 year existence like "Descent", "Alienated", "Strangler" and closing number "Vultures Of North". And while THE NATIVE HOWL may have been the oddball band of the bill, ORBIT CULTURE was a perfect to be the direct support for AVATAR.
Setlist:
"North Star Of Nija"
"Descent"
"From The Inside"
"Alienated"
"Carvings"
"Strangler"
"The Shadowing"
"Vultures Of North"
Finally it was the moment we had waited all evening for, the mighty AVATAR. This is one band that has really come a long way since their inception 20+ years ago and their latest album, Dance Devil Dance, has to be their finest work yet. We got a nearly 2 hour mix of the finest metal, facepaint and theatrics that one could ask for. The Dance Devil Dance album was represented with 5 tracks, the first of which opened the show, that being the title track and it set the tone for the entire evening. Following "The Eagle Has Landed" and "Valley of Disease", frontman Johannes Eckerstrom extolled the crowd to part in the middle for the next number, the aforementioned "Chimp Mosh Pit" and the moshing commenced, as if the packed house needed any prodding in that department. The 18 song set was mostly a balanced mixture between the most recent album, Black Waltz, Hail The Apocalypse and Feathers & Flesh with one song each included from the Avatar Country and Hunter Gatherer records.

IF you've never seen them live before (as I hadn't) you are truly missing out. The band is all about the show, whether it's the costumes, theatrics or the pyro they brought, you definitely get your money's worth. We got "Paint Me Red", "For The Swarm", "Black Waltz", "Colossus" and the closer for the first portion of the show, "A Statue Of The King" which featured the band paying respects to the "king", guitarist Jonas Jarlsby. During the performance of "Puppet Show" vocalist Eckerstrom made his way out onto an elevated VIP area above the back part of the crowd and made a balloon animal, which he gave to one of the many children in attendance. Jarlsby and the other guitarist Tim Ohrstrom traded off solos during "Do You Feel In Control".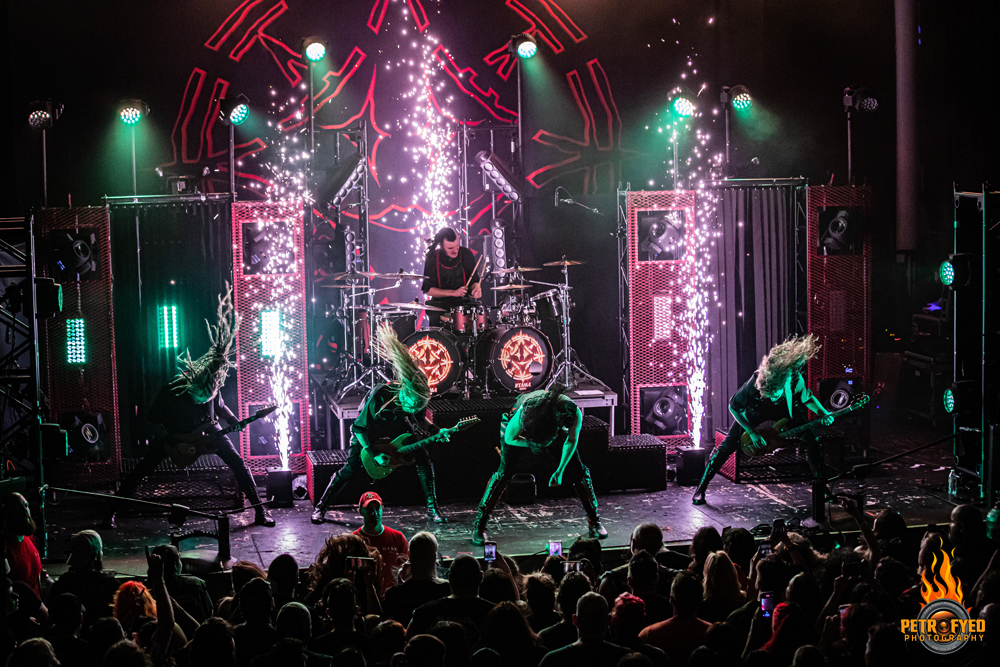 There were really too many moments to mention in this review involving Eckerstrom's engagement with both his bandmates and the crowd, but probably the most humorous one occurred during his band introductions when he would introduce a member and state his native location in Sweden. Jarlsby got a huge ration of tongue in cheek shit from Eckerstrom for his own hometown which was something you really had to be there to appreciate. As the band returned for their encores Eckerstrom once again engaged the crowd with a comedic interlude about exactly how many encore songs they would play, with the number reaching as high as 10 before he said they would play only one. This elicited a chorus of boos from the crowd to which the smiling, incredulous singer replied that since he was booed we would get none. Of course he was kidding as the band kicked off their encores with what was the most radio friendly song from the new album and my personal favorite, "The Dirt I'm Buried In". They then closed the evening with a one-two punch of "Smells Like A Freakshow" and "Hail The Apocalypse".
This was definitely one of the best shows I've seen this year and considering how many I've gone to that says a lot. But if you're into the "show" then what you get from AVATAR is just that, a show with even a bit of comedy thrown in. The Chimp Mosh Pit Tour runs through October 8th so if there's a show still coming near you, GO!
Remaining Dates:
Sep. 22 - Louisville, KY - Louder Than Life
Sep. 23 - St. Louis, MO - Delmar Hall
Sep. 24 - Nashville, TN - Brooklyn Bowl
Sep. 25 - Fayetteville, AR - JJ's Live
Sep. 26 - Wichita, KS - Cotillion
Sep. 28 - Fargo, ND - Fargo Brewing Company
Sep. 29 - Winnipeg, MB - Burton Cummings Theater
Sep. 30 - Saskatoon, SK - Coors Event Centre
Oct. 01 - Calgary, AB - MacEwan Hall
Oct. 02 - Edmonton, AB - Midway Music Hall
Oct. 04 - Vancouver, BC - Commodore Ballroom
Oct. 05 - Spokane, WA - Knitting Factory
Oct. 06 - Eugene, OR - McDonald Theater
Oct. 07 - Sacramento, CA - Aftershock
Oct. 08 - San Louis Obispo, CA - Fremont Theater
Setlist:
"Dance Devil Dance"
"The Eagle Has Landed"
"Valley of Disease"
"Chimp Mosh Pit"
"Paint Me Red"
"Bloody Angel"
"For The Swarm"
"Puppet Show"
"When The Snow Lies Red"
"Do You Feel In Control"
"Black Waltz"
"Tower"
"Colossus"
"Let It Burn"
"A Statue Of The King"
Encores:
"The Dirt I'm Buried In"
"Smells Like A Freakshow"
"Hail The Apocalypse"
Check out some more photos from the show!
All Photos By Larry Petro/Petrofyed Photography