MR. BUNGLE, MELVINS, SPOTLIGHTS In Portland, OR With Photos!

By Krishta Abruzzini, Pacific Northwest Writer
Wednesday, May 31, 2023 @ 9:25 AM

| | | |
| --- | --- | --- |
| | | At The Crystal Ballroom, May 21st |
All Photos By Krishta Photography
The tickets for this show went fast. Really fast. As it sells out across the country, Ipecac Recordings' tour, aptly named The Geek Show, has new and old fans alike vying for a space in the audience, and quite a few begging for a ticket outside the show.
MR. BUNGLE is basically a huge cocktail of several musical genres thrown into a blender. Punk, hardcore punk, thrash metal, speed metal, 80's ballads, disco, ska, children's music. Nothing is too sacred to be thrown into their mix. Formed in 1985 from Eureka, California, the band became well known and loved for their unconventional style. Fans of all ages were at the show and completely into each second MR. BUNGLE was onstage.
Singer, Mike Patton (who has been on a bit of a hiatus from music for reasons of taking a mental health break), along with Trey Spruance and Trevor Dunn chose to reunite and revisit the 1986 thrash demo, The Raging Wrath of the Easter Bunny. They re-recorded it and enlisted two major hitters, drummer Dave Lombardo (SLAYER) and Scott Ian (ANTHRAX), who are also on the tour, rounding this ensemble into one powerhouse band.
The band started the show with Mr. Roger's, "Won't You Be My Neighbor", sung quietly, as Mr. Rogers intended, followed by moments of pure madness between the mellow notes. They covered songs such as "Territory" from SEPULTURA, "True" by SPANDAU BALLET, "Malfunction", CRO-MAGS cover, "Hell Awaits" from SLAYER, with their thrash demo between.
It was a standing room only, shoulder to shoulder, hot as hell packed house. The floor has ball bearings underneath (It's a very old venue designed as a dancefloor) which causes a bounce. It's not the greatest venue in that sold out shows will often leave those in the back trying to peer through a sea of folks, getting only a momentary glimpse of the performers. For those shorties, you'll get a view of everyone's backsides. It was a rock and roll sauna of human soup and most people seemed to dig each second of being there, except the drunken idiots that were kicked out before the show began. Too bad one of the folks standing outside wanting a ticket couldn't have taken their places. Add alcohol to testosterone and some thrash metal at a loud volume added is the gas on that dumpster fire.
As a photographer, this was hands down one of the funnest shows I've ever shot. It took a minute for the band to get onstage as there seemed to be some technical issues. As I stood there, I saw several yawns while waiting for them to get onstage. Sleepy time for so many. Once they started however, it was like tanking ten espressos at once. The entire house was filled with that adrenaline. The joy from the boys playing such noisy metal with grins from ear to ear from not only the audience, but Scott Ian and others was apparent. They too were having a ball.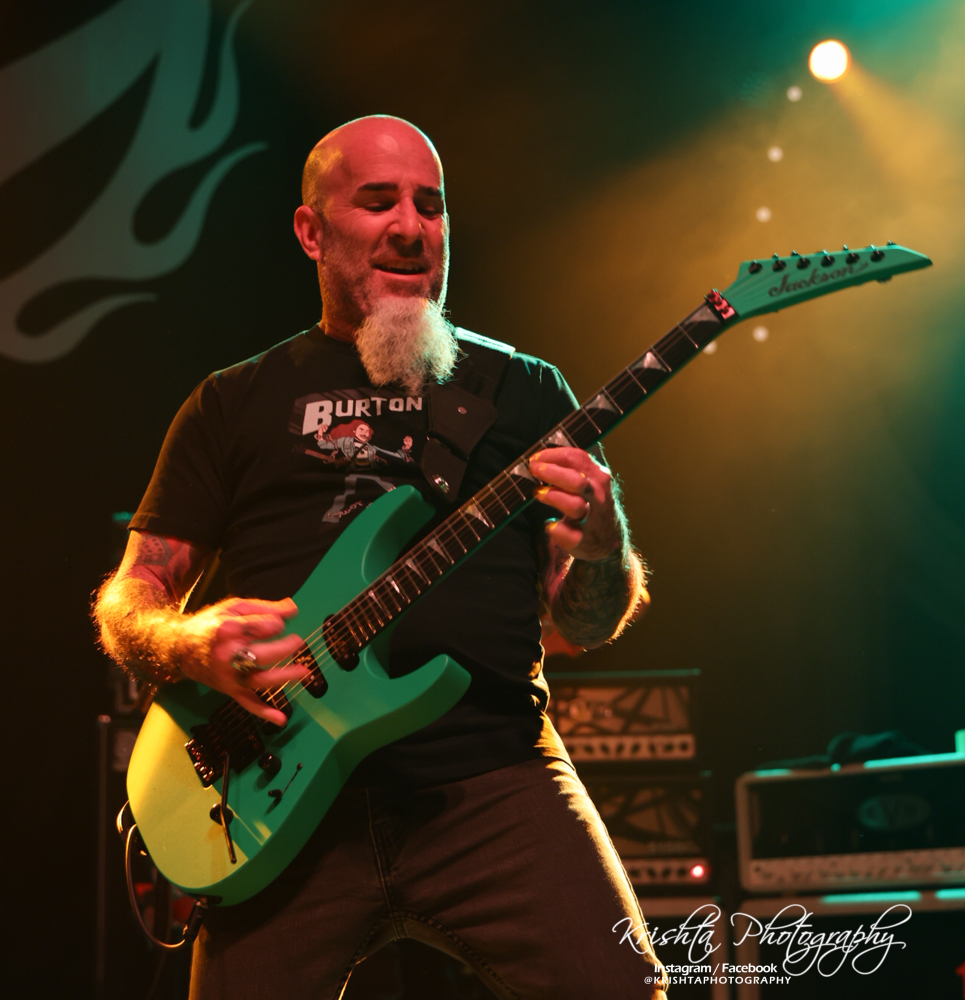 Setlist:
"Won't You Be My Neighbor"
"Bunble Grind"
"Eracist"
"Spreading the Thighs of Death"
"Malfunction" (CRO-MAGS cover)
"Hypocrites"
"Speak English or Die" (STORMTROOPERS OF DEATH cover)
"Glutton for Punishment"
"Anarchy Up Your Anus"
"Methematics"
"Hell Awaits" (SLAYER cover)
"True"/"Cold War"/"True"
"Raping Your Mind"
"Fuck the USA" (THE EXPLOITED cover)
"Sudden Death"
ENCORE:
"Fart in a Bag"
"Territory" (SEPULTURA cover)
"My Ass is on Fire"
Prior to MR. BUNGLE, THE MELVINS played. I refuse to call them an opener, but rather just another kick ass band on this already kick ass bill. King Buzzo (Buzz Osborne), Dale Crover and Steve McDonald are the trio that makes up the band. Together they brought that awesome, sludgey, crushing heaviness that makes this band just so cool (aside from Buzzo's extraordinary hair and robe and McDonald's cool mustache sporting 60's vibe).
THE MELVINS started their set with "Snake Appeal", "Zodiac" and "Copache". I turned around and saw nothing but a sea of humans with their hands raised in praise of these legends. They then did a cover of THE BEATLES' "I Want To Hold Your Hand", which hands down was the best cover of that song I've ever heard. I always appreciate an unexpected cover song. It can last a lifetime remembering back to the show of whatever cover was played. This was one of those songs for me. They ended their set with "Honeybucket" and had the ball bearing floor bouncing with so many folks, one could stand still and basically still be jumping up and down.
The opening act was a band called SPOTLIGHTS. The trio is husband and wife, Mario (guitar, vocals, keys) and Sarah Quintero (bass, vocals) joined by Chris Enriquez (drums). Sarah is angelically beautiful, and her husband Mario looks like he could be trading stocks down on Wall Street. Pretty unassuming considering Sarah hit one note of her bass and it literally went up through my feet and straight into my brian it was such a loud deep note. I've never actually heard or felt that heavy of a note before it was so resonating. From there the band played a super heavy set that was completely unexpected and fantastic to witness. As a photographer, I had a hard time not wanting to photograph Sarah as she did several hair flippies while kicking everyone's ass with her beyond deep notes.
Overall, this was one of my favorite shows I've ever attended. Thank you Ipecac for the epic lineup of pure badassery.
SETLIST:
"Snake Appeal"
"Zodiac"
"Copache"
"I Want To Hold Your Hand" (THE BEATLES cover)
"Hammering" (with Mister Dog is Totally Right intro)
"Never Say You're Sorry"
"Evil New War God"
"Blood Witch"
"You're Blessened"
"Let It All Be"
"A History of Bad Men"
"Honey Bucket"
Check out some more photos from the show!
All Photos By Krishta Photography
Please log in to view RANTS