THE BLACK DAHLIA MURDER, TERROR, FROZEN SOUL, FUMING MOUTH, PHOBOPHILIC In Anaheim, CA With Photos!

By Francisco Zamudio, Metal X Candy 2.0
Wednesday, May 24, 2023 @ 9:13 AM

| | | |
| --- | --- | --- |
| | | The Verminous Remnant Tour Hits The House Of Blues |
Review Contributions By Thomas Delgado
All Photos By Thomas Delgado/@batfacetom/@forthehordeprod

A lot can and will be said about bands who lose key members due to untimely deaths, and if a band decides to continue on or simply end things, split-up and move on to other endeavors. AC/DC, METALLICA, VELVET REVOLVER, MOTORHEAD, DEATH, DECAPITATED, THIN LIZZY, POWER TRIP. SLIPKNOT, SLAYER, SUICIDE SILENCE, HUNTRESS, TYPE O NEGATIVE, MAYHEM - and as the list goes on and on and on, a moment of silence is replaced by constant play of all the great albums that keep their memory alive. It's argued that bands became better, aka "more successful" after the fact, while some decided it was best to call it a day. Now the passing of THE BLACK DAHLIA MURDER lead vocalist, humongous supporter of the Metal Underground, and described by many of those involved in the scene as a great human being at that - Trevor Strnad's impact in life and in loss has made an enormous impact. With just a day detached from the unfortunate anniversary of his death, the remaining members of THE BLACK DAHLIA MURDER had a stop in Anaheim the very next nite after their show in Los Angeles.

Joining TBDM on The Verminous Remnant Tour was Los Angeles Hardcore Diehards TERROR, and New Schoolers FROZEN SOUL, FUMING MOUTH and PHOBOPHILIC. Our new contributor and photographer, Thomas Delgado was able to get there from the very start of the show as I was barreling through traffic on the highway.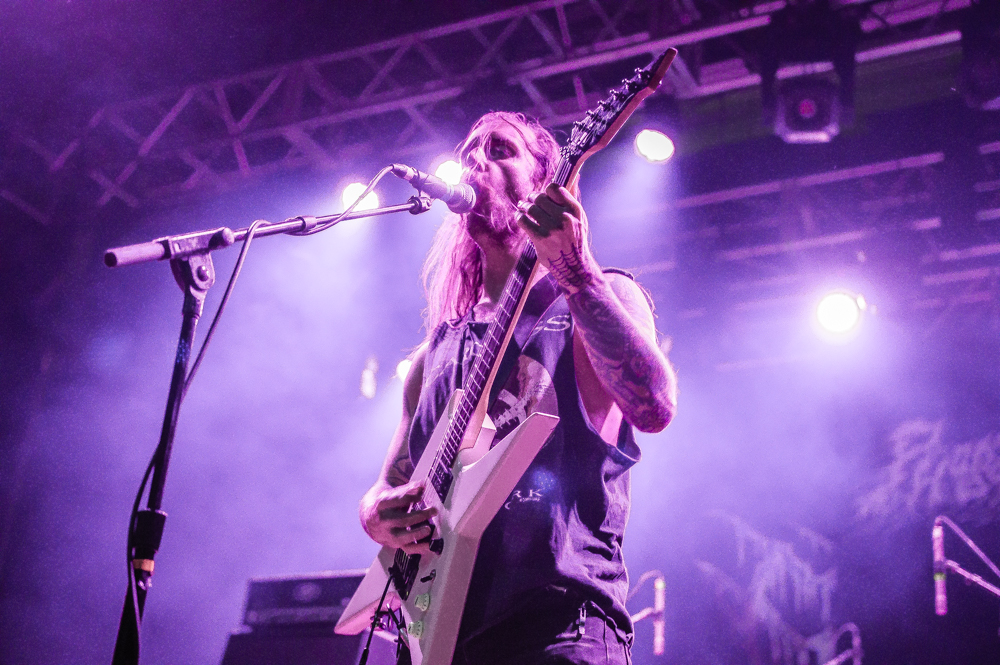 The evening started with PHOBOPHILIC (Fargo, ND), a band who's brand of prog flirty Death Metal encourages the provoking thoughts of existence, reality, time, space, all through the lens of cavernous, unrelenting, double bass driven riffs! I've always been a sucker for this type of sound familiar to fans of IMMOLATION, DEMILICH, or even the newer BLOOD INCANTATION. These guys are perfect for putting on while enjoying a strong and robust drink or puffing on a cigar after a hard day's work to unwind and contemplate if anything is real, if all of this is just a projection of my own consciousness, and if so, damn, I project some sweet Death Metal. "Cathedrals of Blood (Twilight of The Idols)" was the perfect exclamation point to their set, sending fans on a wild ride of riffs twisting into insanely catchy grooves, double bass, and stink face.
FUMING MOUTH (Milford, MA) followed next with an absolutely monstrous sound. Early Swedish Death Metal dipped in Sludge, then rolled in a coating of Crust/Punk. Their set was an unrelenting assault that had circle pits in an early frenzy. A very important question arose at this point when vocalist/ guitarist Mark Whelan demanded "Where did the beach balls go?!" He surmised that perhaps the venues security had conspired to remove the inflatable playful devices from the crowd at some point after they began appearing during PHOBOPHILIC's set. No matter, FUMING MOUTH would have to make due to get the crowd moving again, and they did so easily, ripping into tracks from their album The Grand Descent. By this time, the crowd was loose and ready. The two opening bands really "got the butter churning" as the kids today say. Do they say that? They should.
FROZEN SOUL is based out of Texas whose scene has been making a lot of noise and news as of late. Their brand of traditional Death Metal instantly gave me a BOLT THROWER vibe and I was digging it, totally demanding of the crowd's energy, constantly reminding them to get the pit action going. On the eve of their newest album Glacial Domination, they played 3 tracks off the new Matt Heafy (TRIVIUM) produced record which is their 2nd album of a 3 album deal with Century Media Records. All armed with BC Rich Iron Birds, they're style of (C)Old School Death Metal went over really well with the crowd earning them many more fans on this tour, me included.
Los Angeles' own TERROR is pure OG West Coast Hardcore. I dont think I've ever seen so many bodies fly off the stage at Anaheim's House Of Blues then I did that night. With word getting around about them (and other Hardcore bands) being banned from a certain venue because of their literal over the top audience stage diving, there was no worry of this at the HOB. Security did it's job and that to secure people's safety. TERROR was nonstop energy with tune after tune that kept the crowd totally moving. The heart and soul of the band in that of vocalist Scott Vogel and drummer Nick Jett have kept this movement going since 2002 and their latest release Pain Into Power of which they played 3 songs off of, shows that they are only getting started. Opening the show with the title track off that album plus "Can't Help But Hate" with FROZEN SOUL vocalist Chad Green lending his voice, and "Boundless Contempt" - while most of the set consisted of material off their 2004 debut One With The Underdogs. A real powerful set from L.A.'s finest.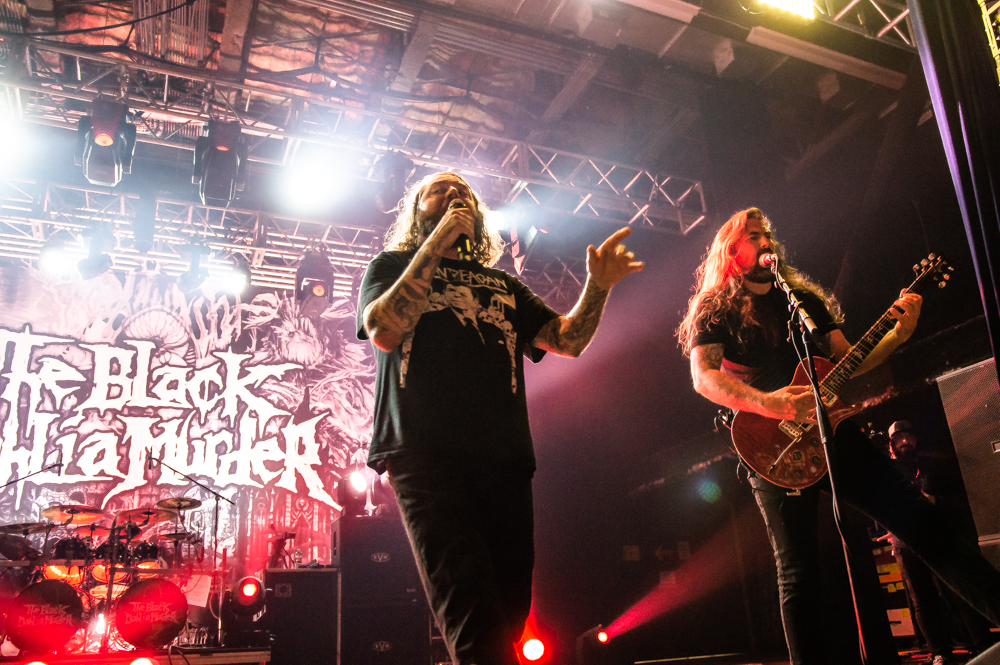 I have no doubt in my mind that many loyal fans to Trevor and THE BLACK DAHLIA MURDER were likely skeptical at this attempt to hit the road with this remaining line-up. Brian Eschbach taking the lead on vocals, stepping aside to allow Ryan Knight to return on guitar was a bold and noble move and many were glad to see Ryan's return. While Brandon Ellis has made his himself feel quite welcome and brought a lot to the table with Nightbringers and Verminous, Knight's contributions on Deflorate, Ritual, Everblack and Abysmal are many of the crowds favorite albums. This dual guitar attack, precision rhythm section of bass and drums that were so on point and brave Brian now on vocals, their unlikely return to the stage proved more than adequate and exceeded many expectations. With perhaps a tear in each eye that night, those in attendance could feel the energy of the band and definitely felt Trevor's presence on that stage. Images of that beautiful man, beer-gut and arms frantically waving in the air, all crossed our minds. The crowd showed an enormous amount of appreciation for what TBDM brought not only this night but throughout their tour. Much respect to the remaining members for taking this initiative and even more so in announcing that they decided that they will continue on and write a new record. That really stunned and excited the crowd.
Trevor was highly respected man because he gave back and showed interest in the very scene he was a part of. Of the many interviews I've done, his is one of my favorites and I will cherish the opportunity I had to chat with Trevor. Rest In Power.
Check out some more photos from the show!
All Photos By Thomas Delgado/@batfacetom/@forthehordeprod
Please log in to view RANTS