BUZZFEST Featuring GODSMACK, I PREVAIL, HIGHLY SUSPECT, THE STRUTS And Others In Houston, TX With Photos!

By Larry Petro, News Monkey
Friday, May 19, 2023 @ 11:10 AM

| | | |
| --- | --- | --- |
| | | Massachusetts Rockers, Storms Were Lighting Up The Sky On Their Final Tour At The Woodlands Pavilion May 13th |
All Photos By Larry Petro/Petrofyed Photography
Starting way back in 1995 local radio station 94.5 The Buzz has hosted a festival event called BUZZFEST, featuring stacked lineups of rock legends and up-and-coming new artists. What started as a once a year event has now morphed into a bi-annual one with the first Buzzfest taking place in Spring/early Summer and the second in late Summer/early Fall starting in 2002 and usually consisting of the pavilion main stage and a second, side stage. At some point in the past the second stage was eliminated and with this year's event all 7 of the musical acts performing did so on just the main stage.
If you believe the rumors to be true then this is GODSMACK's final tour, having just recently released their 'final' album, Lighting Up The Sky, which was certainly apropos for this particular day because the Houston area had been inundated with multiple inches of rain daily over the prior several days (we received 10" at our house alone). And sure enough, even as I was making the 20 minute drive to the Woodlands Pavilion for the show it was already raining off and on with more in the forecast throughout the day.
The show got underway at 2:30 in the afternoon and although it was my full intention to cover the entire thing, a home improvement project that was started the day before had gone sideways which required me to seek assistance to finish and as such, it delayed me from arriving in time for the start of the show and I missed the first 2 bands of the day: local darlings ROZY (which if you've read any of my shows reviews over the past couple of years you'd know that this band, led by sisters Zoe and Molly Flores are making some serious waves around here), whom I was SO bummed to miss, evidently had some sound issues and spent nearly half of their 20 minute allotted set sound checking and thus only got to play 2 songs. Still, having won a contest on the Buzz station to get the opening slot on the show was a huge boost for the band, not only for their egos but for the overall exposure they received from it.
The second band missed was the female trio from Mexico, THE WARNING. This is another group that is wowing fans from coast to coast and having already missed their appearance here months back with THE PRETTY RECKLESS I was really looking forward to being blown away by them but alas, it was not to be.
I arrived at the venue, got my tickets and photo pass, and had just enough time to get around the back of the venue to where we photographers meet to be escorted to the pit. The place was starting to fill up as we made our way to the barricade for GIOVANNIE AND THE HIRED GUNS, a home state band from Stephenville, Texas that is described as being rock and roll/country driven. Personally I saw no sign of 'country' music in their set and had really never heard of this band before knowing they were going to be at Buzzfest. The crowd definitely knew who they were and even though the pavilion still wasn't even half full yet the crowd voiced their appreciation for this act.
The venue production staff did a phenomenal job of keeping the fest on schedule, probably no small feat having to take the weather into consideration throughout but luckily for the better part of the day we just had to deal with occasional rain off and on, but no storms, at least not yet.....more on that later.
Next up on the performance list was a band I was familiar with, THE STRUTS, a British band led by the flamboyant vocalist Luke Spiller. This band put on a most impressive performance, playing a 9 song set starting with "Primadonna Like Me" from the band's 2018 album Young & Dangerous. The band was tight and all smiles as they weaved their musical magic with tracks "Body Talks", "Dirty Sexy Money", "Wild Child" and set closer "Could Have Been Me". Together with guitarist Adam Slack, bassist Jed Elliott and drummer Gethin Davies they put on one of the best sets of the day with just straight up rock and roll, UK style.
Setlist:
"Primadonna Like Me"
"Body Talks"
"Kiss This"
"Dirty Sexy Money"
"Fallin'"
"Put Your Money On Me"
"Wild Child"
"I Do It So Well"
"Could Have Been Me"
Buzzfest seems to have a habit of bringing in acts for one-off shows and this time was no exception as the follow-up to THE STRUTS was Massachusetts' own HIGHLY SUSPECT, a band that wasn't even on tour and yet, according to the emcee for the day, they managed to 'get them off their couches to come and play this show'. This was another act I wasn't too familiar with but the fans in attendance certainly did and by this time the crowd had grown considerably and were very vocal for these guys as they blew through eight songs, kicking it off with "Bath Salts" and never really letting up as they performed hits such as "Lydia", "Natural Born Killer", "Serotonia" and "My Name Is Human" before concluding with "Pink Lullabye".

Setlist:
"Bath Salts"
"Lydia"
"Natural Born Killer"
"Canals"
"Serotonia"
"My Name Is Human"
"Claudeland"
"Pink Lullabye"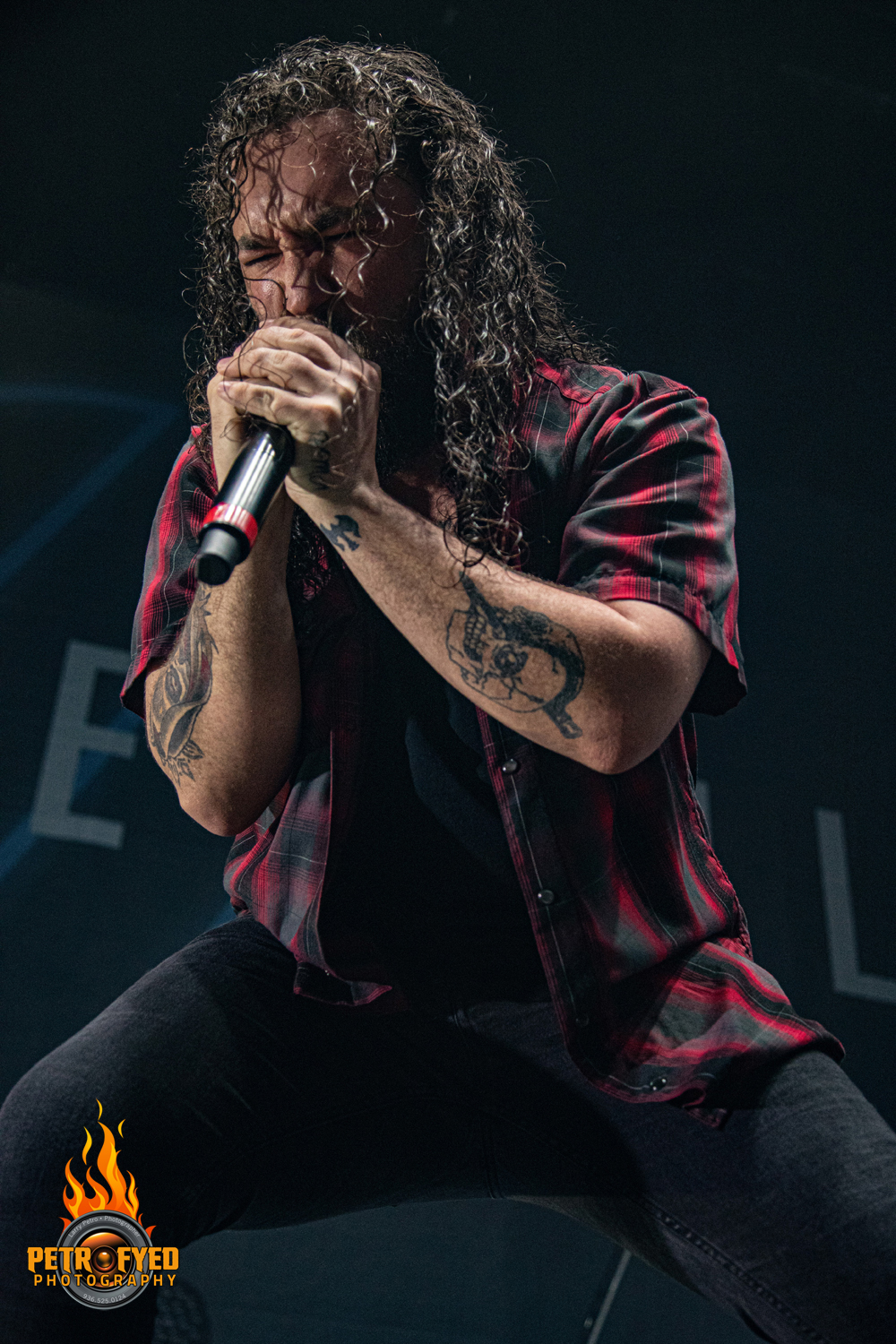 The clouds started to darken a bit as the I PREVAIL took the stage. I PREVAIL was enlisted as direct support on the tour with GODSMACK and was evidently a great choice of opener as they seemed to be one of the most anticipated acts of the day. The crowd roared their approval as they took the stage and exploded through set opener "Bow Down". The post-hardcore/metalcore act, led by twin vocalists Brian Burkheiser and Eric Vanlerberghe, lit things up throughout their set as they pummeled the crowd with "Body Bag", "Self-Destruction", "Chop Suey!" and "Choke". And just as they were ramping things up for a final crescendo the weather reared its ugly head, with an announcement being made that there were storms in the area and we needed to shelter in place, causing the band to have to cut their set by 2 songs, "Scars" and probably their biggest hit, "Gasoline". It definitely caused some disappointment both on the part of the band and the fans but for something like this it's safety first, and we retreated to shelter as the roadies broke down I PREVAIL's stage.

Setlist:
"Bow Down"
"Body Bag"
"Self-Destruction"
"Bad Things"
"Chop Suey!"
"FWYTYK"
"Hurricane"
"There's Fear In Letting Go"
"Deep End"
"Choke"
The last time I saw GODSMACK was with a coworker of mine about 20 years ago or so and admittedly I had lost touch with the band's music over the ensuing years other than the occasional press release I received as the News Monkey for KNAC.COM. That is, until one day while working outside and listening to my IRON MAIDEN station on Pandora that the title track to the album Lighting Up The Sky came on and I was most impressed! Since that time I have heard just about every track from that album and I have to say if you're like me, you need to give this album a listen! That pretty much sealed the deal for me when it came to requesting to cover this show.

As I stated above, on GODSMACK's merchandise site it states that this is the band's final tour and if that is to be believed then it made this night very bittersweet. The band has been changing up their setlist as the tour rolls along, originally opening with new track "You And I" (which I personally though was a weak song to open with) at the first show and then switching it to another, far better new song, "Soul On Fire", and then switching it yet again to the raucous "When Legends Rise", which is what we in Houston got. Now because of the previously mentioned weather alert we received, the original GODSMACK start time of 9:20 was pushed back to 9:30, but thank God it wasn't severe enough to cancel the whole performance. Following the opener the band stepped on the gas for "Cryin' Like A Bitch!!" and the aforementioned "Soul On Fire", one of 5 tracks the band would play from the Lighting Up The Sky album. The band continued to blaze along with the new album title track, "Bulletproof" and "Awake" before slowing things down for the poignant track "Under Your Scars", with frontman Sully Erna giving his little spiel about The Scars Foundation, founded by him and the band as a way to raise awareness for mental health issues. You can learn more about this foundation and what you can do to help by going HERE.
According to the setlist the next song should have been "Voodoo", but whether it was because of the delayed start time or some other reason, this song was not played and instead we were treated to "Batalla De Los Tambores", a drum war/solo featuring both the band's drummer Shannon Larkin and vocalist Sully Erna. This war raged on for several minutes which then concluded with snippets of songs like "Back In Black", "Walk This Way", "Enter Sandman" and "Tom Sawyer" among others being played.
It was back to the rock for pre-encore set closer "Whatever" featuring a section of crowd participation (of course) before cannons on either side of the stage shot waves of confetti into the night sky and crowd as the band's backdrop changed to show a collage of their album covers and the words 'Thank You For 25 Years' shone brightly. GODSMACK returned for two encores, new song "Surrender" and "I Stand Alone". I had previously assumed that the band had cut "Voodoo" from the setlist because of the late start and not wanting to run past the venue's 11pm sound curfew but in the end they ran past 11 anyway so I'm not real sure what the whole point for the omission was? Looking at other setlists it appears that the song wasn't played the next night in Dallas either so who knows? My only disappointment was "1000hp" not being included, but we as fans can't have everything right?
If this is really the final time we get to see GODSMACK on stage then you REALLY need to check out a show on this tour. The tour with I PREVAIL runs through May 28th but then picks back up in July as a co-headline tour with STAIND that kicks off July 18th and concludes August 31st In Austin, Texas. This might be your final time to witness the 'SMACK so get your tickets now!
Thanks GODSMACK for the music and the memories!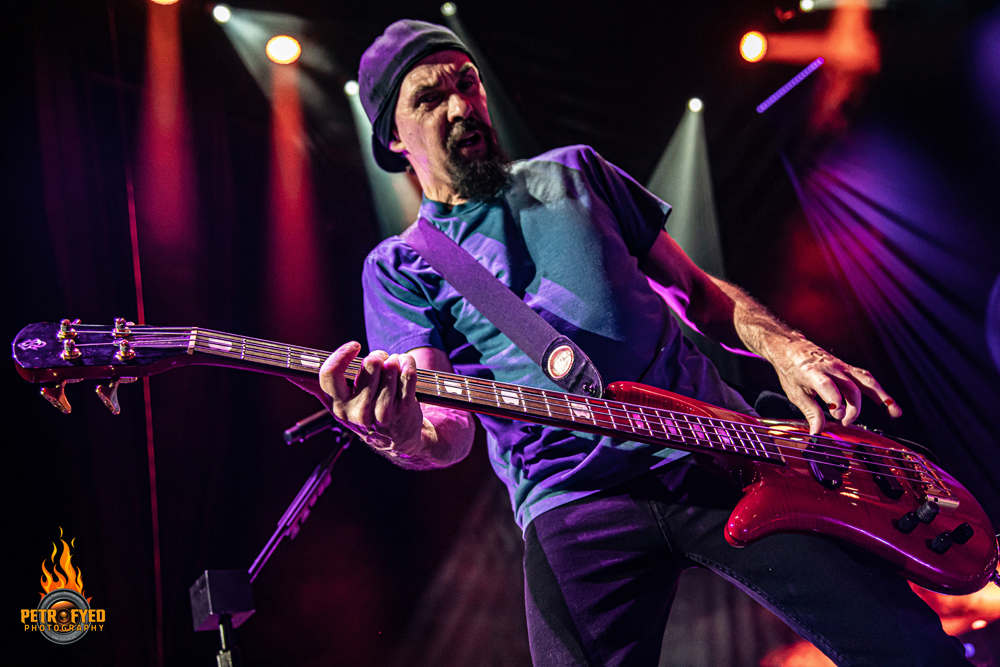 Setlist:
"When Legends Rise"
"Cryin' Like A Bitch!!"
"Soul On Fire"
"You And I"
"Lighting Up The Sky"
"Something Different"
"Bulletproof"
"What About Me"
"Awake"
"Under Your Scars"
"Batalla De Los Tambores" (drum war)
"Whatever"
Encore:
"Surrender"
"I Stand Alone"
Check out some more photos from Buzzfest!
All Photos By Larry Petro/Petrofyed Photography
Please log in to view RANTS