All Photos By Travis Failey Photography
Anyone that has known me or that has been reading my work throughout my time as a music photojournalist knows that I have been a fan of the band TESLA for a long time, actually since their release of their debut Mechanical Resonance.
Through their 30 plus years together, TESLA has released 11 studio albums of original material and covers, had almost a 10-year breakup and only a couple lineup changes, which shows the resiliency and dedication of the members themselves. They have also been a band that knows that they have to play the hits but also throw in some deep tracks to keep the old schoolers coming to the shows. So, when I saw that TESLA added a second show to their upcoming House of Blues in Orlando schedule, it was a no brainer, especially seeing it was on a Saturday night which had its own built-in benefits.
After making the trek on the dreaded I-4 corridor, which was amazingly smooth for once (a Saturday benefit), and arriving at Disney Springs, it was obvious that everyone and their mother was in the vicinity. People were everywhere and having a great time. It was also evident that the HOB would be very crowded due to the line stretching all the way around the venue. Thankfully for those in attendance at the concert, the show wasn't entirely sold out like the night before. Anyone who has been to the HOB Orlando for a sold-out show knows how uncomfortable and dangerous it is due to the layout and exits etc. and I could expand on this, but I digress.
There were two opening bands on the bill and I was unfamiliar with both of them which sometimes is a good thing. The first band to take the stage was Kurt Deimer. The actor and rock musician who was in the 2018 version of Halloween and has other movie credits opened his set with "Dance" and then "Back of The School" with both of these being body moving rock songs that the crowd gravitated to quickly.
Deimer then introduced his take on the PINK FLOYD classic in "Have a Cigar" which I liked more than the original version. Deimer worked with Phil X on this and other tracks for his EP Work Hard, Play Hard. Both of them continue to work together in the studio, etc but at this show, Phil was not a part of Kurt's touring band. After "Doom" Deimer then gave a shoutout to all the first responders and the military and dedicated his latest single in "Hero".
Deimer finished the set with "Naďve" and said thanks to the crowd who really got into his style and stage demeaner. Deimer and his band are absolute showmen and get the crowd into their music and their set. They got a huge pop prior to leaving the stage and I can see them getting additional opening slots and even festival dates in the future. Keep an eye on this guy. Even though he's a bit older than most front men at this stage of the game, this guy is an original and is a force to be reckoned with given the right push from the industry.
FASTEST LAND ANIMAL, which is one of the more original band names that I've heard of was up next fronted by "Screamin" Jack Novack while wearing a black leather jacket with a red scarf. They opened with "Run And Hide" from their new release in East Coast, West Coast, In Between. Novack's range was in full capacity and showed it off on "Answer in my Head", "Fourteen" and "Out of Range". Novack played the harmonica, the shakers and also threw out tambourines to the crowd to join in with the band during their set. The highlight for me during FLA's set was their final song and cover of THE POLICE's "Next To You".
After a pretty brief stage changeover something odd occurred. Stage crew members came up to the band's setlists that were taped to stage and made a change removing "Edison's Medicine" and adding "Song And Emotion" with both being huge hits from their catalogue. Some fans might have shaken their head at this change, but most would be ok with it. Then another switch happened less than two minutes before the band took the stage with "Miles Away" now replacing "Song And Emotion". Only the photographers and the band and crew knew of these changes, and I've never seen this happen before in the 15 years of covering shows.
TESLA's video screen then lit up with the band's very recognizable logo as purple smoke filled the stage with bassist Brian Wheat center stage on the drum riser. The P.A. speakers boomed with "Put This In Your Pipe And Smoke It" which leads off "Change of The Weather" from TESLA's 3rd album Psychotic Supper. This was a sign to the crowd that TESLA was changing up the set from the night before for the fans that were there both nights.
I can appreciate bands that do this as I've witnessed some acts playing the exact same set on multiple nights in the same city. They do this because they are being lazy or playing to tracks and can't get away from the timing of the computers. This really does a disservice to the fans, but I guess the artists don't care as long as they fill the venue.
TESLA then sandwiched their recent single release in "Time To Rock" with "Modern Day Cowboy" and "Heaven's Trail". Throughout their performance, the video monitors showed images of the band at various stages of their career and even old west battles during "Cowboy".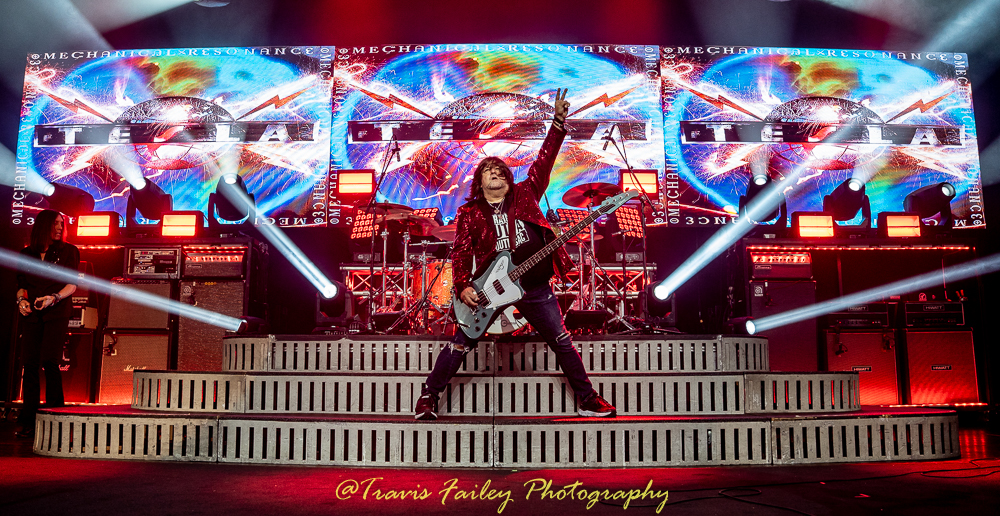 TESLA then went to the "deep cut machine" and broke out "Shine Away" from their Bust A Nut album. This song has only been played live 38 times in their career according to Setlist.fm and I have personally never heard it played live in the 12 times I've seen TESLA. To say it was amazing would-be an understatement as the song and the album are ridiculously underrated.
After a very moving version of "Changes", guitarist Frank Hannon introduced "Pvt. Ledbetter" as a salute to the military with a mini solo thrown in. This song was another deep cut in TESLA's set on Saturday night as it hasn't been played live in 12 years.
Vocalist Jeff Keith sounded great during the show especially on "Lazy Days, Crazy Nights" and "Love Me". The crowd was also a huge part of the show as they joined Keith during most of the songs but especially during "Call It What You Want" and "What You Give". During "What You Give" the video screens played photos of the band from the early days when some members had big hair and they were just getting their start. I haven't heard "Miles Away" live before and seeing that it was replacing "Edison's Medicine" and "Song And Emotion", I didn't know how It would be received, but from the crowd's reaction, it was fantastic. As space and plane type graphics hit the screens, drummer Steve Brown slammed on his kit. He did a great job taking over for Troy Luccketta and seems to fit perfectly in the band as does Dave Rude on guitar. Rude has been with TESLA for years now and is a great player. From what I've read in Brian Wheat's book Son of a Milkman, Rude brings zero drama or issues, not like Tommy Skeoch who was a big factor amongst others in TESLA disbanding for almost ten years.
TESLA closed out their main set with "Love Song" and "Little Suzi" with Hannon and Rude busting out the acoustics then Hannah with the double neck Epiphone. The crowd joined in with a booming chorus during "Love Song" which always gives me chills.
Brain Wheat then grabbed a Rickenbacker guitar like his idol Paul McCarthy and addressed the crowd prior to "Signs" and said, "We came to town to throw it down". Jeff Keith donned a baseball cap and of course put his hair into it for a bit before slinging it off during the song that really boosted their career in 1989.
As the band took a bow, drummer Steve Brown autographed his drumhead and gave it to a girl of about 10 years old in the front row and the look on her face was magic.
TESLA continues to make new music and tour to the delight of their fans new and old. When in Vegas doing a residency or on the MORC cruise or like shows tonight at the House of Blues in Orlando, TESLA truly seems to be having a good time together on stage with smiles in abundance and they seem geared to continue "Comin' Atcha Live".
For upcoming tour dates and other info:
https://teslatheband.com/
Setlist:
"Change In The Weather"
"Modern Day Cowboy"
"Time To Rock"
"Heaven's Trail (No Way Out)"
"The Way It Is"
"Shine Away"
"Changes"
"Pvt. Ledbetter"
"Lazy Days, Crazy Nights"
"Love Me"
"Call It What You Want"
"What You Give"
"Miles Away"
"Love Song"
"Little Suzi"





Check out some more photos from the show!
All Photos By Travis Failey Photography