At 28, Marc Rizzo is setting the music world ablaze with his innovative, guitar shredding that combines metal, thrash, and flamenco guitar. Marc is a new breed of young guitarists that has gained a substantial following thru years of touring with Ill Nino and Soulfly.

After leaving Ill Nino, Marc joined Soulfly in 2003, and has played guitar on "Prophecy" and current Soulfly album, "Dark Ages." Marc's skillful, stellar guitar technique has given Soulfly a modern, heavier edge, making the band one of the most popular acts in metal today.

Marc recently released a solo album entitled, "Colossal Myopia." His solo album unveils his deep roots in metal, classical, and flamenco guitar.

The master musician recently wrapped up a solo tour that visited cities along the East Coast including stops in Boston, and New Jersey. Marc is getting ready to hit the road again, this time with Soulfly as they embark on a world tour that will take the band to the East Coast, West Coast, and Europe.

I recently had the honor of catching up with Marc in this Exclusive Interview for KNAC.COM.

KNAC.COM: So many of the Soulfly and Sepultura fans are wondering what you have been up to lately. You recently wrapped up your solo tour. How did it go?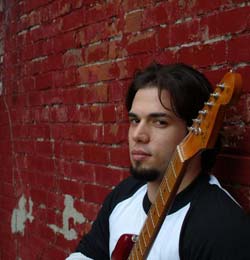 RIZZO: Great, it has been going awesome. The reaction has been going good. We have been having good crowds. Between doing Soulfly and now doing this, it has just been a great time.
KNAC.COM: Do you play any Soulfly tunes or is it just tunes from your new solo album "Colossal Myopia" on your solo tour?
RIZZO: We're playing basically everything thing off of my solo album at the solo shows. Basically my record is all instrumental, which sounds like a mix between shred metal guitar instrumental music with nuevo flamenco guitar metal. It is just a mixture of both. I have a lot of Latin percussion like bongos, a lot of speed metal drumming. But then live, my Congo player sings, he does that screaming style vocals, we throw in some Sepultura and Soulfly songs for the audience. We also have some original songs that we throw in. It is a good mixture of instrumental and vocal tracks.
KNAC.COM: Soulfly is getting ready to embark on a world tour in April and then head over to Europe to play some shows and festivals? Is that correct?
RIZZO: YEP: I just got back from a European tour two weeks ago, came home I have been doing all of these solo shows, now I am leaving this week to do the U.S. Tour, it starts out in the West Coast and it will be coming to the Midwest and East Coast, so it is going to be great.
KNAC.COM: What can the fans expect to see the upcoming Soulfly Tour? Who else is on the bill?
RIZZO: A Perfect Murder and a band called Manntis; it should be cool. We will be playing a lot of songs off "Dark Ages". It is a good mixture of "Dark Ages, "Prophecy", all the other Soulfly records, and then we put in one or two Sepultura songs.
KNAC.COM: Did you get to collaborate on the new Soulfly album, "Dark Ages" with Max at all?
RIZZO: We totally collaborated on the new record. I think you can definitely hear it, if you listen to my solo record and then listen to "Dark Ages."
KNAC.COM: I found it interesting that you also collaborated on the "Prophecy" album. Actually this is the same band line-up for both albums. I think the consistency in the band line-up and your new heavy modern day approach to the songs has given the band a great new sound. How do you feel about the present line-up of Soulfly?
RIZZO: Yeah, it definitely is great We will be making more records with this line-up, the way the records have been coming out, we all get along, we are all friends.
KNAC.COM: How did you hook up with Max?
RIZZO: Basically when I had quit Ill Nino, probably a day after I quit, I got a phone call from my old A&R guy from Roadrunner, who asked me if I would be interested in joining Soulfly because they were going to be looking for a guitar player. I had just originally planned to work on my solo record, but when I got the offer to join Soulfly I said, "Of course! I will do it."
KNAC.COM: You seemed to click right away with Max.
RIZZO: Yes.
KNAC.COM: You have been touring for a while with Soulfly. What is the most important thing that Max Cavalera taught you as a musician?
RIZZO: Part of the biggest thing is the way he tours. We tour all of the time. That is what you have to do as a band. I definitely take those ethics with me for my solo stuff. He has taught me to experiment on stage, to not be scared to get up onstage and play a song that you only practiced once with the band. Ya know what I mean? With Soulfly a lot of times, Max will want to do a new song, or even a cover song. We learn it that day and get up onstage and knock it out. It is his fearlessness of having no fear to go onstage and play stuff, and take changes with the music onstage and create.
KNAC.COM: You hail from the New Jersey area. In my opinion, Jersey has one of the best metal scenes going. To name just a couple, Overkill and Zakk Wylde come from Jersey. Let's talk about your musical roots; how did growing up in Jersey effect your music career? Is it that working class, down to earth attitude that makes the bands who come from that area identify with their fans more?
RIZZO: Everything that I do, whether it is flamenco, classical guitar, or even shred metal, I grew up going to a lot of hardcore shows and listening to a lot of band from the Jersey, and New York hardcore scene. That definitely still affects my music. Whatever I do, I feel that it still has that hardcore vibe, that punk ethics to the music. I think everything I do is always going to have that heaviness and aggression to it.
KNAC.COM: Soulfly is going to be performing in Europe soon. You are going to be playing the Wacken Open Air Festival in Germany. How do European audiences differ from American Audiences?
RIZZO: Yeah, A couple of things, I have noticed on this last tour, it seems like the European audiences are definitely bigger. They are so excited that you are there. They are focusing on the show. They are moshing and having a good time, but they are really focusing on the band onstage. In America, the mosh pit is a little bit more violent. The shows are a lot more violent in America, for whatever reason. I don't know whether it is a good thing or bad thing. Laughter! In America, there is definitely a lot more fights at shows. Europe is seems like they are so excited that you are there.
KNAC.COM: At the European Festivals, they must get at least 20,000 people over there. Is it intense?
RIZZO: Yeah the festivals are unbelievable. The festivals are so big out there. It is not as much underground as it is here. Everything is on a bigger level over in Europe.
KNAC.COM: You, Max and Soulfly are huge over in Europe. What is the response like over in Europe? It must be overwhelming to perform there.
RIZZO: Yes, it is. With Soulfly we are so much bigger in Europe. You definitely get that vibe over there. It is unbelievable.
KNAC.COM: Marc you also have started your own Record Label Phlamencore Records. Tell me about the label? What bands are on the roster?
RIZZO: I have a couple of bands on the label that are all friends of mine that I really like a lot, that I try and help out. They are all basically out of New Jersey. Kids that I grew up with. One of the bands is called Deny The Myth. Another band is called Akora. You can sample these songs on the website. These are two of the bands on there that I love. I put out a sampler CD of all the bands that are on the label. We are going to start working on distribution. Basically it is music that I like, that I want to help them out. Check it out at www.myspace.com/phlamencorerecords.
KNAC.COM: That is so cool you are helping bands from the Jersey scene out. You have another side project called Committee of Thirteen. Tell me about that band, do you also tour with them?
RIZZO: Yeah, We have been real busy; we are taking a little break, because I am working on the solo stuff right now. We have a CD out on Phlamencore Records too. You can go to www.myspace.com/commiteeofthirteen and order it. Basically it is me and a singer called Mike Viso, my percussionist Vinnie also plays in my solo band, and the drummer Teddy Gibbons also plays on my solo stuff. It sounds like my solo record with melodic vocals on top of it. It is pretty cool stuff, and we are going to work on a new record hopefully soon, and once that comes out we will start doing shows again.
KNAC.COM: You have performed on so many great tours. What has your favorite tour been so far? Was it the Morbid Angel Tour?
RIZZO: I would probably say this last European one. We played with so many great bands like Skindred. This last tour with "Dark Ages" was unbelievable man. The response we got from this record was outstanding.
KNAC.COM: What is your favorite thing about touring and what do you dislike most about being on the road?
RIZZO: My favorite thing about touring is that you get to play a show each and every night, and concentrate your whole day on just playing guitar and doing the show that night. That is the best part. The worst thing is being away from your girlfriend, and family for such a long time, that is the hardest part.
KNAC.COM: I know a lot of the fans are hoping for a Sepultura re-union. It would be great at some point to see that happen. Is there any hope for a re-union?
RIZZO: I have been hearing stuff about it too. I don't think anything is definite yet. I would love to see it happen. We just got to wait and see.
KNAC.COM: As a guitar player, who did you like to listen to growing up?
RIZZO: Paco de Lucia, the flamenco player, Al DiMeola, Yngwie Malmsteem, Zakk Wylde, Zakk has been a huge influence on me, Dimebag, Eddie Van Halen. All the guys that are considered the great are my favor ties.
KNAC.COM: I will never forget the day that I turned on the TV and heard about the Dimebag tragedy. That was so shocking. The world lost a true metal hero.
RIZZO: That was obviously the biggest tragedy ever. It still just baffles my mind how something like that can happen. It was bizarre.
KNAC.COM: When was the first time you picked up a guitar, when did you know you wanted to become a musician?
RIZZO: I picked up the guitar twenty years ago, when I was eight years old. I am 28 now. From that day on, that was all I did, I fell in love with it and practiced all day long. Since I was eight, I knew what I wanted to do. I did everything I could to get there.
KNAC.COM: Was your family supportive of your musical career?
RIZZO: My older brother got me into a lot of bands at the time were big like Metallica, Slayer, Led Zeppelin back in the 80's. I was a big fan of all the stuff that we would bring home for me to listen to. My parents were supportive of me. They don't like metal but they wanted me to play guitar.
KNAC.COM: Well Marc you are starting a whole new generation of metal fans with your unique style.
RIZZO: Thank you.
KNAC.COM: I have to ask, what is up with the backpack?
RIZZO: Yeah, I stopped wearing the backpack. I kinda got sick of wearing it. Everyone was always taking about what is in the backpack? So I said enough with the backpack I just wanna play guitar, let's talk about guitars. (Laughter)
KNAC.COM: That is cool. Now what can the fans expect to see from Mark Rizzo in 2006?
RIZZO: I am going to continue to tour with Soulfly throughout the year. Before the year is out, I am going to start a new solo record. When I get home go out there and do a whole bunch of shows for my solo project. I suggest everyone to go to my website and you can hear all of the things that going on and when I am coming to their town.