VADER, KRISIUN, DECREPIT BIRTH In Los Angeles With Photos!

By Francisco Zamudio, Metal X Candy 2.0
Friday, April 21, 2023 @ 10:12 AM

| | | |
| --- | --- | --- |
| | | At 1720 April 16th |
All Photos By Thomas Delgado (@BatForceTom)
What I'd consider another historic night in Los Angeles, while many Thrashers were up the street at one show, much of the Death Metal scene decided to attend the show at 1720 that hosted the tour involving Poland's VADER, Brazil's KRISIUN and Santa Cruz California's own DECREPIT BIRTH. Three powerful bands that have transcended decades. VADER since the mid-80's and into the 90's as Death Metal started to take shape, quickly established themselves as an excellent Polish representation and have remained brutal after all this time. Releasing great record after great record, they are highly respected and are not at all simply considered as "that other band from Poland". Meanwhile, representing South America, is also not just "that other band from Brazil". KRISIUN's form of brutality had also came from the early 90's gaining notoriety around the world with their '95 debut BLACK FORCE DOMAIN made them a force indeed. Representing the United States for the under-represented California based Death Metal scene are Santa Cruz's DECREPIT BIRTH. Considered one of the best Modern Death Metal bands currently, they hammered in the exclamation mark on this great tour package.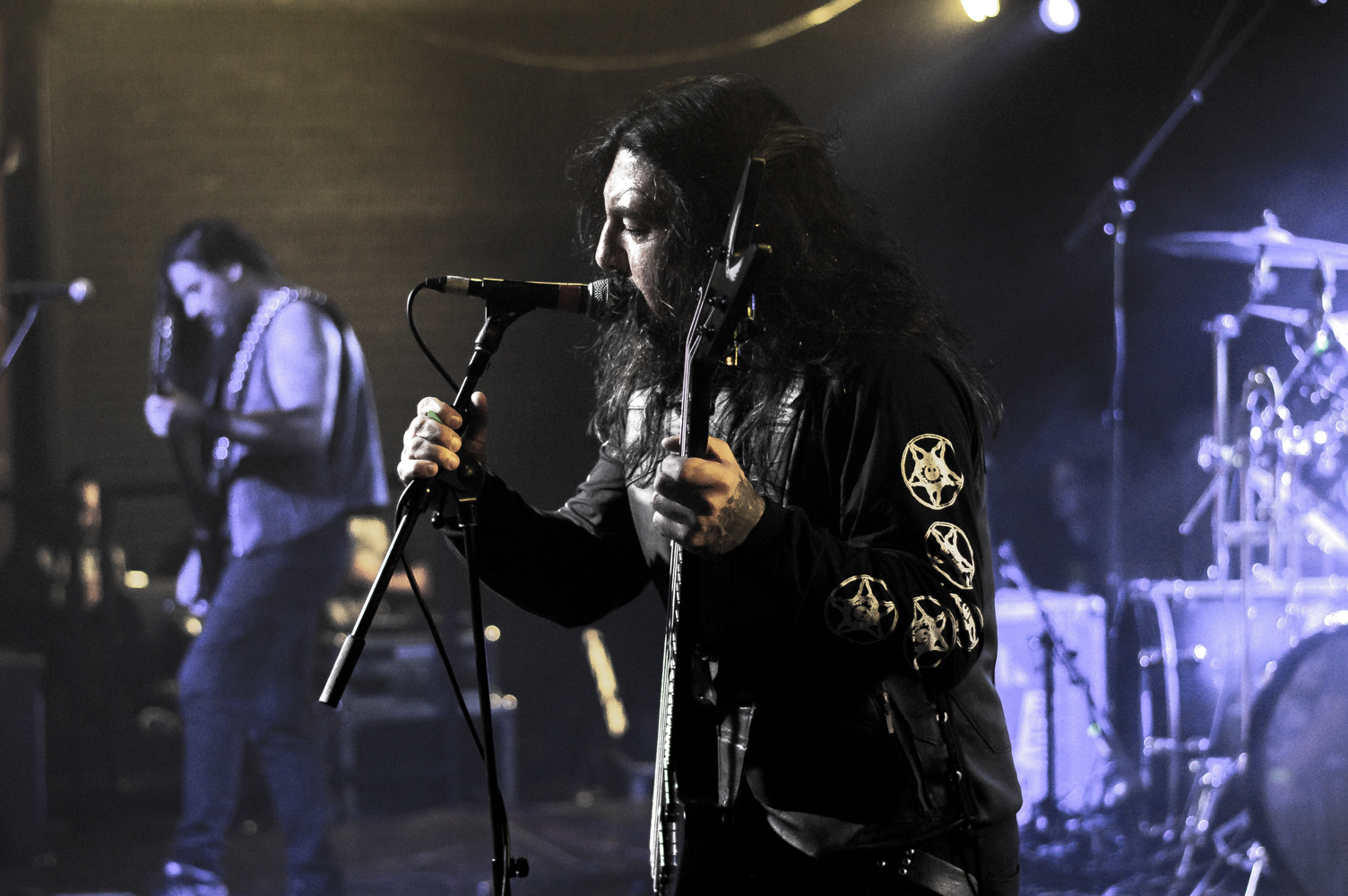 There was already a nice crowd that had rolled in early to catch the entire show and as they settled in with over-priced beers in hands, the place went dark as the DECREPIT BIRTH logo shined bright in neon stoner green behind the drums. Vocalist Mr. Bill Robinson, Guitarist Matt Sotelo and company took the stage to channel some amazing Technical Death Metal vibrations to start the night opening their set with tracks from their 2017 release, Axis Mundi, the title track (preceded by the intro "Vortex Of Infinity") followed by "Spirit Guide" - the only 2 songs they'd play off that album. While that album seemed a bit different then their prior 3 releases, it still shows how amazing of a songwriter Matt Sotelo is with his hints and respectable nods to the late great Chuck Shuldiner. Add to that the stage presence of Mr. Robinson who seems like a wizard telling a tale with his animated gestures weaving over the crowd. After these 2 songs, they proceeded to go backwards through their discography with "Metatron" from 2010's Polarity and then into the title track off 2008's Diminishing Between Worlds before landing with a triple shot of their 2003 debut, …And Time Begins with "Of Genocide", "The Infestation" and "Prelude To The Apocalypse". They included a cover in their set, as did the rest of the bands. They surprised the crowd with their rendition of DEICIDE's "Once Upon The Cross" that sounded fantastic. I will say I was also surprised that in their 10 song set, they didn't cover SUFFOCATION instead considering their connection with the band. All in all, a fantastic start to a great bill.
KRISIUN is a band I've seen before, I was as stoked to see them as I was VADER and I expected no less than the brutal sound of pummeling drums, gut-wrenching guitar and bass filling the room from the power-trio from South America. In support of their latest album from 2022, Mortem Solis, they opened their 9-song set with "Ravager" from Conquerors of Armageddon and then "Combustion Inferno" from Southern Storm (2008) before ripping into a couple of songs from their last album (3 in total this nite). I'd be lying if I didn't say the crowd was caught sleeping. I was on edge to see the pit open up but felt the need to give the night the necessary push and so, I went all in and got the pit going. I had to. KRISIUN's high energy isn't the kind you just stand back and watch. To turn things up a little more, and get the crowd even more engaged, KRISIUN took a turn at a cover with MOTORHEAD's "Ace Of Spades" and this helped wake the crowd up a bit more. The brothers from Brazil played a crushing set.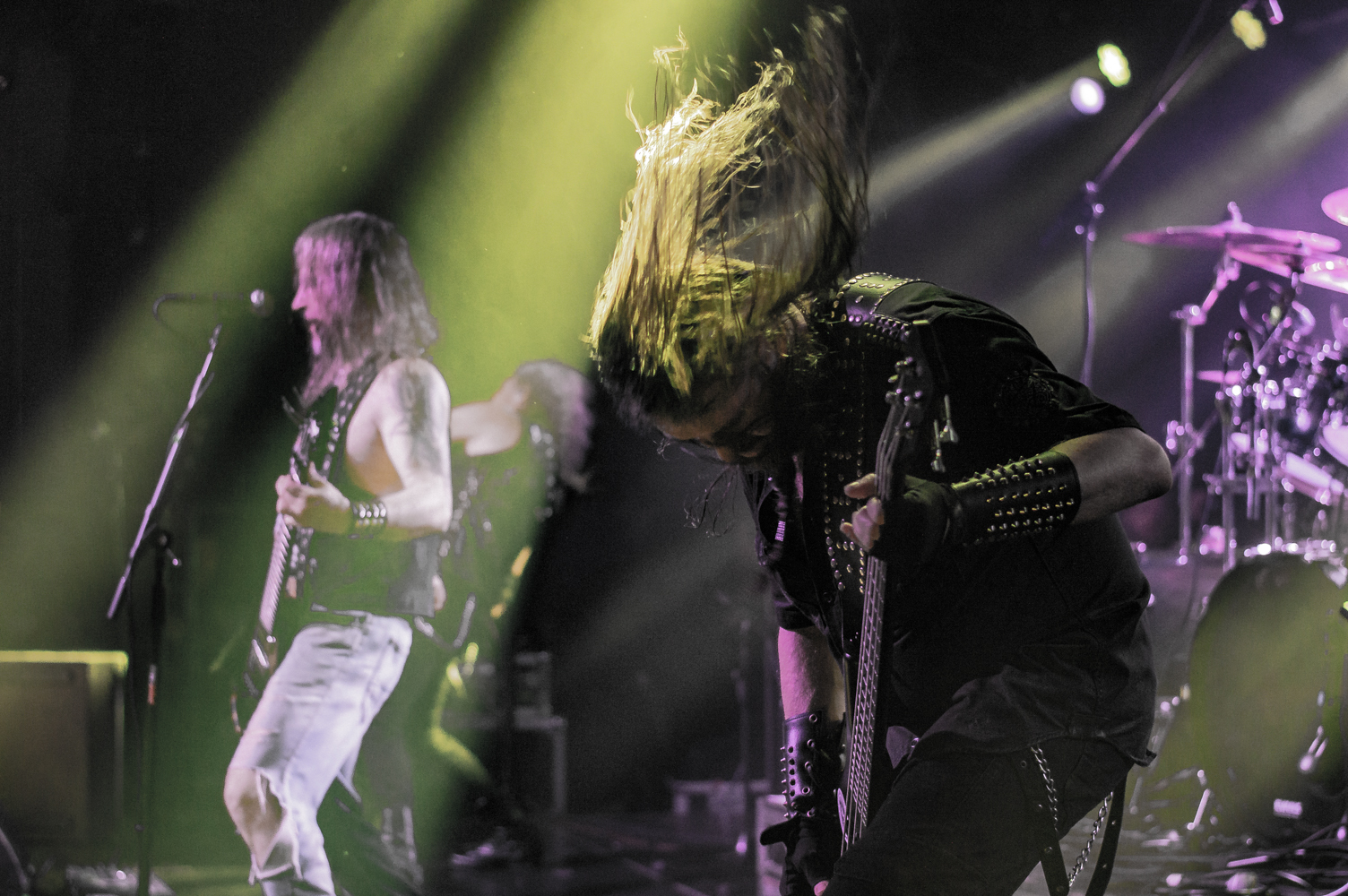 In addition to the other bands from Poland I've seen, I can officially cross off VADER from my Polish Death Metal bucket list of bands to see. While those others I'd have to say have gone stagnant, VADER just seems to have kept it consistent for the past 30+ years. And on this night in Los Angeles as well as throughout their successful tour, they damn-well proved it. Through a relentless 18 song set, they ripped through nearly every album. The dual guitar attack from vocalist Piotr "Peter" Wiwczarek and Marek "Spider" Pająk shredded our faces all nite. The crowd was fully awake at this point as I could tell by some movement finally happening in the pit. This brutality is straight up speed-infused Death Metal to the max, your head will break off from headbaning so hard. Amazing to see Peter (vocalist) at 57 years of age with so much vigor. The majority of their set included 4 songs from their 1992 debut The Ultimate Incantation, and the follow up, the recently re-recorded De Profundis, and only 1 cut from their last release from 2020, Solitude In Madness. Ending their set and running with the cover theme of the night, they chose SLAYER's "Hell Awaits" to bring the crowd to a climax. Seeing VADER in this caliber along with 2 other Brutal bands was exactly what the doctor ordered. Pure intensity from beginning to end.
Check outsome more photos from the show!
All Photos By Thomas Delgado (@BatForceTom)
Please log in to view RANTS
PANTERA At Welcome To Rockville With Photos!
THE BLACK DAHLIA MURDER, TERROR, FROZEN SOUL, FUMING MOUTH, PHOBOPHILIC In Anaheim, CA With Photos!
ENFORCER Nostalgia
BUZZFEST Featuring GODSMACK, I PREVAIL, HIGHLY SUSPECT, THE STRUTS And Others In Houston, TX With Photos!
SLEEP TOKEN Take Me Back to Eden
UGLY KID JOE, FOZZY, PISTOLS AT DAWN In Houston, TX With Photos!
TESLA, FASTEST LAND ANIMAL, KURT DIEMER In Orlando, FL With Photos!
CATTLE DECAPITATION Terrasite
TYGERS OF PAN TANG Bloodlines
MYSTIC PROPHECY Hellriot
WHITECHAPEL, ARCHSPIRE, SIGNS OF THE SWARM, ENTHEOS In Santa Ana With Photos!
ALCATRAZZ Take No Prisoners
BURNING WITCHES The Dark Tower
ELVENKING Reader Of The Runes - Rapture
CHAOS AND CHARNAGE Tour Featuring SUICIDE SILENCE, DYING FETUS, BORN OF OSIRIS, ABORTED, CROWN MAGNETAR, SANGUISUGABOGG And SLAY SQUAD In Anaheim With Photos!
ENFORCED War Remains
SAVAGE EXISTENCE Savage Existence
BLACK ROZE Penny For Your Sins
WINGER Seven
JASON BIELER AND THE BARON VON BIELSKI ORCHESTRA Postcards From The Asylum
TITAN'S WRATH Will Of The Beast
VADER, KRISIUN, DECREPIT BIRTH In Los Angeles With Photos!