Junkman's "Better Late Than Never" NAMM Report (With Tons Of Photos)

By Junkman, On-Air Personality
Sunday, March 26, 2006 @ 9:54 PM

| | | |
| --- | --- | --- |
| | | Look, I'm a busy dude, OK? |
Its that time of year again. The time when the members of the music community gather at the Anaheim Convention Center (or is it the Los Angeles Convention Center of Anaheim ?) in Anaheim California for the annual Winter NAMM Convention. NAMM for those who don't know stands for National Association of Music Merchants. They hold their convention twice a year and the winter one held in January is the biggest.

I have covered this event for years here at KNAC.COM, and anyone who has read any of my articles in the past can tell you how much I enjoy this particular weekend. It really is a "gathering of the tribes." A place where everyone who is anyone in the music business attends. I have worked in just about every aspect of this particular business, from retail, to wholesale, to performer, and have made many friends in all areas.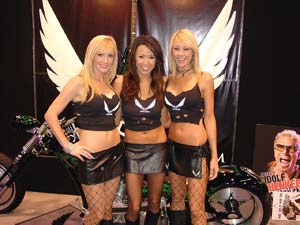 Dean Girls

So, to me its not only exciting to see the new products and who will be there demonstrating and endorsing them, but also just as exciting is who attends the convention, and who I will be running into, either on the convention floor, or at one of the many shows and bars surrounding the Convention Center. It's always a blast.

Even though the show started officially on a Thursday, I could not make it until Friday morning. Off to the press room I went, to check some e-mails and grab a doughnut, which until about 8pm or so that night would be my only nourishment. Ran into some folks I knew from Arizona who would be covering the show for some other publications. We chatted for a while, filled them in on what's new at KNAC.COM and I was on my way.

At around 9:45 am the lobby was filled with the sounds of the NYPD marching band, which was, naturally made up of members of the New York Police Department. Being a drummer, I was pleased by the sound of huge drums filling these cavernous walls. A great eye-opener, that's for sure, and a great way to start this convention. My heart was pounding as they opened the Convention Hall doors at precisely 10 am.

Inside, there was all kinds of action going on, and I made my way to a few booths to pick up passes to various shows I would be attending throughout the weekend. Once I obtained what I needed, I could cruise the aisles and keep my ear to the ground to find out anything that would be happening of interest. Believe me, after 20 years or so of attending this event, I have my own agenda.

I saw plenty of familiar faces, and I'm happy to say, they seemed to be happy to see me. One in particular is former Megadeth and current F5 bassist Dave Ellefson, who works for Peavey, and while visiting that booth he gave me a tour and a look at the new line of basses that Peavey has produced called the Zodiac series.

"The concept of the Zodiac is that there are 12 signs in the Zodiac and that they will be spun out amongst 12 different artists to reflect their particular specs ", Ellefson explained. "Since my birthday is in November and I'm a Scorpio this is the first" he continued as he showed me a brand new black Zodiac Scorpio bass. He also explained that Peavey has made a point of simplifying some of their products over the last year or so to be easy for the user to use, without bringing a lot of gear to a gig, a process known in the business as "plug and play". Check out www.peavey.com for more information on this and other great Peavey products.

Next to Peavey, at the Ernie Ball/Music Man booth, there is always a large crowd of "gawkers" to see what they are up to. Every year their employees dress up in a different theme, and transform the booth into a set. This year the theme was the movie "Caddyshack", and all the sales team were attired in costumes that parodied characters from the film. There was even a putting green that people could try their golfing skills on. Always a good time at the Ernie Ball Booth!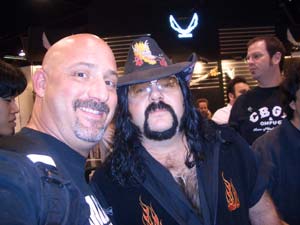 Vinnie Paul

At the Dean guitars booth, there is ALWAYS a huge crowd to see the "Dean Girls", an incredibly sexy group of ladies who will pose with pictures with whoever wanted one. Nothing like seeing some geeky fat dude with his arms around these hotties, getting the shot of a lifetime, or some twelve year old kid posing with these babes for a picture that no doubt will give him bragging rights amongst the pre-teen testosterone set.

While at the booth admiring not only the girls but the amazing tribute to the late Dimebag Darrell, a Dean endorser, but who should appear? None other than Vinnie Paul, who was nice enough to chat with me for a few moments and pose for some pics with his many fans.

I was then off to the ESP guitars booth were I was greeted by my good friend Allen Steelgrave, who introduced me to Will Adler of Lamb of God who is a new endorser of ESP guitars.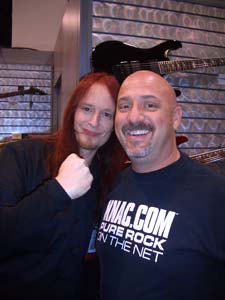 Arch Enemy's Michael Amott with Junkman

Also at the booth was guitarist Michael Amott from Arch Enemy, also an ESP player. ESP guitars kick ass! Just about every one of their endorsees is someone who is on the KNAC.COM playlist. Our relationship with them has grown with them to the point where they are like family to us. This year we gave away an ESP James Hetfield "Truckster" guitar and a Dave Mustaine "Axxion" guitar on our contest page. All weekend long it seemed like ESP was the busiest booth in the place judging from the constant mass of people lined up around it. If you want to play rock guitar, you need to look at www.espguitars.com and get one.

I then made my way across the halls to the Dean Markley booth, again, the scene of many past NAMM memories. There I ran into singer Joe Lynn Turner, formerly of Rainbow/ Deep Purple and Yngwie Malmsteens Rising Force, who was there with his band to perform inside the booth and to sign autographs afterward.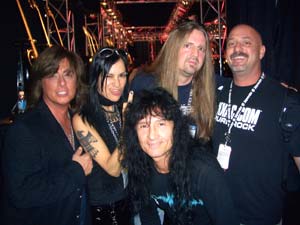 Joe Lynn turner, Denny Colt, Joey Belladonna, Karl Cochran and Junkman

We chatted for awhile about all the projects he is currently working on, not only with "Usual Suspects', but a project called "Sunstorm" which should be released soon. He also has been working with Glen Hughes on new music from their collaboration HTP as well as his performances throughout the weekend at NAMM. Joe is a very busy guy and sounds great live. For more info on what he's up to check out www.joelynnturner.com which is constantly being updated.

Soon after speaking with Joe, who should appear? None other than Ronnie James Dio and his entire band, who, once again, spent hours talking with a huge throng of fans, signing autographs, and posing for pictures. I've said this before, but he is absolutely the nicest and most personable gentleman that I have encountered in this business. He always appears at NAMM, and always takes time to speak with me and everyone else who approaches him. None of this "rock star attitude" that, unfortunately, is all too common amongst celebrities these days. He should be a model for how to conduct oneself amongst the public. Have I reaped enough praise yet? I always look forward our discussions on our beloved NY Rangers hockey team. Yeah, he's that kind of guy!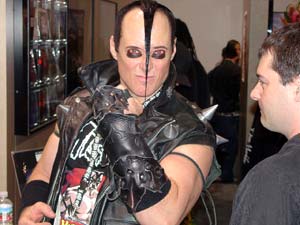 Misfit Jerry Only

Dean Markley, the makers of guitar strings for just about every guitarist I've ever heard of, would have many guests throughout the weekend, including Jerry Cantrell, Nuno Bettencourt, Dick Dale, Jerry Only (from the Misfits) and even Rick Springfield ("Jesse is a friend…..") among others. Naturally, I would gravitate there all weekend long to see who I would run into.

One of the things I like best about NAMM, and I have stated this before, is that it is for musicians, and people that appreciate them. Today, in the music business there is too much emphasis on image before musicianship, resulting in the shitty music that you are overwhelmed with on radio and TV. My heart hurts for the youth of today that thinks that what is being programmed by media outlets like MTV and conglomerate radio stations is all that is available.

I'm proud to say that organizations like NAMM bring out companies that offer an alternative. Some, like the LKR booth, (www.littlekidsrock.org) actually teach kids to play instruments and to perform all kinds of music, from rock, to funk, to hip-hop etc., as well as compose and record their own music. They believe, as do I, that music education is a critical component of a first rate education.

Lets face it, without music education, kids will suffer. Its evident everywhere. An entire generation, without music programs in school, are becoming more and more disoriented. I don't want to preach, (although I am a licensed reverend) but far too many of todays youth don't know what a quarter note is, but know what a quarter gram is. At NAMM, I found many companies willing to teach kids to be musicians, and I am all about that. "Icons Of Rock" (www.iconsofrock.com) from Music Star Productions debuted at NAMM the first installments in their series of instructional DVD's .

These DVD's feature artists like Bruce Kulick showing the viewer how to play the Kiss Ballad "Forever" on guitar, or Twisted Sister's Eddie Ojeda instructing the proper way of performing "Were Not Gonna Take It". David Ellefson, who I spoke to earlier, also has an instructional series from Rock House available for the beginner and intermediate bassist. Its products like these that have taken the place of music programs in public schools. I think its great that these tools are available, but its also a shame that now, to learn to play an instrument, the only option is to buy a lesson on DVD form as opposed to learning it free in school. Sign of the times, I guess.

I dropped by the Ludwig booth to check out their line of drums and was greeted by Todd Trent, "the MAN" to talk to. I have been a drummer all my life and have been wanting to get a new Ludwig kit. I found some incredible new finishes that they have come up with. Quality stuff, from a legendary company. I hope to be bangin' on some new drums in the near future.

It was getting late in the day, and the hall would be closing down soon. I had a ton of stuff to read, like catalogues and stuff. So I decided to head out to my car, drop off my swag, and prepare for the nights festivities. This was going to be, once again, another one of those NAMM weekends that would be talked about for years.

SATURDAY IN THE CONVENTION HALL:

After forcing myself awake, and downing a cup of 7 Eleven coffee, I headed to the Convention Center for what normally is the wildest day of NAMM weekend. Although I like to get there at opening, (10 AM) most of the ARTISTS in the music business don't get there until the "crack of noon". Add to the mix that most of these people were partying till the late hours, sunglasses were very prevalent on most noggins. As I arrived, checked my messages and notes, and reviewed my pictures that I had taken,(more on that later) I was surrounded by hundreds of people carrying, briefcases, backpacks, guitar cases, coffee, bottled water, notebooks, music stands and more, all scurrying into the convention center in a mass of music business humanity. Lots of "fashion statements" to observe, as well. Yes, there are people that still sport mullets, after all this time, and plenty of fat girls in tight clothing. Then there is the bald guy in the KNAC.COM t-shirt…ME!

First things first. Off I went to the Paul Reed Smith booth to thank them for a wonderful party the night before. Great people that work there, always so friendly, and willing to answer any questions that may arise. They also make some incredible guitars, wanna see em? Go to www.prsguitars.com and enjoy.

I ventured next to Hall D also known to me as "Drumland". This is where most of the major drum and percussion companies have their booths. As you can imagine, its also one of the biggest and LOUDEST rooms at NAMM. I checked out lots of new products from all the biggies like Drum Workshop, Pearl, Slingerland, Mapex, and Sonor. Also cymbal companies, such as Zildjian, Paiste, and Sabian. For me, this is heaven.

While at the Vic Firth drumsticks booth (www.vicfirth.com) I ran into Twisted Sister drummer AJ Pero and we chatted for awhile. I reminisced about sneaking into a club at age 15 with a phony ID to see Twisted Sister, and he laughed and told me I wasn't the only one who had told him they had done that. I was so happy that I would be seeing him play that evening at the Epiphone party. No ID needed.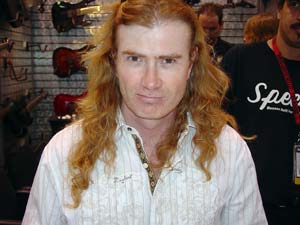 Dave Mustaine

Speaking of NY based drummers, (and there are a lot of them) I also spoke with former Good Rats/Twisted Sister drummer Joe Franco who I had seen the night before with Van Helsings Curse. Once again, old stories from my teenage days of following these bands were discussed. I then found my idol, Carmine Appice walking around, being trailed by a camera crew who he told me were there to film a documentary on him. I would imagine that would be quite some show, and I'll be sure to tune in. I had seen him earlier talking with guitarist John Sykes, his former band mate in Blue Murder, and when I asked him if they were planning a reunion, he simply smiled.

By now, the aisles of the convention hall were packed with people. My cell phone was ringing constantly with two scenarios. First, people that I knew, who were in the convention hall that were trying to hook up, and others who were unable to get a NAMM badge and were asking me to get them into the convention hall. This is bound to happen, I keep telling myself, and I always tell my friends that, during NAMM weekend, you lead, follow, or get out of the way.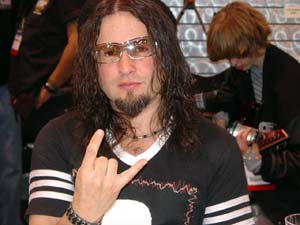 Michael Wilton of Queensryche

Back at ESP guitars, Dave Mustaine of Megadeth was signing stuff for fans, as was Michael Wilton of Queensryche, and George Lynch amongst others. Again the booth was mobbed. I don't know how my friend Allen at ESP keeps his composure during this weekend, but he does, and always has time for many others and me, you rock dude! All through the aisles you would keep turning your head at the sight of either a hot looking woman or your favorite rock n roller as they pass you by. One minute its Gene Simmons of Kiss, or Jack Blades and Tommy Shaw on their way to a signing, or a girl with incredibly large tits stuffed in a way-too-small top, Duff from Velvet Revolver, being as inconspicuous as possible, entering the hall, or being nearly trampled by a camera crew or a large posse of a hip-hop star.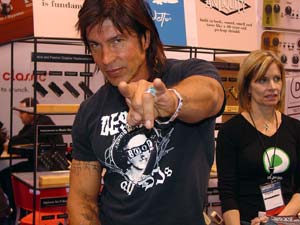 George Lynch

That's the beauty of this convention. You never know who you are going to run into, sometimes literally! As the years have gone by, the attendance grows to record numbers. It seems to me that the message is clear. If you are in the music business, THIS is the place to be. Many deals have been made on the convention floor. Mostly by the vendors, naturally, but also by fellow musicians who hook up with others while at the show, or by management companies etc. I even know a few couples who met at NAMM who are now married.

I ventured over to the Pro-Audio section to see what the latest was. I used to be a club DJ for many years, and sold DJ and lighting equipment for a few years, both on the wholesale and retail end. This is the part of the music business that has grown like no other. It seems that, with the enormous popularity of hip-hop, EVERYONE wants to be a DJ. I can understand that, for years I was the "King of Club DJ's", and they were some of the wildest years of my life. But a new generation has taken Djing to a whole new level, and, now that I am out of the game, all the things that I wanted to do as a DJ, are being done.

One aspect, is the involvement of video as a tool. Years ago I noticed that people, raised on watching TV such as MTV would respond to what I was playing if I showed a video on a TV or screen above the dance floor. The problem for me, as a DJ, was to be able to sync up the video (which then consisted of VHS tape form) and be able to "beat match" it to the record or CD that that I was playing. I even started using bootlegged video tapes and hooked up a pair of VCR's and a switching unit to my rig. It had its moments, and I got pretty good at it, but technology had not caught up with it by the time I moved on to greener pastures.

Now that I am retired from being a club DJ, of course, as Murphy's Law suggests, all the tools that I dreamed of, are now available. DJ's can now manipulate DVDs and beat match them with CD's, records, and MP3's, if they want to, with tools like the Pioneer DVJ X1 Digital Audio/Video turntable from Pioneer Electronics. I must have stared for an hour, open mouthed, as this product was demonstrated. Seamlessly looping music videos, TV outtakes and putting on a show that I had only dreamed of doing during my long career in the clubs. It is now a reality. I guess all those years of screaming at my reps finally paid off. My thanks to Karl Detkin and all the good people at Pioneer for making it happen. Go to www.pioneerelectronics.com for more info on these and more amazing products.

Saw lots of folks I used to be involved with in the pro audio section, which was mostly located inside the Anaheim Arena, which is connected to the convention center. Lots of cool lighting effects and of course more video presentations, as well as just about every booth now spotlighted a kid, with the hip-hop uniform of baggy clothes, gold chains and strategically turned off center trucker hat, scratching away at pair of turntables, bumpin' da bass at an ungodly level, while sales reps strained their voices trying to make deals with potential customers. As interesting as this may seem to some, I'm glad I am not involved anymore.

Saturday night was fast approaching. I hate the fact that I cannot see EVERYTHING that happens, at every booth, but its just not physically possible. I decided to bid farewell to my friends in the pro audio section and take another lap around the next hall, before heading to the Hilton Bar across the way to start the night's festivities.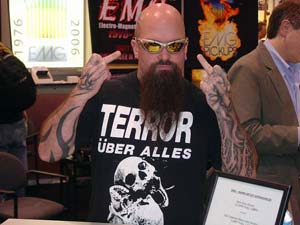 Slayer's Kerry King

Bumped into Kerry King from Slayer as he was signing and posing for pictures at the EMG pickups booth, and, naturally, there was a mob of people to greet him. After checking out some more drums and guitars I bumped into a lot more of my buddies in the hall, like comedian Craig Gass, from the Howard Stern show, guitarist DJ Ashba, Gilby Clark, drummer Ray Luzier of the new band Army Of Anyone, Frankie Banali of Quiet Riot, and, once again, Carmine Appice, followed by his camera crew.

It was getting late in the afternoon, and after hooking up with some of my local buddies and some VERY attractive women, we all decided to head over to the Hilton Bar for cocktails. I took one last look around at the convention hall, looked at my watch and the fine behind on the girl in front of me and made a dash out the door-exit stage left!

SUNDAY:

I don't know how I got the strength to awake. My body was depleted of everything except for alcohol and adrenaline, which, I'm told, can be a lethal mixture depending on dosage. I had been walking and talking non-stop for the last few days and was at the end of my rope. My dog lifted his head off the bed, and looked at me as if to say "again?" Yes, again I headed out the door and off to the convention center.

Sundays at NAMM don't usually have the energy or excitement of the previous days, unless of course, you did not attend, and today you borrowed a friends pass and are touring the convention floor for the first time. This is the case for many Sunday attendees. The reason being, that many sales staffers have already done their deals for the weekend and have lent their badges to a friend.

Therefore, I ran into a lot of people Sunday morning who had not attended Friday, or Saturday. Some, because they actually were lucky enough to have a GIG on the weekend, as a working musician, which always makes me smile. My cell phone was again ringing all morning with requests from people asking me to find them a badge, which, I decided was a NAMM version of "dumpster diving". People just want to attend NAMM, and who can blame them.

The aisles were less crowded, naturally, and many that had pulled themselves out of bed and attended Sunday looked pretty hung over. Lots of people wearing sun glasses. The coffee stands were the busiest places for most of the morning. Every one seemed to have a cup in one hand. I found some people I had met at the show the night before, and they said that after partying till the wee hours, they were going to bail out early and would be spending most of Sunday afternoon asleep in their hotel room with the shades drawn, and the "Do Not Disturb" sign on the door.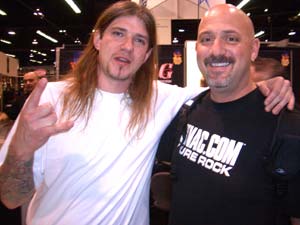 Christian Olde Wolbers of Fear Factory with Junkman

I decided to spend some time in Hall E which is downstairs in the convention hall. This is where a lot of the new products are displayed. Lots of gadgets, like pick holders and grip pastes and all kids of guitar picks, alongside new guitar companies with interesting shapes and finishes. Many case companies filled the hall, as well as accessories for musicians like mutes for brass instruments, string winders, and reed companies. One company I was glad to see was Travel Wellness Inc. who produce many healing products for musicians. One such product is "Vocal-Eze", an all natural throat spray for singers, that I have used and highly endorse. Being a DJ, I talk a lot, and during NAMM weekend, after trying to talk over loud music for 3 days or so, my voice can get pretty trashed. After a few sprays of "Vocal-Eze", my problem is solved. Sounds like a commercial, doesn't it? Check it out. Try some. Log on to www.travelwellness.com and find this and many more helpful products.

Back upstairs I went. After all, I had a previous commitment to interview a major rock star scheduled, and I had little time to attend the convention. As I walked by the Ibanez/Tama booth it was so crowded, that I could not make out who was signing autographs. Normally I would stop and check it out, but unfortunately, my time was limited.

I did stop by the Native Instruments booth for a demonstration of "Guitar Rig 2" by none other than Dweezle Zappa. Guitar Rig 2 is a virtual guitar rack on a computer program, that gives the player the option of using a host of all the major guitar amps and filters to make that "perfect tone". They have taken all the sounds from 8 different guitar amps and perfectly reproduced their sound, letting the user use a "Marshall" if he chooses, or a 'Fender" or a "Mesa", among others. Its really amazing to see and hear, even for a drummer like myself. Dweezle Zappa, in my opinion was the perfect person to demonstrate this product, as he can play so many different styles. Guitarists, you MUST check this product out. You can at www.native-instruments.com.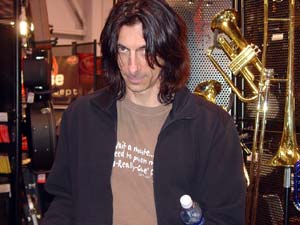 Judas Priest Drummer Scott Travis

I ran into a few other fellow journalists and we compared notes on this weekend. We all agreed that it never gets old, and we all look forward to it like no other weekend. I was asked if my article would be as long as it was the year before, and if it would take as long to finish, and I answered "probably", without flinching. Everyone laughed and we all went our separate ways, and I got to thinking how lucky I was to be standing in the middle of a convention of my heroes, with access to just about any one of them, and was welcomed by my peers in the industry, who excitedly awaited this very article. I took one last look around before I headed for the door.

NAMM at Night

As exciting as the NAMM show is during the daytime in the convention hall, the big entertainment takes place at night. In the hotel ballrooms, nightclubs, and surrounding entertainment venues, (and there are many) the city of Anaheim California hosted plenty of live music this particular weekend.

Friday night gave the music lover quite a choice, although getting into some of the shows was tough to do. Extremely limited in some cases, to dealers, like the Yamaha show at Disney's California Adventure Hyperian Theater. This show featured Beach Boy founder Brian Wilson along with singer Sara McLachlan, who were joined by singers Natalie Cole and K.D. Lang.

Sabian, meanwhile, was sponsoring "Sabian Live" at the Anaheim Hilton, featuring the incredible drummer Dave Weckyl and his band. The Hilton, as always, is the place to be after the convention hall closes. It seems EVERYONE is there to have cocktails, schmooze with their favorite rock star and, of course, check out the "talent"(also known as girl-watching) that seemed to arrive in waves as the evening progressed.

The Pulse nightclub inside the Hilton was also the scene of a show sponsored by my good friends at EMG pickups celebrating 30 years of supplying the best pickups in the business. This show featured the Trailer Park Troubadours, a band I've been wanting to check out called Deconstruct, Re:Ignition, and the Mercy Clinic, among others. At the Anaheim House of Blues Washburn guitars sponsored a private party headlined by Disturbed, who I saw on Sunday night,(more on that later) and if I wanted to drive to Hollywood, Anthrax was headlining at the Avalon. Decisions, decisions…After considering all these shows and what to attend, I made what turned out to be an excellent decision and an incredible evening of entertainment; The Paul Reed Smith party at the Grove in Anaheim.

After downing many cocktails at the afore mentioned Hilton Bar, armed with my camera, note pad, V.I.P. laminate, and back pack, I grabbed a cab for the ride up the street to the Grove, a 1000 or so seat theater, located on Katella Ave. at the entrance to the Angels Stadium parking lot. I'd been to this venue many times, seen many a rock show there, including a killer Alice Cooper show this past Halloween.

After an opening set by the incredible guitarist Al DiMeola, I decided to make full use of my laminate and head for the adjoining plush lounge, where I was treated to free drinks and a buffet. There I met up with a few friends and talked with some folks in the industry for a while as I wolfed down some food. Years of attending NAMM conventions has taught me to avoid the food inside the convention center, and this was the first time all day that I had a chance to graze.

After missing a set by guitarist Steve Bruton, and Paul Reed Smith and his band, I caught a set by guitarist Johnny Hiland , who seemed to be everywhere at the convention. Hiland wowed the crowd with his mix of tasty blues and country style guitar playing. Its no wonder this guy is in demand amongst studio engineers, he can play just about any style. I noticed Paul Reed Smith himself grinning from the side of the stage during his set. As a matter of fact, Smith also played guitar tech and stagehand throughout the entire evening, what a cool guy!

I ran into my friend, bassist Chuck Wright, who was to be playing later on in the evening, and we walked to the backstage area where I immediately bumped into guitarist Pat Travers who was also to be performing. Parked at the back of the stage was the Archies Ice cream truck, (www.archiesicecream.com) which is a combination lounge/ ice cream truck that is always at events in southern California. The owner is a huge KNAC fan, he even has t-shirts and bumper stickers modeled after the old KNAC radio logo from back in the day. We hung out for awhile, took some pictures and I got to sign the inside of the truck which is filled with lots of celebrity signatures, mostly from the rock music community.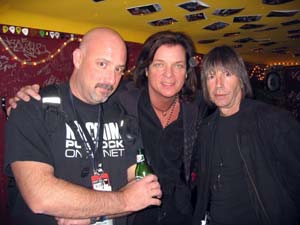 Junkman with Chuck Wright and Pat Travers

There was a lot of time in between acts at this point, as the next act onstage was going to be a full staging of Dee Snider's Van Helsings Curse, complete with full band, chorus and orchestra. Everywhere, in the backstage area it seemed there was someone dressed as a ghoul of some sort, walking from the makeup trailer to the backstage door. Looked like it was about to get interesting.

I returned to my seat in the audience, running into my friend and colleague, DJ Will, from KNAC.COM, as the lights dimmed and the band began to play. The band made up of bandleader/drummer Joe Franco, (from the Good Rats and Twisted Sister fame) bassist Derek Taylor, guitarists Karl Cochran and Denny Colt, pianist Doug Katsaros, and the extraordinary violinist Mark Wood who was playing a "flying V" styled violin called a VIPER.

As a matter of fact, they had an entire SECTION of VIPERS, along with a cello player and a chorus, known as Druids, who were dressed as the Grim Reaper. The ensemble performed a mixture of rock and classical music involving pieces of many famously haunting themes, such as the theme from the Exorcist, "Tubular Bells", and Mussorgsky's "Night on Bald Mountain,"amongst others.

In between each musical segment, out came Dee Snider, from Twisted Sister fame, to recite a passage. He was dressed in very goulish makeup, and I couldn't help but think just how cool this production would be at Halloween time. Even though it was January, it was still very spooky, and I really enjoyed it. At the end of the set, Snider introduced the entire cast to a warm ovation. I realized that one of the VIPER players, David Finch, was a friend of my family whom I had not seen in many years and I raced backstage to say "hello" to which he was blown away when I introduced myself. As they say, "small world, huh?" Check out www.vanhelsingscurse.com to find out when this production will be near you.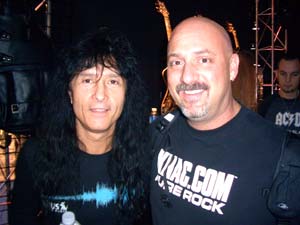 Joey Belladonna

After schmoozing around in the backstage area and eating some ice cream (yummy…) the show went on. Paul Reed Smith and his band were joined by many others throughout the evening. This time, making his way onstage, was guitarist Pat Travers, who rocked the crowd with a 3 song set, starting with the old Allman Bros. hit, "Statesborough Blues", and finishing with the double shot of "Snortin Whiskey" and the crowd sing along "Boom Boom(Out Go The Lights)".

Next to join the band was a very pretty 21 year old girl who went by the name of Orianthi. She played some very impressive riffs on her guitar and sang as well. Once again I noticed Paul Reed Smith on the side of the stage, with a great big smile on his face, clearly having a great time. After Orianthi left the stage, out came the one and only Michael Bolton!!! Yes that guy!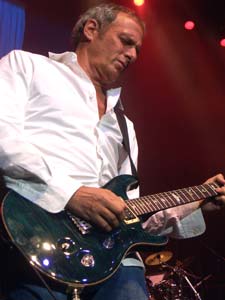 Michael Bolton Rocks!

Even though he's known for his catalogue of wimpy adult contemporary music, (hey, I didn't make that term up) I have been aware of this guy for years. He was, when I was growing up on the east coast, a full on rocker at one time. AND he can play guitar pretty well, hence his appearance here. And play it, he did, knocking out some pretty smoking solos while singing the old standards "Summertime," and "Rock Me Baby." And, for all you tabloid freaks, YES, his girlfriend Nicollette Sheridan (from Desperate Housewives) was there in the wings rocking out. Sorry, I didn't get any pictures of her.

Next up was former Rainbow/Deep Purple singer Joe Lynn Turner who bashed out a set of Rainbow classics, like "Death Alley Driver", and "Stone Cold", before bringing out guitarist Karl Cochran (sans goulish makeup this time) for a killer rendition of "Spotlight Kid". Turner sounded great , and after speaking with him over the course of the weekend, you will be hearing quite a bit of new music from him in the next year or so.

The final performers of the night happened to be the most fun, for me. After swapping stories and hanging out in an Ice Cream truck( which was used as their dressing room) an assortment of Hollywood based rockers known informally (actually by Chuck Wright) as "Trainwreck" hit the stage. Composed of guitarist Alex Grossi, drummer Troy Patrick Farrell, bassist Chuck Wright and none other than former Love/Hate/Ratt singer Jizzy Pearl on vocals.

Opening with Guns N Roses classic "Welcome To The Jungle", the band was clearly here for the fun of it, laughing and mugging it up for the photographers in the front row. A version of Aerosmith's "Draw The Line" got the crowd pumped up, as did AC/DC's "Highway To Hell", which followed, and featured a solo by Paul Reed Smith on guitar, although, I must say, it was quite different than the recorded version.

The band finished the set with another AC/DC tune "Dirty Deeds(Done Dirt Cheap)", and that was it, a fun finish to a really fun evening. A special thanks to all the people from Paul Reed Smith guitars, especially Paul himself, for inviting me to join them for an incredible evening of entertainment. They truly know how to have a good time, and put out a line of the finest guitars you will ever see.

Catching a ride back to the Hilton Bar for a night-cap, I was shocked to find out that they had closed the bar at 1 A.M. Oh my god!!!! Nothing sadder than seeing a group of musicians(and journalists, I suppose….) wandering aimlessly around a hotel lobby, looking for booze. After wandering towards the door to the parking lot, I was grabbed by a friend of mine who was flanked by 2 attractive blondes. "Junk", he says. "This one is yours". To which I was latched on to a VERY sexy girl named Chrissie(?).

After exchanging stories on how our evenings had gone, and how pissed off we were that the bar was closed, Chrissie(?) exclaimed loudly, in a drunken voice akin to Jimi Hendrix guitar feedback at Woodstock, "I want VODKA". "I want VODKA". "I WANT VODKA!!!!!" Annoyed, and exhausted, by this time, I decided that I'd had enough and bid farewell to my friend and Chrissie(?), leaving them and many other drunken people, in the lobby of the Anaheim Hilton, still searching for that elusive drink, and headed for my car. What a day, but I needed sleep. It wasn't until the next morning, when I looked at my pictures and realized how hot-looking Chrissie (?) was, that I realized someone should kick me in the nuts for bailing on her. Oh well, ya live and learn.

Saturday night at NAMM, traditionally, is the time to let loose. And let loose I did. Once again, there were lots of choices for musical entertainment at its finest. At The House of Blues in Anaheim, Schecter guitars had a show featuring New Orleans legends The Neville Bros. At the Cerritos Center for the Performing Arts, in the nearby city of Cerritos, Yamaha drums were presenting a"Groove All Stars" extravaganza, showcasing many of the finest drummers in the business, including Tom Brechtlien, Ndugu Chancier, Peter Erskine, Steve Gadd, Russ Kunkel, Rick Marotta, Dave Weckyl, and more. What a lineup! As a drummer, this was a dream show. As a rock journalist, I decided to stay closer to the action, which meant the area surrounding the Anaheim Convention Center. At the Radisson Hotel, Lectrosonics, Body Glove, Beyerdynamic, Location Sound, and Renkus-Heinz were presenting a show with the great Ronnie Montrose, Johnny Hiland (yeah, HIM again) and blues guitarist Chris Cain. But once again, it seemed, the Anaheim Hilton was the place to be.

In one Ballroom, the Muriel Anderson All Star Guitar Night, sponsored by GHS strings, Gallien-Krueger, Auralex Acoustics, and Hofner Guitars amongst others featured guitarists Muriel Anderson, Jennifer Batten, Patty Larkin, as well as Charlie Haden, Jeff Berlin, and others. Also on the bill were Joe Lynn Turner (playing guitar) along side long-time Heart guitarist Howard Leese, and Heaven and Earth guitarist Stuart Smith, another guy that seemed to be everywhere.

At another ballroom inside the Hilton, Halo guitars, along with Coffin Case, Monster Energy drink, Mackie, Crate, Ampeg, and Peace were having a show featuring To Die For, Spiracell, Prong, Severance, Dead Boys Club, Sister Kill Cycle, and an all star jam featuring Poison guitarist CC Deville as well as Tracii Guns and friends. All this and a fashion show with the Coffin Case Girls, which include my friend, sexy Jasmine St. Claire.

Down stairs in the Pulse Nightclub, the scene of many memorable NAMM Jams in the past few years, Epiphone Guitars was sponsoring a show headlined by none other than "The Bad Boys of Rock N Roll"- Twisted Sister!!! Now being a long time SMF (figure it out…), I knew that this was for me.

So after the convention hall closed, I headed over to the Hilton Bar and ran into my good buddy, former David Lee Roth/ Black Label Society bassist James Lomenzo. We talked for awhile and were joined by some members of different chapters of the BLS, who, after spotting James, started to congregate at our table near the entrance. It was kinda cool, these huge dudes, buying us drinks, and keeping us from being bumped into by the endless parade of people flooding the place. It was kind of like having your own personal bodyguards.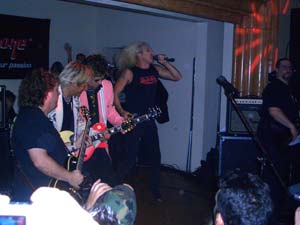 Twisted Sister and C.C. DeVille

We decided to hit the Halo Guitars party upstairs, and it was JAMMED! After seeing a few of the bands play and downing some more drinks, I was nearly trampled by a bunch of drunks who spilled more than one drink on me. It seemed like most of the crowd that was packed into this ballroom were extremely intoxicated, with very little balance left. We decided to ditch it, and head downstairs to the Pulse Club for the Epiphone party. Turned out to be a good idea.

Upon entering the club , flanked by our "bodyguards", (thanks dudes) , we found an area near the stage and set up "camp". Ran into my friend singer Neil Turbin, as well as Seven Witches vocalist Jack Frost. Hung out with them for awhile, as well as my buddy Patrick Johansson who plays drums with Yngwie Malmsteen. We had a lot of fun as the next act was about to play.

What a band it turned out to be. On vocals and guitar was Billy Burnette. On lead guitar was former Doobie Brother/Steely Dan guitarist Jeff "Skunk" Baxter. On bass was Jefferson Airplane/ Hot Tuna member Jack Casady, and rounding out the unit on drums, none other than Mick Fleetwood. They played a few bluesy numbers and had a really cool take on the old Fleetwood Mac tune "Oh Well". When they finished, an MC from Epiphone, dressed in a doctors outfit, threw some Epiphone swag into the crowd. Pic-holders and tee-shirts and stuff and it was good fun.

Next band up was a band called Matchbook Romance who had sort of an "emo" (I know, I HATE that term) sound. Kind of like Hoobastank meets the Counting Crows. Not too bad, although the crowd was clearly there for the next act. The crowd was also swelling, and they were running out of booze, which pissed a lot of people off, you couldn't get a drink. They actually ran out of Jack Daniels and most of the beer. Can you imagine that? At a convention full of musicians?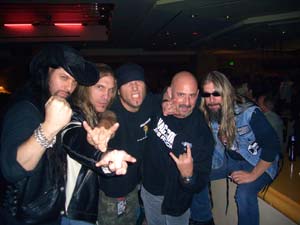 Neil Turbin, Jack Frost, Patrick Johansson, Junkman and James Lomenzo

Somewhere around 11:30 or so Twisted Sister appeared onstage, minus guitarist Eddie Ojeda, whos father had passed away, it was explained. Another guy who's name I did not get, filled his spot and the band, guitarist JJ French, bassist Mark Mendoza, drummer AJ Pero and singer Dee Snider (wow, 2 nights in a row!) opened with a rockin version of "You Cant Stop Rock N Roll."

Even though they weren't wearing their famous costumes and makeup, it was like old times again. JJ French (playing a pink sunburst Les Paul, and sporting a matching pink jacket) told the crowd that they had not played in California in 21 years, and as a fan and California resident for longer than that, I can attest to it. Snider dedicated the next song to Eddie Ojedas late father, and the band broke into "We're Not Gonna Take It", the crowd going wild and singing every word.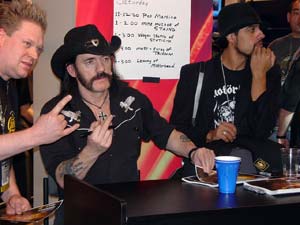 Lemmy

After a great version of "Shoot Em Down", Poison guitarist CC Deville, fresh from his appearance upstairs, jumped onstage and jammed with the band on their huge anthem "I Wanna Rock". The crowd, which now included Motorhead's living legend Lemmy Kilmister among others, went nuts, a clearly pleased Twisted Sister promising to see them soon, then exited the stage; a great end to another NAMM Saturday night. Still another day left in this weekend, so after another lap around the bar and saying about 100 goodbyes, I hit the road and headed for home.

Sunday afternoon I left the convention center before the halls closed because of a previous commitment. Then headed over to the nearby House Of Blues Anaheim to see a show by who I consider one of the best bands to come out of Chicago in a long time, Disturbed. I had seen this band before, but never in a place so intimate, so there was a new found sense of excitement about this show.

Now for those who don't know, The House of Blues in Anaheim is located smack dab in the middle of Disneyland, at the "Downtown Disney" area. I've never been a fan of Disneyland, but going to shows at HOB always makes me snicker, because most of the shows I see there are anything but Disney-friendly. Just the thought of what happens at a Disturbed show in the middle of the "House-Of –Mouse", was enough to make you feel like you were getting away with something.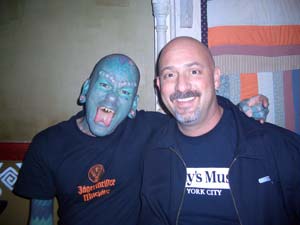 Lizardman and Junkman, man.

The show, part of the Jagermeister sponsored tour, was MC'd by "Lizardman", a guy who has, through cosmetic surgery, made himself the human equivalent of a Lizard. Green tattooed scales all over his body, implants in his eyebrows and filed pointy teeth make this guy very freaky looking, and that is precisely the point. He also has quite a sense of humor, and performed stunts that brought to mind the "Jim Rose Sideshow". He stuck numerous objects in his nose, such as a hook that came out his mouth, and a pair of scissors, as well. He finished his act with the "Lizardman Lobotomy", which consisted of using a cordless drill and putting the bit up his nose, to a loud applause from the crowd. He then left the stage and Fireball Ministry opened the show with a kick ass set that brought to mind early Black Sabbath. These guys really know how to rock, I have been a fan of theirs for quite some time, check them out when they come to a town close to you. From the opening note, the mosh pit and crowd surfers started doing their thing.

After Fireball Ministry, Lizardman again came out and told some more jokes and performed some more tricks, before introducing Bloodsimple.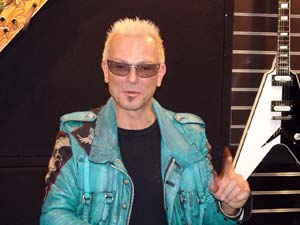 Rudolph Schenker (Scorpions)

Bloodsimple isn't the flashiest band I've seen and nothing really stood out in their set, but one thing is for sure, they can amp up a crowd. And that is what they did, as an endless procession of kids surfed their way over the barrier, having the time of their lives. Guys and girls, young and old, moshed in the pit, grinning like kids on Christmas.

After their sweaty set ended, everyone seemed relieved. Lizardman again provided comic relief in between acts by sucking a condom through his nose and blowing it up. He then brought out a guy who put hooks in his eye sockets and used them to pick up a few bottles of Jagermeister. Not to be outdone, Lizardman then attached some hooks to his already stretched earlobes and proceeded to pick up the box of Jagermeister bottles, swinging them from side to side. Now THAT is entertainment, friends!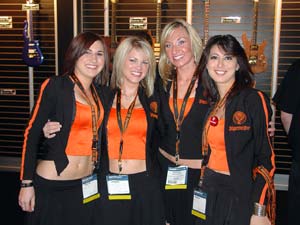 Jagermeister Girls

Yes folks, it IS the Jagermeister tour after all, and after a couple of shots of that particular elixir, I'm liable to doing something just as stupid. Fortunately I did not partake, I stuck to beer. After all I was on assignment to cover the show. And what a show. About 10 pm, the lights went out and it was time for Disturbed.

Opening with "Liberate" from 2002's "Believe" CD, the band put on a very impressive show playing just about every one of their billboard modern rock chart topping hits, (according to singer David Draiman, they have had seven in a row, working on eight) and showcasing many songs from their latest smash CD "Ten Thousand Fists."

Draiman was particularly impressed with the crowd that evening, telling them about the lack of intensity that the "industry crowd" they had played to on Friday, had displayed. David Draiman, has long been known to rant to the crowd about what upsets him, and why not? Its his show, he can say what he wants. This band has earned the respect of many, including myself, and this crowd this evening.

After a memorable version of "Fear", Draiman had a long tirade into the fact that they were playing at Disneyland. "Are you ready to be the cancer that festers in the middle of Disneyland?" he asked. The crowd, naturally, and the band, also featuring Dan Donegan on guitar, new bassist John Moyer, and drummer Mike Wengren responded by bringing up the energy level another notch.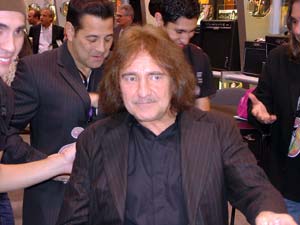 Geezer Butler of Black Sabath

One of my favorite tracks from their first CD "The Sickness", "Stupify" was followed by Draiman telling the audience that "there is no hip-hop in this band. You are NOT gonna see a turntable" to which the crowd cheered their approval. He also chastised the people who doubted what the band is all about by exclaiming a typically quotable David Draiman statement, "let the naysayers take a razor blade laden spike and shove it up their ass!" I gotta remember that one, talk about emphasizing a point.

Disturbed kept the crowd going through performances of "Breathe" and a terrific cover of the old Genesis tune "Land of confusion" which is track # 11 on their latest CD. Like their version of the old Tears For Fears song "Shout", this band has made the remake their own. As the band left the stage the audience was in a frenzy. Coming back with an encore of "stricken" from Ten Thousand Fists, and the eventual performance of perhaps their signature song, the one that started the ball rolling, "Down with the Sickness". To which there was complete bedlam in the building, with people flying all over the place and people in the balcony on their feet.

THIS is what a rock show is supposed to feel like, and with Disturbed, you get this every show (with the exception of the industry show as noted earlier). This band was the perfect finale for an amazing weekend. My thanks to the band Disturbed and their management, along with my good friend Adam Grayer from Jagermeister for making this show the perfect "nightcap" to a wonderful NAMM weekend. I will be back to report on it next year, you can be sure of that. Till then check out my show on KNAC.COM on Mondays 3-7 PM PST, and look out for articles that I write for this and other publications. I can be reached by e-mail at [email protected] or my new myspace page at myspace.com/junkmanknac.

Once again, I hope you enjoy my look at NAMM.
Please log in to view RANTS