With a voice as distinctive as it is razor sharp, she was the voice of the cult. Spearheading CHASTAIN through the 1980's and bringing her brand of grit and determination, Leather Leone built a fan base that spent the better part of the late 1990's into the 2000's searching for her. After her last album with CHASTAIN, For Those Who Dare, Leather disappeared, only to re-emerge in 2012 with her old RUDE GIRL running mate Sandy Sledge with their collaboration called Imagine Me Alive.

This let Leather know that it was time to get back into the studio and lay down the tracks that had been burning themselves into her mind. Her immensely successful first solo album, Shock Waves, was released in 1989 and it was way past time to give it a follow up. In 2018 she released Leather II, and on November 25, 2022, she gifted us with We Are the Chosen.

Leather and her writing partner, Vinnie Tex, have given us ten blistering tracks that were recorded in Poland at the legendary Hertz Studios and released via SPV/Steamhammer Records; a major feat for Leather as the label is putting worldwide support behind the release.

"This is the first time I've had a label this large behind me and I'm so excited about how this is going," Leone said. "I am ready to tour, I'm loving the way the record turned out and I am so excited to put this album out. It is a work that kept me going when we were in the Covid lockdown and couldn't do anything. I said, 'I'm going to write a new record' and Vinnie and I got together and this is the result!"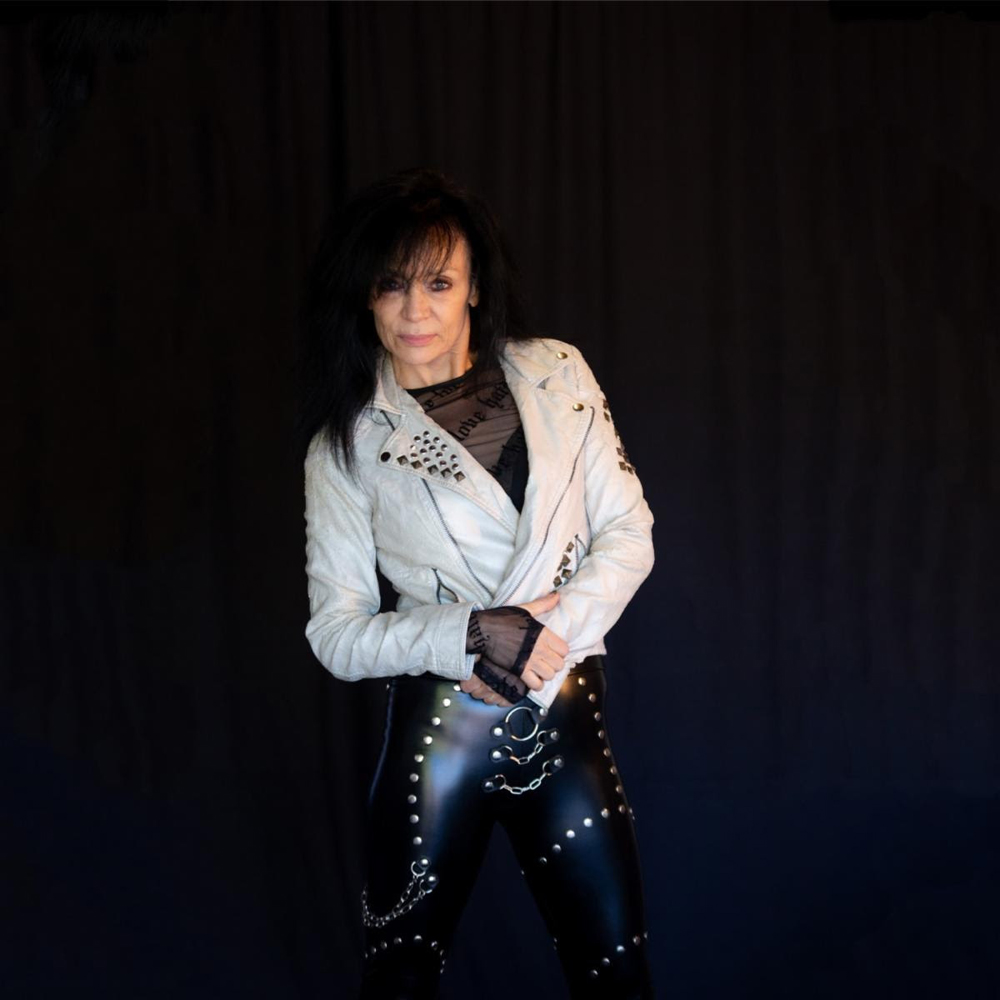 Her enthusiasm is contagious and she loved the studio. She said it was the most intense recording session she has ever had and the way they work at Hertz has left her with the resolve that she will record all future works there. Well known for all of the extreme metal bands that record there, the studio gave Leather an amazing and intense recording experience.
"It was amazing and I have never recorded anywhere like this!" She said, "I wasn't sure what to expect but they pulled it out of me and it was the most intense work I have ever done. I will do everything else there from now on. It was not like anything I have ever done."
During a quick discourse about a very interesting turn with the song "Shadows", Leone said that it was a different feel for her.
"You know me, I'd be in a doom band if I could, like freaking TROUBLE! I'm a SABBATH-head and Vinnie sent me the riff and we just took it from there! We didn't sit down with a specific thing in mind, it just happened and when we first did it, it was so much slower than what the final version was," she said.
Leather's love for knowledge played a role in the lyrics to not only "Shadows", but with anything she writes. ""Shadows" turned out the way it did because I have always had a fascination with witchcraft, the occult, and those who play in the shadows. I have had positive feedback on it and I'm glad you like it. It had that bluesy, BLACK SABBATH feel to it and it just felt right. There is so much power in the world and we need to explore it and I feel like I could express my thoughts on this record in ways I haven't before," she said.
The ability to tour is something that has been at the front of Leather's agenda since so many restrictions to travel have been lifted. Covid stopped so many artists in their tracks and many bands are currently touring in support of albums that were released pre-Covid; but Leather used that time to write and refine her work and now she is ready to play!
"So many bands are now out there to make up for all of the album sales, ticket sales and correct the chaos of 2020, but I will be touring next year. I am ready to get out there! I have a band down in Brazil and we are ready to work. I started going down to Brazil to work with a group of recommended musicians and it all just went from there. My whole team has changed since Covid and Vinnie and I have just stuck together and worked, so it is just me and him," Leather said. "Shows are all I want to do. This is my first time on such a large label and I have made touring plans a priority. In 2023 it is going to kick off; that's all I want to do!"
This whole record is actually about taking back control over her work, her life, her plans to tour. She is starting from scratch and putting the finite touches on a project that she conceived herself from beginning to end.
"This has just all been so exciting and so insane! I never really knew what to expect when working with a major label like SPV and I have known them for a while, but to sign with them and to find out the amount of exposure that is happening for this record has been a dream," she said. "I am so pleased with everything that is happening. I am looking forward to sharing this with the fans that have supported me for so many years."
Released worldwide last month, the album is picking up traction and the first video for "We Are The Chosen" can be seen on KNAC.COM HERE.
Be sure to stay tuned to KNAC.com for updates on impending tour dates for 2023 and be sure to check out the album. It is available on all formats and can be heard on all of the streaming platforms.