I recently had the opportunity to interview VANTE Lead Singer Brian Troch. VANTE is a band that seems to have come out from nowhere and been making some real serious noise ever since the release of their self-titled album. I put VANTE's debut album right up there with some of my other favorite classic debut alums in my own collection such as DIO's Holy Diver, VAN HALEN's 1978 debut album, and Too Fast For Love by MOTLEY CRUE. VANTE is my proof that Hard Rock/Metal is not dead! In this conversation Brian tells the story of how the band came together. He has a great story he tells in regards to how the band came to be named VANTE and talks about how he predicted the band would have a Top 20 hit before it actually happened! Please read the interview and ENJOY!

KNAC.COM: Hello Brian and thanks for taking time out of your very, busy schedule to do this interview with KNAC.COM. We really do appreciate it.

TROCH: My pleasure

KNAC.COM: VANTE seems to be a band that just came out of nowhere but ever since the release of the band's debut album everyone has been talking about the band, listening and purchasing the album. How long has the band been together?

TROCH: Well Scott and I started talking and then writing 7 years ago. We probably wrote the first song on the album, "Why Is It So Cold" and also the song "I Stand" in their pre-production versions about 5 years ago. Then that went on a hiatus while Scott started working on the Thorns album with vocalist Tony Martin of BLACK SABBATH and I worked on MY INFECTED SOUL and ELLIOTT WAITS FOR NO ONE. 2 years later we decided to start writing more and it came pouring out so we decided to do an EP which then turned into a full length, 14 song album. Rev Jones joined about 3 years ago and then we started writing with Rev also. So I would say in it's current form the band is about three years together as a whole.

KNAC.COM: VANTE released it's debut album a few months ago. How surprised have you been in regards to the success of the album and the huge response both critics and fans have given to VANTE?
TROCH: Ya know , I'm kinda pleasantly blown away! No matter how great you think your material is , you just never know how it will be received and given that we are a bit different I was very curious to see how it would be interpreted. So far it's been overwhelming and very, very positive so we are all really happy about it!
KNAC.COM: One of the singles off the album, "Watch The Sunshine" actually hit the Billboard charts as high as #18. When you first heard that news how surprised were you? For a band such as VANTE, who people are just starting to discover for the first time, that's a huge accomplishment.
TROCH: I have to say on that song I'm not that surprised, maybe at the number we reached at 18, but Scott and I and Rev knew this song was a really strong rock radio track and I actually predicted it breaking the top 20. I think some people thought I was a bit nuts haha!
KNAC.COM: Could you share with us the story behind the band's name?
TROCH: HA!!! Well I wish I had some deep story I could tell but truth be told , Scott and I were texting back and forth and he mentioned that the intro to the song "I Stand" reminded him of a vampire movie and I texted back, "I vant to suck your blood bleh bleh bleh" with a Hotel Transylvania GIF and Scott said, "Vant is a cool word and we both wanted a short memorable band name that didn't sound too contrived or gimmicky and we thought we had stumbled upon it until we discovered that an artist out of the UK had a band called VANT after his last name. I then added a greek E to the end and it stayed liked that until we decided to just change it to VANTE. For some reason it just fit us stylistically and rolled off the tongue, VANTE. Yep, we had our name at that point.
KNAC.COM: Who were some of the singers that influenced you? Have you always been a singer or did you start out as a guitarist first?
TROCH: I have sang since I was in the womb I believe haha!! Singing was something I've done for as long as I can remember. I actually started on snare drum and bass drum and other percussive instruments and then moved to coronet and trumpet. I then discovered electric guitar and then acoustic guitar and then bass, keyboards etc. I play a lot of acoustic guitar. I was mainly a blues/soul/jazz /folk and theater singer until around 10 when I saw Jesus Christ Superstar and after that I was a huge Ian Gillan fan and it set me on another path musically.
KNAC.COM: On the VANTE album you kill it vocally but I must also say that the rest of the band is on fire as well! Let's start off with Bassist Rev Jones. Share with us how Rev first got involved in the band and aside from his obvious skills as a killer bassist, what do you think he added to the band?
TROCH: We were looking for a bass player and Scott had done a tune with Rev and Eric Martin and another tune with him I believe, so Scott simply asked Rev if he was into doing it and after sending the material we had started on he said that he was in. Rev brings a really cool rock vibe that we tapped into and its really noticeable on "Going With The Flow". Rev and Scot both write really great riffs. Rev brings a bit of classic vibe and him and I connected on the blues rock influence as did Scott and I in our own way as well. I would add that Rev is just super cool and a good friend.
KNAC.COM: Chris Moore, VANTE's drummer is a very, skilled, talented musician in his own right. How did you hook up with Chris? Did you know right away that Chris Moore was the drummer you were looking for?
TROCH: Actually We were going to ask Chris to do the album but I had already asked my old friend and Vegas BLUE MAN GROUP drummer Jeff Tortora to do it and Jeff and I were in SHOOTING HEMLOCK together which was Joey Belladonna's band and when he went back to ANTHRAX, I replaced Joey and met Jeff Tortora, guitar player Joe Stump (whom I also did an album with called JOE STUMP'S REIGN OF TERROR Second Coming) and bass player Jimmy Puma and we became SHOOTING HEMLOCK and put out two releases. Jeff played on 4 VANTE album tracks before covid restrictions started opening back up and Jeff had to return to BMG full time so I then asked Chris if he could finish the last 10 and he said absolutely. They are both wonderful human beings and phenomenal drummers. Jeff played on "Why Is It So Cold", "I Stand", "Paint It Red", and "Under My Skin". Chris played on all other tracks.
KNAC.COM: VANTE's guitar hero is of course none other than Scott McClellan. How did Scott come to join VANTE and what do you feel Scott has brought to the band?
TROCH: That was all explained above. Scott brings everything, he and I together constitute the backbone of VANTE. He writes great riffs and we click together songwriting immensely!! Plus he's a great friend on top of all of it. One hell of a player/writer and person all around..
KNAC.COM: How important was it for you for the other members of the band to be equally as talented as you are rather than just make this the Brian Troch solo band?
TROCH: I'm not sure I ever thought that as a conceived notion, I would say it was of utmost importance that we all clicked together and were all on the same page. I'm also a very humble person and very easy to work with as I don't get married to certain parts or whatever and am all about the song and what is best for it. Scott and Rev are the same way which is of major importance. Especially when recording remotely. The talent level is always something we all strive to find and when you do you keep your circle tight.
KNAC.COM: What plans are there for VANTE to tour behind the debut CD?
TROCH: When Rev gets back from Australia with George Thorogood in November. We will most likely be doing some dates. I do know the Whisky in LA was talked about and some others. Our management is communicating with some booking people now though. We have some geographical and logistics that would need to be worked out. I would love to go the UK as well as the band has a good following there as well.
KNAC.COM: After hearing the 3 singles off of the album, I thought VANTE was more of a commercial radio hard rock band. Having just heard those three songs and hearing the entire album, I must admit that I was quite surprised to find out the remaining songs on the album leaned a lot more towards metal. Have many other people had that kind of response to the album?
TROCH: Yes they have :-) and once we play live people will come out of it saying "damn, they sound way heavier live" haha! Thank you for the props!
KNAC.COM: One song I really enjoyed on the album that was a little different was "The Road To Shangri-La". Talk a little bit about that song? That's one I really enjoyed!
TROCH: It's kind of a long one. That song is a very emotional one for me. It's about my father and I wrote it , tracked it and bounced a rough cut the night before flying to SC at 6am to be there with him. I watched him draw his last breath that evening. I felt very strongly about writing it for some reason even though I knew I had to travel early. My father was on hospice and it was a question of when, so I was stressing over getting there in time. I went into my studio and closed and locked the door. Mind you, I had a writer's block on melody and lyrics on this one and that never happens to me, but it was if my dad was with me, hovering in that in-between world and then as if he handed me the first line, "Whither when we're sewn, wither when we're born the moment we arrive, witnessing our own decline" the rest poured out as if I was an inspired painter laying his heart out on a canvas. My tears flowed like salt-driven spikes. Then the last part where I'm going up high in a sense crying to the sky was actually my father telling me not to worry and that he had made it, "I love you son and I'm in the land of Shangri-La-La with no more pain". He wanted me to know he was there with me and that song and performance was how he communicated it to me and I never touched that vocal performance and it is as I laid it down that very evening. A very deep , personal and emotional song. It is dedicated to my father on the CD.
KNAC.COM: "Scary Was The Man" has a BLACK SABBATH/ALICE IN CHAINS vibe to it. Were you influenced by either of those bands? Talk a little bit about what the song is about.
TROCH: I was most definitely influenced by both. Hmmmmm, well there is a lot about this song that I simply cannot talk about, In a nutshell it was the result of letting Claude out of the box. It is one of my personal favs off album.
KNAC.COM: Where can fans find VANTE online?
TROCH: We are easily found on Facebook, InstaGram, Twitter and YouTube under VANTE band.
Website is www.vanteband.com
Also the super link is https://lnk.to/Vante. Available on all streaming platforms and Physical CD copies available on Walmart.com, Towerrecords.com, Amazon.com and Darkstarrecords.net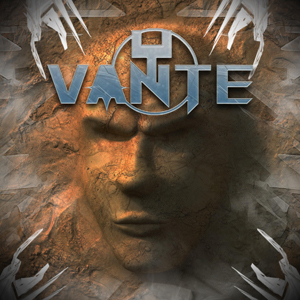 KNAC.COM: I noticed in searching for VANTE on Facebook that I had to type 'VANTE band' to get the band's page to come up for the simple fact that there are a few other pages with the name Vante in them. That's something I bet you didn't think about when coming up with a band name.
TROCH: No I knew but didn't care as I knew we could define the name rather than the other way around. Yes, for all of you fans search 'Vante band' and you will see us right away on Google. Actually if you Google just 'Vante' I'm pretty sure our videos are right at the top.
KNAC.COM: I know that you also have another band called ELLIOTT WAITS FOR NO ONE. What's currently going on with that band?
TROCH: Myself and Jenny and Jeff Tortora are in the middle of recording another album release. At the same time Scott, myself and Rev are working on other material for another VANTE album and have several songs very far along in the process.
KNAC.COM: Anything else you'd like to say to all the VANTE fans out there?
TROCH: I would say to all VANTE fans, "Thank you and we are very happy that you decided to join the VANTE movement, For all the new fans to be, We'll be looking for ya ;-). We appreciate all the support and positive feedback. Hope to see all of you at some monumental live shows and fests! Special shout out to Radio WigWam in the UK who have really gotten behind VANTE, Cheers RWW!