W.A.S.P., MICHAEL SCHENKER GROUP, ARMORED SAINT In Houston, TX With Photos!

By Larry Petro, News Monkey
Sunday, November 6, 2022 @ 10:21 AM

| | | |
| --- | --- | --- |
| | | The 40 Years Live World Tour Destroys White Oak Music Hall On November 2 |
All Photos By Larry Petro/Petrofyed Photography (Except The Last One By Phred Williams
They say that abscence makes the heart grow fonder. If that's actually true then Houston's fondness for 80's shock rockers W.A.S.P. had to be approaching epic levels because while the band hadn't toured the States in about 10 years, it's been nearly double thhat since they graced H-Town with their prescence. And while most of the country only got a 2 band package with LA darlings ARMORED SAINT on the bill (a great lineup in and of itself), those of us in Texas and Tulsa, Oklahoma got a bonus in the addition of guitar legend Michael Schenker and the MICHAEL SCHENKER GROUP who were also touring the U.S. on his 50th(!?) Anniversary Tour and their routing brought them into the state at the same time. White Oak Music Hall, just a stone's throw from the downtown area, was the scene of metal devastatipon on November 2 as the 40 Years Live World Tour rolled into town.
I arrived at the venue early in the afternoon and as both W.A.S.P. and ARMORED SAINT offered VIP meet and greet packages I opted for the SAINT, which was great. The guys came and hung out, signed everything we had and even took pictures wth each of us individually as well as a group for their social media page. And with the doors scheduled to open at 6pm, it started to rain just minutes before so they let us all in just a bit early. As photographer I would find out that this would be one of the most challenging shoots yet, where the first thing I noticed was a small flatbed cart stacked with large paver stones situated in the barricade that we would be having to navigate around. I wouldn't realize until later exactly what these things were doing there.
Knowing that ARMORED SAINT would be going on first at 7pm I sauntered outside real quick to have one last smoke and before I could finish it I heard the band appear onstage, a few minutes early, so I rushed back inside to take my place in the barricade. Now the only drawback, if there was one, about us getting the extra band for the night was that the stage was just a bit more crowded than it would have been otherwise and with ARMORED SAINT going on first, they were pushed so far to the front of the stage that in most cases they were directly under if not in front of the front lighting of the stage. That didn't matter to the band and if anyone in the crowd was tempted to nod off while waiting for the show to start they were rudely smacked awake to the 1-2 punch of "Reign Of Fire" and "End Of The Attention Span" as the band kicked off their set. Even though they were the openers for the night they still got a 10 song, 40 minute set and kept things going with "Long Before I Die", "Last Train Home" and "Standing On The Shoulders Of Giants" before capping off their performance with 2 classic tracks, "Can U Deliver" (which the band proved they still do) and "March Of The Saint". What a great start to the evening!
Setlist:
"Reign Of Fire"
"End Of The Attention Span"
"Long Before I Die"
"Last Train Home"
"Chemical Euphoria"
"Standing On The Shoulders Of Giants"
"Symbol Of Salvation"
"Win Hands Down"
"Can U Deliver"
"March Of The Saint"
After a brief set changeover the MICHAEL SHCENKER GROUP took the stage (minus the vocalist at first) and opened with the instrumental "Into The Arena". Guitarist Michael Schenker has certainly aged well over the years and it's hard to believe he's 67 and celebrating 50 years of performing! He's and ageless wonder and still performs at a high level. Following the instrumental opener he introduced his vocalist, journeyman Ronnie Romero, who joined the rest of the band onstage as they launched into "Doctor Doctor", one of several classic UFO songs they would play throughout their hour long time, along with "Lights Out", "Shoot Shoot" and "Rock Bottom"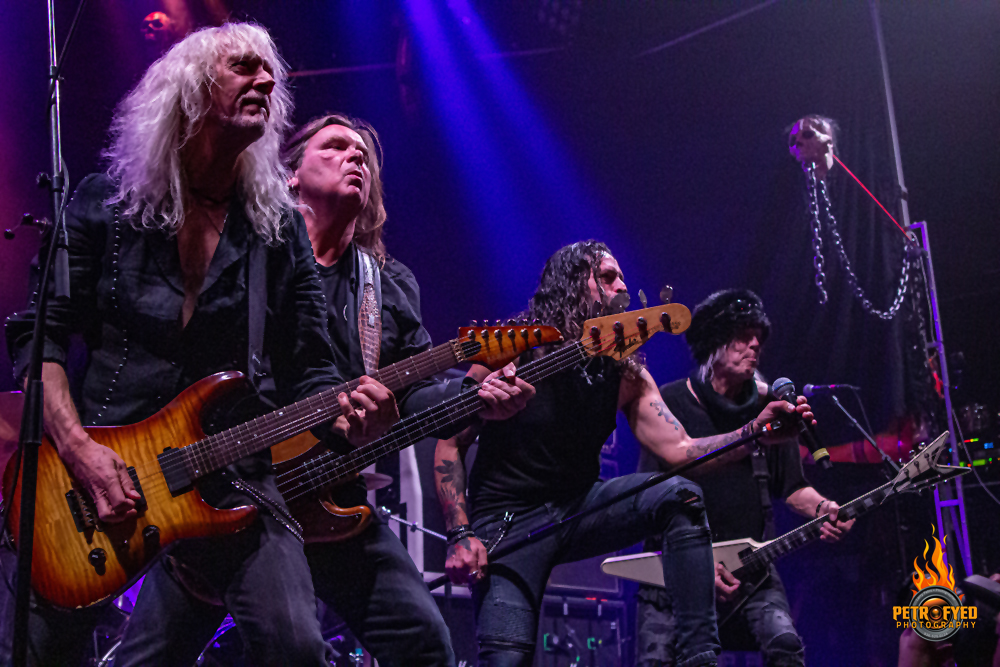 , the latter of which featured Schenker displaying his axe prowess with a ten minute guitar solo. Of course, his storied career with the MICHAEL SCHENKER GROUP was represented with tracks including "Looking For Love", "Red Sky" and "Armed And Ready" which took us all the way back to the self-titled album of 1980. Romero is a great vocalist in his own right and was on point the entire evening as sthey played "Sail The Darkness" from last year's Immortal release and set closer, "Only You Can Rock Me". According to the 'official' setlist that was taped to the stage it appeared that we would get encores in the form of "Too Hot To Handle", "Natural Thing" and "Assault Attack" but alas, the band simply ran out of time, or maybe that was the standard setlist for the headlining portion of the tour. I guess we'll never know. Regardless of that, we got an outstanding set from them.

Setlist:
"Into The Arena"
"Doctor Doctor" (UFO)
"Looking For Love"
"Light Out" (UFO)
"Red Sky"
"Shoot Shoot" (UFO)
"Sail The Darkness"
"Let It Roll"
"Armed And Ready"
"Rock Bottom"
"Only You Can Rock Me" (UFO)
Remember that cart of paver stones I mentioned earlier? Well during the ensuing set change it became clear exactly what they were for as the stage crew brought the box platform base that would anchor Blackie's monstrocity of a mic stand, dubbed 'Elvis'. The paver stones were set inside the box to weigh it down and certainly explains why Blackie has stated in the past that it weighed 1,000 pounds and years ago he even got a bad rap for notoriously cancelling shows at the last minute because the venue's stage would not safely support said mic stand. Of course the mic stand itsef wasn't light either as I watched it take four stage hands to bring this thing out and mount it into place.
The one and only time I had the opportunity to catch W.A.S.P. live was back in 2000 when they played north of Houston and a now defunct hole-in-the-wall club called Bahama Mama's, a show that would see the band (with guitarist Chris Holmes) perform for a paltry 35 minutes! So while this tour might not have been on the magnitude of others like IRON MAIDEN, the moment this tour was announced I marked it on my calendar and after witnessing the event on this night, it was definitely one of the tours of the year! The stage was set and resembled a circus-type atmosphere as the lights dimmed and a montage of clips from W.A.S.P. songs played over the PA system. The anticipation was at a fever pitch as the general Blackie Lawless and his troops, bassist Mike Duda, guitarist Doug Blair and drummer Aquiles Priester appeared, initially facing with their backs to the crowd and Lawless sporting a sports jersey with his name and the number 40 signifying the 40 Years Live tour.
The band proceeded to blow the roof off the place as they opened with a medley of 4 songs, "On Your Knees", "The Flame" (which Blackie would reveal later the band had not played live since 1985(!)), "The Torture Never Stops" and one of my personal favorites, "Inside The Electric Circus". I may not be a big fan of medleys being performed but in this case it worked beautifully and as they seemlessly segued into each song the crowd grew more and more into it. The metal assualt would continue with Crazy", "L.O.V.E Machine" and "Wild Child" before those in attendence could even gather their breaths. The video screens would display videos of the songs in the background as they played, along with other imagery such as those from the Civil War during "Heaven's Hung In Black". Another medley would follow, "Hellion/I Don't Need No Doctor", just prior to "The Idol", which featured a very long, extended solo by Blair.
Lawless sang his ass off and looked much trimmer than I remember from the days when he had ballooned up a little ala Vince Neil. And as much as he dsplays the evil rock star persona of the band he couldn't help but crack a smaile every now and then, a sign that he was truly enjoying himself in the U.S. again. The band closed the pre-encore portion of the set with yet another classic and certainly one they could not avoid playing, especially in the Lone Star State, "Blind In Texas", and crowd went nuts.
After a few minutes of the crowd chanting "Blackie, Blackie" and "One More Song", the band returned as video of the infamous PMRC hearings displayed on the screens. During those hearings some Washington wives had gotten together and come up with a list dubbed "The Filthy 15", songs that they considered to be offensive and taking home the top spot was W.A.S.P.'s "Animal (Fuck Like A Beast)". W.A.S.P. hasn't performed this song in a long time, notably because of Lawless' new found Christian faith, but for this tour they toyed with the idea of bringing it back again, and they did. And if Blackie still had an aversion to singing those words again, he found a loophole, letting the crowd sing the offensive words as it was performed, and they had zero issues complying. They played about 2/3 of the song before transitioning into their cover of THE WHO claiisc, "The Real Me". And as he thanked the crowd for making the tour happen after so long, they put the final excalmation on the evening with the song that started it all (at least for me), I Wanna Be Somebody", at the conclusion of which Blackie climbed and perched himself atop 'Elvis' with his arms held high in the air (see final photo in the gallery, courtesy of my good friend and local drummer Phred Williams).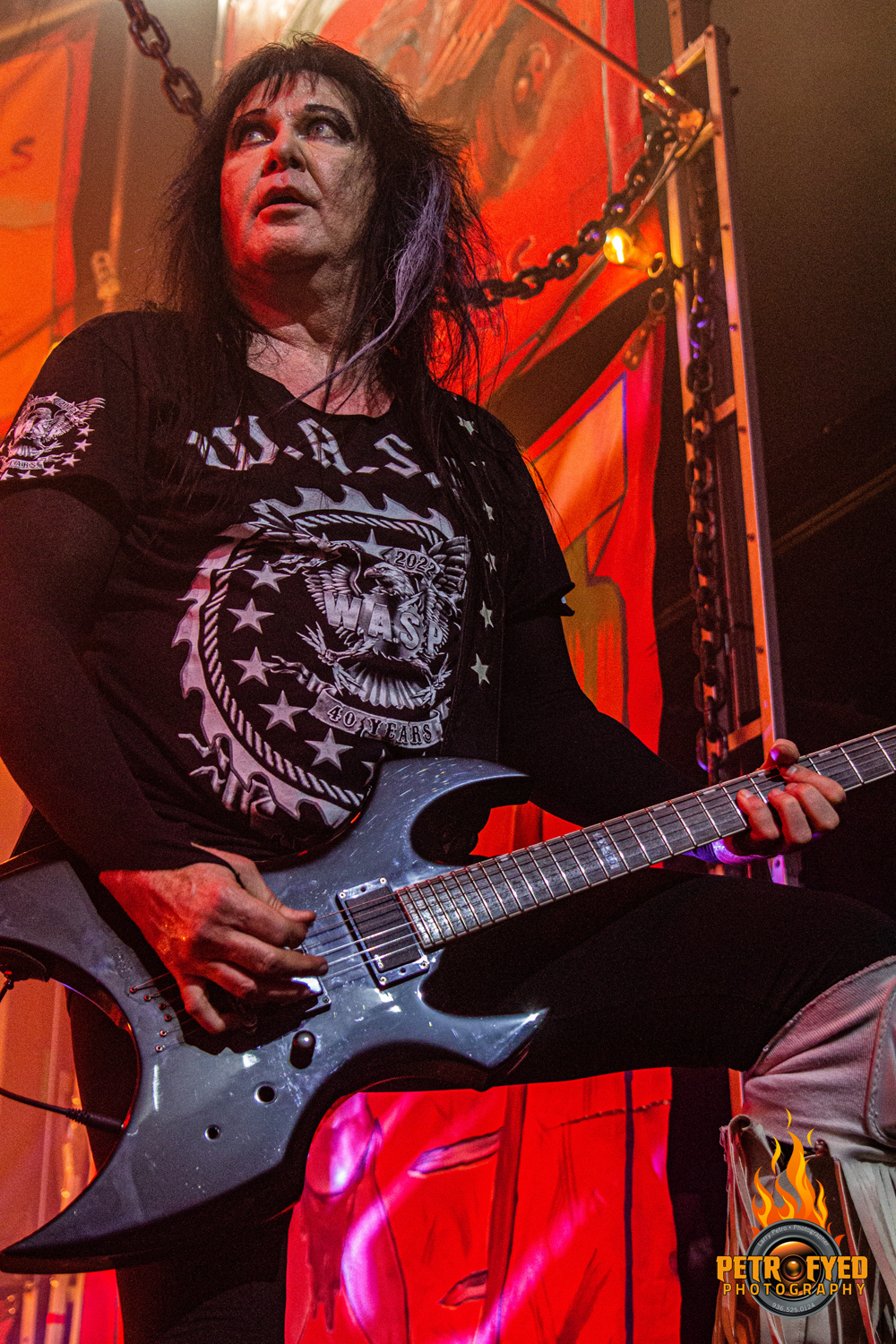 This was definitely a highlight of the year for me and certainly one show not to be missed if it comes near you! But if you've been on the fence about going to this concert, you better hop your ass down and make a move because many of the shows have already sold out in advance or are very close. I don't know for sure if Houston was sold out but if it wasn't it was damn close. Go and get those horns up!
Remaining shows:
11.06 - Tulsa, OK - Tulsa Theater w/ MICHEAL SCHENKER, ARMORED SAINT
11.08 - St Louis, MO - The Factory
11.09 - Milwaukee, WI - Pabst Theater
11.10 - Ashwaubenon, WI - EPIC Event Center
11.11 - Detroit, MI - Harpo's
11.12 - Cleveland, OH - Agora Theater
11.13 - Pittsburgh, PA - Palace Theater *
11.15 - Baltimore, MD - Rams Head Live
11.16 - Boston, MA - Big Night Live *
11.17 - Montclair, NJ - Wellmont Theater
11.18 - Huntington, NY - Paramount Theater
11.19 - Jim Thorpe, PA - Penn's Peak *
11.20 - Glenside, PA - Keswick Theater
11.21 - Norfolk, VA - The Norva
11.23 - Nashville, TN - Ryman Auditorium
11.25 - Atlanta, GA - Buckhead Theater
11.26 - Orlando, FL - Plaza Live *
11.27 - Charlotte, NC - The Fillmore
11.29 - Leesburg, VA - Tally Ho Theater *
11.30 - Columbus, OH - The King Of Clubs *
12.02 - St Charles, IL - Arcada Theater *
12.03 - St Charles, IL - Arcada Theater *
12.05 - Denver, CO - Oriental Theater *
12.07 - Reno, NV - Grand Sierra Theater
12.09 - San Francisco, CA - The Regency
12.10 - Fresno, CA - Tower Theater
12.11 - Los Angeles, CA - The Wiltern
* - SOLD OUT

Setlist:
Medley

"On Your Knees"
"The Flame"
"The Torture Never Stops"
"Inside The Electric Circus"

"Crazy"
"L.O.V.E. Machine"
"Wild Child"
"Heaven's Hung In Black"
"Hellion"/"I Don't Need No Doctor"
"The Idol"
"Chainsaw Charlie (Murders In The New Morgue)"
"Blind In Texas"
Encore:
"Animal (Fuck Like A Beast)"/"The Real Me"
"I Wanna Be Somebody"
Check out some more photos from the show!
All Photos By Larry Petro/Petrofyed Photography (Except The Last One By Phred Williams
Please log in to view RANTS


YNGWIE J. MALMSTEEN, GLENN HUGHES In Worcester, MA With Photos!
ALICE COOPER Road
RAT ROD Four On The Floor
GIRLSCHOOL WTFortyFive?
DANKO JONES Electric Sounds
AVATAR, ORBIT CULTURE, THE NATIVE HOWL In Houston, TX With Photos!
THE DEAD DAISIES In Hollywood, CA With Photos!
KILL DEVIL HILL Seas Of Oblivion
THE DEAD DAISIES In Ottawa, Canada
MAMMOTH WVH In Santa Ana, CA
UADA Crepuscule Natura
BARONESS Stone
KAMELOT, BATTLE BEAST, XANDRIA In Houston, TX With Photos!
CRYPTOPSY As Gomorrah Burns
RAY ALDER II
GHOST, AMON AMARTH In Houston, TX With Photos!
U.D.O. Touchdown
DETHKLOK Dethalbum IV