JUNKMAN Recaps The 2022 AFTERSHOCK Festival

By Junkman, On-Air Personality
Friday, October 28, 2022 @ 2:08 PM

| | | |
| --- | --- | --- |
| | | October 6-10 In Sacramento, CA |
Band Photos By Steve Thrasher
Aftershock Site Photos By Junkman
For its 10th anniversary, the Aftershock Festival returned once again to California's capitol city of Sacramento. Dubbed "The West-Coast's Biggest Rock Festival", 160,000 music fans gathered for the four-day event that featured nonstop music from 90-plus bands, some of the best food and drinks that the Sacramento area has to offer, as well as various sponsor activations and experiences. The popular event brings an economic impact of $30 million to the region annually, says Visit Sacramento.
Headliners for the show included the likes of SLIPKNOT on Thursday, KISS on Friday, MY CHEMICAL ROMANCE on Saturday, and MUSE on Sunday. To say it was the biggest and best of the Aftershocks of the past 10 years would be an understatement, and I have attended all of them. This year's event was well planned, and in spite of quite a few bands cancellations and replacements, the diversity and wealth of talent on display was a marvel to witness.
Aftershock was produced by Danny Wimmer Presents, as well of a host of sponsors including Jack Daniel's, Coors Light, TickPick, KOLAS, Deep Eddy Vodka, Topo Chico Hard Seltzer, Hop Valley, Monaco Cocktail, U.S. Army, Spencer's Gifts, Elite Healthcare Resources, ESP, MortusViventi, Royalty Cosmetics, The Pretty Cult, Fearless Records, Nowhere Fast, U.S. Marines, Hellflower Soap Company, Parlor Root Beer, Ronz World, Thunder Valley Casino, J.J. Pfister Distilling Co., Blackcraft, Zen Garden and Heavy Grass. In addition, this year's event included many non-profit partners Animal Place, Artists for Trauma, Fxck Cancer, Take Me Home, and To Write Love on Her Arms.
There were two main stages, one sponsored by Kolas, the Sacramento based cannabis dispensary and delivery giant, and another that was sponsored by Jack Daniel's. On the other side of the park were somewhat smaller stages, one sponsored by Danny Wimmer Presents (DWP) as well as another that was sponsored by Coors Light. The fact that there are so many bands playing, with two of the stages running simultaneously, it can be difficult to maneuver, and it is virtually impossible to see everything by every band, so you just do the best you can. But the production was run like clockwork, and set times were almost always on time. Right down to the minute, most times. Bravo to the technical staff for pulling that off consistently throughout the weekend.
Discovery Park, where the event is staged, is a large area along the Sacramento river, and butts up against a densely wooded area as well as the "Garden Highway" on one end, and the I-5 freeway on the other. Part of the festival grounds, in particular the area in between the DWP and Coors Light stages ran directly underneath the freeway, and as temperatures were in the mid-90's for most of the weekend, it provided a shaded area to see some of the action, in particular, the DWP stage. The rest of the stages were facing direct sunlight during daylight hours and yes, it was "hot as balls" as many performers announced. The park does have plenty of trees, and the general area, as well as the large VIP section, provided shade for those that needed it.
There were lots of free water stations where one could fill up and re-use a water bottle. A medical tent provided for any kind of medical emergency that might arise, but speaking to the staff, there really wasn't any major incidents the entire weekend. Mostly dehydration cases, as well as the normal, cuts, and blister relief. About the most interesting thing that happened was on Saturday night. While MY CHEMICAL ROMANCE was rocking the Jack Daniel's stage, a deer came out of the surrounding woods, and jumped the fence and was moshing around the area of the unoccupied Kolas stage. Luckily the staff was able to corral him (yes it was about an "8-10 point" buck) and get him to safety. The only injury was a staff member who got scraped by the wild beast. It made me wonder if the deer was looking to mate, or perhaps saw his image on some Jagermeister merchandise, and wanted some compensation…
Navigating the event for four days was a bit of a challenge, but I have done this every year since they started Aftershock. My phone's fitness app told me that I averaged about 6 to 9 miles a day walking the grounds. Luckily for me, my pass gave me access to the VIP area as well as the media tent where there were plenty of places to "Unload" or "Get your load ON". The large VIP section is heavily shaded by trees, has great views of the main stages, and extends all the way to the back of the festival grounds, where there are private restrooms as well as a HUGE bar. There are also VIP merchandise and food booths, as well as a huge screen to watch all the action on the mainstages, while sitting on padded outdoor furniture under a grove of trees. Needless to say, this is the way to fly if you are planning on attending a future Aftershock festival. Everyone I spoke with said that it's worth the extra money to go VIP.
Our "Media Tent" was awesome. It was a huge tent, provided with multiple stations for media members to conduct interviews with the artists. Every table had a charging station for phones and computers, as well as WIFI. There was even a life-sized COFFIN, complete with a skeleton that was filled with snacks! Not only that, but a fully stocked bar as well as a coffee bar, that was staffed by the members of "Drip", a craft-beverage group, that offered incredibly tasty non-alcoholic drinks. Since the Media Tent also doubled as an "Artists Lounge" many of the performers and their entourage were a constant all weekend. It seemed like everywhere you looked, there was a band or member of one inside the tent. Well done, Kristine and Selena!
Also part of the Media area was the pop-up studio for "That Space Zebra Show" which was hosted on theDWPresents on Twitch channel (https://www.twitch.tv/dwpresents) throughout the Aftershock weekend. It was an immersive backstage experience every day of the festival, featuring artist interviews and exclusive, behind-the-scenes action, as well as streaming of the DWPresents Stage performances. DWPresents on Twitch has shared archived videos of several of the festival's interview highlights, hosted by SiriusXM's Jose "Metal Ambassador" Mangin and Shannon Gunz, singer Rue Vox and MTV's Matt Pinfield, that originally aired live on DWPresentsOn Twitch throughout the weekend. Here's a sample of what went down- https://youtu.be/vEit3B3Ek9I. There was pleanty of activity, from my "Home Base" all weekend long.
There was plenty of food to choose from. My usual choice in years past, "Drewski's" food truck (www.drewskis.com), was once again, the base of my diet while onsite. Drewski's had multiple food trucks scattered around the site, and their creation "Totcho's", a combination of a bed of garlic tater tots, green onions, aoli, cheese sauce, and topped with bacon and either pulled-pork, tri-tip or chicken, was the perfect carb-protein mix for me while navigating the grounds for 10-11 hours or so each day. There were many other places to enjoy as well, something for every palate, and again, the people at DWP did a great job with their food vendor selections. It was the same with drinks. The big sponsors, Jack Daniel's, and Coors Light were naturally well represented, but there was much more. I'm a craft beer guy, and "Hop Valley Brewing Company" had a "Stash Panda Hazy IPA" that I became particularly fond of. Again, there was something for everyone, from METALLICA's "Blackened Whisky Bar" to various soft drinks, and mixed drinks, as well as "Topo Chico Hard Seltzer".
The merchandise booths were HUGE! Tents hawking various official T-shirts and such from the 90 bands that played over the weekend were scattered about the grounds, and were constantly packed. There were plenty of independent companies as well. I visited as many as I could. I really enjoyed the designs from "MortusViventi" (www.mortusviventi.com) and their "Tarot Card" inspired T-shirts and enameled pins. Rita Haney, "Dimebag's Hag" and girlfriend of the late PANTERA guitarist Dimebag Darrell, was at the "Dimebag Hardware" booth (www.dimebaghardware.com) selling lots of t-shirts and accessories that featured the late guitarist. Every day at 3:33 (google it…) she even served up a toast featuring Dime's favorite cocktail, the infamous "Black-Toothed Grin" to honor him. Yes, I took part in that, but kept it to one, this time…
Another interesting booth visit was to Ronzworld(www.itsronzworld.com) where artist Ron Williams, a DWP festival vet, displays his custom, free-hand, painted guitars and mini-guitars. His guitars feature his hand-painted logo of the event. They are raffled off to a lucky winner. This year, he even had a "Rock Star Paint Class" where attendees could learn from Ron himself to paint a portrait, featuring a choice of guitarist John 5, Alice Cooper, Jimi Hendrix, or John Lennon. A good time was had for all who took part, and they even got a collectible laminate to take home along with their finished creation.
A surprise visit from KORN singer Jonathan Davis, who debuted his new "Freak on a Leash" (www.freakonaleash.com) merchandise, happened at the "Take Me Home" pet rescue booth. Davis autographed posters and greeted fans as he showed off his new designs for the "parents of pampered pets" and KORN fans alike. Naturally, it was well attended.
Another eye-opening experience was visiting the good people at the non-profit "To Write Love on Her Arms" (www.twloha.com). To Write Love on Her Arms is a non-profit dedicated to presenting hope and finding help for people struggling with depression, addiction, self-injury, and suicide. TWLOHA exists to encourage, inform, inspire, and also to invest directly into treatment and recovery. Since its start in 2006, they have donated over $3 million directly into treatment and recovery making it possible to access mental health care when they need it the most. Visitors to the booth posted encouraging notes that were posted on the booths walls all weekend. I thought it was a wonderful idea to have a place for people, especially today's youth who may have issues navigating life during these troubling times, to have a free resource to call if they are struggling with any variety of mental health. We need more places like this!
Festival sponsor Kolas (www.kolas.com) Sacramento's premiere cannabis dispensary and delivery site, had a huge area, complete with a DJ, lighted hoops that made for great photos, and lots of swag to give away, as well as a store with various products. It amazes me, how far things have progressed since I was a 15 year old stoner going to concerts. To have a booth where you can actually have weed legally available onsite? How cool is that? Needless to say, it was a very happy place to be, and made for many a smiling festival attendee.
There were so many places to visit. Again, plenty of activities to wander about spend time,and maybe learn something. The "Fxck Cancer" booth sold a ton of merchandise with their bold logo, and used their platform to raise awareness about early detection, as well as support. There was a very cool gallery called "Punk Rock and Paintbrushes" where one could see art and photographs, many of them done by artists such as Lzzy Hale of HALESTORM, and Jay Weinberg of SLIPKNOT among others. There were booths that featured make-up, and clothing, and musical instruments. There was even a booth from the US Marines. It was a wonder wall of places to explore and to experience. But as well all know, the major attraction was and always will be the music.
This year, as I mentioned earlier, featured 90 bands on the four stages. Aftershock had a strong international band presence this year. In addition to U.K. headliner MUSE, there were also BRING ME THE HORIZON (England), NEMOPHILIA, BAND-MAID (Japan), BLOODYWOOD (India), MESHUGGAH (Sweden), APOCALYPTICA (Finland), AIRBOURNE (Australia) and THE WARNING (Mexico). There was also a huge spotlight on lots of FEMALE-fronted bands, such as HALESTORM, EVANESCENCE, THE PRETTY RECKLESS, NEW YEARS DAY, THE INTERRUPTERS, and more.

Day One - Thursday 10/6

SLIPKNOT headlined the first night of the festival and did not disappoint. They have upped the ante on their stage show considerably since the last time I saw them. Opening with "Distasterpiece", the sheer volume, as well as the lighting, pyro, and various band members all in motion at once can really strain your focus. There is just so much going on at once. Lead singer Cory Taylor, decked out in black jacket and pants, and sporting a bright white mask that made me imagine what an evil "Casper the Friendly Ghost" would look like, took on the role of leading the charge, to incite his fans to a frenzy.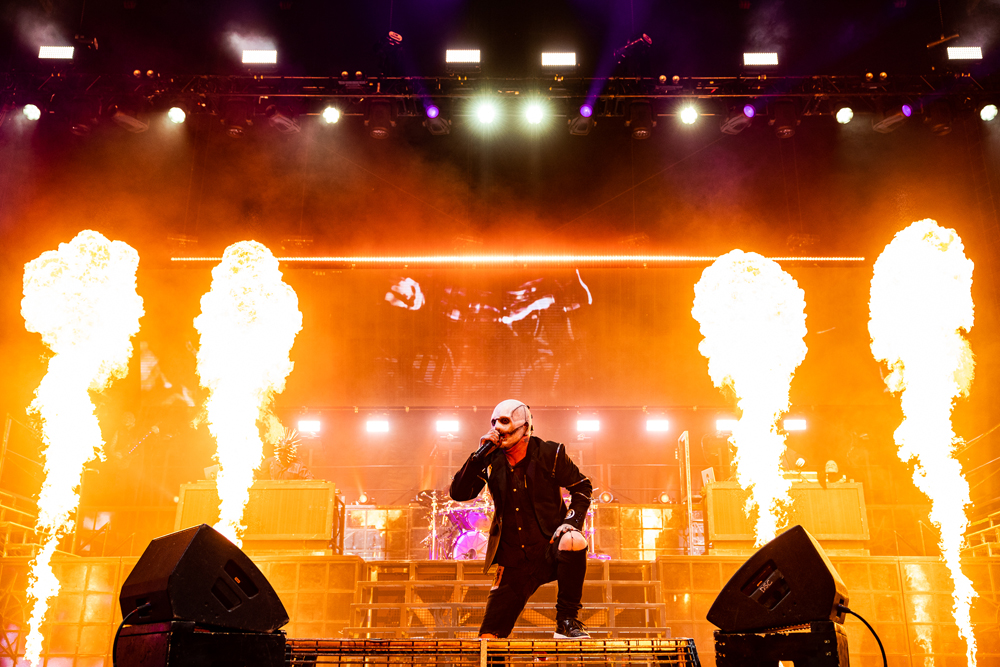 Everything I would want to hear from them, including "Wait And Bleed" to "The Heretic Anthem" were performed on a stage set that looked like a giant warehouse, complete with huge rotating fans underneath the drum riser. Taylor spent a lot of time egging on the fans. "Are you ready for more?" This seemed to be his mantra. After closing out the set with "Spit it Out" he addressed the crowd again. "Are you ready for your National Anthem?" he asked, before launching into "People=Shit" and the crowd and pit went absolutely ballistic. SLIPKNOT rules.

Rob Zombie and his band did their usual "Spookshow" set and with its creepy horror movie and cartoon clips rotating on the back video wall throughout the set, it set the tone for songs like "Meet The Creeper" and "Living Dead Girl" and others. Zombie leaped about the stage, and then would occasionally perch, like a gargoyle, and stare at his audience while sarcastically addressing them. "This one's for the kids" he stated before one number. The band, featuring the return of guitarist Mike Riggs who previously played with Zombie from 1997 to 2003, was tight. Long-time guitarist John 5 was missed, but Riggs rocked the classics like WHITE ZOMBIE's "More Human Than Human" which featured a huge robot joining the band onstage. Zombie closed the set with another WHITE ZOMBIE number, "Thunder Kiss '65" before encoring with "Dragula".

CODE ORANGE closed out the DWP stage with what I considered the heaviest set of the day. EVANESCENCE sounded terrific. Their pop flavored hard rock went over well, and singer Amy Lee was in fine form all set. By the time they rocked the hit "Bring Me To Life" the crowd was amped and fully charged. STONE TEMPLE PILOTS did a hit-filled ten song set on the Kolas stage that showed just how much singer Jeff Gutt has progressed over the last few years since taking the font-man spot. His vocals on the bluesy "Big Empty" blended will with the rockers "Crackerman" and the song "Plush" as well as "Sex Type Thing" which closed the set.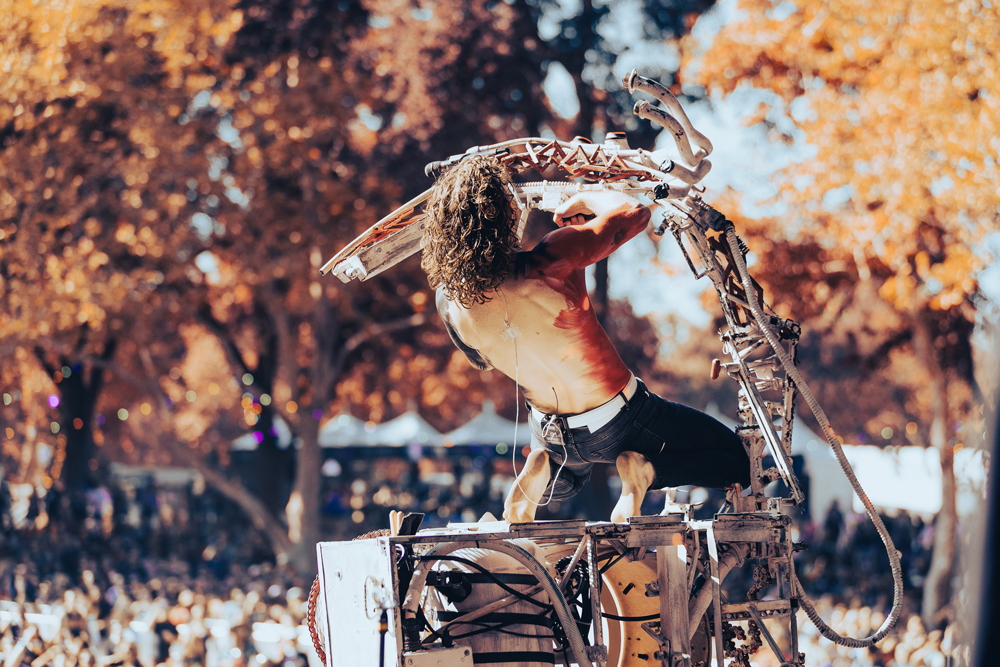 Earlier in the day, I was exposed to VENDED, a band featuring singer Griffin Taylor, son of SLIPKNOT's Cory Taylor, and drummer Simon Crahan, son of SLIPKNOT's Shawn "Clown" Crahan. I enjoyed their solid set, and yes, you can see and hear a lot of their fathers' influence in the music and performance, but they have an attitude that is all their own. It has been described by some as "Aggro-Metal". Check them out and decide for yourself.

ICE NINE KILLS brought their young fan base out in full force. Dressed almost conservatively in white shirts, ties and suspenders, and sharing the stage with some scary monster props, they treated their fans to a solid, yet brief set. Occasionally using masks and bloody knives onstage, they were well received. Splitting my time between two ends of the festival to catch at least part of simultaneous sets happened for the first time after that.

On the Jack Daniel's stage, NOTHING MORE, utilizing their weird stage contraption (Just WTF IS that thing, anyway?) that singer Jonny Hawkins tugged and climbed on to elicit strange electronic noises from, brought their usual dynamic to Aftershock. Buffed, shirtless singer Jonny Hawkins' upper body was covered in red and black makeup, as he shrieked and wailed his sometimes tinny vocals, and even welcomed PAPA ROACH singer Jacoby Shaddix to join him on "Don't Stop".

I high-tailed it over to watch PRONG do their thing on the far Coors Light stage, before returning to the Kolas Stage to check out GHOSTMANE, who seemed to be having sound issues, although it's hard to tell sometimes if that was the case considering their "scratchy-industrial" style is part of their mystique. Continuing my stage-hopping, I landed back at the JD stage to enjoy a short but always entertaining set from KILLSWITCH ENGAGE. Always fun to see and hear, guitarist Adam Dutkiewicz started screaming along to the VAN HALEN PA music, singing "Drunk! Might as well get drunk" instead of the proper words to VH's classic "Jump". The band continued their antics and cranked out a brutal set featuring "Unleashed" and "My Curse" as Dutkiewicz, sporting an "I'm With Stupid" shirt and playing a guitar with a graphic of a pizza on it, romped around stage while singer Jesse Leach growled out the songs, ending the set with "In Due Time", but not before he promised the audience that afterwards he would "Run into the forest and do some mushrooms".

Day 2 - Friday 10/7

I got an early start to the second day of the festival, and I am glad I did. After a good sleep at my hotel, I arrived at Discovery Park as soon as they opened the gates. The PA was pounding out the AC/DC classic "Let There Be Rock" as they always do when the gates open. A great way to start your day! I headed directly to the Kolas stage to check out a "Don't Miss" band that I had never seen. I LOVE seeing acts that are new to me, and for me and many others, this is what a fest like this is really all about. Without new bands and new music, especially in the fickle world of rock, how will it progress? The good people at DWP have always been great about giving newer, younger acts a platform. I love to see them progress to become eventual headliners. It has happened more times than I can list.
Today I checked out and was blown away by Sweden's ORBIT CULTURE the first band onstage. "Melodic Death Metal" is what they have been labeled as, but I see much more. Solid, heavy rock, brutal vocals and very consistent songs, delivered to a still arriving crowd that, by set's end, were fist pumping with every kick drum thud. They are a band that is going places quickly as far as I am concerned.

From Columbus Ohio, AEIR and their brand of pop vocal hard rock were a completely different, yet very pleasing band, and their exciting stage show opened my eyes to a new vibe. They reminded me of what I really enjoy in the rock world. They have great vocals, melodic guitars and bass, as well as heavy drums. Kind of a retro-90's sound, that one would hope to be embraced by what is left of rock radio today. It seems to me that Central Ohio has become a hotbed of cool rock bands lately.

Another interesting act was HOT CRAZY, a glam rock band from LA. I got there just in time to hear them covering QUEEN's "Don't Stop Me Now". Their flamboyant singer and sometimes pianist Carl Biehn strutted his stuff in silvery glittered hot pants and top as guitarist Jordan Ziff laid down some chunky riffs. A tongue-in-cheek "Manly In High Heels" from their new EP PRIVATE JET was a highlight, as well as the fact that they rocked up a cover of a SPICE GIRLS song. A very entertaining band indeed!

From there, it was the blazing hip-hop of JOEY VALANCE & BRAE who rocked the Kolas stage. These guys are kind of in the LIMP BIZKIT frame of mind. I have heard them described as "This generation's BEASTIE BOYS". Either way, their pumping, nine-song set brought out a TON of energy to the still arriving Friday crowd. Love it or hate it, this style of music is here to stay, and JV & B took it and got the place rocking, finishing the set with "Hooligang".
I checked out a few songs from JERIS JOHNSON, who, during their set, performed an interesting cover of PAPA ROACH's "Last Resort". I also enjoyed the pop-punk of SET IT OFF who did their thing on the DWP stage. Among other things, they performed a cover of a song that was totally different from their original material, a punky version of the BACKSTREET BOYS' "Everybody (Backstreets Back)" that had many in the audience smiling at the almost absurdity of it.

"Hello Kiddo's" was the greeting from CLUTCH singer Neal Fallon, who then planted his foot and got to preachin' his band's funky revival. "Gimme The Keys" and the driving "Red Alert (Boss Metal Zone)" are serious toe-tappers, and the band seemed to be getting heated up. In a lot of ways, actually. Referring to performing in the direct 95 degree sunlight, Fallon exclaimed "Who's bright idea was this? We will be doing our Meet and Greet at the medical tent." They too offered up a killer cover song, the set-ending version of CREEDENCE CLEARWATER REVIVAL's "Fortunate Son".

NEMOPHILA, from Japan, rocked their brand of metal to a combination of a very appreciative and inquisitive audience. Very high energy throughout their half hour set, even more so considering that lead singer Mayu was VERY pregnant. But this all-female quintet had the crowd rocking and ready as the afternoon heated up. And boy, did it ever. As temperatures neared 100 degrees, I looked around and realized something was happening.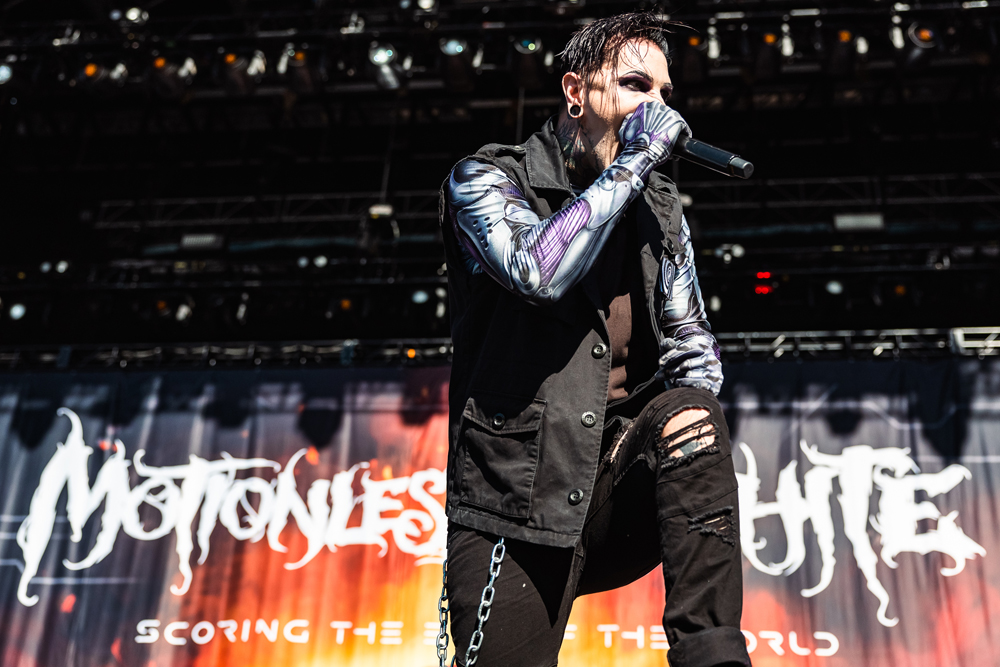 What WAS happening was that the KISS fans were starting to arrive. KISS would be headlining this evening and with it comes legions of die-hard fans. You can always tell. Many are enormous, sweaty and limping, a soda or beer and snacks attached to their hands at all times, as well as a bag of merchandise. They literally buy EVERYTHING. Their mandatory KISS tour shirts are a given and many of the merch booths were sold out of "official KISS merchandise" by mid-day. At least, I noted, in the larger sizes anyway. Many paint their faces like their heroes in the band, and that is always something to see on a hot, dry day. The grounds and food stands were, by around 4 PM, being invaded by the incoming KISS Army.

Speaking of painted faces, MOTIONLESS IN WHITE treated THEIR legion of fans to a rowdy nine song set. White faced singer Chris "Motionless" Cerulli led the charge, waving his arms and growling the opening number "Disguise" to the band's adoring fans. Yes, yet another cover, a ramped-up version of THE KILLERS' "Sombody Told Me" was included near the end of the set, which concluded with the emo-metal hit "Eternally Yours".

Solid sets from the ever so popular FALLING IN REVERSE and old school rockers HELMET preceded CHEVELLE, who packed a lot into their time on the Kolas stage. They don't say a whole lot, but they delivered for their fans, and cranked out the hits "Send the Pain Below" followed by "The Red" towards the end of their set. Lots of crowd participation and lots of singing along. I decided to bypass seeing DANZIG, who were filling in forJUDAS PRIEST, who had cancelled their appearance at the festival a few months earlier.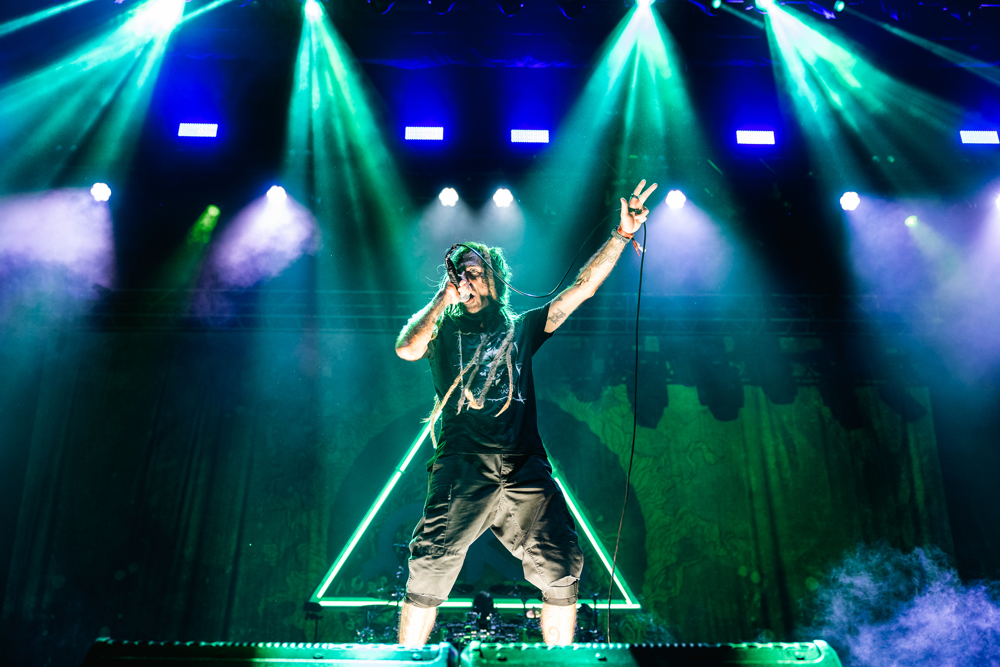 I think I made the right decision, as I saw an absolutely KILLER set from Sweden's IN FLAMES on the Coors Light Stage instead. Probably my favorite set of the day. Opening with "The Great Deciever", they were off and running from the get-go. Blazing guitars and heavy drums, bass and low-throated vocals from singer Anders Fridén were the right combination to welcome darkness to Discovery Park. The twin, blazing guitars of Bjorn Gelotte and newest member, former MEGADETH guitarist Chris Broderick brought power to the likes of "Graveland" and the set closing "Take This Life", originally released in 2006. I spoke with Broderick earlier in the day and he told me how excited he was about the band's new record Forgone which will be released in early 2023. Again, my favorite set of the day.

But that is a hard statement, considering the absolutely awesome sets that followed by not only LAMB OF GOD, who completely OWNED their audience, as well as GWAR who completely KILLED and SOAKED their audience with blood. LOG even brought out their former guitarist Phil Demmel to join them for the set closing brutality of "Redneck", which at times seemed like lead singer Randy Blythe, who yelled "we are Going Full LYNYRD SKYNYRD on this one", would literally explode onstage. GWAR, in the first minute alone, beheaded an onstage member during "The Cutter". The set also included a Civil War re-enactment in which a Northern and Southern soldier stabbed each other in the head with their cutlass, both emitting gallons of blood from their "wounds" which was then consumed by GWAR members Blothar and Pustulus Maximus via a huge mug. Getting soaked with blood at a GWAR show is a real "Badge of Courage" to their fans, as well as always great fun and entertainment for all.
MESHUGGAH closed down the Coors Light stage with yet another bottom-heavy brutal set while headliners KISS performed on the main Jack Daniel's stage. I completely enjoyed MESHUGGAH as they opened with "Broken Cog" to a packed out and insanely amped up audience. Singer Jens Kidman is content standing onstage and belting out his heavy howl, as his head-banging bandmates slay their sonic thud to a sea of waving fists and moshing bodies.

KISS on the other hand are simply going through the motions. Their tired act has not had my attention in decades. As I made my way out of Discovery Park at MESHUGGAH's set conclusion, I looked in on the KISS "Dog and Pony show". Their fans love it, which is cool, but all the clichés, from Paul Stanley screaming "Sacra-Mental" to Gene Simmons silly looking posing and the over-abundance of pyrotechnics, had me ready to hit the road. Sorry KISS fans, I'm over it, and have been. Whatever.

With that in mind, I thought it was funny that the only place I could find to get a decent beer afterwards near my lodging was at "Rock N' Brews", the restaurant chain partially owned by Gene Simmons and Paul Stanley of KISS! Maybe it's time to retire the nostalgia act and pour me an IPA, Chaim… I got a good laugh out of that one, as well as a good night's sleep afterwards.

Day 3 - Saturday 10/8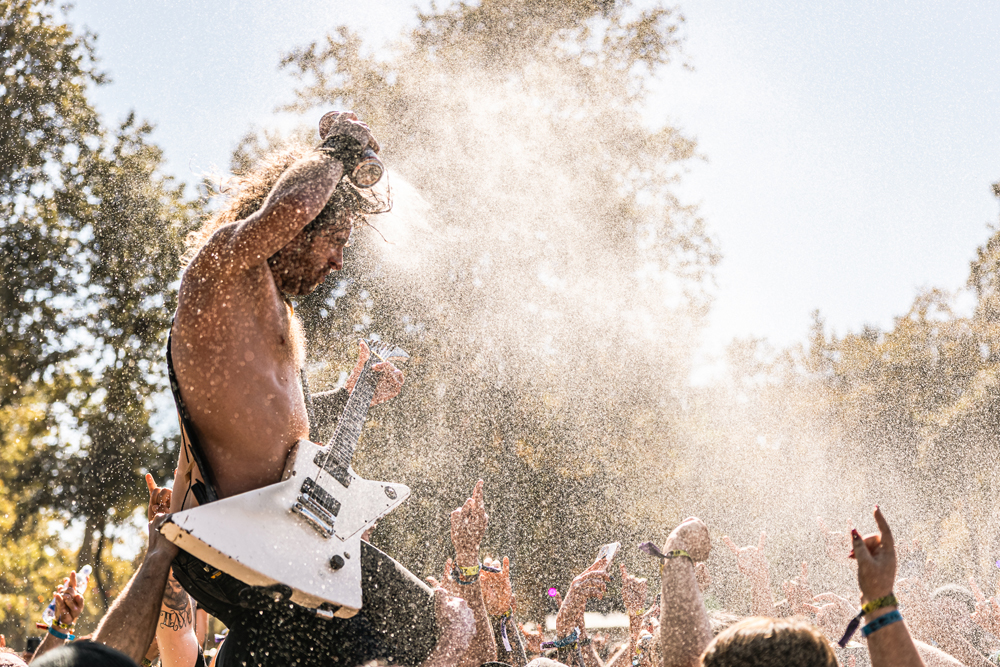 Again, I got to the festival early, intent on seeing and hearing as much as I could. The day started out fast and just kept going. EVA UNDER FIRE opened up the Kolas stage and kicked ass. Their petite singer Amanda Lyberg is a dynamo. She is also a licensed clinical psychologist (no kidding!) and possesses some powerful pipes. I enjoyed their song "Unstoppable", as well as their spot-on cover of JOURNEY's classic, "Separate Ways".

LILITH CZAR, also known as the singer Juliet Simms played a more pop/alternative set featuring Simms' stunning vocals. The band, featuring the terrific drummer Lindsay Martin, was solid and tight. The intense "Feed My Chaos" is a real eye-opener. Again, another cover song, Stevie Nicks' "Edge of Seventeen" was included in the set, as was the pleading "Anarchy" which closed the set.

One of my favorite live acts is Australia's AIRBOURNE who just flat-out ROCKED! They packed more energy into their 5 song set than most bands do in a two hour show. They came blazing out of the gate on a blazing hot day with "Ready To Rock". While drummer Ryan O'Keeffe cranked a hand-held air siren, his brother, lead singer/guitarist Joel O'Keeffe, shirtless and full of piss and vinegar, jumped off the stage and rode on the shoulders of a roadie along the barrier pit, still playing his guitar. He stopped midway, grabbed a beer and started bashing it against his head until it opened and sprayed the audience. All the while, the band is rocking in high gear behind him. They closed up their brief set with a sweaty, beer soaked "Runnin' Wild" with Joel doing a version of Chuck Berry's "Duck-walk" across the stage. These guys have kept up the spirit of a true rock n roll show for this generation. Loved it!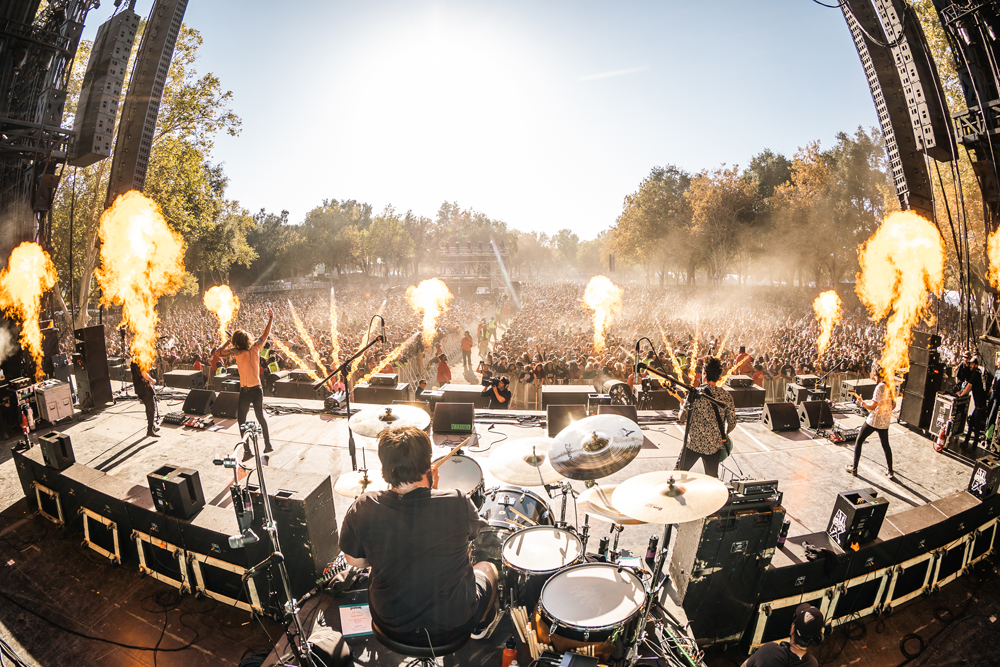 BEARTOOTH played a very heavy, pounding set, and their crowd loved it, moshing and crowd surfing for most of the set. British band TRASH BOAT was an interesting act. Lots of stage banter from their singer Tobi Duncan led into some solid punk rock headbanging. They are one band that I'll have to keep my eye on. Again, I must stress how great of a job that the people at DWP do in finding a variety of acts to keep my curiosity alive. I'm always on the lookout for new bands to see. My first time seeing ZEAL AND ARDOR was a treat. Despite two band members missing the show due to the effects of the covid virus, the Swiss/American band came and conquered with their blend of Black Metal and spiritual blues. The outstanding "Gravediggers Chant" and its gospel tinged sound gave the performance a subdued break from the full on mosh. I thought it interesting that there was a guy dressed as Jesus in the middle of the pit, moshing around throughout the set.

THE CHATS played a fun punk rock set. The very popular Canadian act THEORY OF A DEADMAN pleased their fans with a mixture of hits and playful humor. Singer Tyler Connolly is a superstar and was in command of his audience from the opening notes of "Lowlife" to the set closing hit "Bad Girlfriend". The band even covered Garth Brooks' "Friends In Low Places", jokingly telling the crowd that Brooks would be joining them onstage.

British artist YUNGBLUD rocked the JD stage and and thrilled his legions of younger fans with an energy-packed, nine song set. He has collaborated with a variety of artists over his career and his music stylings are a mash of many styles, mainly aggressive rock and hip-hop. The audience was pumped up throughout and lovingly rocked to "superdeadfriends" as well as "I Think I'm Okay", his collaboration with Machine Gun Kelly, who rocked out at Aftershock 2021.
HALESTORM, veterans of quite a few DWP events over the years, was one of the more popular artists of the day, and rightly so. They always deliver a blistering, quality performance. Singer Lzzy Hale and her powerful voice greeted the crowd, by screaming "I'm back from the DEAD" before the band launched into the title track from their latest release. Lzzy, sporting her brand new signature red Gibson Explorer guitar, was and always is, in command. The hit-filled set included HALESTORM favorites like the rowdy "Love Bites (So Do I)" and their debut hit from 2009, "I Get Off" which had the crowd singing every word. Lzzy's younger brother, drummer Arejay Hale, looking resplendent in a bright green suit with matching bright green hair, rocked his bright green drum kit like a madman, even bringing out a pair of giant drumsticks to finish off the beat-down. This band is so consistently electric. They are a real treat to see and experience.

A DAY TO REMEMBER, who followed on the Jack Daniel's stage, are also wildly popular. They play many of their songs live at warp-speed, the prime examples being "All I Want" and the interesting "I'm Made of Wax Larry, What Are You Made Of?". Both of these songs seemed to be performed at double the tempo rate. Singer Jeremy McKinnon, shifted easily from rocker to balladeer, all the while being in touch with his audience asking "Who's ready for PAPA ROACH?" The band naturally kicked in to a bit of "Last Resort", the big hit by the band that would be following them. Jokingly, they finished up their set by saying they would not be doing an encore, they would just play the songs as if it was one, ending their set with odes to their native Florida, "All Signs Point To Lauderdale" and "The Plot To Bomb The Panhandle".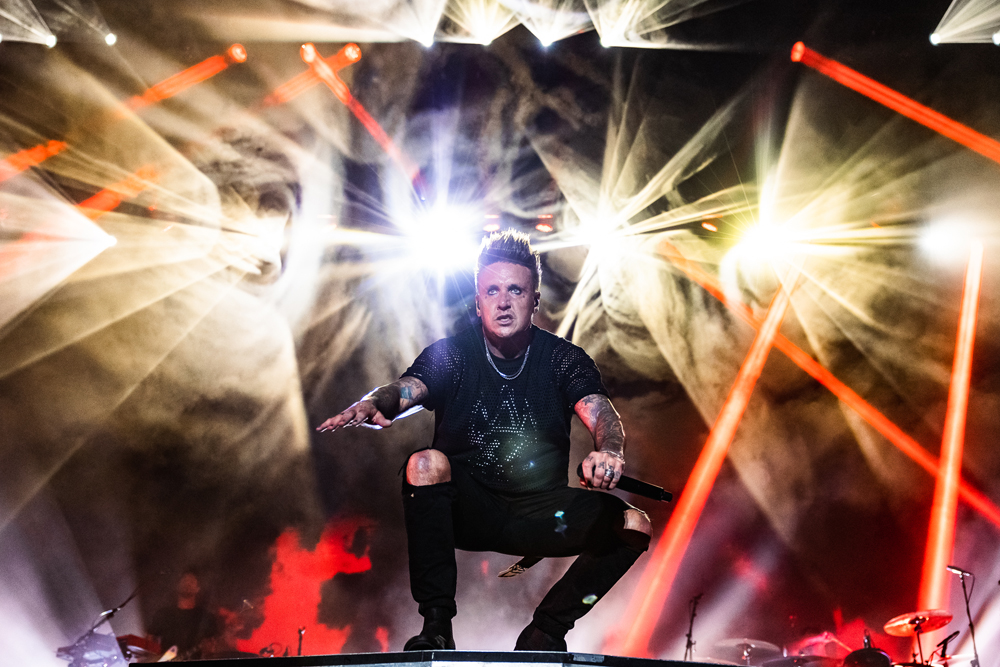 Sacramento's hometown heroes PAPA ROACH raised the sold out crowd to a new level with a killer, thirteen song set that had a bit of everything in it. Opening with a blazing "Kill The Noise" from their latest release, it was all adrenaline from beginning to end. Singer Jacoby Shaddix, perched on a riser center-stage, and in constant motion, was totally psyched to be playing his hometown as he proudly exclaimed they promised long ago they would someday headline this event. The band cranked out the hits like "Getting Away with Murder" and a very rousing "Between Angels And Insects". They also pulled out a tribute to the late leader of PRODIGY, Keith Flint, a spot-on version of "Firestarter" as well as a cover of Dr. Dre's "Still D.R.E.".

The band also welcomed FEVER 333 singer Jason Aalon Butler to sing their collaboration "Swerve". PAPA ROACH guitarist Jerry Horton's daughter Amelia came onstage to jam on the bass before the band launched into their mega-hit "Scars" which had most of the audience singing in unison. The huge "Last Resort" had the packed house leaning on every word, and banging their heads and stomping around the ground. How do you top your biggest hit and end a show? PAPA ROACH brought the house down by having the entire UC Davis Marching band, over two dozen strong and in full uniform, join them onstage for the set closing "Born For Greatness" which was a metaphor for PAPA ROACH's outstanding performance. It was one of the true highlights of the weekend.

Where do you go from there, one might ask? How about headliners MY CHEMICAL ROMANCE? After the band broke up and reunited in 2019, they were scheduled to play at various DWP festivals in 2020. Well, we all know what happened then. FINALLY, they were appearing at Aftershock, and it was easily the most anticipated set of the day. And rightly so. Their fan base is HUGE. Fans were backed up from the front barriers of the Jack Daniel's stage all the way back to the freeway and beyond, which ran along the front side of Discovery Park, in between the DWP and Coors Light stages.
Opening with the emotional "The Foundations of Decay" they gave their fans everything they could ask for. Blazing through a seventeen song set that covered nearly every aspect of their career, they switched gears many times during the set. The fun punk pop of "I'm Not Okay (I Promise)" and "Na NaNa (Na NaNaNaNaNaNaNaNa Na)" was countered with the pleading hit "Helena" and the hilarious "Teenagers". Singer Gerard Way was in his element throughout. He commandeered his bandmates like a general leading his troops to battle. The band hit their stride at the set-closing "Famous Last Words" which was an entirely appropriate song title. They band left the stage to a crowd that went completely ballistic, which was quite a feat, considering that they had been in the heat and rocking all day. The band returned, to encore with their hit "The Kids From Yesterday" which kept the die-hards singing and dancing right up until the end. Needless to say, it was quite a "Saturday in the park"!

Day 4 - Sunday 10/9

The final day of Aftershock started out with the news that JELLYROLL, the Nashville based rapper/singer, would be unable to appear due to losing his voice at a show the night before. With so many bands on the bill, it took great effort by the DWP staff to shuffle the lineup, which they did, leaving only a small gap in the action, late in the afternoon. Again, I must commend them for their efforts, as it all worked out well for everyone.

Young singer Maggie Lindemann was the first artist that I saw and her brand of pop-punk got the day off to a fast start. Think vintage Avril Lavigne, if you want to know what her performance was like. Very energetic, and again, it was yet another new act for me. Orange County California's NEW YEARS DAY then opened the Jack Daniel's stage with a searing set that featured their singer Ash Costello decked out in red and black with two-toned black and red heir to match, screaming her heart out to the still arriving crowd. Their grungy cover of PANTERA's classic "Fucking Hostile" and the set closing "Defame Me" highlighted a great way to start the day.
BLOODYWOOD from New Dehli India was a real eye-opener and one of the more interesting acts of the weekend. Combining traditional Indian rhythms and instruments with some aggressive metal was something that I have not seen or heard before. Pounding songs like "Dana Dan" downshifted to aggressive hip-hop attitude at times, and traditional flute and drums accompanied "JeeVeerey". As the rock kicked in and the crowd chanted and bounced happily all through the set, I envisioned a coming together of genres, the aggressive meets tribal, and I liked it!

DIRTY HONEY has become one of my favorite live acts since the first time I saw them, coincidentally right here at the Aftershock festival on the same stage in the same afternoon time slot, back in 2018. Now internationally known, they treated their fans to what they do best, a no-nonsense rock n' roll show! Opening with "Gypsy" from their self-titled LP, they played a short eight-song set that included all the riff-oriented rock that made them famous in the first place. Songs like the wonderfully tempting "California Dreaming" spotlighted John Notto's crunchy Gibson Les Paul guitar licks, and singer Mark LaBelle as always, was on point, with his soaring tenor, especially in the 1-2 punch of their hits "When I'm Gone" and the bluesy "Rolling 7's" which closed the set.

Jared James Nichols was an interesting addition to the festival. His huge stage presence, along with his rocking electric blues guitar and traditional sound, was a welcome alternative to the electronic sounds of many of the acts on the bill. The gospel tinged "Threw Me To The Wolves" spotlighted his vocals as well as his excellent guitar work, and his trio seamlessly blended styles, eventually closing the set with a cover of the ALICE IN CHAINS classic, "Man In The Box".
Yet another of my most anticipated sets was from the Japanese quintet BAND-MAID. Along with a smattering of their fans, these ladies dress like traditional "French Maids" but blast out some of the most solid and aggressive rock that turned plenty of heads. Dressed in black, singer Saiki Atsumi and drummer Akane led the charge, as the rest of the girls rocked songs from their latest EP Unleash. For the unaware, I would describe their sound as taking the best of bands like AC/DC and RUSH and speeding up the tempo. The song "Play" is a prime example of just how great this band is. "Junkman Approved" that's for sure. Check them out, you will love them.

British glam band THE STRUTS did their thing on the Jack Daniel's stage, as singer Luke Spiller and his cheerleading antics onstage got the crowd going. He's a wonderful frontman and has been compared to legends like the late Freddy Mercury of QUEEN fame, among others. The opener, the delightful "Primadonna Like Me" set the tone, and THE STRUTS' brand of high energy pop was perfect for the mid-day crowd. As Spiller danced and pranced around the stage, it became a jumping dance party throughout their brief set. THE INTERRUPTERS followed on the Kolas stage and gave the heated up crowd a dose of their brand of ska pop-punk. They even gave a rousing, ska version of the FOO FIGHTERS' "All My Life" and dedicated it to the FOO's late drummer Taylor Hawkins, who's untimely death earlier this year was the reason that they were not appearing at the festival after initially being signed on to headline.

Another favorite of mine was the performance from CLASSLESS ACT on the DWP stage. This young Los Angeles-based band recently finished up opening for the MOTLEY CRUE/DEF LEPPARD headlined "Stadium Tour" which has increased their fan base tenfold. The grounds were rocking as they took the stage, and CLASSLESS ACT gave a rousing seven-song set that featured songs from their debut LP Welcome to the Show. Crunchy, guitar oriented songs such as "Give It To Me" and the revved up set closer "Classless Act" brought to mind the best of bands from the glory days of glam as well as the best of today's rocking pop.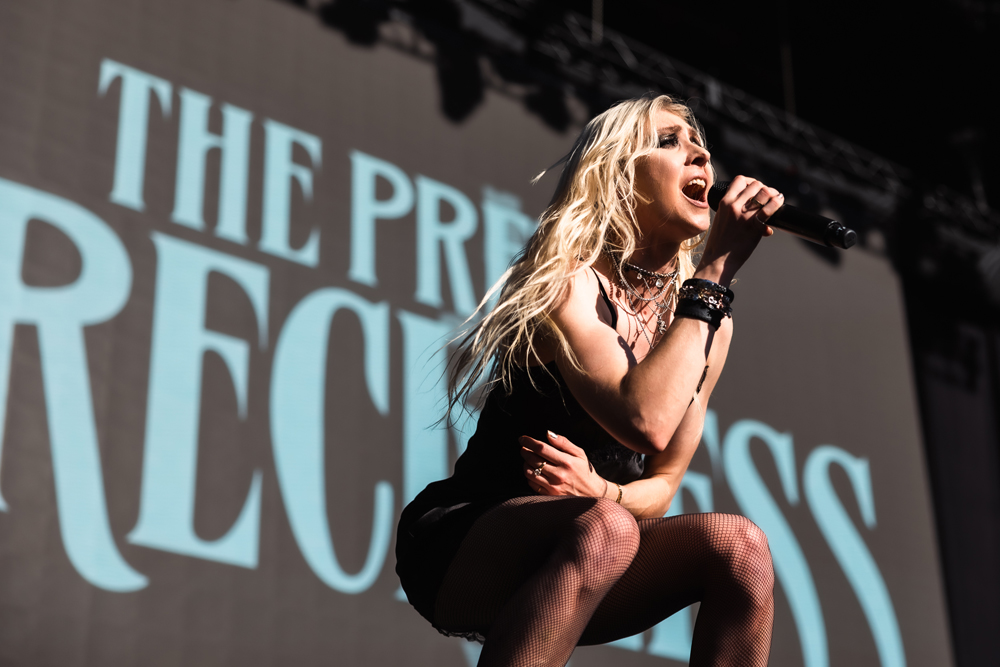 I caught up with the band members afterwards. Singer Derek Day and lead guitarist Griffin Tucker spoke of how much support they have been getting from people that saw them for the first time on their recent tours with not only the "Stadium Tour" (that featured MOTLEY CRUE, DEF LEPPARD, POISON and Joan Jett) but from opening for younger acts like DOROTHY and JOYOUS WOLF. They mentioned that they will be soon going overseas to tour as well as visiting the rock music-loving audiences in South America. Drummer Chuck McKissock even hinted at being involved in a film soundtrack soon. I cannot express how refreshing it is to have a band like CLASSLESS ACT on today's rock scene. They are a true breath of fresh air that has been very much needed to sooth and satisfy the sometimes jaded rock fan. Check them out at www.classlessact.com.

THE PRETTY RECKLESS, led by their lovely and talented singer Taylor Momsen, slayed their fans on the Jack Daniel's stage. Opening with the steamy and wonderful title track from their latest, "Death By Rock And Roll", Momsen and company showed just how much more in synch they have become since I first saw them at Aftershock in 2016. The band is a tight unit and cranked out as much as their 45 minute set time would allow. "Make Me Wanna Die" led into the similarly aggressive "Sweet Things" as guitarist Ben Phillips and his bandmates supported the iconic Momsen, who actually strapped on a guitar for the set closing and crowd pleasing hit "Take Me Down".
AMIGO THE DEVIL is a fun change of pace from the rabid, loud, angry, pleading bands that make up the majority of today's rock genre. He simply straps on a banjo or guitar and sings wryly about themes that would irritate the average bozo. Songs like "Dahmer Does Hollywood" and "Murder At The Bingo Hall" were delightfully funny and disturbing, as is AMIGO THE DEVIL and his glaring stage presence. My favorite of his, "I Hope Your Husband Dies", makes me laugh every time and I enjoy every sarcastic lyric as well as his halting delivery.

BLACK LABEL SOCIETY did their thing on the Kolas Stage. Leader Zakk Wylde, looking like a menacing Viking perched on a center-stage riser and sporting a plaid kilt as well as his ever present biker vest, played his signature blazing lead guitar along with his muddy, loud band. Guitarist Dario Lorina, bassist "JD" DeServio and drummer Jeff Fabb soldiered through a seven song set that really took off towards the end with the double dose of "Suicide Messiah" and the closer "Stillborn". Zakk Wilde knows what his audience wants and gives it to them every show. You can always count on a BLS show to get your fist-waving self completely pumped up and ready to fight whomever comes in your way. Needless to say, the mosh pit during their set is always a very great place to lose and express your aggressions with like-minded fans.

BRING ME THE HORIZON, the wildly popular British band, was without a doubt one of the more popular acts of the weekend. Their stage took the form of a computer, instructing the crowd to perform various acts like moshing to listing what song was coming next. Sometimes it failed and had to reboot. It was very entertaining and eventually helped with the pace of the show. "Me voice is FOOKED" exclaimed singer Oliver Sykes, who soldiered through a twelve song, hour-long set. Highlights included the pleading "Can You Feel My Heart", the pop flavored "MANTRA" as well as their latest "Strangers" which was well received by their loyal audience. The very emotional "Drown" seemed to be very captivating to their audience as I noticed legions of their fans clinging on to every word.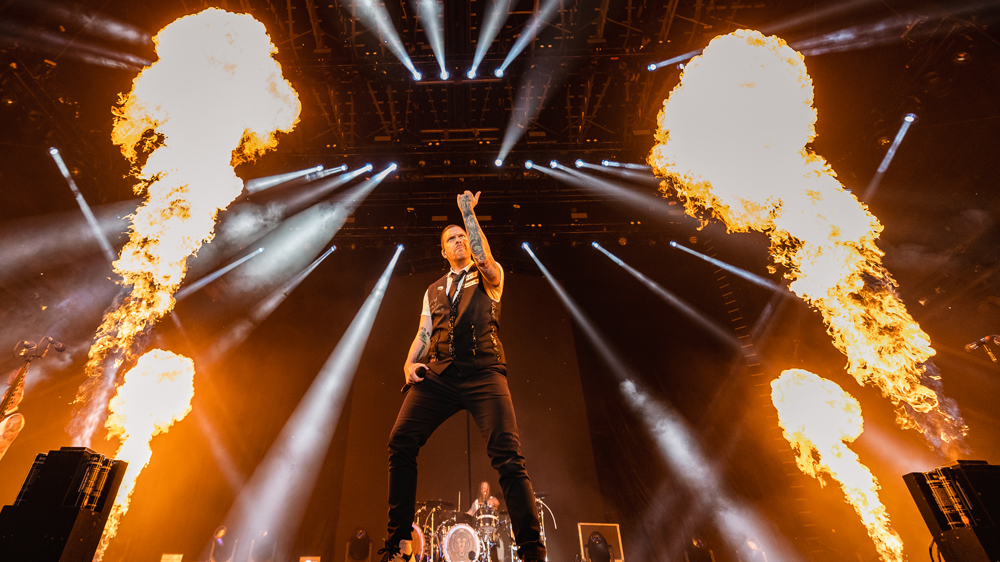 The immensely popular SHINEDOWN, now the kings of rock radio, rocked the Kolas Stage with a very "hands-on" approach to connecting with their fans. As they have the last few tours, singer Brent Smith, a man with incredibly powerful vocal pipes, asks his audience to address each other, shake hands or high-five with each other as well before they launch into their uber-hit song "How Did You Love". It's always a great moment and a nice tradition. "Let's take a moment to remember the ones we lost," he said. "And let's do it with empathy and respect."

SHINEDOWN is now the proud owner of more number one singles on rock radio than any other band. Many were played during the set, including "Second Chance" as well as their latest, the title track of their new album Planet Zero. SHINEDOWN also had just as much, if not MORE PYROTECHNICS than KISS did on Friday night. Quite a feat indeed, and shows just how HUGE this band has become since I first saw them in 2004.

Smith empowered the majority of the crowd to jump in unison during a take on "Enemies" which was an indication of the bands overwhelming connection to their audience. The heavily sampled "Cut The Cord" as well as the introspective "Monsters" brought the crowd to a roar, and it only amplified with their wonderful "Second Chance" from 2008. SHINEDOWN capped off their popular set with the driving title track to the Sound of Madness also from 2008.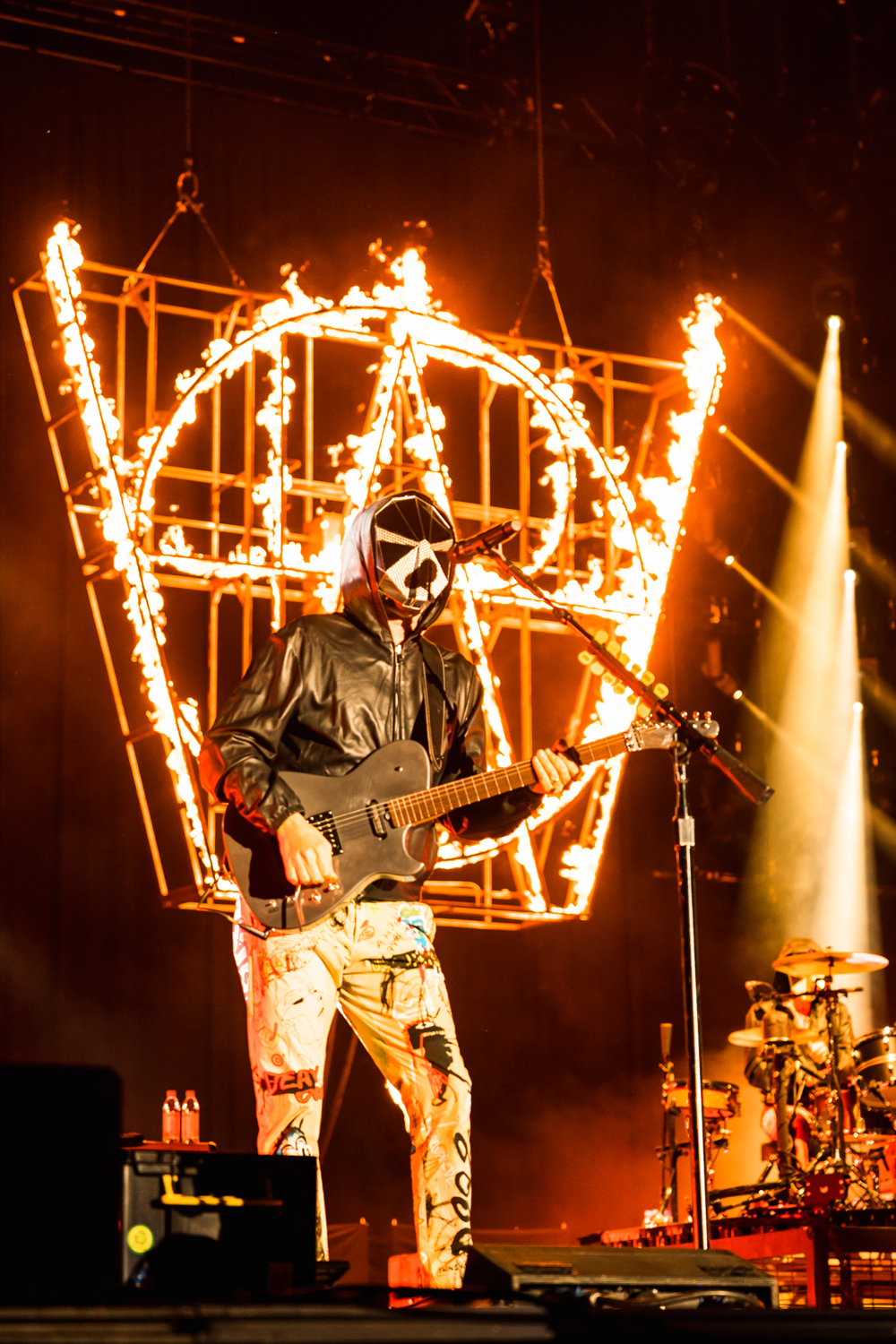 As I mentioned earlier, the FOO FIGHTERS initially were scheduled to not only headline, but close out Aftershock 2022. But, with the unexpected death to drummer Taylor Hawkins, that plan was scrapped as the band, still unsure of their future, took time off from performing. It wasn't until recently with all-star tributes to Hawkins in both London and Los Angeles that the remaining members of the band resurfaced. Hawkins'legacy was remembered all throughout the weekend by various members of the performers and press alike.

Filling the void left by the absence of such a huge band was obviously insurmountable. But give credit once again to festival organizers, Danny Wimmer Presents, to come up with a logical and popular act to close out the festival. That band was none other than the genre defying British hit makers, MUSE. And what a show we got! They put on an absolutely stunning performance that left no doubt in anyone's mind just how fabulous a band they are.

The band members, singer/guitarist Matthew Bellamy, bassist Chris Wolstenholme, and drummer Domenic Howard arrived onstage wearing hooded sweatshirts and mirrored, lighted masks. A flaming logo of their latest release Will of The People illuminated their backdrop as the band opened with the title track to said latest. Their ninety-minute set brought out quite an arsenal of music and interludes, mixing old and new songs along with bits and pieces of hit songs from AC/DC to SLIPKNOT to RAGE AGAINST THE MACHINE to Johan Sebastian Bach.
A large, elongated ramp in front of the stage was used by the band members to occasionally head out to the audience, again wearing hoodies with L.E.D. lighted designs on them. The rest of the stage was constantly changing and the lighting was intense. So was the music, such as the rambling hit "Psycho" that featured an audio intro of a drill sergeant addressing a soldier and also used a bit of RATM's "Township Rebellion" in the outro.

The lighting and stage production were incredible throughout and thoroughly enhanced every song, most noticeably the spooky orange hues and "Toccata And Fugue" opening to "You Make Me Feel Like It's Halloween". The irresistible "Time Is Running Out" had many in the audience at a fever pitch as they screamed along with the chorus. Bellamy went to his signature "Kaoss" effects processor for the huge hit "Supermassive Black Hole" that literally rocked Discovery Park as the entire crowd was moving and stomping throughout.

The synthesized "Behold The Glove" led way to "Uprising", probably their most popular and anthem-like song. Bellamy absolutely NAILED the lead vocals. Another hit, the lovely piano led pop of "Starlight" was my favorite. The entire production seemed to swell with the soaring melody of the song. It is sometimes hard to believe how large of a sound that these three gentleman can achieve.
MUSE closed out their performance with Ennio Morricone's "Man With Harmonica" intro, done by bassist Wolstenholme, that led into the galloping, forceful tempo of the QUEENS-esque "Knights of Cydonia" which brought the sold out crowd to a state of euphoria as the song built to its peak. The layered vocals and amped-up instrumentation was incredibly powerful on this closing number, and by song's end I was completely spent.

And, just like that, it was over. Four days of fun and music. But, not to paraphrase the original Max Yasgur's speech to that long-ago festival's attendees, there was a LOT more than just fun and music to experience at Aftershock 2022. I hope that my annual documented experiences incite you to attend. My thanks to all at DWP and crew for putting it all together, year after year, as well as all those that made it possible for me to attend. You know who you are.

Check out some non-musical photos of the event by Junkman!
Please log in to view RANTS