Band Photos By Janica Lönn
Helsinki, Finland natives BRYMIR are gearing up to tour in support of their fourth studio album Voices In The Sky. The album was released on August 26, 2022 through Napalm Records and may be BRYMIR's most intense effort yet. I had the chance to catch up with vocalist Victor Storm Gullichsen to find out more about Voices In The Sky.
KNAC.COM: If I knew absolutely nothing about BRYMIR, how would you describe the music to me?
GULLICHSEN: A relentless, euphoric onslaught of melodic death metal mayhem.
KNAC.COM: When was BRYMIR formed and how did the band members come together?
GULLICHSEN: We initially met 16 years ago, at the ages of 16-17 years old, at a music camp. We connected instantly and got on the heavy metal train we still ride to this day.
KNAC.COM: What inspired the band's name?
GULLICHSEN: The name is a combination of two themes from Norse mythology: BRYMIR is a table in Valhalla where righteous warriors feast forever after Ragnarök, the Apocalypse. Ymir is a frost giant from whose flesh the world was made before the age of men. Thus, BRYMIR means something akin to "before the beginning" and "after the end" – or Alpha-Omega.
KNAC.COM: BRYMIR's fourth studio album Voices In The Sky was released on August 28, 2022. How has the response been so far?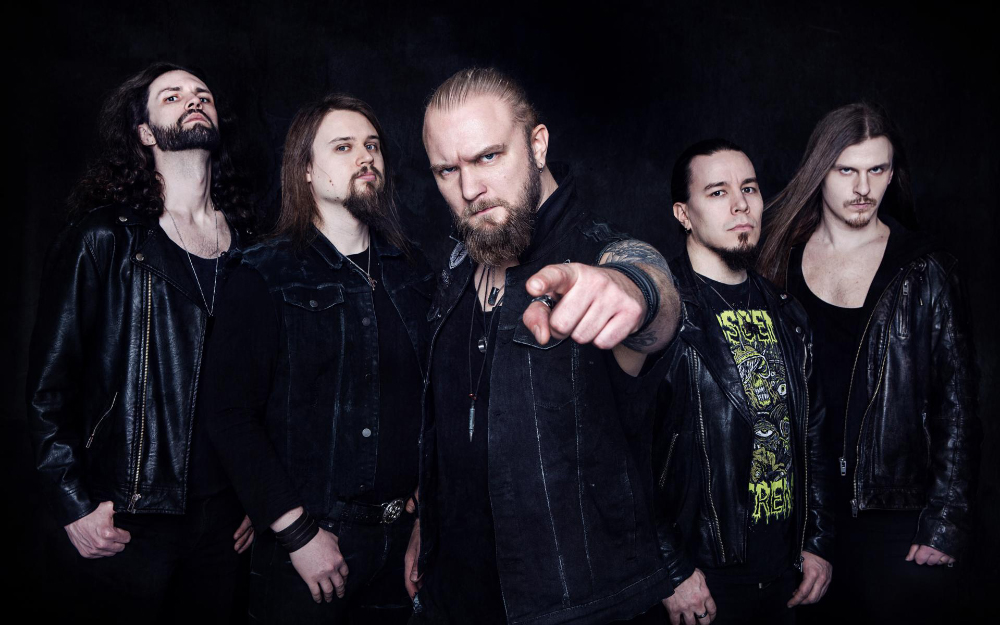 GULLICHSEN: The response has been amazing, we are quite humbled by the amount of positive feedback. It's been truly rewarding to see that our new, evolved sound has been received too well by fans, old and new.
KNAC.COM: Let's talk a little bit about the songs that have been released from the album so far. What is the story behind "Fly With Me"?
GULLICHSEN: "Fly With Me" discusses my anxiety around social media. I've been quite disillusioned with social media and the companies behind the platforms and I'm worried for the future if we keep on this track of hiding behind digital avatars that often don't reflect our real selves.
KNAC.COM: What is the story behind the album's title track "Voices In The Sky"?
GULLICHSEN: This one is about touring, or the desire to get back on the road post-Covid. I wrote the songs while being most frustrated with not being able to perform live and the song describes our ambitions to join our idols, the metal legends (the "Voices in the Sky") on tour and one day join their ranks so that also our voices can echo across the skies after we're gone.
KNAC.COM: What is the story behind "Herald of Aegir"?
GULLICHSEN: "Herald of Aegir" refers to salmon, the mightiest fish in our home waters – Aegir is the Norse mythology equivalent to Poseidon, god of the seas. The song is a stance against pollution of rivers and oceans and specifically discusses the endangered species of wild salmon.
KNAC.COM: BRYMIR covers "Diabolis Interium" by DARK FUNERAL as a bonus track on the album. When did you first discover their music and did they help shape your music?
GULLICHSEN: We chose this cover as it has been a favorite band of me and drummer Patrik Fält since our pre-teens. When Patrik joined the band in 2012 we bonded strongly over our common passion for hyper fast Black Metal and we wanted to pay homage to that.
KNAC.COM: Have you had the chance to meet anyone from DARK FUNERAL?
GULLICHSEN: Yes! We once played with them and it was a pleasure to meet Lord Ahriman and thank him for his work that has been such an important source of inspiration. He's a great guy.
KNAC.COM: Voices In The Sky is presented in multiple formats including digital, CD, and vinyl with multiple variants. How hands-on is BRYMIR with putting together these packages and corresponding artwork?
GULLICHSEN: This is our first vinyl release and we're stoked about how it all came together. It was very smooth and inspiring to work with artist Tuomas Valtanen and we definitely want to add even more effort creating awesome physical products in the future.
KNAC.COM: Vinyl is a must these days with the current demand for it, are you a fan of vinyl yourself? If so, what would you say is your most prized vinyl in your collection?
GULLICHSEN: I have, in fact, never owned a vinyl player but as I got my hands on our own album in vinyl format for the first time I truly understood why it's such a cool and appreciated format – I've already ordered that player and hope to start building a collection myself.
KNAC.COM: Voices In The Sky is your first studio album under the Napalm Records label. How did the band get signed to Napalm?
GULLICHSEN: It just kind of happened – I got an email from them asking if we're interested in a partnership and boy, were we interested! The rest is history.
KNAC.COM: BRYMIR has a Fall tour planned through the Nordics, Germany, and other surrounding countries to support the new album this fall. What can a newbie expect at a live BRYMIR show?
GULLICHSEN: Hold onto your hats… We bring a mad show of speed and danger, you are in for a treat.
KNAC.COM: How much material from Voices In The Sky do you plan to play?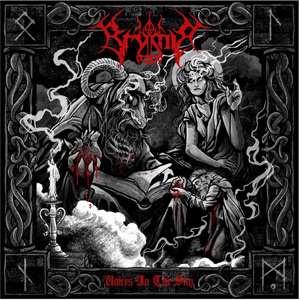 GULLICHSEN: We plan to base our new live set around the new songs, but still want to keep a balanced blend of songs from all our albums. Some old, classic BRYMIR songs that have been in our repertoire for over a decade have to give way to new material, and it's going to be hard selecting which ones stay in the set.
KNAC.COM: Is touring the USA a possibility for BRYMIR?
GULLICHSEN: It's definitely a possibility and a dream of ours. I would say it's just a matter of time before we make it over there!
KNAC.COM: Has BRYMIR ever had one of those SPINAL TAP moments, where things went so bad it was comical?
GULLICHSEN: Much of our career has been a domino effect of SPINAL TAP moments... One funny story was when we spent hours at the airport with all our gear at 5 AM trying to figure out why our flight had been canceled and how to get new tickets, only to realize that we're there on the wrong date.
KNAC.COM: Besides BRYMIR, are you working on any other music projects?
GULLICHSEN: I've previously produced a lot of electronic music and I have a new project on the horizon that combines shamanic, ritualistic vibes with psychedelic trance. Our guitarist Joona Björkroth plays in BATTLE BEAST, our bassist Jarkko Niemi is a member of shamanic metal band IA (with whom I used to play drums), and our drummer Patrik Fält is involved in countless projects of which most notable is the grindcore act FEASTEM.