FIVE FINGER DEATH PUNCH, MEGADETH, THE HU, FIRE FROM THE GODS In Houston, TX With Photos!

By Larry Petro, News Monkey
Thursday, September 8, 2022 @ 8:59 AM

| | | |
| --- | --- | --- |
| | | At The Woodlands Pavilion September 2 |
All Photos By Larry Petro/Petrofyed Photography
Well the concert season has certainly cranked up as of late with numerous bands and tours being announced for the latter part of 2022. So much so that my calendar of shows to cover for the next 30 days has swelled to 6, the first of which took place on Friday, September 2 as the package tour of FIVE FINGER DEATH PUNCH, MEGADETH, THE HU and FIRE FROM THE GODS rolled into town for a great rock n' roll show at the Woodlands Pavilion just north of Houston, a place I had not been to since pre-covid. And what a show it would be, especially since every band on the bill has a new album that's either out now or coming out very soon. Making things that much more appealing was knowing that there were only 2 photographers set to cover the show, 3 if you count the house photog. It turned out to be somewhat of a blessing as the pit was general admission and they had the barricade pushed all the way up to the stage leaving us with just 3' of room to move and maneuver around security.
First up at the early start time of 6:30 was Austin, TX based rap metallers FIRE FROM THE GODS, who literally just a few days prior had announced the release of their 4th album Soul Revolution for the end of October. The band, led by current vocalist AJ Channer, took the stage to a sparse, still arriving crowd with the title track to the new album. It was a brief 30 minute set but was definitely an inspired one that served notice that these guys should be around for some years to come.
Setlist:
"Soul Revolution"
"The Voiceless"
"American Sun"
"Truth To The Weak (Not Built To Collapse)"
"In Spite Of Doubt"
"Right Now"
"Excuse Me"
According to the set times schedule there appeared to be just a 15 minute changeover allowance between the first 3 groups and I have to say that the stage crew did an amazingly efficient job of keeping things right on time throughout the evening, and during this stage changeover 5FDP bassist Chris Kael appeared to the side of the stage and tossed picks into the crowd. FIRE FROM THE GODS played from 6:30-7 and at exactly 7:15 Mongolian folk rockers THE HU appeared to rock the crowd, having been here just recently a couple of months back during Buzzfest. I first had the opportunity to watch this band live at last year's Rocklahoma and I have to be honest, I didn't think that much of them then and I'm not exactly sure why. Maybe it was because it was at the end of a very long, hot day of covering the festival but their music at that time just didn't resonate with me. Whatever the reason, this time was a complete turnaround. Their new album Rumble Of Thunder actually dropped the day of this show and these guys were out to prove that they are the real deal. Their 5 song, 30 minute set was kicked off with "Shihi Hutu" from the new release. Frontman Nyamjantsan Jaya Galsanjamts (say that 3 times fast) was on point and led the band through tracks "This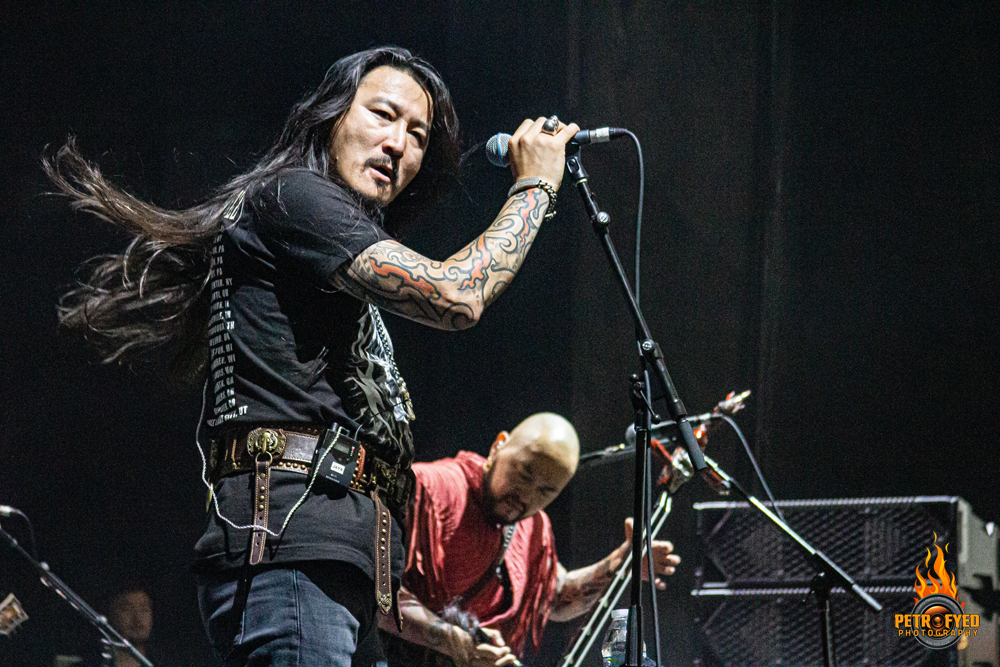 Is Mongol", "Hohochu Zairan" and "Yuve Yuve" before closing things out with "Wolf Totem". These guys definitely ARE the real deal and can rock with the very best of them. I am most certainly a fan now.

Setlist:
"Shihi Hutu"
"This Is Mongol"
"Hohochu Zairan"
"Yuve Yuve"
"Wolf Totem"
Next up was the mighty MEGADETH, who had announced a new album, The sick, The Dying...And The Dead! that also was released on this day. Even though this was not a co-headline tour the band was allowed to have their own stage setup and props, with a wall of columns of amps with LED screens spaced in between them that flashed different things throughout their set, with drummer Dirk Verbeuren perched up high in the middle of it all. MEGADETH launched into their 9 song set with the seminal "Hangar 18" and they were off and blazing. Returning bassist James LoMenzo was a welcome sight and he seemed to be enjoying himself quite nicely alongside Mustaine and guitarist Kiko Loureiro as they punished the Houston crowd with new song "We'll Be Back" and hits like "Sweating Bullets", "Trust" and "Symphony Of Destruction". The band then closed their evening with "Holy Wars...The Punishment Due". MEGADETH always put on a great show and tonight was no exception.
Setlist:
"Hangar 18"
"We'll Be Back"
"DATFM"
"Sweating Bullets"
"Trust"
"Dystopia"
"Symphony Of Destruction"
"Peace Sells...But Who's Buying?"
"Holy Wars...The Punishment Due"
Finally it was time for the headliners of the evening, FIVE FINGER DEATH PUNCH, who themselves released a new album Afterlife just last month. This is one band that knows how to have fun and not take things too seriously, as evidenced by their interactions with both the crowd AND the couple of us photographers that were set to capture the event. And in an interesting move, we were allowed the standard 3 song rule in the barricade but songs 2, 3 and 4 instead of the normal first 3, a move we thought might be for the use of pyrotechnics during the first song but alas, there was really nothing unusual about the first song so who knows what the reason behind it was? At any rate, as "F8" played over the PA system, the band proceeded to crush the audience into submission, starting with "Inside Out", also from the F8 album. From there it was an all-out assault on the senses with "Trouble", "Wash It All Away", "Bad Company" and "Got Your Six" all performed in the first half of the set. The new album was also represented with the blistering rockers "IOU" and "Welcome To The Circus".
The trio of vocalist Ivan Moody, bassist Chris Kael and guitarist Zoltan Bathory made for a most entertaining evening. They were in great spirits and definitely went out of their way to interact with us in the photo pit. Moody carried around a small baseball bat for much of the show and at one point after spotting me in the pit playfully reached out with the end of the bat, stopping just a mere inch or two from my lens (see photos and thanks to 5FDP tour photographer Ana Perez for capturing this interaction from another angle). The only time the crowd had a chance to settle down just a bit came when Moody sang "Far From Home" and just a bit (pun intended) of "A Little Bit Off" a cappella, which he did an outstanding job of. Break time was over as the band once again pummeled us into oblivion with "Wrong Side Of Heaven", "Burn MF", complete with a crowd sing-along portion and a drum solo by Charlie Engen. The band finished off the evening with the 1,2 punch (another pun intended) of "Lift Me Up" and the aforementioned "IOU" before returning for encores "Under And Over It" and "The Bleeding".
This tour continues across the US until the middle of October so if you get the opportunity to see this show in your town, do it! You won't regret it! 5FDP picks up again at the beginning of November for a tour with support from County rock artists Brantley Gilbert and Cory Marks, an interesting pairing package to say the least.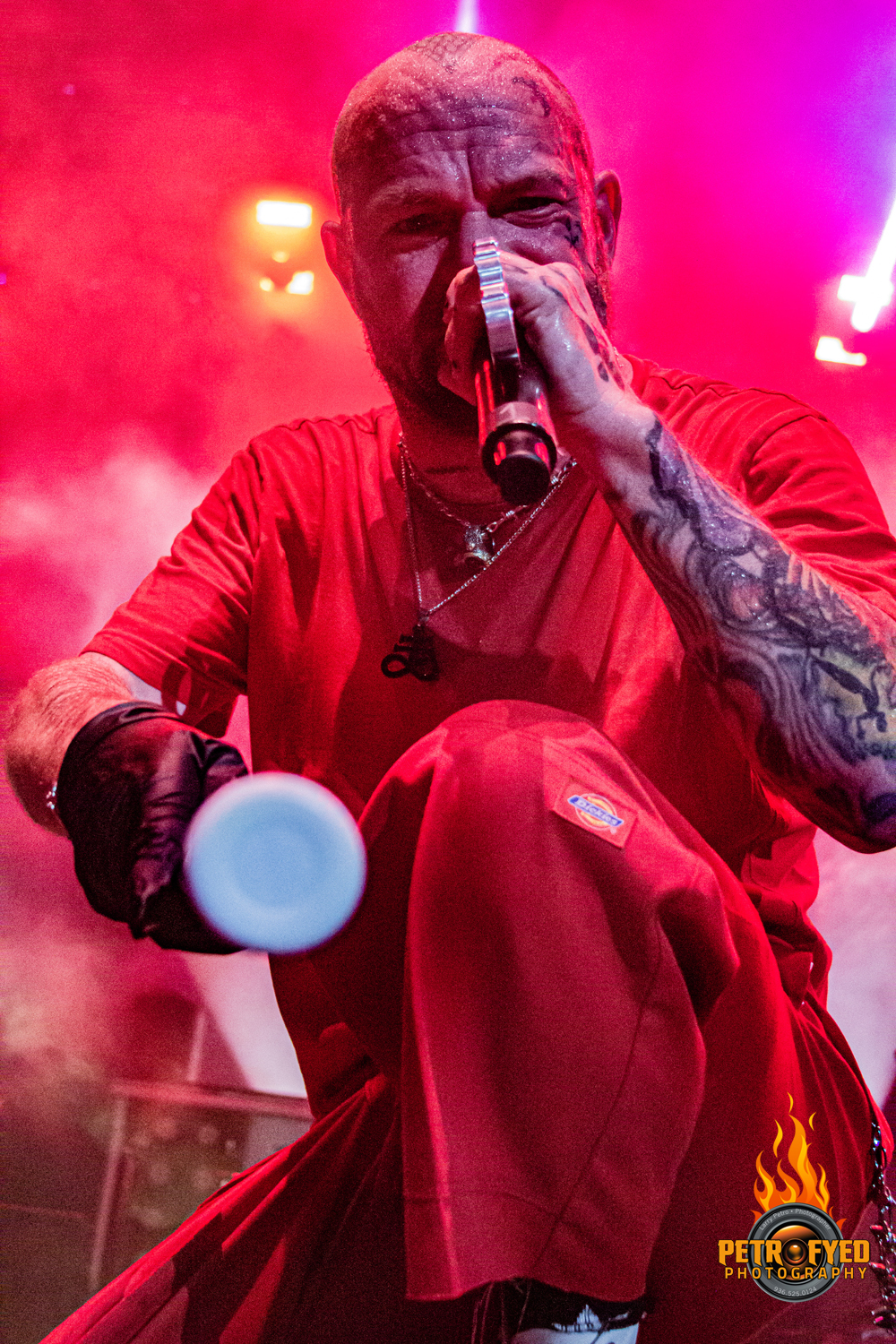 Setlist:
"F8" (on the PA)
"Inside Out"
"Trouble"
"Wash It All Away"
"Jekyll And Hyde"
"Sham Pain"
"Bad Company" (BAD COMPANY cover)
"Got Your Six"
"Never Enough"
"Welcome To The Circus"
"The Agony Of Regret" (on the PA)
"Far From Home" (a capella)
"A Little Bit Off" (partial, a capella)
"Wrong Side Of Heaven"
"Burn MF"
Drum Solo
"List Me Up"
"IOU"
Encore:
"Under And Over It"
"The Bleeding"
Check out some more photos from the show!
All Photos By Larry Petro/Petrofyed Photography
Please log in to view RANTS
OBITUARY, IMMOLATION, BLOOD INCANTATION, INGROWN In Los Angeles With Photos!
SAVOY BROWN Blues All Around
JAG PANZER The Hallowed
THE DEFIANTS Drive
GLORYHAMMER Return To The Kingdom Of Fife
NIGHT LEGION Fight Or Fall
IMMORTAL War Against All
JOE PERRY Sweetzerland Manifesto MKII
BUCKCHERRY Vol. 10
DAVE LOMBARDO Rites Of Percussion
HELLOWEEN, HAMMERFALL In Worcester, MA With Photos!
DARK FUNERAL, CATTLE DECAPITATION, 200 STAB WOUNDS, BLACKBRAID In Houston, TX With Photos!
MR. BUNGLE, MELVINS, SPOTLIGHTS In Portland, OR With Photos!
PANTERA At Welcome To Rockville With Photos!
THE BLACK DAHLIA MURDER, TERROR, FROZEN SOUL, FUMING MOUTH, PHOBOPHILIC In Anaheim, CA With Photos!
ENFORCER Nostalgia
BUZZFEST Featuring GODSMACK, I PREVAIL, HIGHLY SUSPECT, THE STRUTS And Others In Houston, TX With Photos!
SLEEP TOKEN Take Me Back to Eden
UGLY KID JOE, FOZZY, PISTOLS AT DAWN In Houston, TX With Photos!
TESLA, FASTEST LAND ANIMAL, KURT DIEMER In Orlando, FL With Photos!
CATTLE DECAPITATION Terrasite
TYGERS OF PAN TANG Bloodlines
MYSTIC PROPHECY Hellriot
WHITECHAPEL, ARCHSPIRE, SIGNS OF THE SWARM, ENTHEOS In Santa Ana With Photos!
ALCATRAZZ Take No Prisoners
BURNING WITCHES The Dark Tower
ELVENKING Reader Of The Runes - Rapture
CHAOS AND CHARNAGE Tour Featuring SUICIDE SILENCE, DYING FETUS, BORN OF OSIRIS, ABORTED, CROWN MAGNETAR, SANGUISUGABOGG And SLAY SQUAD In Anaheim With Photos!
ENFORCED War Remains
SAVAGE EXISTENCE Savage Existence
BLACK ROZE Penny For Your Sins
WINGER Seven