AT THE GATES, MUNICIPAL WASTE In Los Angeles With Photos!

By Francisco Zamudio, Metal X Candy 2.0
Friday, September 2, 2022 @ 9:38 AM

| | | |
| --- | --- | --- |
| | | At The Fonda Theater In Hollywood |
All Photos By Diego Gonzales Pictures
Night one of what would be a 4 nite bender full of metal…
To this day, I still hold my ticket stub from one of AT THE GATES' first U.S. tours way back in 1996. Also on the bill were DISSECTION and MORBID ANGEL. And now I have a stub for their 2022 show that was a special night in that they would play an album in its entirety, that of Slaughter Of The Soul. Not just an essential DEATH METAL album but a mandatory must-listen of SWEDISH DEATH METAL, a genre that AT THE GATES helped establish along with many of great bands from Sweden.
The show took place at The Fonda Theater in Hollywood and supporting ATG was Virginia's own MUNICIPAL WASTE who recently put out a new album entitled ELECTRIFIED BRAIN. These guys really know how to get the blood flowing. The energy in the room went crazy as soon as they started and so did the pit in a whirling wind that never stopped. Thrash Metal just has the gusto that hits any crowd. Vocalist Tony Foresta knows how to engage a crowd as he stood right in front, headbanging over the audience and was constantly acknowledging the crowd's enthusiasm. MUNICIPAL WASTE threw down a jam packed set list for a crowd who enjoyed every minute of what they put out. Cuts off the new record included "Blood Vessel", "High Speed Steel", "Electrified Brain" and "Demoralizer", and and another 16 for 20 cuts in a 40 minute set – the only way Thrash and Grind bands can do. The band has been active since 2000 and has become one of modern Metal's widely recognized Thrash bands in the current re-viatlized scene. The highly fun intensity and horror-induced music hits a chord with fans, new and old and the Virginia troupe and they Los Angeles crowd, they showed each other what's up and there is definitely a following for them and Thrash as a whole out here in SoCal.
While the label 'Swedish Death Metal' has been reshaped and the perception of its sound, or "how it should sound" rather has had its perspective changed very much since the early 90's. Many have gone the route of adding A LOT of melody into their sound yet some have stuck to the fast paced thrash and crunchy guitars I am more keen to.
As a predecessor to ripping into the SLAUGHTER set, they dished out 7 cuts off their other releases for the first hour, building up to the anticipation on an eventful evening. Before the night got started, I caught up with guitarist Martin Larsson to see how he and the rest of Sweden's finest (plus 1 of Mexico's Best) were feeling about the show (that interview will be up soon). It was interesting to hear how they weathered the storm of the past couple of years and now the change on guitars for him from rhythm to lead if only for a brief moment until ATHEIST's Daniel Martinez was called up to stand in for the first couple of weeks of the tour that started in Los Angeles on this night which makes it even more momentous.
After scorching through tracks from their comeback album At War With Reality and the follow-up To Drink From The Night Itself, they also cut into their latest release from last year, The Nightmare Of Being. Then they took it back to 1995 with SLAUGHTER OF THE SOUL. This album is mandatory-listen in the Metal 101 class as it defines what Metal was evolving into outside (thankfully) of the American influence. With Tomas Lindeberg's unique vocal approach, Adrian Erlandsson's dominating drumming performance and the rhythm section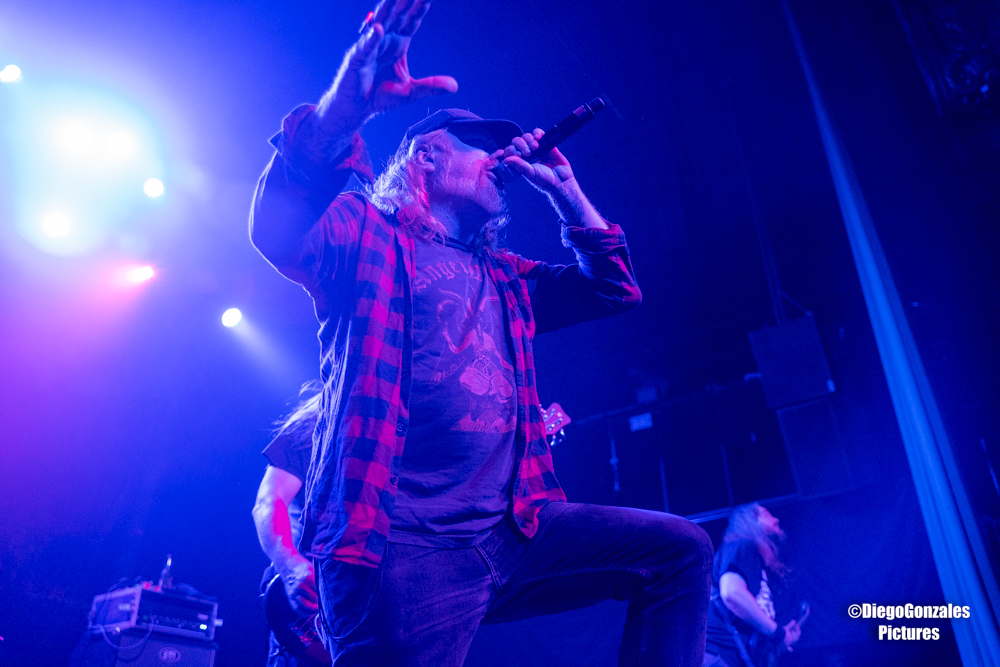 provided by Larsson and the Björler twins – SotS is everything an album should be. And we got to witness this magic live. The first track "Blinded By Fear" is a fantastic opener, followed by the title track which as Lindeberg exclaim, make you "GO!". For (just over) a half hour, they blitzed this iconic album and the crowd never stopped raging and headbanging. I flashed back to my teenage years back to the venue out in Pico Rivera. And as Lindeberg waved goodbye during the final song, I came back to reality and was proud to witness such a memorable moment and to be able to say twice in my life,"I was there".
It's important to be involved in your local scene and be active, so for the local opener of the night, I only have this to say - play with other locals, GO to local shows and GIVE BACK to the scene that you are trying to reach, and NOT JUST ONLY to the touring and established bands. That kind of participation goes a long way and word reaches others outside of your scene. So when you often and only call in a favor to pop up on major bills with large, touring bands to try and hijack their fanbase instead of creating your own – I can't really support these kind of ethics, or lack thereof. I have no sympathy for bands/guitarists who treat music fans and their scene like fools. Play with locals, support locals and support your scene.
Check out some more photos from the show!
All Photos By Diego Gonzales Pictures
Please log in to view RANTS
VENOM, INC. There's Only Black
STRYPER The Final Battle
TALAS 1985
QUEENSRYCHE Digital Noise Alliance
MOTÖRHEAD Iron Fist 40th Anniversary Edition
TESLA, KURT DEIMER In Houston, TX With Photos!
CLUTCH Sunrise On Slaughter Beach
SCORPIONS, THUNDERMOTHER In Houston, TX With Photos!
BEHEMOTH Opvs Contra Natvram
IRON MAIDEN, TRIVIUM In Austin, TX With Photos!
AEROSMITH, EXTREME In Boston, MA With Photos!
SAMMY HAGAR, GEORGE THOROGOOD, QUEENSRYCHE In Ridgefield, WA With Photos!
KINGS OF MERCIA Kings of Mercia
OZZY OSBOURNE Patient Number 9 In-Store Record Signing In Long Beach
ALICE IN CHAINS, BREAKING BENJAMIN, BUSH, THUNDERPUSSY In Ridgefield, WA With Photos!
GOATWHORE, INCANTATION, BEWITCHER In Los Angeles With Photos!
SKID ROW The Gang's All Here
FALLUJAH Empyrean
FIVE FINGER DEATH PUNCH, MEGADETH, THE HU, FIRE FROM THE GODS In Houston, TX With Photos!
DEICIDE, KATAKLYSM, INHUMAN CONDITION In Los Angeles With Photos!
KING'S X Three Sides Of One
BLIND GUARDIAN The God Machine
BUTCHER BABIES, UNCURED In Los Angeles
STYX, REO SPEEDWAGON, LOVERBOY In Mansfield, MA With Photos!
AT THE GATES, MUNICIPAL WASTE In Los Angeles With Photos!
OCEANS OF SLUMBER Starlight and Ash
A-Z A-Z
MACHINE HEAD ØF KINGDØM AND CRØWN
MY CHEMICAL ROMANCE In Nashville, TN With Photos!