Deb Rao Interviews Black Label Society Part 2: Guitarist Nick Catanese

By Debby Rao, Boston Contributor
Wednesday, February 1, 2006 @ 12:09 AM

| | | |
| --- | --- | --- |
| | | "I respect Iron Maiden, but I |
Guitarist Nick Catanese is living proof that Rock and Roll dreams can come true. "The Evil Twin" as Black Label Society fans call him, picked up a guitar when he was a little kid and in 1996, hooked up with Zakk Wylde to tour the world and rub elbows with the likes of Ozzy Osbourne, Dimebag Darrell, Judas Priest, Iron Maiden and let's not forget Jennifer Aniston.

Welcome to the Society.

KNAC.COM: Black Label Society just wrapped up one of the busiest concert years to date? How did the Fall Mafia Tour go?

NICK: All of it was fuckin amazing. The shows were 1000 times better than tours before.

KNAC.COM: Black Label Society's fan base has grown so much since 1998. What do you attribute to the rapid growth in popularity for BLS during this past year?

NICK: I think that the change is because of the songs that Black Label is comin out with is more appealing to everyone, not just " metal heads." I mean everyone can listen to it. So if you are a guy that digs BLS, so might your girl.

KNAC.COM:. Artemis Records has done such a great job promoting your new album MAFIA. They really seem to support the band, and have a great job with promoting your recent tours. How do you fell about the music business today? Is it harder for bands to get started and make a name for themselves and develop a following?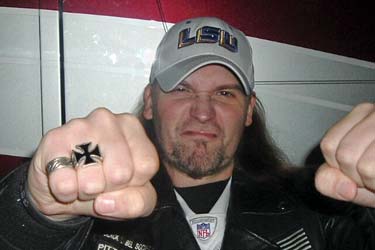 NICK: It's wayyyyyyyyy harder. I gotta watch out for everything, but Artemis did a great job for us and it did pay off.
KNAC.COM: How do you feel about Music Television versus FM Radio today? Do you feel it is more important to get good radio exposure or television exposure?
NICK: I think both. Why choose? If radio and TV will play, god bless em. That's what helps. You gotta be in peoples faces.
KNAC.COM: Black Label Society performed on the main stage of Ozzfest this year. What is the difference to you between performing on the main stage to the second stage?
NICK: We never played the B stage so I have no idea, I heard its awesome though, lots more energy and they have no seats to sit in during the show.
KNAC.COM: Who did you enjoy watching this year at Ozzfest? Are you a big Iron Maiden fan?
NICK: I respect Iron Maiden, but I have always been more of a Judas Priest fan, so I had the pleasure of working with both.
KNAC.COM: How log have you been performing with Zakk Wylde and how did you get the gig?
NICK: I have been jammin with Zakk for 10 years this June and I got the gig through an email I sent. Then we hung out and bam, here we are 10 years later.
KNAC.COM: How was the early Pride and Glory days different from Black Label Society music today? I got to see PnG perform in Boston in 1996, and I was blown away by the guitar playing. I really enjoyed the acoustic part of the set.
NICK: I really don't know, I wasn't part of PnG. I came in during Book of Shadows, so from that to BLS was a big step in heaviness.
KNAC.COM:. Were your parents supportive in your music career? Have they seen you perform?
NICK: They have always been supportive. When I started my band at 15, my Dad managed us for 10 years and my Mom sold merch and did the mailing list. My Dad is still managing me and my Mom does my mailing and financial work and also my merch, so, yeah, they are awesome.
KNAC.COM: When was the first time you picked up a guitar, and when did you know you wanted to pursue music?
NICK: I picked my guitar up at 12, but got serious around 13. My first gig was at a school dance in 8th grade. It was god-awful but I had a blast.
KNAC.COM: Nick, You have such an extensive musical career, but you also have experimented with acting. In 2001 when you appeared in the movie Rock Star as Xander Cummins of the band Blood Pollution. What was it like acting with Jennifer Aniston and Mark Wahlberg?
NICK: It was fucking awesome. Those two are such genuine people. I love them both. We had a blast shooting that movie, and I'd do another one, too, in a heartbeat.
KNAC.COM: How did you get the role? Was it a challenge to learn guitar parts for both Steel Dragon and Blood Pollution?
NICK: They asked Zakk who can double you in the movie, guitar wise, and Zakk says "Bring Nick out." So, I flew out, helped with the soundtrack, me and Zakk, Jason Bonham and Jeff Pilson. We just listen to songs people wrote and beefed them up to sound like they do in the movie. It was fun as fuck. And yeah, it was a challenge when I had to learn all of Zakk's solos for Blood Pollution, but fun at the same time. He always threw me a curve for me to find it and I'd try my best.
KNAC.COM: Rock Star depicted the 80's Metal scene to a tee. The movie was released right before 9/11. Do you feel that had affect on the box office sales?
NICK: Totally. That's what blew it for the movie. I mean, it wasn't gonna be the success of Forrest Gump, but it would have packed more people in than it did cause everyone freaked the fuck out when that happened. But in hindsight, safety is more important than a movie.
KNAC.COM: Were the concert scenes for Blood Pollution filmed in Pittsburgh? Also, I heard that some of the Steel Dragon concert scenes were filmed at the LA Sports Arena? Was the concert opened to the public, how many people were there?
NICK: We filmed the BP concert in a oil plant in LA and yes the steel dragon show was open to people. You had to buy a ticket and they had a few other band playing in between shots. It was cool.
KNAC.COM historical perspective: Though some people did pay to get in, KNAC.COM did a major promotion for the movie and got a bunch of fans into the concert scene shoot at the Los Angeles Sports Arena. The "other bands" that played included Megadeth (performing as Vic and the Rattleheads) and W.A.S.P.

KNAC.COM's Frankie DeVita actually got some "face time" in the movie.

Interestingly, KNAC.COM's Diana DeVille interviewed KK Downing and Ian Hill from Judas Priest right after the movie came out and they denied the movie had anything to do with Judas Priest.
KNAC.COM: What is your favorite Black Label Society video? Also what was it like working with Rob Zombie in "Stillborn"?
NICK: My favorite video is Fire It Up. All the footage of shit getting blown up and carnage its pretty hardcore. Workin with Rob (Zombie) is amazing. He is a visionary.
KNAC.COM: What is your favorite tune from Mafia? I love all of the different guitar styles on the album.
NICK: I love Fire It Up and Say What You Will. Actually all the songs kick ass playing wise. They are all fun as hell.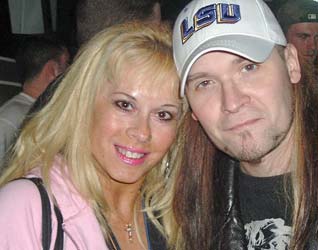 Deb with Nick
KNAC.COM: The metal world will never get over the tragic loss of Dimebag Darrell. What is the most important thing that Dime taught you as a musician and as a friend?
NICK: Just to live each day and fuck tomorrow. " Blow it up " as he always said. Just go and be yourself, don't worry and just have a blast every single fuckin day, Getcha pull (dimebonics).
KNAC.COM: It was so cool to see the fans chanting Dimebag for twenty minutes during your performance of In This River on the Mafia Tour. Was this song written for Dime?
NICK: No, the song was written before Dime's death, but it fit so well, we just made it " Dimes song " and it will always be there, and it does give you chills hearing the whole crowd chant his name every night.
KNAC.COM: Was Dimebag instrumental in getting you the special ET IDOL Signature Washburn guitar series?
NICK: He was there for me in every way when I got the deal. He said to me, "Don't let anyone mess with ya there, and if they do, you call me and I'll get it straight." So he had nothing but good words about me to them and helped out a lot.
KNAC.COM: You jammed with Vinnie Paul in Lowell, Massachusetts last April. How are Vinnie and Rita doing?
NICK: Vinnie and Rita are amazing people. They both are so strong and just genuine people. None of that Hollywood bullshit, just down-home people. I love them to death.
KNAC.COM: Tell me about your appearance at NAMM this year.
NICK: NAMM was awesome. Kept me busy doing signings for Washburn, EMG, Tone Pros, but I got to see a lot of my buds: Mike Inez, Jerry Cantrell was there, Vinnie (Paul), Rita, I even saw Gene Simmons walkin around doin some TV show. But the highlight was the Washburn signing. It was myself, Scott Ian (Anthrax), Dan Donegan (Disturbed), and Jon Donais from Shadows Fall. It was awesome.
KNAC.COM: What was it like meeting Ozzy for the first time?
NICK: He is amazing and it's an honor to meet him. (The) same with Sharon. Both are the most beautiful, most down to earth people I have ever met.
KNAC.COM: Is their any special advice that you would like to give aspiring musicians?
NICK: Just be true to your instrument. You won't get better with it sittin in the corner. You need to have passion for it and jam that fucking thing every day.
KNAC.COM: Ok, Nick Last question. Are you excited about The Steelers being in the Superbowl?
NICK: HELL YEAH! It's about time we get one for the thumb.
Please log in to view RANTS