If there is one band in the music industry that deserves the title "The James Brown" of hard rock/heavy metal it truly is the Atlanta based group Sevendust. Since their self-titled debut disc, "the dust" has had a relentless career of non-stop touring and recording to an ever growing fan base, thus being seen as the hardest working band in the biz. The band has also dealt with its share of tragedy and triumph along the way. They have racked up many gold albums and won the respect of their peers in the business, and they have also dealt with the pain and grief of losing close friends and family during their steady climb. With their latest disc the band finds itself with a new member, a new record label and a chance to start signing new bands to their own imprint record label, 7Bros. While on tour promoting their latest disc Next, I had the honor and pleasure of talking to frontman Lajon Witherspoon about their new disc and tour, the changes the band has endured and what the future holds for this hard working, hard rock band.

KNAC.COM: Lajon, it seems as if last year was a serious year of transition for Sevendust. Talk to me first about the band leaving TVT (Records). Why did the group leave the label?

WITHERSPOON: We are very thankful for the relationship we have had with TVT. They were a tremendous help to us. They helped the band achieve a lot. Organically it just seemed that the time was right to make a change. It was time to renew our contract and they didn't, and we were ok with that. We recorded the disc Next, shopped it around and now it's time to see what truly happens next!! We will see how things go being on our new label Winedark.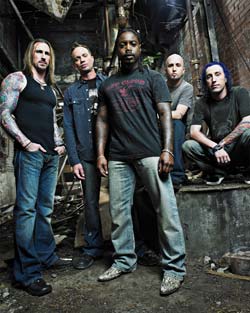 KNAC.COM: Sevendust has also started its own record label, 7Bros. How did this come about?
WITHERSPOON: Yes, it's an imprint label and we did it because in the future, we would like to start signing bands and getting these kids to be both artists and business people. We want to teach them the business end of things. We are really excited about it. There really is a new type of energy within the band right now with everything going on.
KNAC.COM: The group has always seemed like a close-knit band of brothers and that's why it was surprising to hear about the departure of guitarist Clint Lowery. Why did he leave and how did you go about recruiting Sonny Mayo?
WITHERSPOON: Basically Clint left to be in a band with his brother. It was weird when he left because Sevendust truly is a family. I have not spoken to him since he has left but I do wish him all the best. Sonny joining the band was like an old friend coming back home. Sonny has always been close with Sevendust and it just made sense that he joined the band. We didn't have to hold auditions and tryouts. Sonny has always been family. He also came in at the right time. He joined the band just as we were writing material for the new disc so Sonny got to be part of the writing process.
KNAC.COM: It seems that critics have always pegged this band as trying to be the "heaviest band in the world" and some feel that the group has sacrificed your vocal ability to be this extremely heavy band. Do you think there is any truth to this? Have you been able to strike a balance between the heaviness and the melody?
WITHERSPOON: We don't want to be the heaviest band in the world!! You can't be mad at the world all the time. We put all of our emotions into our music. On this album I do believe that we have been able to really balance and do both. We are heavy and we have melody on this disc. Because of this balance, we are the type of band that can go out on the road with Slipknot and then turn around and go on the road with a band like Creed and still win over the audience.
KNAC.COM: Critics dubbed many of the bands that came through when Sevendust came through as Nu Metal. They said you all had this "Nu Metal" sound and many have wondered why this band has not seen the multi-platinum success your contemporaries had in the late 90's. How do you respond to that?
WITHERSPOON: A lot of people have tried to pigeon hold the band and have asked that question. All I can say is we have been successful, toured the world and we are still here! Many of the bands we have gotten compared to are not around anymore but we are still standing. We still have an on going relationship with our fans and it has been great. The whole labeling of these bands…that Nu Metal tag literally killed some bands but we are still here and we have never slowed down!
KNAC.COM: Your last studio album was produced by songwriter/producer Butch Walker. This time around you all decided to produce this record yourselves. What did you take away from your experience with Walker that helped you with this record?
WITHERSPOON: We have known Butch for a long time. He actually recorded the first Sevendust demos in his house! He has great vocal ability so he helped me a lot in terms of really using my voice and vocals. This time around we just felt confidant in doing the record ourselves. At this stage of the game we know what sounds good and we know how to work with each other in the studio. It was just time to do it ourselves.
KNAC.COM: In between your last two studio albums Sevendust released a live acoustic disc and DVDdvd. Are their any plans to do that again? Will you be doing some acoustic dates on this tour?
WITHERSPOON: We had a great time doing the acoustic disc and it got a great response. At some point we will do that again but there are no plans to go acoustic in the near future. We are bringing the heavy stuff on this tour!
KNAC.COM: I want to shift gears a bit and talk about your younger brother. You lost your younger bother to a senseless act of gun violence a few years ago. How have you been able to cope with such a terrible loss?
WITHERSPOON: That is something that you never get over. I deal with it everyday. It is one of the reasons why I am still doing this…why the band is still going. He was a big fan of the band and wanted us to be successful, that's one of the reasons why I/we continue. My brothers in the band have helped me through this loss and continue to support me everyday.
KNAC.COM: The hard rock/metal world lost guitarist Dimebag Darrell last year to yet another act of gun violence. Did this incident give you pause? Has the band had to think about how close they should be to their fans?
WITHERSPOON: Yeah that whole thing was just scary. I was just hangin' out with Vinnie Paul recently…we do have tighter security and it does seem like there are some crazy people out there but you can't live your life scared. You just have to be cautious and live your life.
KNAC.COM: Let's talk a little bit about living and celebrating life in terms of your own family. I believe you are a father correct?
WITHERSPOON: Yes I am. I am a single parent and I have a beautiful daughter.
KNAC.COM: Has being a father affected you as a musician and an artist?
WITHERSPOON: Being a father and raising my daughter has affected me in every way possible. Being a dad is the best feeling in the world. It has affected me as a musician, as an artist but more importantly it has affected me as a man.
KNAC.COM: Let's turn to another type of life issue of sorts. When bands like Living Colour, Fishbone and Bad Brains did their thing in the late 80's/early 90's it seemed as if their race became a huge issue in the media. Do you think things are a bit different now for African American bands/musicians in hard rock/metal?
WITHERSPOON: I think things really have changed since then…I believe it is less of an issue now. It is a beautiful to see more brothas in the genre playing the music and in the audience plus you can't let folks forget about individuals like Little Richard, Chuck Berry, Jimi Hendrix, Phil Lynott and the list goes on and on…they started this whole thing. What matters most when all is said and done is the music.
KNAC.COM: What does the near future hold for Sevendust? What will you be up to after this tour?
WITHERSPOON: After this tour we will be heading to Europe to do some festival dates. Then we will be back in the states hoping to open for a big band.
KNAC.COM: Lajon, thanks for taking time out of your schedule to talk with me and good luck with the rest of the tour.
WITHERSPOON: Not a problem David, thank you.
Lajon Witherspoon is indeed excited about all of the new aspects Sevendust is involved in. It is also evident that he is proud of what the band has achieved during their career and optimistic as to what the future holds for the group. There is also a true feeling of family when he speaks of how the band has dealt with the highs and lows of the industry and life in general. As the band soldiers forward one thing is certain, Sevendust is indeed one of the hardest working groups in the rock world and they are still giving 110% to their fans when it comes to their dedication and live performances. Catch the band on tour and see for yourself why Sevendust are indeed still standing.
David Carr writes the music column for Long Beach Magazine.