IRON SAVIOR Reforged - Ironbound (Vol. 2)

By Alex Yarborough, Orlando Contributor
Wednesday, August 17, 2022 @ 7:11 AM

| | | |
| --- | --- | --- |
| | | |
IRON SAVIOR
Reforged - Ironbound (Vol. 2)
2022 AFM Records




In 2017, IRON SAVIOR released their first volume of Reforged, (called Riding On Fire), essentially a re-recording of songs from the earlier (Noise Records) era of the band. Since the first volume of Reforged was so well received by fans, band leader Piet Sielck decided to do it again, and try to surpass the original versions of more IRON SAVIOR songs. Reforged - Ironbound includes a whopping 23 songs this time, even more than on the first volume. And, as if answering my only complaint about the first collection, this volume includes some rarities! More on that later.

From the debut album Iron Savior (1997) comes the tracks: "Children of the Wasteland" and "Protect The Law". Included from the sophomore album Unification (1999) are: "Starborn", "Deadly Sleep" (which includes Kai Hansen returning to faithfully sing his parts), "Forces of Rage", "Brothers (of the Past)", "The Battle" and "Unchained". From Dark Assault (2000) there's: "Seek and Destroy", "Solar Wings" (once again featuring Kai Hansen), "Made of Metal" and "Predators" (which features Piet taking over Kai Hansen's vocal parts), "Firing The Guns" and "Back Into The Light".

From the album Condition Red (2002) the songs "Ironbound", "Paradise", "Thunderbird" and the cover of SEAL's "Crazy" are included. From Battering Ram (2004) come the songs: "Tyranny of Steel", "Riding Free", "Starchaser" and a nice inclusion of a song that was originally a Japanese-only bonus track, "Living On A Fault Line". I like that they dug that song up for a reworking, as well as including a new track, this time a cover of EURYTHMICS' 1983 hit "Sweet Dreams", replete with synths!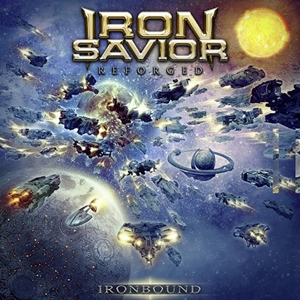 Once again, I compared each of the previously released songs with their original versions. And again, the point here is to faithfully re-record these songs because they are legally unable to re-release the original versions. But not only that, to make them a little bigger and bolder, maybe even improve upon these songs if possible. Every box is checked and every level that was reached for was achieved. These songs leap from the speakers and rock with a gusto somehow even fiercer than the originals. Felipe Machado Franco returns to add another cool album cover that references the original artworks. If you missed out on the original versions of these songs, now is your chance to experience them for the first time and enjoy one of the greatest true heavy metal bands to ever exist. If you already own them all, it's fun to listen to these reworked classics all over again and get back into the spirit that Piet Sielck and IRON SAVIOR deliver to fans. I've said it before and I'll say it again, IRON SAVIOR is the most consistent band in heavy metal! At over two hours, Reforged - Volume 2 is well worth the investment. The album is available for purchase on August 26th.
5.0 Out Of 5.0
Please log in to view RANTS