PROJECT RESURRECT is pretty much a dream come true for drummer Wayne Noon who in this exclusive KNAC.COM interview tells the story of how the band had many false starts in that many band members came and went over the years and that the problem was none of those musicians were as dedicated as Wayne was to the project and it would take months to just get a single guitar solo done. But now Wayne says that the wait is finally over and that it's now basically a 2 man band with the singer based out of Germany.

KNAC.COM: Hello Wayne thanks for taking time out of your very busy schedule to do this interview with KNAC.COM. We really do appreciate it.

NOON: No problem! Thank you for having the interest in PROJECT RESURRECT to do an interview.

KNAC.COM: How long has PROJECT RESURRECT been together as a band?

NOON: The idea of the band started around 2016. Pete and I were trying to get a band started a few years earlier but we were constantly held down by other members. We had people that showed interest and theyíd come to practice but when it was time for them to help putting songs together, they would drop the ball. Weíd wait weeks and sometimes months for just some idea of a guitar solo or bass lines. It just got to the point of not being fun and we were wasting time. One of the last practices Pete and I had we discussed just doing the band on our own. By the end of the year, we were buying equipment to just work on stuff from home. I came up with the name, Pete liked it and that was it.

KNAC.COM: In listening to the latest CD False Reality one of the very first things I took notice of was your powerhouse drumming. Who were the drummers who influenced you when you were growing up?

NOON: Thank you! Itís funny to hear someone compliment my drumming because I guess as a musician youíre your own worst critic. So I always feel like yeah, I can play drums but Iíll never be Carl Palmer, Bill Ward, Dave Lombardo etc. I just take bits and pieces from guys like Lars Ulrich, Ingo Schwitzenberg, Uli Kusch, JŲrge Michael, Nicko McBrain, Dave Grohl, Rick Allen, Charlie Benante and a few others and just mash it up to make my style, I guess you can say, haha!

KNAC.COM: How old were you when you first started playing drums? Do you remember why it was that you chose the drums as your instrument of choice?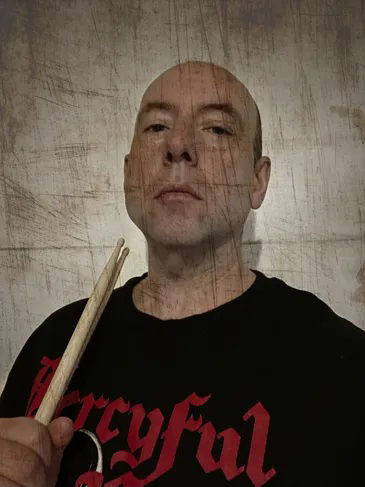 NOON: When I was younger my parents took me to guitar lessons and each time Iíd go something would break on my guitar. So one of the last times I went, as usual, something broke during the lesson. So I was fed up. We were about to leave when all of a sudden I start hearing someone play drums. It was loud and the guy playing made me think 'wow, I want to do that'. It was the 80ís, this guy had the typical big 80ís hair, looked like a rock star. So right there I was like thatís it I want to play the drums. I think I was around maybe 8 or 9 when my parents would buy me a drum set. Of course that would eventually fall apart too haha! But then my cousin sold me his old drum kit and eventually I saved money up to buy my own kit when I finally got into a semi-serious band. We were going to play our first show so I had to buy something more reliable. I actually still have the kit and almost used it to record False Reality but I bought a new one during recordings and did everything over again.
KNAC.COM: I always love to hear the story of how bands came up with their name. Talk a little bit about how it was that the band chose the name PROJECT RESURRECT?
NOON: Basically, in the story I mentioned before about how Pete and I would try to get a band going but it would just never work out, I wanted something to fit with that scenario. I thought of the band as a project so I knew I wanted to use that word. Then I wanted something that would fit with that. Seeing that we basically resurrected the band we were trying to do, I asked Pete what he thought about PROJECT RESURRECT. He said he liked it and it might work. We never thought of anything else so it stuck.
KNAC.COM: Where is the band based out of? Is there much of a Metal scene there?
NOON: The band is basically based out of Long Island NY, but our singer is from Germany.
KNAC.COM: I was curious about the recording of False Reality. Was it recorded live in the studio where the entire band was in the same room or did you guys do it the modern way in home studios where everyone recorded their parts separate?
NOON: Everything was done at home. Just being mainly a 2-man band at the time, the costs of splitting a studio would have been too costly which is why we just bought equipment to record from home. I honestly preferred it because we could work on stuff when we had time for it without any time schedules.
KNAC.COM: Is everyone in the band involved with the songwriting process?
NOON: Most of that work is Pete and I. Pete will come up with the guitar riffs and then if they need it, Iíll rearrange them to where I think it would make the song better. We both traded off writing lyrics which was tough. Neither of us ever wrote anything before, so we each picked 4 songs to write lyrics for and that was pretty much it.
KNAC.COM: Did all the COVID lockdowns have a major impact on the band? I mean, during that time was the band able to do any live shows?
NOON: Nope, no impact from Covid at all. Actually by the time the whole Covid thing started we were pretty much finished with the album just trying to find a singer.
KNAC.COM: Another thing that I took notice of was the fact that PROJECT RESURRECT is a 3 piece band and that on the album Peter Rigopoulos plays both bass and the guitar. When the band plays live how do you handle that? In other words, when the band plays live is it as a 3 piece band?
NOON: Iím not sure the band will ever play live to be honest. We never had our eyes set on that. We just wanted to create music and release it. I had kind of grown tired of playing live with my previous band, PHOENIX REIGN. After a while it just gets old lugging your equipment around these weird clubs, sometimes itís in the basement or up some big flight of stairs etc. I donít miss that part haha! Also too, again our singer is in Germany. So for him to come here and play a show that didnít have some sort of benefit to us just wouldnít be worth it. Maybe one day though if he visits we can set something up. We have plenty of people to fill in on bass if needed. So who knows?
KNAC.COM: In listening to False Reality I would describe the overall sound as old school/traditional metal. Do you think that's a fair description of the overall sound of the band?
NOON: Yes, thatís exactly the description I would use and itís the exact vision we had when we started. I listen to a lot of music old and new. I notice a lot of the newer music just doesnít have the same long lasting effect like the old music does. Donít get me wrong, thereís a lot of great new bands and songs that I love today but thereís just something missing about the old school metal sound and style. The simplicity is gone and now everyone sounds like a robot and fake. A lot of the times you canít tell bands apart and even the songs on the albums all just seem like one long song. So we wanted to do an album where you can tell one song from the other and thatís what we did. Each song has its own identity. We also kept it fairly straightforward as well. We wanted people to be able to put the album on and 45 minutes later want to hear it again. I think we accomplished that.
KNAC.COM: Listening to the CD the entire band was just on fire but I have to ask you about your singer because to me he really has a sound/vocal approach to what he does on all the songs on the album that really is all his own! What really impressed me is that he does not sound like any other Metal singer out there and I feel because of that he's got his stamp all over this album! How impressed were you with the vocals on the album?
NOON: Pete and I were really impressed with Leandro Bastos when we found him. We had a really hard time trying to find a vocalist. We didnít want the typical Bruce Dickinson clone and I honestly donít think it would have worked. Itís overdone to me, so we wanted someone with a little more grit in their voice and Leandro had it. We actually found him through Fiverr. We would send him the songs of us singing and then he would make it sound so much better haha! And most of the songs were done from the first files he would send us. We liked what he did so much that there was very minimal do-overs for him which was great cause he did exactly what we wanted without us even having to tell him really.
KNAC.COM: What did you enjoy most about the experience of recording the album?
NOON: The fact that it was pretty relaxed. Pete and I would send the files back and forth and when we had the time we would record our stuff. My wife and I just had our first baby so I had to get stuff done by certain times haha! Pete was also going through some personal stuff as well so it took us a lot longer than we thought it would but in the end it worked out for the best because we were able to make changes along the way.
KNAC.COM: What have you enjoyed most about being the drummer for PROJECT RESURREST?
NOON: Just being able to finally release the album as well as being able to work with Pete. Weíve known each other since I was in my previous band. When I was wanting to leave that band a friend of mine told me his friend was looking for a drummer. I show up to that band practice and Pete was there. I didnít know he was in the band and he didnít know I was leaving PHOENIX REIGN so seeing him there was a plus. He also played the style of music I was looking to do as well so weíve been great friends ever since. So getting to finally release something with him is the best part.
KNAC.COM: How happy are you with the way fans have reacted to the album?
NOON: Very happy. One of my friends swears itís his favorite release of 2021 haha! Even put it on his list when we did a podcast together so itís cool. I havenít heard many complaints.
KNAC.COM: I know this might be like asking you to pick your favorite child but what are some of your favorite songs off of False Reality?
NOON: Of course the ones I wrote lyrics for haha! "Dead Mountain" and "Blood On My Hands" but Pete's lyrics were great too. I love "We Are One", "Keep Moving On" and "Kill Or Be Killed".
KNAC.COM: How many albums has the band released to date?
NOON: This is the only one so far. We are actually planning to do another one soon. Hopefully we will start it this year.
KNAC.COM: Do you prefer performing live or the recording studio?
NOON: Recording. Playing live was fun when I did it when there were actual people in the crowd haha! The last show I ever played was opening for EPICA at the Gramercy Theater in NYC. It was sold out. At that time I was pretty fed up with PHOENIX REIGN and decided that was my last show. If I never got to play a show again I was fine with it because I got to experience playing in front of 800 people. It might not sound like a lot but for someone who used to be extremely camera shy and try to buy as many drums and cymbals as possible to hide behind them, it felt like 800,000 people were there. So if that part of my life is done thatís fine.
KNAC.COM: What plans does the band have to tour behind False Reality?
NOON: Like I said earlier none as of now and possibly ever.
KNAC.COM: What's next for PROJECT RESURRECT?
NOON: To begin working on the next album hopefully within the year.
KNAC.COM: Are you involved with any other bands/projects that you'd like to let us know about?
NOON: Actually yes. I do a podcast called Rat Salad Review. You can find that on Rat Salad Review dot com. We review albums, interviews etc. Itís me and usually 3 or 4 other guys just talking about music. One of the co-hosts, Lou Mavs, who Iíve also known for years through my old band PHOENIX REIGN, he plays guitar. He and I started a thing called The Rat Salad Review Cover Series. We ask the guest musicians weíve had on the podcast to do a cover song with us. Itís been fun but hectic at the same time. Haha! Lou plays guitar, I play drums, another friend of ours who we became friends with through his old band TIMELESS HAUNT, George Dimitri plays bass and then weíll have different singers or maybe a different bass player or extra guitar player sometimes. Weíve worked with Lisa Mann from WHITE
CRONE/SPLINTERED THRONE, Ralph Viera from THRASH OR DIE, David Boyd from TWISTED TOWER DIRE, Matthias Reinholdson from DEAD KOSMONAUT, Jake Becker from SKYLINER and Leandro from PROJECT RESURRECT joined us on one song. We released a EP which can be found streaming only. Itís called Rat Salad Review and Friends Cover Series Part 1. Part 2 is coming and thereís some really great songs coming.
Then Lou and I discussed about making original songs together so we are doing that now actually. That band's name is called SEVERED ANGEL. It features George Dimitri, Lou Mavs, Myself, Marc Muchnik from the band THE NIGHTMARE STAGE and the guy who mixed the PROJECT RESURRECT album, Alex Repetti, as vocalist. So thereís a lot of stuff I will be involved in this year and next as of now.
KNAC.COM: When you're not beating on your drums what are some other things that you enjoy doing in your down time?
NOON: As of writing this now, school just finished for the summer so Iíll be spending a lot of time with my son. He takes up most of my time haha! Other than that my podcast, Rat Salad Review. We usually go live every Wednesday night at 8 pm eastern. Rat Salad Review is also a network so we feature a bunch of different podcasts from other shows as well. It can be found on YouTube and pretty much and streaming platform.
Then Iím also working out details to do 2 different radio shows. One will be Rat Salad Review related the other will be under a different name but details arenít finalized yet. You can find any updates on Rat Salad Review dot com.