THE PRETTY RECKLESS, THE WARNING, LILITH CZAR In Houston, TX With Photos!

By Thomas Coffman, Photographer
Thursday, August 4, 2022 @ 8:50 AM

| | | |
| --- | --- | --- |
| | | At The House Of Blues On August 1st |
All Photos By Thomas Coffman/Coffman Rock Shots
Houston, Texas got a treat this past week as a tour featuring a trio of female fronted bands made their way to the House of Blues in downtown, that being THE PRETTY RECKLESS, young upstarts THE WARNING and LILITH CZAR and the Death By Rock And Roll tour. Not that we needed any more heat this time of year, these bands brought their own kind of heat to the packed house.
First up was a relatively new band LILITH CZAR. The lights start to brighten some and you see the band, but then comes out Juliet Simms with her long legs and long gorgeous black hair. She's definitely a striking figure but then she starts to sing and you realize you're in for a good night. LILITH CZAR is a good mix of Goth Rock, Hard Rock and Pop. She was first discovered on the hit show The Voice. One of my favorite things about her (besides her voice) was that she really interacts with the audience. The band was definitely something to watch too. The female drummer (Lindsay) with her blonde hair flying everywhere as she pounds the drums is definitely a sight to see. The highlight for me was the cover of Stevie Nicks' (FLEETWOOD MAC) "Edge of Seventeen". Go on YouTube and watch it. LILITH CZAR is a band to keep your eyes on. I expect big things from them.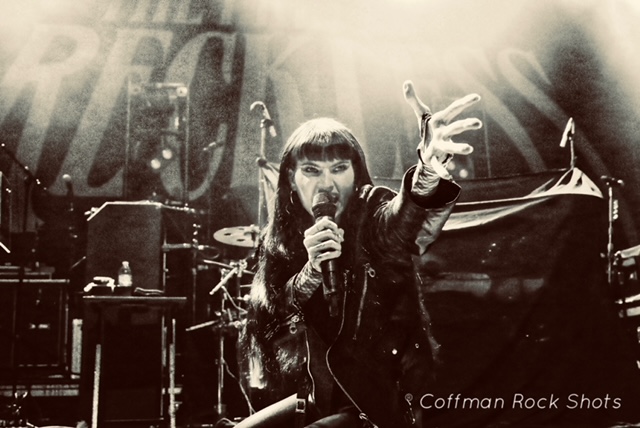 Set list:
"Feed My Choice"
"100 Little Deaths" (Juliette Simms cover)
"Edge of Seventeen" (Stevie Nicks cover)
"Lola"
"King"
"Anarchy"
Next up is a female trio of sisters from Monterey, Mexico known as THE WARNING. They have been performing since 2014 and continue to rise up and quickly become the darlings of the rock scene. They first gained attention with an original song "Dust to Dust" and a cover of METALLICA's "Enter Sandman". They have a different spin on it and it works really well. All 3 girls are very talented musicians but the one that stood out was middle sister Paulina. She plays the drums and the precision and intensity are simply amazing!! Not to be left out, the guitarist Dany is no slouch on guitar plus she sings as well. Ale, the youngest sis, plays the bass and you can feel her bass pounding through the amps letting her presence be known. All in all I have to say that these 3 young ladies will be major headliners in the very near future. They play a song called "Evolve" and while it's a great song the stage show is really cool. The drummer sings part of it as the girls on stage are circling and then you hear a scream and the song is just awesome!! Definitely see them live when you can. I have been a fan of the music but the live show sealed it for me!! Check out their song called "Dull Knives (Cut Better)" and "Evolve" to get a feel of their style.

You have been warned! These girls are coming up fast!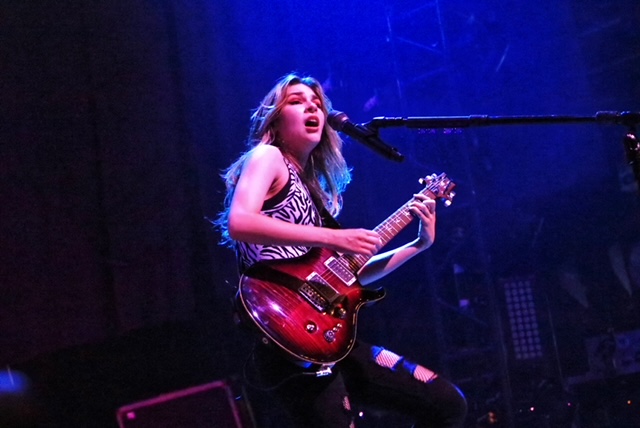 Set list:
"Z"
"Queen of The Murder Scene"
"Choke"
"Money"
"Enter Sandman" (METALLICA cover)
"Error"
"Dull Knives (Cut Better)"
"Disciple"
"Evolve"
Finally the Headliner, THE PRETTY RECKLESS

Lights are dim and suddenly you see a striking long-legged figure with blonde hair come out in a silk lingerie looking dress with black combat style boots. It's Taylor Momsen and she is here to rock your world. They opened with a cover by SOUNDGARDEN called "Loud Love" and it definitely got things started just right. The crowd was ready for their girl and she would not disappoint! THE PRETTY RECKLESS have had seven #1 singles and a stage presence second to none. The 'Death By Rock And Roll' Tour is their first in over 4 long years and she is making up for lost time. She commands the stage with her model like strut and has fans singing along with every song. Her voice is soft but strong. Her band is tight and seem to be having a blast backing the boss.

The fans were so excited to hear such amazing hits like "Since You're Gone" and "Only Love Can Save Me Now" but it seemed as if every song made them just as happy as the one before. It was an all-star set list for sure. The hits like "Heaven Knows" and "Take Me Down" were some of the highlights for me personally because I had never seen this amazing band live. Death By Rock And Roll is the latest album from THE PRETTY RECKLESS and the closing number, "F***ed Up World" had an anthem feel to it. What a great song to end the set with! Perfection!!!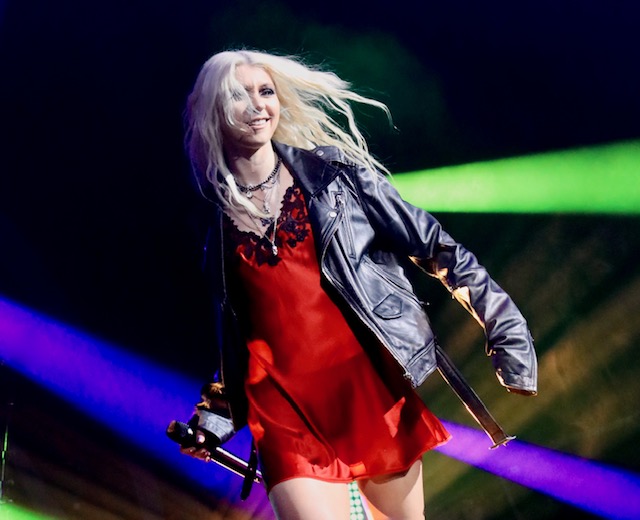 Set list:
"Loud Love" (SOUNDGARDEN cover)
"Since You're Gone"
"Only Love Can Save Me Now"
"Death By Rock And Roll"
"Make Me Wanna Die"
"Witches Burn"
"Goin' Down"
"My Medicine"
"My Bones" (live premiere)
"Sweet Things"
"Going To Hell"
"Heaven Knows"
"Take Me Down"
"(What's So Funny 'Bout) Peace, Love And Understanding"
"Harley Darling"
"F***ed Up World"
Check out some more photos ffrom the show!
All Photos By Thomas Coffman/Coffman Rock Shots
Please log in to view RANTS


YNGWIE J. MALMSTEEN, GLENN HUGHES In Worcester, MA With Photos!
ALICE COOPER Road
RAT ROD Four On The Floor
GIRLSCHOOL WTFortyFive?
DANKO JONES Electric Sounds
AVATAR, ORBIT CULTURE, THE NATIVE HOWL In Houston, TX With Photos!
THE DEAD DAISIES In Hollywood, CA With Photos!
KILL DEVIL HILL Seas Of Oblivion
THE DEAD DAISIES In Ottawa, Canada
MAMMOTH WVH In Santa Ana, CA
UADA Crepuscule Natura
BARONESS Stone
KAMELOT, BATTLE BEAST, XANDRIA In Houston, TX With Photos!
CRYPTOPSY As Gomorrah Burns
RAY ALDER II
GHOST, AMON AMARTH In Houston, TX With Photos!
U.D.O. Touchdown
DETHKLOK Dethalbum IV