I recently had the honor of interviewing EMISSARY Lead Singer Jym Harris for KNAC.COM and when he sent me back his completed interview much to my surprise he also had the band's Guitarist Tim "Mothman" Dahlen also take part in the interview and as you'll read, they both talk about the history of the band and go in detail about the band's mascot R.O.D. which stands for Ruler Of Defiance. How cool is that? We talked about the band's desire to have such a mascot and the importance of how album cover art can often influence people to purchase an album if the cover art is something that is able to really grab a person's attention. We also got a little into the band's future plans.

KNAC.COM: Hello Jym, and thanks for taking time out of your very busy schedule to do this interview with KNAC.COM, we really do appreciate it.

HARRIS: My pleasure. Thanks for the interest! We are absolutely honored to be getting coverage on the mighty KNAC.COM! Our guitarist and co-founder, Tim "Mothman" Dahlen will be answering some questions as well!

KNAC.COM: Jym, you are of course the lead singer for EMISSARY which is based out of Medford, Oregon. Is there much of a Metal scene there? How long has the band been together?
HARRIS: Thereís never been much of a scene in Medford, especially for the type of music we play. Originally, I had a band in Las Vegas in 1989 called EMISSARY, and when I moved to Oregon in 1993, Tim and I formed this band. Since the name and logo from my old band were being used (along with a few song lyrics) we say we are ďThe OriginalĒ EMISSARY. Once I joined forces with The Mothman, we hooked up with drummer Eric Hoover and our bassist Peter Shawn Kinney joined shortly after that. Our current lineup features our second guitarist Charlie Francipane and our new drummer Tony Mullins.
KNAC.COM: How did you come to name the band EMISSARY?
HARRIS: Wow, I expected this question to come up more often, honestly! I've always been fascinated with words. When I was in high school, I was a teacher's aide in creative writing. One day we got a list of vocabulary words for the students to define, and one of them was ďEmissaryĒ - I liked what it meant, and I thought it sounded like other band names like SANCTUARY, MERCENARY and MORTUARY plus no one else had used that band name before! That day I drew the iconic logo that we still use today. Our layout artist, Jen Dahlen, did an amazing job cleaning it up and we're very pleased with how it looks now.
KNAC.COM: I love the album cover for your latest album The Wretched Masquerade. Talk a little bit about the album, and who designed it. It kind of reminded me of IRON MAIDEN's Eddie. Anyways, just really dig your album cover. Took me back to when I first saw Destroyer by KISS or IRON MAIDEN's Number Of The Beast and wanted to buy those albums simply based on the cool album covers!
DAHLEN: Well, as you said, it reminded you of Eddie and that was pretty much our goal. We wanted a mascot that was intriguing and memorable. Heís of course dressed up as a leader of the country and looking to deceive you. We wanted there to be a flute behind his back and all the ďmiceĒ coming to serve him. As far as album art, we are saddened by the lack of relationship that people have with music these days. We want people to find a reason to stare at the artwork while listening to the album and hopefully it enhances the experience. It is extremely important that the cover goes well with the music and feels relevant. Oh, and our Mascotís name is R.O.D. as he IS the Ruler Of Defiance.
HARRIS: Exactly. We call him "Rod" and visually, he's basically a cross between an evil Uncle Sam and a circus ringleader. His full name is Rodney Dangerface, haha. He's often compared to Vic Rattlehead and incidentally, Don Yatomi, our cover artist did some work for MEGADETH not long ago! The album was produced by Doug Hill at 60 Psych Hum Studios, and it's a lot of re-worked demos from our early days. The mastering was done by Jamie King and we think it all turned out excellent.
KNAC.COM: I would describe the overall sound of your band as Old School Metal. To my ears, I hear a lot of European Metal in your music. Would you say that's a fair description of the band's overall sound?
HARRIS: That's interesting because I donít really notice as much of a European vibe with us. I think the band sounds like US Power Metal blended with Melodic Thrash, but of course, we do have musical influences from all over the world.
DAHLEN: Iíd say thatís pretty much our sound. I grew up in the SF Bay Area and was heavily influenced by the 80s Thrash scene, so we use a bit of that in the riffs as well.
KNAC.COM: Jym, who are some of the singers who influenced you growing up?
HARRIS: So many! Vocally, I've always admired Ozzy, but in the early 80s I was discovering heavier stuff like METALLICA, ANTHRAX, and METAL CHURCH. I mostly listened to smaller acts at the time like WARLORD, TOKYO BLADE and LIZZY BORDEN as well. I was that one kid with rare albums from the import bin that most people had never heard, haha. For some reason, lesser-known Metal bands appealed to me more than the bigger names, ya know? I've always championed the underground when comes to classic Heavy Metal.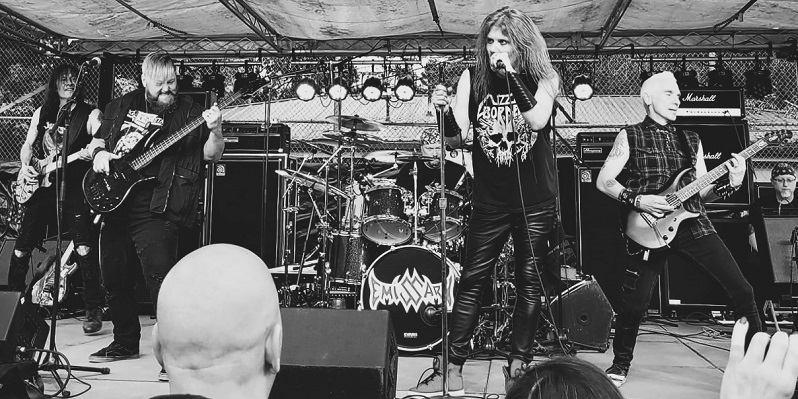 KNAC.COM: Is everyone in the band involved with the songwriting process?
DAHLEN: As far as the writing goes, itís mostly Jym & myself writing the bones of the songs and then the rest of the guys put their stamp on it.
HARRIS: I write the lyrics and melodies, and occasionally some music but it's almost always Moth coming up with his signature style of riffs that shape our sound. He says we're like two pieces from different musical puzzles that somehow fit together, and I totally agree. The overall EMISSARY vibe happens when we're both playing to our strengths, and then the other guys jump in and do their thing. Our bassist, Pete, has come up with some cool riffs in the past, and with the creativity of both Charlie and Tony, only time will tell what we may come up with in the future!
KNAC.COM: While EMISSARY is no doubt a Metal band I also have to go on record as saying I believe your band is METAL with melody but make the point that there's nothing close to a Power Ballad or Pop tune on the album. Is that something that you set out to do? I mean, do you ever see the day when EMISSARY would write a radio-friendly song just to have a hit song on the radio?
HARRIS: I'm not sure I ever see that happening, but if Rock radio wants to throw one of our songs in rotation, we certainly wouldnít mind! That would be awesome.
KNAC.COM: I described the band's sound as old school metal and in regards to being old school I understand that fans can get The Wretched Masquerade both as a digital download and on cassette. How cool is that? Talk a little bit about that.
HARRIS: Yeah, and now itís out on CD as well! Underground Power Records in Germany released two versions of the album on CD and they will be doing two versions on vinyl as well. The deluxe version has additional bonus tracks of our original 90s demos, remastered by Brandon Seyboth. We do the digital stuff and cassettes independently, so there are tons of platform choices to listen to EMISSARY.
KNAC.COM: How happy have you been Jym with the way the fans have reacted to The Wretched Masquerade?
HARRIS: Overall, the feedback has been outstanding so far! We had no idea that it would perform this well, right out of the gate. I think I speak for us all when I say we couldn't be more grateful for the support we are receiving from the global Metal community. Super stoked.
KNAC.COM: What plans does EMISSARY have to tour behind the album?
HARRIS: We want to play everywhere we can! We just played several US dates in May, including shows in Denver, CO, and Buffalo, WY. We also played Legions of Metal in Chicago with tons of amazing acts like RIOT and NASTY SAVAGE, then two weeks later we had an album release party in Oregon and were direct support for Stephen Pearcy - the voice of RATT. Now, we're simply waiting to see what other offers roll in.
KNAC.COM: I was curious, Jym, prior to going on stage do you have a warm-up ritual? Do you do voice exercises to warm-up right before you hit the stage?
HARRIS: I may do a few scales and some breathing exercises but nothing fancy. Iím just not one of those singers who can jump on stage cold, ya know? Some guys can do that, but not me.
KNAC.COM: What's next for EMISSARY?
HARRIS: Well, we are putting together a new music video and we're discussing studio plans for a follow-up. We have a couple of Southern Oregon shows confirmed this coming September, including Medford Metalfest 2 alongside Portlandís SOLICITOR and several other acts. Should be a blast!
KNAC.COM: Are you currently involved with any other bands/projects that you'd like to let our readers know about?
HARRIS: Not really. All my attention is going to this band at the moment. The project I had just before reforming EMISSARY was called SYLENT STORM and that's indefinitely on hold since the other members moved on to other projects during the pandemic. I may start it up again someday with a different lineup, but Iím not even thinking about that. I'm proud of the material we released, but my head is in a different place right now.
KNAC.COM: Is there an album in your record collection Jym that you can point to and say it's this band, this album that really played a major role in you doing what it is that you currently do?
HARRIS: I can't really pinpoint one particular album, no. I had older brothers that got me into KISS when I was young, then I discovered DEF LEPPARD, VAN HALEN, AC/DC, SCORPIONS, Y&T, etc before diving deep into the underground scene. The early 80s were outstanding for that. What a glorious time for Heavy Metal.
KNAC.COM: Anything else that you'd like to say to all the EMISSARY fans out there?
HARRIS: Thank you so much for the interview! You can find us online at facebook.com/EmissaryMetalBand or TheOriginalEmissary.bandcamp.com - Cheers!