Photos Credit: Greg Vorobiov
DEREK SHERINIAN, the keyboard virtuoso, is back with a new album Vortex which was released on July 1st, 2022 via InsideOut and KNAC.COM spoke with the keyboardist on June 29th, 2022. Sherinian is known for his work with SONS OF APOLLO, DREAM THEATER and BLACK COUNTRY COMMUNION, amongst others. "We used everything that we wrote for Vortex except for one song that we wrote for NEAL SCHON. Neal got super busy with JOURNEY. We're keeping that in the vault for a later time when we can work with Neal. I think he's fantastic and it would be an honor to work with him", Sherinian tells KNAC.COM. He caught us up to speed on all things Vortex as well as some live gigs that he has planned to promote the album and his recent work on the WHITESNAKE Hits remix album.
KNAC.COM: Last time we spoke you ended things by dropping a little nugget. You mentioned that you have contributed to MICHAEL SCHENKER's Immortal album, which at that time hadn't been released. You also mentioned that you had begun work on the follow up to your then new record The Phoenix and you mentioned that you had Schenker perform on it.
SHERINIAN: That's correct! Here we are with the new record Vortex. The song "Die Cobra" was written for Michael Schenker. It was as you said a result of me playing on his record. "Die Cobra" was written in honor of Michael, he has always been a hero of mine since his time in UFO and since the first MSG album. I'm also a huge fan of SIMON PHILLIPS who I worked with again on Vortex. To have Simon and Michael on my album is totally awesome.
KNAC.COM: I know when you brought up "Die Cobra" in our last conversation you mentioned that it was influenced by "Into The Arena" and it really does have that vibe to it.
SHERINIAN: I'm glad you hear it!
KNAC.COM: You're working with Simon again with the Schenker connection. Simon has become your right hand guy with your solo work.
SHERINIAN: Absolutely! It's to the point that he is so integral to the sound and making of these albums that we're working on playing some shows. We're working on those right now. We're going to bill them as Derek Sherinian & Simon Phillips. He is so important to the composition and the quality of my records. I need people to understand that it's not all just me, Simon has a huge part in the making of these records.
KNAC.COM: You also load things up with guests, as mentioned you got one of your guitar heroes in Schenker on here, but you also have some returning cast of characters like ZAKK WYLDE who is also featured on "Die Cobra". When writing these tunes is there a point when you know which of your guitarist friends you're going to hit up to be a part of a particular song?
SHERINIAN: Well, it depends on what the song is. Whenever we're done with a composition, it becomes obvious who should play on what. Anything that requires 'heaviness' I'm always going to call on my friend Zakk, because he always throws it down. For melodic, blues, JEFF BECK-style playing, come on you have to get JOE BONAMASSA! Who can be better than him for that kind of music? Each of these guys are great in their own right. I have NUNO BETTENCOURT on an album for the first time. I became friends with him on The Generation Axe Tour in 2017. We got on really well so I invited him to play on "Fire Horse". He's great, he has a unique style and has this VAN HALEN influence with that swing, swagger and that high energy. I just love the end result. I would love to work with him in the future for sure.
KNAC.COM: You mentioned some live performances. You have enough material here to fill a couple hours…
SHERINIAN: We're going to start with a couple shows. We have two shows booked, we're going to play in Ventura, California on August 29th at a club called The Grape [House Of Jazz And Spirits]. Tickets will go on sale soon. It's a small club and we hope people will travel from across the country to come see us. We'll be doing two shows in one night! Then we will be playing a festival in Armenia, the Starmus Festival on September 5th which will be a piano trio which will be myself, Simon and bass player Ric Fierabracci from CHICK COREA's band. On the 6th we will be playing as a quartet and we'll have BUMBLEFOOT joining us for that show. Also, I need to add that Bummblefoot will be playing with us on the Ventura, California date too.
KNAC.COM: He's a capable guitarist, but he's going to have to replicate the work that these guys have done on these records.
SHERINIAN: He loves the challenge! I know it's challenging, but I think he is the only one that can cover all of this stuff. He's really that good!
KNAC.COM: Based on the stuff he's done solo and in and out of other bands, he's not a one dimensional guy…
SHERINIAN: Hardly. He's absolutely amazing. His musicianship…I'm not worried at all. I know it will sound amazing and I can't wait to perform with this stuff with him, Simon and Ric. It's going to be a great show.
KNAC.COM: You're doing two shows in one night. Different sets, I imagine?
SHERINIAN: We're not sure yet. We're going to be recording this. We might play a lot of repeat songs. We want to get a good live record.
KNAC.COM: Will this be audio or will there also be video for this?
SHERINIAN: This will be audio. I have been preparing for this gig for months. This is the first time I've had to bring these songs off the record and prepare to get them on a setlist and bring them to life. It's challenging stuff man, I have my work cut out for me.
KNAC.COM: As you're writing songs, what's the point when you realize you have the record?
SHERINIAN: Yeah there is for sure. I think the magic number is 45 minutes. I like the classic formula of the fusion records from the 70s. We keep it in that area. We want to keep the record compelling from beginning to end. We want to give the listener a 45 minute journey and when it's over we want the listener to say "Holy shit! That was Amazing! I wish there was more." We don't want things to go on and on and on. Then it becomes like a bad movie that never ends. Make your statement and get out! That's what is so great about those VAN HALEN records, they were from 30-40 minutes long. They were short, but they were fantastic!
KNAC.COM: SONS OF APOLLO were in the midst of a European tour when the pandemic hit and you barely got started promoting the record. You're getting out and playing some shows in South America soon, right?
SHERINIAN: Yeah, we'll be playing some make-up dates for South America in August.
KNAC.COM: Anything been mentioned for the United States?
SHERINIAN: Nothing has been talked about, so I will be focusing on getting Sherinian/Phillps stuff booked.
KNAC.COM: With everyone in that band so busy with other stuff, it's probably going to be a while before we hear anything new from SONS OF APOLLO.
SHERINIAN: [pause] I wouldn't hold my breath. I still think tours are getting canceled and shows are getting canceled. I was just looking at one of the websites that a big band just pulled out of a tour. It's still kind of scary out there. What do you think?
KNAC.COM: I think if some resurgence of Covid doesn't stop tours dead in their tracks, the rising cost of fuel will take them off the road.
SHERINIAN: That's true. We're going to South America in August. I was talking to Ron [Bumblefoot] and I said to him, "I'm going to mask up on the plane in between stops and when meeting fans. I'm not going to be taking any risks". I couldn't imagine getting sick overseas. That would be horrible. You'll have to quarantine, you can't fly out and you'll be missing shows. That's a scenario I want no part of! [laughs]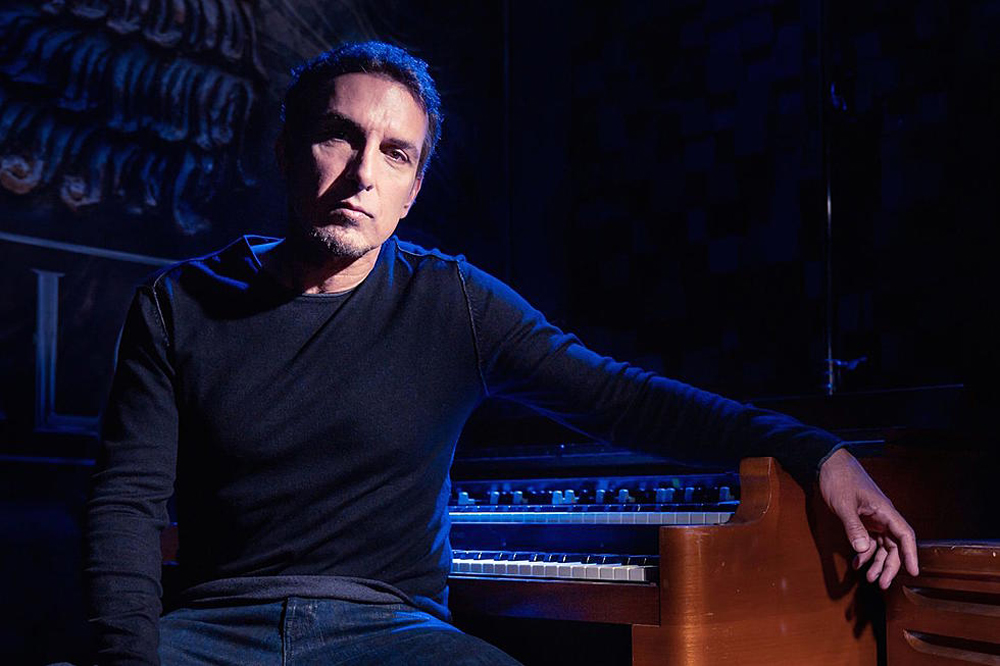 KNAC.COM: Speaking of getting sick outside of the country, WHITESNAKE just shut things down on their European summer tour. You were asked to perform on some of the WHITESNAKE remixes, most recently the just released remix of their Greatest Hits album.
SHERINIAN: [laughs] I've played on more WHITESNAKE records than any band that I've never played live with! [laughs] DAVID COVERDALE is fantastic. He called me 7-8 years ago, he wanted to redo the keyboards on The Restless Heart album. He's been remixing and remastering the WHITESNAKE catalog and he's had me play on 6 WHITESNAKE releases and there's more coming up. I love being a part of it. He's one of the great hard rock vocalists of all time, he and GLENN HUGHES. I'm so honored to have played with both of them and have that DEEP PURPLE connection. There's that new WHITESNAKE record. Didn't you just review it?
KNAC.COM: Yeah
SHERINIAN: That was your review. It was great! Thanks for mentioning me in it. I think it sounds killer. Coverdale loves the B3 sound, he just wanted me to go in there and get that JOHN LORD vibe going. I was honored to get on the same tracks as David Coverdale and JOHN SYKES. I was in my studio as I was recording my tracks going "Wow! This is the real shit right here man! This is as good as it gets."
KNAC.COM: What's the approach for something like working on the WHITESNAKE albums?
SHERINIAN: I look at my role as someone that needs to step in and compliment those songs. David told me what he wanted. He wanted to 'beef' it up and get that sound in there. That was it. I just used my instincts from all the records and work that I have done in the past. I just know what to do. I would turn it in and every now and then he'd ask that I add some piano here or do something there. He's so easy to work with, everything that I turned in he gave the 'thumbs up' to.
KNAC.COM: The keyboard stuff on the '87 album and Slip Of The Tongue didn't age well. It sounded kinda wimpy.
SHERINIAN: Right, that was a challenging period for keyboards. New Wave stuff like DURAN DURAN is kind of fun to listen to, same with stuff like BILLY IDOL. Some of the hard rock stuff that was coming out at the time has this 'cheesy' sheen in terms of keyboards. It just didn't age well as you said.
KNAC.COM: And the WHITESNAKE connections keep coming as you have worked with John Sykes and toured with him and even recorded a live album where you performed a lot of the WHITESNAKE stuff that he helped create. Is there any chance you can get the guy out and play on another one of your records?
SHERINIAN: That's right. We recorded some shows in Japan. I have nothing but respect for John Sykes. I think he is a massive talent. Like you said, I did that tour with him, TOMMY ALDRIGE and MARCO MENDOZA in 2004. That was such a blast. Tommy is one of my heroes, from his time with Ozzy on. Same with Sykes! He's up there too! I just wish he'd come out and play some dates. I talk to Marco and we always have the same conversation, "Hey have you talked to John? Let's take that lineup out and play some shows". He has a lot of fans that love him and his work. I think if he came out with a very strong album and lineup, I think people would come out and see him. I'd love to be a part of it because I think he's great.
KNAC.COM: We've spoken about your work on the KISS Revenge Tour. How did you land the gig?
SHERINIAN: I knew and was friends with ERIC SINGER. When he was hired there was an opening for the keyboard slot. Eric immediately referred me and I came down and I met the guys. GENE [SIMMONS] asked me to play the intro to "Love Gun". I played it. They loved it and that was it, I was hired.
KNAC.COM: That was enhancements to help fill out their sound.
SHERINIAN: Exactly. I would also do some background vocals and triggering the Statue Of Liberty crumbling and other sound effects, like bomb enhancements.
KNAC.COM: Depending on what show you caught on that tour, it wasn't as well attended as it probably should have been. I know at the show I saw on that tour it was pretty respectable and it was a great set and stage up.
SHERINIAN: Yeah, that's true. It was a weird time, it was right about the launching of the Seattle scene and the warning bells were ringing! [laughs] At some of those venues like you said, you could see that the tides had turned! After '92 or was it '93, everyone put their careers on pause for a while.
KNAC.COM: You have a good KISS story as we wind things down?
SHERINIAN: I'll give you a KISS, ALICE COOPER and a BILLY IDOL story. Of course, with KISS I was offstage with keyboards, I was set on the side of the stage where my chest was at the level of the stage. So the band could see me from the chest up. I remember one time I missed a sample for one of the bombs or something and Gene looked over at me and gave me this nasty look! [laughs] I remember my heart stopped for a second but that was it! [laughs] One of the best times was when I saw THE UNDERTAKER, I was this huge WWF fan. I remember I saw him at the show and I said "Hey dude, come back with me, I have the best view". So Gene sees me, then he sees this character! He's dressed up as The Undertaker! Gene doesn't know who that is! [laughs] He just sees this big guy back there with me. So during one of the breaks Gene comes up to me and asks, "Who is that"? I said, "Gene, that is The Undertaker, he's very, very famous". He says, "Oh, okay". He goes back to his spot on the stage and plays the rest of the show. Afterwards The Undertaker1 comes backstage and meets Gene. Gene was impressed because he's usually the tallest guy in the room and now The Undertaker towers over him! [laughs] I have a picture that was taken that night. I don't know where it is, but it's me, Gene Simmons and The Undertaker! I look like I'm the short guy even though I'm 5'10", Gene is 6'3" and The Undertaker is 6'7" or something like that! [laughs] it's just funny looking at the picture and the different heights between the three of us!
With Billy Idol I did tours with him for almost 12 years. It was a lot of fun. One of the highlights of my time in Billy's band was one time we went to Graceland. We did a show with LISA MARIE PRESLEY and she had invited us to go to Graceland at midnight for a private tour. That was fantastic! We were cruising around the grounds on golf carts like Elvis used to. Seeing all that cool stuff in a private environment was just so cool. There's a lot of great stories. I'm really blessed to be able to do this for a living and to still be able to do it. There's a lot more adventure to go!
KNAC.COM: And what's a Cooper story?
SHERINIAN: Oh! How can I forget Alice? One of the great things with Alice is that we used to play poker on the bus to pass the time on the long bus ride between shows. I remember one time we were in Japan on a bullet train doing a long train ride that was like 2 hours long. We were going from Osaka to Tokyo. We were playing poker on the bullet train and I pulled four twos, four of a kind! I remember I won the pot which was maybe $200-$300 in 1989. It was everyone's per diems! I remember winning that hand and jumping up and down, screaming at the top of my lungs! They are very conservative in Japan and the looks on people's faces! Alice loves that story!
https://twitter.com/DerekSherinian
https://www.youtube.com/channel/UC_j07Wj8pqSXk-KFqdGzH3w