HAUNT
Windows Of Your Heart
Iron Grip // Church Recordings
www.facebook.com/hauntthenation




HAUNT was founded in 2017 by guitarist & vocalist Trevor William Church as an outlet for material he wrote that didn't fit the mold of his Doom Metal band BEASTMAKER. On record, HAUNT is essentially a one-man band. Over the course of 6 studio albums and 2 EPs, Church established HAUNT as a force to be reckoned within the New Wave of Traditional Heavy Metal genre. Windows of Your Heart is their 7th full-length album.

"Mercenaries" sneaks up on you slowly and calmly, but quickly hits you at a breakneck speed. This song about riots and strife is sure to conjure up some in the pit. If you tend to focus strictly on guitar, "Running Hard" and "Barricade" will not let you down with Church's fiery licks and riffage.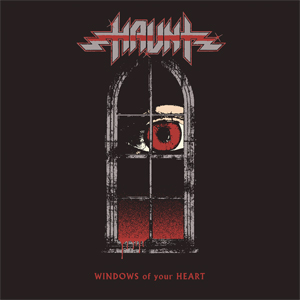 "Father Time" is led by a driving power chord progression that reminds you that time is not infinite for us. Lyrically, "Windows of Your Heart" is a ballad. Sonically it's a mid-tempo rocker with a killer guitar solo.
"No Control" has a repetitive chorus that won't get out of your head very soon. "Dream On It" leans heavily on vocal melodies. "Frozen In Time" has a cinematic adventure feel to it and is the most polished song on the album.
Windows of Your Heart has a cool rawness to it that harkens back to Heavy Metal's early days. HAUNT manages to pay homage to the era without outright mimicking it. With that being said, the production could be better. Most times Church's vocals are being drowned by the music and it just sounds like murmurs.
3.6 Out Of 5.0