I recently had the opportunity and pleasure of interviewing DEATH DEALER/THE THREE TREMORS/CAGE singer Sean Peck for KNAC.COM and for anyone who has followed Sean Peck's career over the years knows that he is one of the busiest working musicians in the METAL world! The interview discusses his three different bands, but primarily this interview is a discussion on both the new DEATH DEALER 5 song EP Fuel Injected Suicide Machine, as well as a discussion on Sean Peck's Steel Cartel Record label in which his main goal is not just simply a vehicle for releasing his own music but also a vehicle for other up and coming bands to get their music out there to the Metal masses! Steel Cartel Records' main goal, which they have been very successful at, is to push physical product and the fans seem to be buying up and loving it.

KNAC.COM: Hello Sean and thank you for taking time out of your very, busy schedule to do this interview with KNAC.COM

PECK: We very much appreciate it.

KNAC.COM: DEATH DEALER recently released a new 5 song EP called Fuel Injected Suicide Machine. After listening to the entire EP, I must tell you that I was really impressed with the fact that DEATH DEALER gets better with each and every release. I think what really impressed me the most about the new DEATH DEALER EP, is the fact that the songs were just so good, so intense, so metal that I felt like I just got done listening to a full-length CD. Talk a little bit about what your feelings were when the band finished recording all 5 songs and you listened to this latest release for the very, first time?
PECK: We actually pulled these from our 5th album that we are working on. We already have number 4 done and ready but had lots of songs for number 5. We grabbed some of them and now we have this EP. Yeah, it is a good mix of 2 fast ones and 2 mid-tempo ones that are all really high-quality tracks.
KNAC.COM: For anyone who is just discovering DEATH DEALER through the new EP, can you share with our readers who else is in the band, and what year was the band first formed?
PECK: Guitarist Ross the Boss, co-founder of MANOWAR, guitarist/producer Stu Marshall (Australia's greatest metal treasure), bassist Mike Lepond from SYMPHONY X, drummer Steve Bolognese formerly of INOT ETERNITY and myself, Sean Peck of CAGE, WARRIOR, DENNER-SHERMANN and THE THREE TREMORS.
KNAC.COM: In regards to the 5 songs on the new EP, I was curious if the songs were newly written just for Fuel Injected Suicide Machine or are these older songs that were just waiting to find a home?
PECK: The songs were taken from the batch destined for the un-released 5th album. We have probably 20 songs for the 5th album still. It is crazy, as we have been writing and recording an insane amount of material in the shut-down world we were in. It is great for the fans of heavy metal!
KNAC.COM: The DEATH DEALER EP was released on your very own Steel cartel Records label. I know that one reason you felt the need to form your own label was because of your desire to do everything you can to push physical product such as CDs, vinyl and merchandise. Also, you are also very involved with the artwork on all your releases. Talk about Steel Cartel Records and how successful do you feel the label has been in your efforts to push more physical product, which is something that most major labels don't really do any more.
PECK: I kind of got pushed into this because the label we were on was really unreliable as far as deadlines and product flow, so I started doing this with my own stuff and some friends' bands. Despite all the cries that you have to release all your stuff to Spotify and the streaming stuff, we have bucked the system and embraced the metal fans' desire for killer physical product. We release the video singles to the streaming sites and then we make the rest of it physical exclusive. Luckily our fanbase gets it and loves all the killer product we produce.
KNAC.COM: Do you plan to do any live shows in support of the new EP or is the plan to continue to work on the next full length DEATH DEALER album?
PECK: The 4th un-released DEATH DEALER album is completely done already and it is maybe our best album yet. Touring is always a tricky question. We are waiting for everyone's schedules to clear up. Ross will be out in Europe for a while, I have stuff coming up, and some of the other guys are busy too. Eventually, we will get a tour together as we have so much material to choose from now. We have tons of albums to pull from so choosing a set will be hard for sure.
KNAC.COM: I love the artwork on the new Fuel Injected Suicide Machine EP. Were you involved with coming up with that album cover?
PECK: Yes, actually my original sketch was one that Marc Sasso, the artist (DIO, HALFORD) followed pretty closely. I am a big comic book guy and am really particular about my art and I like to micromanage it a bit. It has served me well, as we have the longest string of fantastic album covers ever ha!!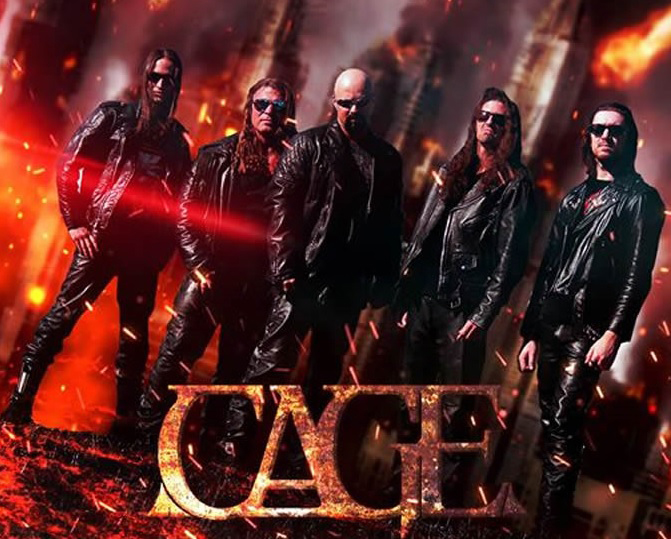 KNAC.COM: In regards to Steel Cartel Records, I understand that you have also made a point of only posting the singles/videos to YouTube, rather than to post every single DEATH DEALER song. Is it because your feeling is that if people want every DEATH DEALER track, they can purchase the albums? That is pretty smart on your part. Has that been a business decision that you feel has worked for you and the rest of the band?
PECK: I just think all the time, expense, and effort that goes into making the records is worth people's 10 dollars. I refuse just to give the album out free to the world the day it comes out. It is a complete scam and I may be David versus Goliath here but I feel strongly about it. We put out enough music for people to get an idea of whether or not they will like the album. Again, metal fans like the physical product so it helps.
KNAC.COM: Also, I know that you have a Steel Cartel mailing list. Can you tell us about the list, how metal music fans can join it and what they can expect once they join?
PECK: What we do with the email list is when we release a new video, the email list gets it first and they get a link to an mp3 download of the song. If it is going to be up on video, why not just give them the track so they can support it anywhere. They can sign up on any of our web pages including www.steelcartel.com
KNAC.COM: Talk a little bit about being in a band with Stu Marshall and Ross The Boss? I mean what a great a dynamic guitar duo. What's it like to have such two amazing guitar players in the band?
PECK: I started out guesting on Stu's EMPIRES OF EDEN albums and we became close friends that ended up starting a band. I was never really a MANOWAR fan but as I played with Ross, I discovered his magic touch and style and quickly realized what all the hype was about. He should be in the Rock and Roll Hall of Fame immediately. Great feel, creative, and an insane ear for melody is what makes him a legend. Together, they are a brutal combination.
KNAC.COM: Does everyone in DEATH DEALER take part in the songwriting?
PECK: Primarily it is myself and Stu but Ross writes a few songs here and there. His wise watchful eye is always making notes and suggestions that we implement also. Steve writes the drums and always delivers us some crazy surprises.
KNAC.COM: In regards to Fuel Injected Suicide Machine, what was the recording process? Was it recorded via Zoom or were you all in the same recording studio?
PECK: Stu and I do stuff over Skype or the equivalent and we have lots of writing sessions. He is super-fast at producing stuff on the fly, so it is like instant gratification. I record my vocals at my home studio and just tracking the drums is the tricky part.
KNAC.COM: As many fans know, you are also one of three vocalists for THE THREE TREMORS. THE THREE TREMORS have just recently released a new full length CD. Can you tell us how happy were you with the way the fans responded to that latest effort?
PECK: Yeah cool! It is Guardians of The Void and it was very well received. People called it a more "mature" album which is crazy to me but whatever. On the first album, we put a nuclear warhead in peoples ears and some had a hard time handling it. This album was not as speedy and it did really well and continues to do well. Thanks for asking. Again, people need to buy the vinyl or CD so they can hear the metal majesty of that record. Find them at www.thethreetremors.com
KNAC.COM: Did THE THREE TREMORS get to do any touring behind the new CD or did all the COVID restrictions get in the way of that?
PECK: No, we actually did 17 US dates it was great!
KNAC.COM: Most people first became aware of you through your band CAGE, so I have to ask you, can fans expect a new CAGE release anytime soon?
PECK: Yes, we are almost done with the record and there are some great surprises coming with that one. Very excited to get a new CAGE album out finally!
KNAC.COM: Anything that you'd like to say to all the Sean Peck fans out there all around the world?
PECK: Subscribe to the Steel Cartel YouTube channel at www.youtube.com/steelcartel for great music and funny shit like my random Metal Daily News videos!!