I recently had the opportunity to speak with Master Guitar Shredder Stu Marshall and I spoke with Stu about both his bands, ARKENSTONE and DEATH DEALER. He spoke about the latest releases from both bands, what it's like to play in a band with Ex-MANOWAR Guitarist Ross The Boss as well as what it's like to be in band where he serves not just as a band member but as the band's Producer. We end the interview off with Stu letting his fans know what else they can expect from him down the line.

KNAC.COM: Hello Stu and welcome to KNAC.COM. I'd like to thank you for taking time out of your very, busy schedule to do this interview. I just got done listening to the Ascencion Of The Fallen (2021), which is a 4 song EP by your band ARKENSTONE. Could you talk about the band and how the band first got together as well as who else is in the band with you?

MARSHALL: Thank you guys for the time to talk.

MARSHALL: The band started as a project during the Covid outbreak as touring closed down and there were not many options left to play live locally. The project came together from a good friend I made many years ago when I had the project EMPIRES OF EDEN, his name is Louie Gorgievski. The idea was really to make some music with good friends and try some new ideas that I had left over from DEATH DEALER.

Rounding out the band is the incredible bass player Michael LePond from SYMPHONY X and long time drummer and good friend Clay T.

KNAC.COM: Could you share with our readers the story behind the band's name ARKENSTONE?

MARSHALL: Naming a band has to be one of the hardest things anyone has to do! Sometimes names can come to you and in this particular case the name ARKENSTONE came directly from the Lord of The Rings films and seemed like a really good fit from a medieval perspective and also spoke directly to the sound of the band. Dark, heavy and epic...

KNAC.COM: Stu as you have done many times in the past with many of your other projects, in addition to your role as guitarist, you also served at the producer. What is that like for you to serve as both a member of the band as well as the producer?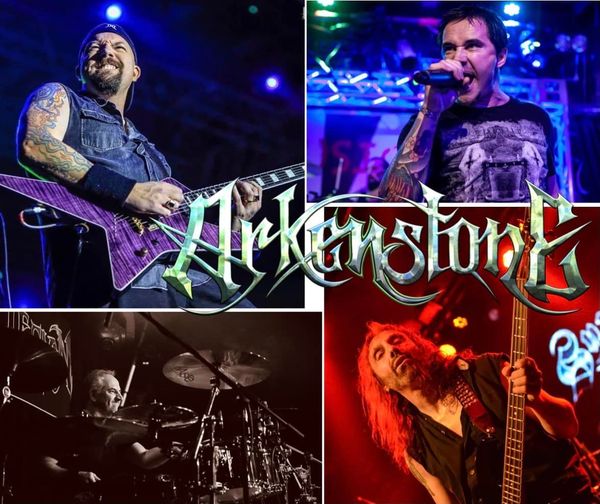 MARSHALL: Itís incredibly tough because youíre listening to the songwriting, the performances but then also need to remain objective to the final product and what youíre out to achieve. But on the other side it does give you a great deal of creative freedom and control to present the material exactly how you wanted it to be. But in short, itís something that in the future Iíd like to handover to someone else to manage. It's a lot of work.
KNAC.COM: In your role as producer, is it ever hard having to guide/direct the other members of the band?
MARSHALL: I guess it can become hard, but itís all about who you work with and if you work with professional guys then they understand that feedback is really just about making the product the best it can possibly be. There is also a time as a producer we just have to let people do what they want to do and thatís where the magic occurs.
KNAC.COM: Is everyone in the band involved with the songwriting?
MARSHALL: For ARKENSTONE, the songwriting is really down to myself and Louie. Itís a 50-50 arrangement where we work off each otherís ideas. It can come from a range of ideas and we blend those together. For DEATH DEALER it's very much Sean and myself working with Ross on his ideas also.
KNAC.COM: The band is signed to Steel Cartel Records, which I know is Sean Peck's label and I mention that because they are a fantastic label in that I know they are very much about physical product and that Sean is involved with the artwork in regards to all Steel Cartel Records artists. What is it like to be signed to a label that really gets behind their artist and promotes their release in such a massive way?
MARSHALL: Yeah, you make a very good point here, Sean is really forging a way forward that many labels are only following. Apart from Sean being a great friend and a killer singer in DEATH DEALER, heís been a fantastic support for ARKENSTONE and we are working closely with some great people and publicists to get the music out to as many listeners as possible.
KNAC.COM: Speaking of album artwork, I really loved the artwork for ARKENSTONE's Ascension of The Fallen . Could you talk a little bit about the album cover and who designed it?
MARSHALL: Yes, thank you very much, we really dig it. The artwork was created by the incredible Marc Sasso who hails from New York and has worked with acts such as DIO, HALFORD, DEATH DEALER, CAGE and many other high-profile metal bands. It was a piece of art that he had available. I think it was from a previous project that fit this perfectly, so we begged him to use it and he was kind enough to allow us to present it as the album cover.
KNAC.COM: Being that you are the producer, the EP really has a nice flow to it and while it only has 4 songs on it, after listening to the entire EP somehow it felt like I had just listened to a full length album because the songs were just so good. The sound was no doubt metal but really stood out as something special. My question is how happy are you with the overall sound of the band and the way the EP came out?
MARSHALL: Firstly, youíve paid me possibly the best compliment anyone can, that if you like it and youíre enjoying it then my job is completely done. I am very happy with the sound of this EP, my production skills are progressing. I still feel in many ways like a beginner, especially when you listen to what Andy Sneap or Jacob Hansen create. I work hard to try and make the product as best for the ears as possible. I think Iíll be taking some parts of this production and techniques to use in the future.
KNAC.COM: Has ARKENSTONE done any live shows yet and if not, any chance that fans will get to see you doing any kind of touring to support this anytime in the near future?
MARSHALL: Well, we havenít played live, however there was every intention for the band to be out in March this year with some shows but the continuing Covid impacts have made it impossible. But everyone is extremely keen to get this material to a live stage.
KNAC.COM: Ross The Boss, your DEATH DEALER bandmate makes a guest appearance on the new EP. Please talk a little bit about that.
MARSHALL: Yeah, how good is that? Ross has been one of my idols since I was a young kid and to work with him has always been a dream come true. The thing with Ross is heís such a controlled player but he also plays with controlled aggression. I always love playing on tracks with Ross because itís a really good showcase of what he can do and what I can bring to the table. But certainly with this project, I asked Ross if he would play on a song that was directly influenced by early MANOWAR and he was gracious enough to help me out.
KNAC.COM: In listening to Arkenstone, the band has a sound that combines elements of old school metal with elements of power metal which is quite a bit different than what you do with DEATH DEALER. Was that part of the reason you enjoyed getting to take part in a project like this?
MARSHALL: I think thatís the thing with this project, that it does draw on influences that are slightly different from the other albums that Iíve released with DEATH DEALER and NIGHT LEGION. Iím heavily influenced by bands like CANDLEMASS, BLACK SABBATH and doom style bands that play dark and evil heavy metal. For this project I really want to bring some of those influences out. What made this really exciting is that there were no limits no expectations of what we were doing.
KNAC.COM: Who are your guitar heroes, the players who influenced you to pick up the guitar and do what it is that you do with the guitar?
MARSHALL: Itís gotta be Ace Frehley for me as far as early influences. I was into KISS at the age of four years old but certainly over the years the 80s shredders have been the ones that Iíve really looked towards and then later in life being influenced by guitar players like Steve Lukather and Neal Schon. One of my major influences and a player that I think gets overlooked is a Canadian guitar player called Pete Lesperance. Pete is one of the greatest guitar players on the planet and someone that people should look out for.
KNAC.COM: DEATH DEALER who just released a fantastic 5-song EP titled Fuel Injected Suicide Machine. First of all tell us a little bit about the new EP and if the band has any plans to do any live shows to promote it or will you continue to work on the next full length DEATH DEALER album?
MARSHALL: Yes, the new DEATH DEALER EP. This is another project that was completed during the Covid break and we are really happy with it. Itís completely influenced by the Australian film Mad Max and Sean and I had a lot of fun writing material for it. If you listen closely you might even find that Iíve got a vocal cameo starting off the CD. DEATH DEALER is currently planning a US trip in October of this year and I know we are booked for a couple of festivals in 2023 but like everything, we have our hopes held out that that will work.
KNAC.COM: In regards to the new DEATH DEALER EP, were the 5 songs newly written for this release or were these songs that the band have had laying around waiting for a home?
MARSHALL: Yes, well one of the things about not being able to go on the road is that weíve been able to focus a lot of our time in writing. So DEATH DEALER album number four is now completely finished, written, mixed and mastered and we couldnít be happier with it. And further to this point, DEATH DEALER album number five is almost complete and I think weíre gonna start writing DEATH DEALER six which may sound kinda weird but we want to use this time as best as possible while we are having a lot of creative fun and able to write new riffs and songs.
KNAC.COM: Talk a little bit about you and Ross The Boss as a guitar team. What is he like to work with and how do you guys decide who's going to play what? Are you considered the lead player or would you say you're a guitar team more like KK and Glenn from JUDAS PRIEST?
MARSHALL: Yes, working with Ross is simply the best. Iíve learned so much from him over the years and standing on stage night after night watching him play is a clinic in itself. I definitely see us as a twin guitar attack as thereís no one lead guitar player, itís very much a partnership and we fuel off each other and push each other to get better. Many times Ross has submitted his solos for the albums and Iíve gone back and re-cut my takes to try and stand up to the level and true brilliance of the man.
But definitely a guitar team very much in the spirit of JUDAS PRIEST and THIN LIZZY.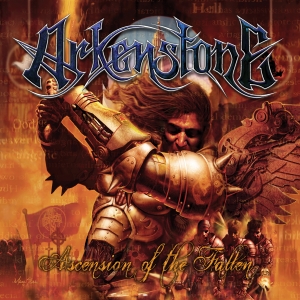 KNAC.COM: It's amazing Stu that you're a part of these 2 metal bands that really are so different and yet both bands I think have something special that any metal fan can latch on to. With that being said, what's it like for you to be a part of both bands?
MARSHALL: Itís great for me because Iím able to express myself musically across a range of metal genres. Iím not pigeonholed in one particular area and as a writer that gives me a lot of freedom. Also working with different singers provides me with a different writing palette so I can write all these different songs for different people in different ways. I find myself writing riffs for Sean in DEATH DEALER and then sometimes I find it works best for ARKENSTONE for Louieís voice. Itís a great problem to have.
KNAC.COM: Are you currently part of any other bands or projects that you'd like to let the readers of KNAC.COM know about?
MARSHALL: Yes, my Australian band NIGHT LEGION is still active and we are signed to Massacre Records at the moment. There are some announcements coming soon on that.
KNAC.COM: Anything else you'd like to say to all the Stu Marshall fans out there?
MARSHALL: Just a special thank you to anyone that checks out our music. If youíd like to catch up with what we are doing you can do that on social media. Also check out the streaming services. I know in this day and age a lot of people access music via streaming services and while we promote the physical product, we also understand that thatís where you can hear the material.
KNAC.COM: Thanks again Stu!