Since their *ahem* runaway success from starting out touring the motorcycle rally circuit, the all-girl sextet daredevil dance entourage known as CHERRY BOMBS have been gracing the stage with their fiery acrobatic antics and devastating dance routines – and it was inspired by its founder Alicia Taylor, a former NFL cheerleader with a driving vision, a gift for nimble footwork and a low tolerance for dancing to the Top 40 at every sporting event. Prior to the BOMBS' show at the Rock Box in San Antonio, Texas recently, Alicia chatted with KNAC.COM about lots of stuff, from her own upbringing to the group making their name known by topping their first-ever touring bill, facing unpredictable crowds, socking it to homelessness and other explosive details!

KNAC.COM: First of all, just wanted to congratulate you and starting on your most recent tour – the Macabarét tour – and I understand now that you're on your way to San Antonio right now because you're doing a show there tonight at the Rock Box, with support from THEM EVILS.

TAYLOR: That's right!

KNAC.COM: How has the support for the tour been going so far?

TAYLOR: It's been really, really good! It's incredible to see CHERRY BOMBS fans out there in the numbers that we're pulling. It's rad. We were so used to opening up for bands, y'know, so we'd walk into those shows, thinking "Aw man, are we gonna win them over? Are they gonna get it?" Like, it's been a different show and there's been times where we'd have to adjust our music or I felt like we had to adjust our music to suit the audience and the band that we were opening up for. So, this time, it could be all us, anything we wanted, we have the whole stage, and the reception has been really really positive and I'm actually excited to come back to the stage late in the year, if we can.

KNAC.COM: Cool. Just give me a bit of the brief history on how the CHERRY BOMBS had actually formed as a group overall, just for those who aren't very familiar with you, they might be a bit more aware about what you're all about.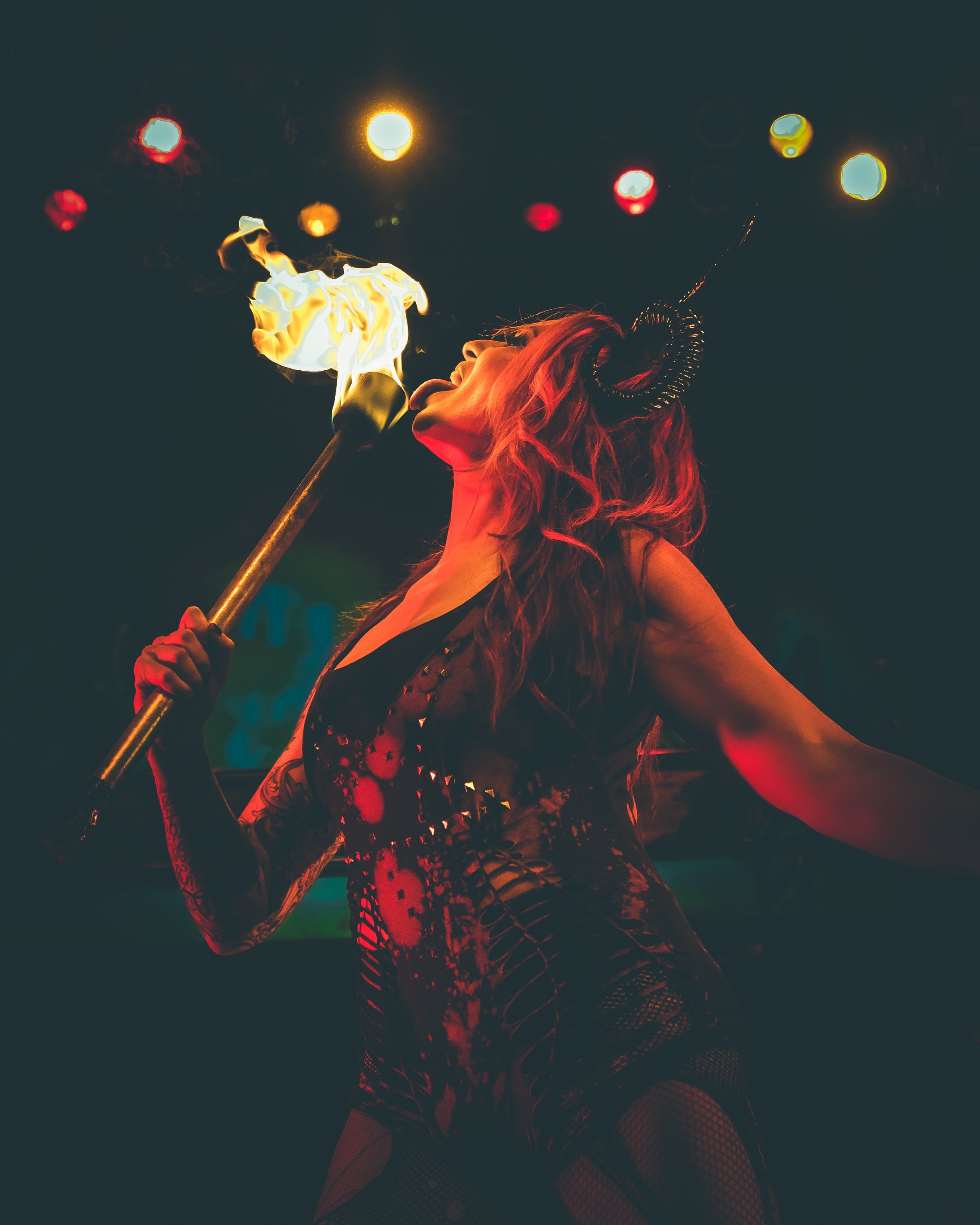 TAYLOR: Yeah. Absolutely. I formed CHERRY BOMBS in 2013 after I had reached in the NFL cheerleading world. I was a cheerleader for the Atlanta Falcons.
KNAC.COM: Oh, cool!
TAYLOR: For three years. Yeah, and I just have always been a metalhead, I've always been a fan of rock 'n roll music, and there are people who are passionate about this kind of music, y'know, you could relate when I say how awful it was to have to perform to pop music, right?
KNAC.COM: Yep!
TAYLOR: I was just tired of the Justin Bieber, the Katy Perry…I was just over it, y'know? For a while it was cool because I got to perform and I got to watch football, one of my favorite sports to watch. That was fine, it was great. And then when I was done with it, I was done with it. And I said "I'm not done performing but I wanna do it to music that I really love". I wanted to do it in a way that I wanted to do it, which is kinda more wilder, more stunts, a little more danger, so that when we were kinda the inception to CHERRY BOMBS, I took choreography, like, fast-paced choreography dancing, and I partnered it with circus art, aerial and fire art, and ankle grinding and pole dancing. So, it really is kind of a marriage between the PUSSYCAT DOLLS and Cirque Du Soleil but with all rock and metal.
KNAC.COM: Wow. So, sounds like a bit of Jim Rose Circus Sideshow as well.
TAYLOR: Yeah!
KNAC.COM: Except without the piercings and such. *laughs*
TAYLOR: That's what a lot of people bring up. They mention Jim Rose to me, and it's not too far-fetched from one another. We just incorporate more dancing…our show on this headlining run is a whole storyline, so kinda feels like a Las Vegas production, but for the metalheads out there.
KNAC.COM: Of course. I think I even recall at one point that the Jim Rose Circus Sideshow, when they got their start pretty much on the Lollapalooza tour, and we're talking about going back 30 odd years ago. I believe it was actually Perry Farrell – the lead singer from JANE'S ADDICTION – it was his idea to bring those guys in as a regular touring act.
TAYLOR: Yeah, you're right. Perry was kinda doing something similar with JANE'S ADDICTION and PORNO FOR PYROS, right? Kinda doing something similar with this theatrical art. I think there is a place for this kind of performance art within the rock and metal world, and because, y'know, we all love the spectacle of theatrics, we all love bands that do a lot with theatrics. Y'know, we have GHOST, and ALICE COOPER, and even SLIPKNOT and ROB ZOMBIE, and these are bands that really play into the visual theatrics and production of their show, and, to me, it was just a no-brainer that something like CHERRY BOMBS also exist in this industry.
KNAC.COM: Fair enough, especially with music with where it's been going over the past 25-30 years, there has been, at one point, more of an emphasis in just having simple songwriters rather than artists putting on a type of show.
TAYLOR: For sure.
KNAC.COM: Obviously, you are passionate about bands that can actually do a bit of both. So, you said that you have a bit of a background in dancing when you were a cheerleader in the NFL with the Atlanta Falcons. Has choreography and dancing in general always been more of a passion for you when you were growing up?
TAYLOR: Absolutely. I started dancing at the age of three. I grew up in dance studios my whole life, so I would go to school and right when school would end, I would take all my homework in my backpack and I would take it to the dance studio. And my mom would pack my dinner in the morning before school. So, I would just stay at the dance studios after school, and I would do my homework there and I would eat my dinner and then take all my classes, and then my mom would pick me up after work at around 8 o'clock, 9 o'clock at night or much later. And that was just kinda how I grew up. I never got into trouble much as a kid because I never had time for it, y'know? *laughs*
KNAC.COM: *in amazement* Wow…that's showing quite a lot of passion and dedication to your art, I gotta say. Back then, you were probably doing maybe, like, seven or eight or even nine hours in total with your art combined with your schoolwork when you were a teenager, I would assume?
TAYLOR: Oh, yeah. It was non-stop. In fact, I turned my bedroom into a dance studio, so I had hardwood floors in my room, and I put mirrors all along the wall when I wasn't in the studio. So, when I wasn't in school, and I wasn't in the studio, I was in my room dancing. It was just something that I could never get enough of. You kinda hear something similar with musicians when they say "I'd come home from school and play the drums non-stop" all day, every day. Or guitar. I was like that with dance. It was the only thing that fed my soul and when you're growing up as a teenager, you're figuring life out, you're trying to find out who you are until you gravitate to things that bring you joy, make you happy and give you a sense of focus and a sense of purpose, and to me, that was dance.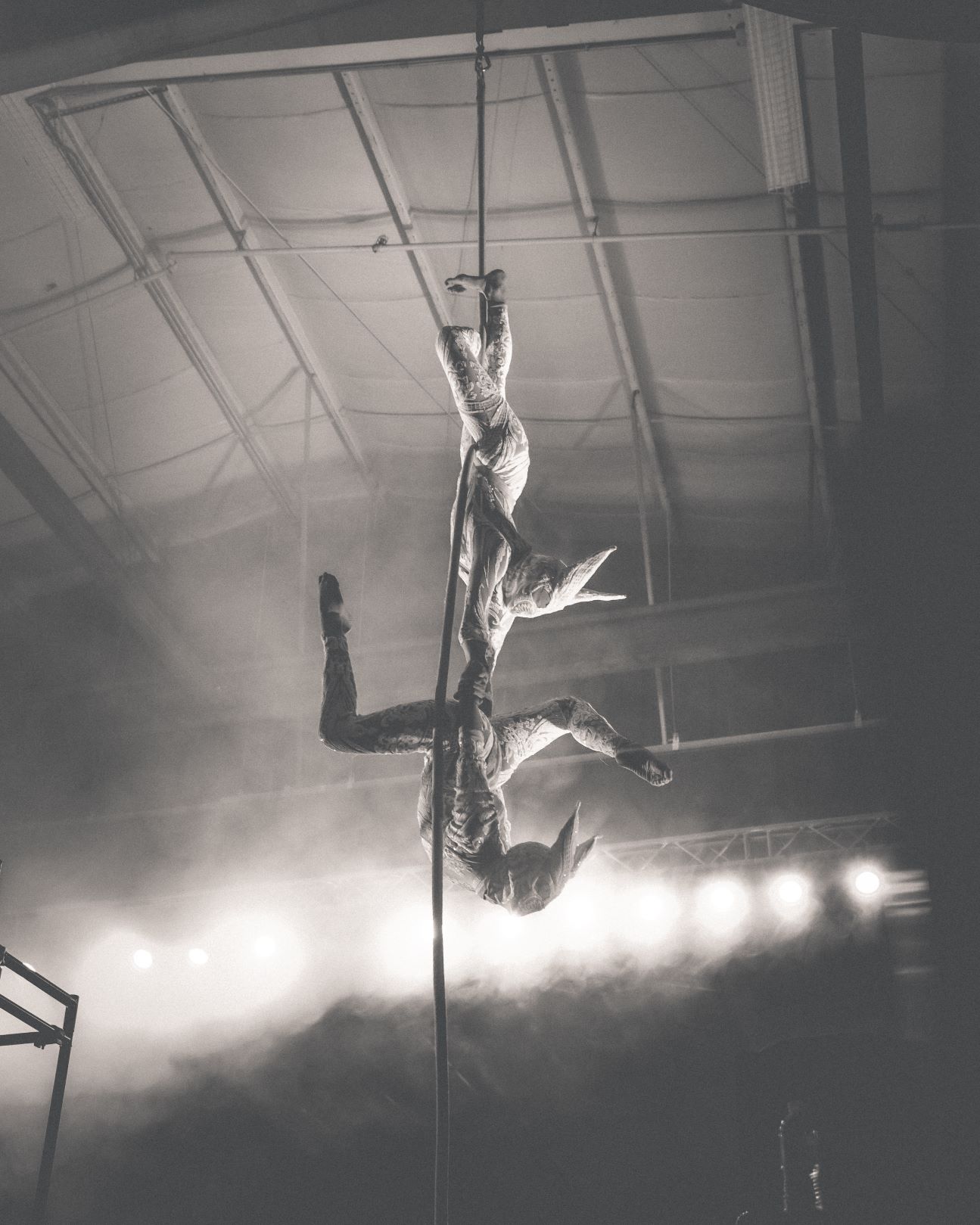 KNAC.COM: Wow. My niece right now, she's nine years old and she's going through a similar phase with her art in that we've got about two or three rooms in our house that have been converted into almost her own personal art studio. We even have a two-car garage and one half of the garage is actually just used for her art and a small room for her friends to hang out in.
TAYLOR: Awww. That's wonderful.
KNAC.COM: So, I do kinda get the gist of that and that is pretty cool to be able to help continue to foster your dreams and pretty much foster your career in general.
TAYLOR: Yeah, that's very cool.
KNAC.COM: So, you had recently paid homage to TYPE O NEGATIVE's lead singer, Peter Steele on the twelfth anniversary of his death. Have you ever done any type of shows with TYPE O NEGATIVE? Because you have toured with quite a lot of bands…
TAYLOR: Nope, never had the honor or pleasure of doing anything with TYPE O NEGATIVE unfortunately. That would've been amazing. But never got the chance.
KNAC.COM: Have you seen TYPE O NEGATIVE in concert at least?
TAYLOR: I never got to see them in concert! My most favorite band and I never had the chance to see them live. Huge bum-out.
KNAC.COM: That's a shame.
TAYLOR: Yeah.
KNAC.COM: But at least you can say that you have toured with some of your favorite bands. So, reading more about your history, I believe that CHERRY BOMBS' first performance had actually been with BUCKCHERRY and BLACK STONE CHERRY in 2016. How did that tour come about? Because I recall originally that both bands were probably playing at Sturgis and then you just got invited to play with them? How did all that happen?
TAYLOR: Our very first gig ever – ever ever ever ever – as CHERRY BOMBS was in 2013 and it was at Sturgis and we were on that show called Full Throttle Point that was out there. I think it was on True TV at the time. That was kinda wild, and then we got up in the motorcycle rally world. That's where we got a lot of our start. And getting on the tour with BUCKCHERRY and BLACK STONE CHERRY simply came down to just the universe kinda aligning. I'd written an email – cold, by the way – and didn't know this guy verbatim. I just wrote an email to an agency because I was trying to find an agent for us, and I just said "hi, my name is Alicia Taylor and I've got this group called the CHERRY BOMBS which is a rock 'n roll Cirque Du Soleil cabaret. Here's some videos, here's a picture. Let me know if you're interested". And that was it. And I didn't hear anything for like a week or two, and then out of the blue, I get this phone call and I answered the phone and it's the agent from that agency that answered the phone. He said "You know what? Sometimes the universe works out in weird ways. I'm putting this tour together and I've been looking for an act with the name 'cherry' in it. It's BUCKCHERRY and it's BLACK STONE CHERRY and here you are in my email inbox saying that you have a group called the CHERRY BOMBS and you're exactly what I've been looking for". Now, let me say that, by no means, means that we made it on because of our flair or because we were any good. We literally just made it on there because of our name. So, we kinda sucked.
KNAC.COM: *laughs*
TAYLOR: We totally sucked, and we were terrible, and awful. I don't think he cared. I think he was just, like "Cool" and, like "you got 'cherry' in your name? You're hired!" *laughs*
KNAC.COM: *laughs*
TAYLOR: It was just, like, luck that we got on that tour! *laughs* And I'm really thankful for that. Because I was like "okay, we kinda just got it" and I was like "we gotta hit this outta the park!" And I'm very grateful because we did, we went out and we had no idea what we were doing. We were in a van, there were like six girls in a van, I was driving, and no crew, no nothing. We sold our own merch. We were earning our stripes, y'know? Just like any other opening band, and yeah, we were just winning the hearts and minds at every city that we went to. Everybody was shocked, like "I've never seen anything like this, it's really cool" and we just kinda started building momentum on that first national tour, and, like, getting our feet wet with it, and just hittin' it out of the park at every show we did. And that's what kinda started this whole snowball effect in starting a national tour.
KNAC.COM: Wow…that is kinda something. So, you're pretty much your own roadies, like, setting the stage up every night, then performing and then tearing it down.
TAYLOR: Oh yeah!
KNAC.COM: I'm surprised that you still have the energy for it.
TAYLOR: People are in shock. And they still are. We still do our own rigging. And we still bring our own stuff in and we still break it down and haul it out. So, people are kinda impressed to see these beautiful performers on stage in their high heels and all that and they look one way but then after the show, they're haulin' these steel apparatuses out to the trailer and they're really working their butts out there. So, it really feels good to not only impress audiences but also gain their respect from other members of the industry to see how hard we work, like how we had to earn it just like every other act.
KNAC.COM: I do have to congratulate you on having a pretty solid work ethic overall in being able just to give it literally like 110% if not more than that!
TAYLOR: Thank you. You have to, man. You have to.
KNAC.COM: So, this leads me to my next question: How did you and Corey Taylor end up meeting and then hooking up? Because I do understand that you both got engaged not too long ago.
TAYLOR: Well, we've actually been acquaintances with one another for many, many years through our industry, but it was just brief passing through, y'know, at a show or whatever. It was like "hey, there's Corey Taylor. Hi, pleased to meet you" and we'd keep it moving. It was very much acquaintance-level right up until, really, we started planning our tour with STONE SOUR and STEEL PANTHER. Corey had seen videos of the CHERRY BOMBS from that BUCKCHERRY/BLACK STONE CHERRY tour online, and I ran into him at a show one night and he said "Hey! Are you that girl that has that dance group?" And I said "Yeah. We're called the CHERRY BOMBS". Then he said, "I've seen videos of you guys. You guys are really good!" And I was like "Thank you". And that was it. I was like "Wow, Corey Taylor likes my dance group. That's cool". And fast forward a few more months, he reaches out and says "Hey! Hope you're doing well. I'm about to go on tour together with STONE SOUR and STEEL PANTHER and I haven't forgotten about the CHERRY BOMBS and I think that you guys would be a really fun act to open up the tour with because I want it to be a party and I'm looking for something that's not a band. I'm looking for something that's completely out of the box". And I was like "Yeah, let's do it!". And, in putting that tour together, when you're touring together, you're around each other all the time and you become very close with the people that you tour with. So, we just got to know each other much better. We became friends and during that tour, we just realized that we clicked so well together and he asked me out on a date and I was like "No!" *laughs*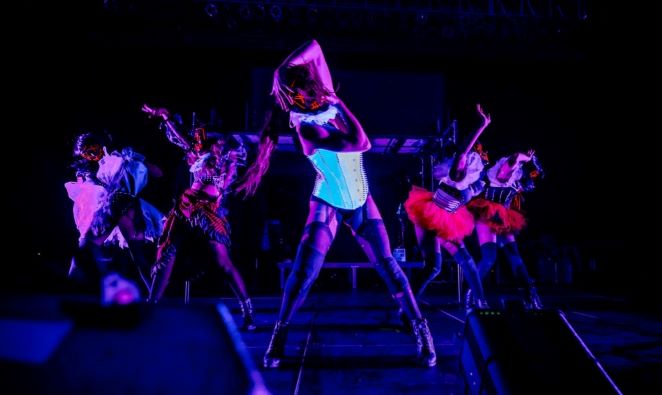 KNAC.COM: *laughs*
TAYLOR: I don't mix business with pleasure, especially on a tour, and I was very cautious, and guys in our industry…I had a bad experience with someone else in the industry and I wasn't about to get in that feeling that they were all the same. And he did the work to kinda win me over, and at the end of the tour he said "okay, now that we're not touring together, can I take you out on a date?" And I said "fine, you can take me out on a date". So, we've been married for two years. It'll be three this year and we've been together for 5 years this year.
KNAC.COM: Congratulations!
TAYLOR: Thank you.
KNAC.COM: I do recall that you'd made a film recently called Macabarét and it's mostly shown on YouTube, I believe. Is that correct?
TAYLOR: We have a docuseries on YouTube called Girl Gang.
KNAC.COM: I see.
TAYLOR: And the third season of Girl Gang – they're just like mini episodes between 8 to 10 minutes long each – and they're about three to four episodes each. So, they're like very short for today's attention span.
KNAC.COM: *laughs*
TAYLOR: Season 3 is about the making of Macabarét and Macabarét is the storyline about the actual show that we released first, a film during the pandemic. It's the show that we're touring with right now.
KNAC.COM: Okay.
TAYLOR: We were supposed to tour with the show in 2020. Obviously, the pandemic hit and that changed everything. So, we decided to make a movie out of it and stream it online for people and sell tickets that way. So, Season 3 is all about creating that film – changing gears, adapting to the pandemic, how are we gonna stay relevant in the industry, how are we gonna make this happen, and we kinda took you through the whole process of filming that movie. Now, Season 4 is coming out March 9 here soon, and that's about touring with the show – Macabarét – during the pandemic. Is it possible to tour during a pandemic? Y'know, Corey's band and I were the first acts to hit the road in our industry, so all eyes were on us to see if it was going to be a success or not.
KNAC.COM: That's good. I happened to notice quite a lot of the songs as well that were kind of like the soundtrack on there – "Holy Roller" by SPIRITBOX, "Du Hast" by RAMMSTEIN, "Wherever I May Roam" by METALLICA, "You Can't Bring Me Down" by SUICIDAL TENDENCIES. Do you usually have kind of like a group consensus about what songs you usually decide to choose for each performance or does it just come naturally?
TAYLOR: Choosing music at first kinda comes from a selfish standpoint in that I pick music that I personally like. I hate creating something with music that I'm just not into. It's all work, no fun for me. That's kinda my one area in CHERRY BOMBS that I can be super selfish with. So, all of the music that I pick in Macabarét are songs that I like and I also wanted to give a variety. I wanted to kinda make it for anyone who likes rock or metal, so, there are some SUICIDAL TENDENCIES in there for the punk fans, there's "Wherever I May Roam" for the old-school METALLICA fans, and then I wanted to bring in some new stuff, like "Holy Roller" by SPIRITBOX and "Du Hast" is just a classic fan favorite. But I even throw in Chris Isaak in there, man. There's some stuff in there that's out of left field too. Y'know, there's GODSMACK, that type of rock that people like, there is WHITE ZOMBIE in there, RAGE AGAINST THE MACHINE. So, I really try and hit a good variety. Because rock and metal have so many subgenres, right?
KNAC.COM: Right.
TAYLOR: I just kinda wanted to give something for everybody.
KNAC.COM: Yep…I can honestly say that you're doing a good job in creating a great mélange of music.
TAYLOR: A potpourri, if you will!
KNAC.COM: Yeah…a mélange or potpourri. Either one of them works. Say something fancy in French and just kinda indicate that it refers to a conglomeration of everything. *laughs* That always works well, I find.
TAYLOR: Yeah! Absolutely! *laughs*
KNAC.COM: So, this might be a bit of an odd question to ask, I'm presuming that you're not touring with SLIPKNOT this year, or are you doing your own tour later on?
TAYLOR: We are not touring with SLIPKNOT this year. We're doing our own thing, and the things that I can talk about right now are Louder Than Life and Aftershock.
KNAC.COM: Sure. We can talk about those.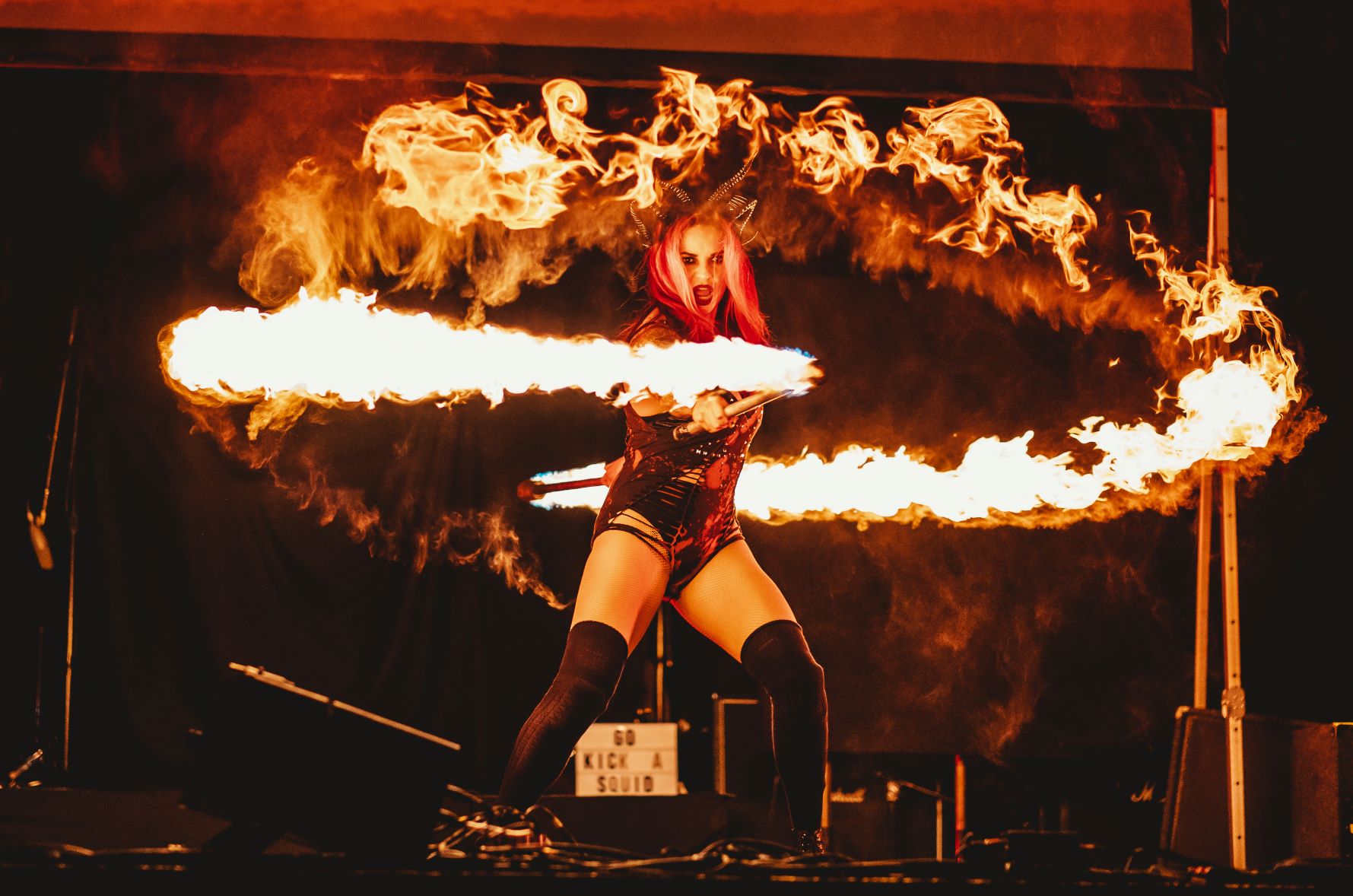 TAYLOR: So, we'll be playing at these two festivals, and we have some things coming down the pipe that we're really stoked about once they come to fruition, but, you know how it is in this industry. Anything can happen and can change on a dime.
KNAC.COM: Oh, for sure. Take, for example, DREAM THEATER who were supposed to be playing my city just at the end of the month – I live in Ottawa, Canada, by the way – and as you are aware, we made a lot of international headlines because of the Freedom Convoy that took place there.
TAYLOR: Right.
KNAC.COM: And the venue that DREAM THEATER were supposed to be playing at was the National Arts Center, which was pretty much not even two minutes away from where the Freedom Convoy was starting. So, as soon as the police had moved in, about three days before the concert, they'd already cleared out all of the main vehicles from the main streets.
TAYLOR: Wow!
KNAC.COM: Yeah. But, unfortunately, afterwards, because you know how elaborate DREAM THEATER's stage set-up is, they just weren't able to do the show, so this is actually the second time that DREAM THEATER has cancelled on Ottawa.
TAYLOR: Yeah.
KNAC.COM: I mean, through no fault of their own, but it would've been a great show to go and see nonetheless, but, like you said, everything in the industry can change in such short notice that it's not easy to try and respond right away. Have you ever had any kind of circumstances like that, with touring overall?
TAYLOR: Where something's just kind of dropped out the bottom?
KNAC.COM: Yeah. I mean, besides, COVID and the pandemic, obviously.
TAYLOR: Well, yeah. I would definitely say that riot that broke out in Mexico City during KNOTFEST in 2019. We were performing and that's when the riot started, and when we got done performing, the show had to stop completely, and then EVANESCENCE and SLIPKNOT never got to take the stage that night. And we were supposed to come back the next day and perform as direct support for ROB ZOMBIE, but that never happened. We didn't do it, so we had to can that. But that was definitely extreme circumstances there. Nobody saw that happening. It was a really unfortunate turn of events and I'm hoping to come back to Mexico City and give them another show because we owe them.
KNAC.COM: That's also another thing of great concern sometimes at a lot of these elaborate types of shows, especially now with the pandemic officially winding down, there's still a great concern obviously with mass crowd gatherings.
TAYLOR: Right.
KNAC.COM: So, I can understand that. I can honestly say that I don't think that I've ever experienced any type of violent show to that nature. How did that happen? Was it just a fight that broke out during the show and then it just spiraled out of control afterwards?
TAYLOR: No. There was an issue with the barricades that separated the VIP section from the GA section and it broke because the fans were pushing on them so much. The barricade broke and the fans started swarming towards the front of the stage. Just in droves because nothing was separating them between the two areas. So, they just started trampling over the barricades, everybody was rushing to the front of the stage. At that point, it was a security breach, a security issue, and they were trying to fix the barricades to get things back in order, and they weren't able to do it in time. The real trouble began when time was just going by and the crowd didn't really have an idea about what was happening, everything just kinda felt uneasy and they weren't sure if the show was gonna continue, and then when everybody had decided that it was possibly a little too dangerous to keep the show going at that point, people were just getting really tired of waiting and not knowing why they were waiting. They were drinking more and they were just getting a little more reckless and uneasy, and it just didn't feel right. So, they stopped the show completely and whoever it was had just announced to the crowd that the show was not gonna be continuing, and then all hell just broke loose at that point.
KNAC.COM: Oh
TAYLOR: I should say that it wasn't the majority of the concertgoers. I think there were some people that got into the concert that didn't even have tickets to it that were kinda causing a majority of the destruction. But most of the people left and by no means is that a representation of the people of Mexico City. I think most of the majority of the fans were really bummed out and they left and they want to come back to another show. But, unfortunately sometimes a small, very vocal, destructive minority will just ruin it for everybody.
KNAC.COM: Yeah, I see what you mean. Because sometimes I do volunteer work at festivals myself whenever I'm not doing my regular 9-5 government job. But I've worked crowd control in the past at festivals such as Bluesfest in my hometown. I've even worked a few football games like in the CFL, for example.
TAYLOR: Right.
KNAC.COM: And, usually, how I describe my job is babysitting 15,000 people all at once.
TAYLOR: Right.
KNAC.COM: Which is, I don't know if that's like the proper way of putting it, but it's kinda like the most accurate in that sense, and it sounds like something similar to what had taken place in Mexico City. There probably wasn't that much proper "babysitting" but really it sounded like there was more of a security issue if people were coming in without tickets and were just there to kinda create the whole mayhem.
TAYLOR: Yeah. Exactly.
KNAC.COM: So, with Mexico City, has there been a date as to when you can return to the city and be able to honor that show?
TAYLOR: We don't have anything on the books right now, but we're definitely trying to get back there, so we'll be on the lookout for an opportunity very soon.
KNAC.COM: Okay. Good to hear. So, I'm gonna try and almost wrap up the interview here, but I just wanted to ask you: What would be the CHERRY BOMBS' favorite warm-up song to get the mood going, for those of us not really familiar with the CHERRY BOMBS' live performance?
TAYLOR: *ponders question* We don't really have like a specific song. We kinda just play whatever. It's either gonna be really hard rock, or metal, or it's gonna be like hip-hop or rap. We go from one to the other. We love 'em good. We love a party feature act. We're not afraid of that and we have a lot of fun with it, but it's either one or the other. We go from one extreme to the next.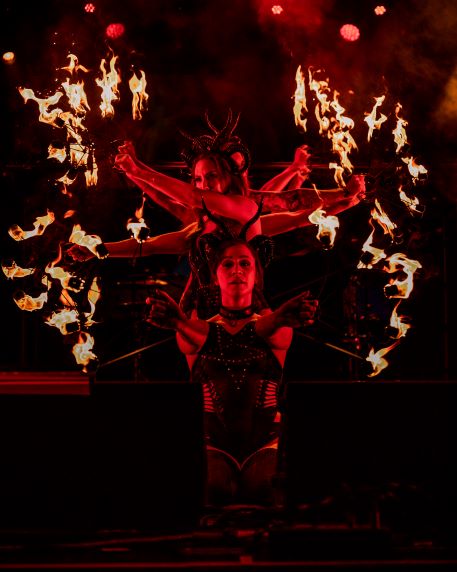 KNAC.COM: I understand that the CHERRY BOMBS are also involved in some sort of charity work. There's a sock company called Cru Sox, which, I believe, that you've gone into business with and helped develop a different type of sock – a one of a kind high-quality sock, I believe, if you could tell me a bit more about that.
TAYLOR: Cru Sox is a sock company based out of Las Vegas, Nevada, and they have these great socks with all different kinds of designs and their whole thing is that they give back to their community, So, if you purchase socks from them, they donate a pair or two to those in need depending on how many you buy. And they approached me and asked about a partnership with CHERRY BOMBS. They were interested in helping us create a CHERRY BOMBS sock, and then we would have the opportunity to also give back and donate to those in need if we wanted to. So, I thought that it was a great idea and that it was brilliant; we'd never offered any merchandise item like a sock before, so I got to design it and I made it to kinda have this old-school kinda hockey kinda skater sock vibe, and on the bottom, it says "ROCK' under one foot and "ROLL" under the other. I get to have a little fun with it. Every pair that our fans buy either at our show or through our meet and greet package or online, we donate a pair to the Nevada Homeless Alliance, and that's an umbrella company that distributes the socks to smaller organizations within Nevada to donate to the homeless in our communities. It just feels good to give back and give back to our community.
KNAC.COM: Wow, that's pretty interesting, helping to curb homelessness pretty much one foot at a time, so to speak.
TAYLOR: HA! That's nice! I like that! *laughs and checks time* I'd love to chat more, but I actually gotta get to loading for the show tonight.
KNAC.COM: That's cool. Best of luck on your performance tonight, and as far as I know, Larry (Petro, Managing Editor) said that he's hoping to find someone from KNAC's Houston department or someone in the Houston area where he's based to maybe cover one of the Texas shows.
TAYLOR: That's rad. Take care of yourself and be safe up there.
KNAC.COM: You too. Thank you so much for this opportunity and best of luck to you and have a great show tonight.
TAYLOR: Thank you!
https://www.cherrybombs.co/
https://www.tiktok.com/@cherrybombsofficial
https://www.facebook.com/cherrybombsofficial
https://twitter.com/cherrybombsrock
https://www.youtube.com/c/CherryBombs
https://www.instagram.com/cherrybombsofficial
https://www.crusox.com/