Photo Credit: Francesco Desmaele
NILE is a staple of the American death metal scene and they have just signed a world-wide deal with Napalm Records and new music is imminent; but what have they been doing during the pandemic and since their last album, Vile Nilotic Rites? These South Carolina based metal heads are working on something that will blow fans away, but until then they have embarked on a massive tour and are keeping fans in baited anticipation of what will be new for 2022.
Born in in Greenville, South Carolina in 1993, the band focused on themes of Egyptology and stories by H.P. Lovecraft to create a different type of concept album. Since that time, they have released nine studio albums and various compilations and singles. They are known for their dark, historical imagery and no other band does what they do. While the band name is truly taken from the Nile river, it fit what they are trying to portray in their music. Wholly versatile in their musical catalog the band has toured with a variety of acts that range from SUICIDE SILENCE, to OMNIUM GATHERUM, and even had a spot on the ever popular Ozzfest in 2007. As of press time there is no new music to be heard as the band is still making up time from COVID restricted travel that cut into their initial tour to support Vile Nilotic Rites.
The band has had some lineup changes over the years but now they have a solid core that seems to work for them. "We still have George Kollias on drums, and he's been here 18 years," says the group's mastermind, Karl Sanders. "Brad Parris is playing bass and of course there is Brian (Kingsland) and myself. Bands have changes and we have been able to keep a good core. Due to some personal time off with his new baby, Brian will be replaced for the tour by Scott Eames, who we know well and have worked with before."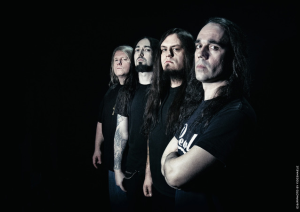 "We're still promoting the last record because of the pandemic and we had to make some decisions about touring, so we are just now getting out for this," Sanders said. "You know that tour cycle got completely interrupted. We were well actually out on the road when it happened and had to pack up and go home. We were scheduled to go to Australia New Zealand and Japan. Of course we had to keep checking on the planning and it turned out that if you did travel and you got stranded there was really no help for you. We talked several times with the Japanese consulate to make sure we were up to date but ultimately we had to postpone any trips."
Of course the band are seasoned professionals who started their journey in the early 1990's and have now come full circle with a new deal, future music and they are enthusiastic about the next steps. While the band has had a good relationship with former label Nuclear Blast, they wanted to move forward with a smaller independent label like Napalm Records.
"Napalm is a very independent minded kind of company that seems like a good fit for us; so we said yeah, let's do it and we will be working on more of the new music soon. Our last album, Vile Nilotic Rites, was on Nuclear Blast but the company has changed and they are now part of a large French conglomerate and it didn't feel like the right place for us anymore. They always treated us very well and we are grateful for our time with them, but we needed something new that understood what we, as a band, wanted to do," Sanders said.
At the time of our interview the band was hitting the road with INCANTATION, I AM, and SANGUISUGABOGG for the Age of Vile Divinities tour. "We won't be playing anything that will be on our next album because we really are supporting the last release. So many bands are doing the same thing; they got put on hold just like we did."
However, the band assures us that they will be moving forward not just with new music but also with shows to replace those they missed in other countries. While COVID restrictions may have hurt touring, the fact that social media is so alive has made sure that bands can stay in touch with fans and remain relevant.
"Yeah, I don't wanna give away too much too soon, but we've got quite a few songs in the works. We've even got a title we're kicking around but I can't give it away yet," Sanders said. "I don't know they may just be confused so we are waiting. Of course, with social media it's so much easier than back in the day when we didn't have something like that to rely on. We can always continue to promote tours and new music that way."
With that said, the band has a hefty following on most platforms and their digitized music gets a lot of play, but for many metal veterans, digital music may be a bit controversial. Beginning their career in a time before internet when you listed to a tape or CD, and you found out about shows via magazine or a flyer left on your car, the idea that pushing a button that immediately gives you music is still somewhat a foreign concept.
"The metal underground used consist of people sending each other tapes and CDs; that's exactly what I did so the underground was TRULY underground," he said "It actually, you know, took quite a bit of effort, whereas nowadays you just click on something and you have access to 10,000 bands from anywhere on this planet. It's easy for the fans nowadays to find these but we built a following before there was an Internet. I have a lot of mixed emotions about that, but I think all in all I'd still rather have that CD and put it in the car! Every once in awhile I do walk down my hallway where all my CDs are and I see them and think, when was the last time I actually played these 'cause I ripped them all to my hard drive? It's hard sometimes because not everything you may have is offered in a format other than the one you bought. The other downside to digital music platforms is that you don't get paid much but it gets the music out there. Vinyl is also making a comeback so we have several formats that fans will enjoy."
Future touring after a solid U.S tour that has filled up February and March may take the band back to the places they had to cancel because of COVID, and they have a date at Sweden Rock and Monterrey Metal Fest; and perhaps more of the summer festival circuit based on recording and other commitments.
"We are still working on perhaps a European or South American leg of this tour and then we get ready to record. We want to maximize the last album as much as we can because no one got to see us. I feel like we just woke up from a two year coma and we are anxious to get back to work. NILE is still alive and well because we're lifers. This wasn't something that we did on whim or fly-by-night. This was something we chose as a way of life and we were serious about it and I think our history reflects that," Sanders said. "When you're serious about what you do, you're in it for life."
Until we can finally hear what they are working on that will be out to fans worldwide via Napalm Records, let's make sure to get to some shows, buy some music and help support the band as they have been so excited to finally see all of us. Updates will be found on their social media pages and via KNAC.COM.