Live Photo By Larry Petro/Petrofyed Photography
"I think this is a perfect opportunity to give something back to the old fans and share some of my past with the new fans", says frontman RON KEEL about the recently released KEELED EP which he had released via his own imprint RFK Media. KNAC.COM caught up with the singer on 2.16.22 hot on the heels of the KEELED release which was released on 2.4.22. He goes on to say, "I think these songs deserve a second chance and I think we've done them justice. We [RKB] perform at biker rallies and festivals to people that might not be familiar with stuff I did 30-35 years ago. I'm not afraid to perform "The Right To Rock" or "Tears Of Fire", but I have to follow that up with something that they do know. We played at a festival in Minnesota recently. We were booked for the 'rock' night which was on a Wednesday. I saw that DWIGHT YOAKHAM was playing Friday night. I asked if we could open for him that night if we did something that would work for that audience. They bit! So, Wednesday RKB did an all KEEL set then Friday when we played the 'country' night we did all the southern rock stuff that you heard on South X South Dakota". Ron loves the versatility of RKB, which reminds him of the old days with KEEL, "When we [KEEL] used to open for METALLICA we'd play stuff like "Speed Demon", "No Pain No Gain", heavier stuff like that. If we were opening for BON JOVI you'd hear stuff like "Cherry Lane", "Tears Of Fire", and "Because The Night". Ron and the guys will be perfroming at the Rocktember Music Festival in September of 2022 with the likes of TOM KEIFER, STEPHEN PEARCY, JACKYL, WINGER, QUIET RIOT and more. Please click on the links at the end of the interview for more information on all things KEEL, RON KEEL BAND, RFK Media and Rocktember Music Festival.
KNAC.COM: Keeled by the RON KEEL BAND gave you an opportunity to revisit your past.
KEEL: Yeah, it sure did. Back when I formed RON KEEL BAND, we didn't have any original songs. I wanted to get the guys in the studio and we did and released the debut album Fight Like A Band in 2019. We had "Here Today, Gone Tomorrow", which was a KEEL fan favorite from The Final Frontier album. I'd say that was one of the first, really good hard rock songs that I wrote. That RON KEEL BAND version that you hear on Keeled was recorded for a charity album which didn't materialize. I had that available so I put it on the EP. There's also a live version of "Calm Before The Storm" on there, that was the first song, from the first night from our first tour of Australia. We had to use that! Keeled is a 'pilot' project for the new label. I felt that all these songs needed to be heard and they are such a huge part of my past. Those songs are part of my DNA and those songs make me who I am. A lot of our new fans weren't even alive in the 80s when those songs came out! RON KEEL BAND has new fans who don't know KEEL music.
KNAC.COM: I was familiar with the origins of some of the songs that make the KEELED EP. I was not aware of "Here Today, Gone Tomorrow" being part of a charity album compilation. You mentioned "Calm Before The Storm", that's a great tune. You mentioned that's 'live' from Australia. How far back does that song go?
KEEL: That's from 2020! I was one of the few that were out during that time. I was able to go to Australia to do some shows before they closed the door and shut down everything. I got back from Australia and a week later there was a travel ban. We got back home right under the wire. To be able to do that tour was a dream come true for me. That was the first song of the first night of the first tour. It's honest, it's real. The Australian fans welcomed me with open arms. I can't say enough about those shows. I don't know that we'll ever go back. Not because we don't want to, but the way things are these days, you just don't know…
KNAC.COM: Any touch-ups on that song?
KEEL: No. I recorded that on a portable TASCAM recorder. I do my radio show remotely and carry that with me when I'm out doing shows. I did my radio show while I was in Australia and I'd do it in my hotel room. The recording unit goes everywhere with me. If you can believe this, all I did was hit record and put the unit on the stage, near the monitor in front of me and we started the show. It is raw, very real and very live.
KNAC.COM: The last time we chatted, you were promoting the South X South Dakota record [2020]. You and RKB tackled some southern rock favorites. The response was excellent. Is there a chance we might hear a second installment?
KEEL: The response was incredible! We have a long list of songs that we'd like to record. We're set up right now and recording KEEL, RON KEEL BAND, STEELER, IRON HORSE, FAIR GAME. All of my bands and projects from throughout my career. It will be called KEEL World. They are NOT unreleased tunes, there are brand new recordings which I will be working on with all these different bands on. During the course of this process, which is extremely complicated and challenging, it would be awesome to get together with RKB for a couple of days and throw down some more southern rock classics. So it is probable that you could see South X South Dakota II. I like to record in a 'real' studio. I don't record at home. I like to get into a 'real' studio with 'real' gear and a 'real' engineer. There's something about being inside a big room and capturing it as it happens.
KNAC.COM: Ron, so for clarification KEEL World will be a collection of brand new tunes of the bands of the RON KEEL history?
KEEL: That's correct! You nailed the nail right on the head Ruben! It's an album of a lifetime. The plan is to record the album and release it in January of 2023. We will be recording off and on over during the year as often as we can. We have a couple of KEEL songs which are the first KEEL songs that have been written since the sessions for The Streets Of Rock & Roll. I worked on them with MARC FERRARI. As I mentioned, there will also be new music by FAIR GAME, STEELER, IRON HORSE and the glue that will hold everything together will be RKB. This is a once in a lifetime opportunity for me. I can still physically, vocally deliver an album like this. I don't want to wait 3-4 years. I want to do it now because I can. I'm in my 60s. I don't know how much longer I will be able to belt out the KEEL and STEELER stuff. Time is ticking and I'm moving all of my chips to the center of the table, so to speak. The great thing is that I'm on good terms with all the people in the bands that I'm working with. There's a couple of guys in STEELER that I don't talk to but everyone else I'm in touch with and on speaking terms.
KNAC.COM: On South X South Dakota you tackled a LYNYRD SKYNYRD recent fan favorite, "Red, White And Blue". Do you know if the SKYNYRD guys heard the song? If so, what did they say about it?
KEEL: That's a good question. I'm a 'control freak', being that I'm the 'hands on' guy that I am, I handle all of the merchandise orders myself. So, everything that you order on RONKEEL.COM I will process and mail out myself. Having said that, I did process and mail an order of the album to JOHNNY VAN ZANDT. I hope they liked it, because it came from a place of respect. I'm a huge SKYNYRD fan but I'm really a big fan of the RICKEY MEDLOCKE era of the band since they reformed. I love Edge Of Forever and the last studio album Last Of A Dying Breed. One of my favorite live albums and certainly a pivotal one is their live record One More From The Road, that was always near my turntable right next to KISS' Destroyer and JUDAS PRIEST's Hell Bent For Leather. When it came down to covering a SKYNYRD song I didn't want to do "Gimme Three Steps" or "Freebird", those songs are sacred ground. I didn't want to trample all over them. We were already doing "Red, White And Blue" in the set already, oftentimes people didn't even realize that it was a SKYNYRD song! When it came down to recording South X South Dakota, it was low hanging fruit because we were already doing it in the set and were comfortable performing it.
KNAC.COM: Streets Of Rock & Roll, was released via Frontiers in 2010. Incredible album. It received critical acclaim from the media and fans alike. When I spoke with you prior to the release of South X South Dakota, you were happy with the reception, but it sounded like you might have been a little discouraged by Frontiers promotion of the album. Is that correct?
KEEL: No. I stand by that album. I think that Frontiers did a fine job promoting the album. My only disappointment was that Streets of Rock & Roll IS the best work KEEL has even done. You'll never outlive your classic material. I might even say that it's not so much 'disappointment' but 'reality'. I'm even getting that with this KEELED EP. I was prepared for some blow-back from some of the fans. The response has been incredible and accepting of these versions, but there's people that have a different opinion and that's fine. There's people that prefer the originals and that is what they like. The Streets Of Rock & Roll was such a vocal investment, the songs and the performances were spot on. I think Frontiers did a great job with that album. They even invited us to Milan [Italy] to perform at their festival which was a great experience. So, long story short, I wish that it would get mentioned in the same breath as our 80s releases because it's that good. We didn't reinvent the wheel, those are 80s anthem, rock and roll songs.
KNAC.COM: On the South X South Dakota album you did a live CCR Medley and on the KEELED EP you did a medley of "Because The Night" and "Somebody's Waiting". What inspired you to do a studio recording of a KEEL medley?
KEEL: When we first started touring in 2014 with RKB we were often the opening band. We were given a 45 minute set. We'd do a KEEL medley which would include "Because The Night", "Somebody's Waiting", "Tears Of Fire", "The Right To Rock", and "Rock And Roll Outlaw". So, that's how those two songs were portrayed in the show. When I took the band into the studio we just did what we do live. "The Right To Rock" and "Tears Of Fire" are always full versions, I'm not going to slice those up. "Because The Night" and "Somebody's Waiting" worked really well with the key change and the transition out of "Because The Night" into "Somebody's Waiting". I thought, if it worked great live then it might work as a recorded version. We loved how it turned out and we loved the transition between the two songs.
KNAC.COM: Back when you were recording The Final Frontier, who suggested that KEEL cover "Because The Night" and was it well received?
KEEL: Well, it was well received until it was released! [laughs] GENE SIMMONS ruled The Right To Rock [album] sessions with an iron hand. That album was top to bottom Gene and what he wanted to do and what he wanted KEEL to sound like. When we went back into the studio the following year, Gene trusted my vision. He let me make the album that I wanted to make, which ended up being The Final Frontier. On previous albums we had recorded a cover and we wanted to keep that tradition alive. I had the first prediction meeting with Gene. I remember going over to his house, I had recorded a demo of "Because The Night". I liked the song. I heard a version KEELIZED in my head. I felt it was perfect for us. It was powerful, we could throw some power chords on it and it had this anthemic chorus. I thought it was a really good song for us to cover. I was at Gene's house and I had my cassette demo with me. One of the first things that came up was what we'd be doing for a cover song for the next album. Gene had recorded a demo of the SONNY AND CHER classic "The Beat Goes On". As you know Gene and Cher were a couple for a while and I think there was still this deep love for her and there probably always will be. So Gene played the demo of "The Beat Goes On", it was pretty cool it had this rockin' groove to it. He was like, "That's a really powerful message. I think it will work for you". I said, "It would. You have to listen to what I've got, listen to this". He sat there and listened to the demo and he loved the idea and loved my treatment and he decided that we should include "Because The Night". So, when we recorded the album, that's when things went sideways. While I loved the song, I was adamant that it was not going to be the first single off the album. You can't release a cover song that's more like a ballad as your first single! We're following "The Right To Rock", we have to give 'em a rock and roll anthem! We fought hard to NOT have that song released as the first single. Our label MCA [Records] was adamant that it was going to be the first single because it was a hit. I was an 'unproven' artist, being that this was our first album with MCA. They were spending millions of dollars on the album and a video and they had the final say. Unfortunately, the fans got the impression based on that song as the first single that KEEL was trying to be something that we weren't but that wasn't the case. What can you do? The scars and wounds have healed from that and I embrace that song and play it gladly live for the fans, as it has a place in my history.
KNAC.COM: For the follow up album KEEL you worked with MICHAEL WAGNER. Was a cover considered for that album?
KEEL: There was. In fact we recorded a cover of "Hold Your Head Up" by ARGENT. We made a demo of it. It was one of those songs that I've always wanted to cover. It didn't make the cut for the album. The demo is on KEEL IV: Back In Action, which is now available on vinyl. I really wanted to continue with the tradition of doing a cover on every album, but I think what happened with "Because The Night" scared us a little bit. I was 'gun shy'.
KNAC.COM: You mentioned the KEEL World release that is in the works, does that open up the opportunity for another KEEL Fest?
KEEL: Thanks for asking! We did KEEL Fest a few years ago, it was RKB, STEELER and KEEL. All three bands performed. It was three hours without an intermission! I think the only reason that we haven't had another already is because of the pandemic. The plan is to have another KEEL Fest to commemorate the release of KEEL World. I want to keep that tradition alive. My vision is to have one or more events every year, obviously 2020 had other plans. Even today, you're seeing a lot of postponements and cancellations. My plan, my hope, my goal is to have KEEL Fest II on January 28th 2023, which will also serve as an album release party, in Las Vegas!
KNAC.COM: A few years ago you put out the sketch of the artist rendition of the KEEL album cover. It was the band looking like superheroes in what looked like the fortress of solitude. You didn't use that idea and went with the band photograph. What's the story behind that?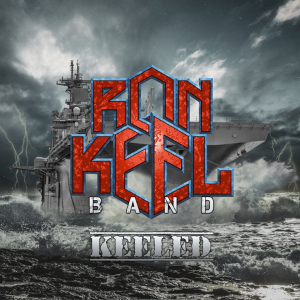 KEEL: That was an idea. It wasn't going to be the cover. It was an artist's rendition just like you said. I don't talk about this often but for you and KNAC I'll do it! [laughs] This will link the KEEL and The Final Frontier album cover stories together. So, I received the final draft of The Final Frontier artwork. It was fantastic! Back then, it was all done by hand by the artist. I was very excited about the cover! I received the bill. It was our first album for MCA. I looked at the bill for the artwork and I just about lost it! I went to Gene and I said, "Gene, I'm going to need your help. I got the bill for the album cover artwork and it's $15,000! I need your help." So Gene walks into the office of MCA Records with the actual artwork print of The Final Frontier cover, which was huge. So there they were in a conference room with all the 'big wigs' from the label. GENE SIMMONS and I walk into the conference room. Gene puts the artwork up on a stand, he pulls the cloth away from it, revealing the album cover. Gene then says, "This is your album cover and it's going to cost you $15,000". And they say, "Okay". [laughs] It was unbelievable! So, fast forward to the following year, it's 1987. This time, we're like, "No more of that shit! Let's just get a picture of the band". We were on MCA and we were labelmates with GEORGE STRAIT. If you look at his album covers they were all pretty simple. It was George on the cover. How much could that possibly cost? They didn't seem to spend any money on those album covers. So for the KEEL album cover, we went with the band in stage clothes, we were on risers with this background that looked like it was out of Superman's Fortress Of Solitude. So I got my way on that. I was happy I figured we'd save some money. Then I got the bill…
KNAC.COM: How much?
KEEL: $15,000.00! [laughs]
Ron Keel Official:
https://ronkeel.com
RFK Media:
https://rfkmedia.com
Rocktember Music Festival:
www.rocktember.net