Canadian power metal quartet LYCANTHRO are pleased to debut their music video for their lead single off their newest album Mark of The Wolf.

The single "Crucible" was the first song written for the band and it was on the 2017 demo, but was deemed worthy of re-recording and ultimately a video. The main thematic elements of the song come from the classic book The Crucible by Arthur Miller. James Delbridge (vocals/guitars) explains in further detail:

"I wrote this song back when I was in high school, I actually wrote the lyrics of this song while I was in English class instead of doing my school work. The story of The Crucible really fascinated me and I felt as though it would translate perfectly into a metal song. There are also references to other witchcraft stories such as William Shakespeare's Macbeth. In terms of the music, I was aiming for a kind of a JUDAS PRIEST meets DEATH vibe and I think that got pulled off on this track."

"Crucible" is one of the heaviest and darkest tracks musically in LYCANTHRO's catalog and it will bring the listener on a journey through the times of the witch trials in an epic and evil way!

Making music that is memorable for fans is the key driving factor behind LYCANTHRO and it is evident in their stage show, on their recording, and in their videos. They effortlessly bring to you the epic sounds and catchiness of power metal while still being heavy.

The album is a diverse listening experience with something for just about everyone who likes the realms of thrash and power metal and even a bit of prog. It is highly recommended for fans of SAXON, BLIND GUARDIAN, and JUDAS PRIEST.

Filmed and directed by Joe Lyko of Dark Moon Productions, "Crucible" can be watched on KNAC.COM HERE.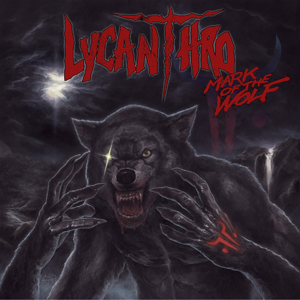 Mark of the Wolf was recorded at Wolf Lake Studios in Lac-des-Loups, Quebec and the mastering was done by Jack Kosto who is most well-known for being the lead guitarist in power metal band SEVEN SPIRES.
The album was released on June 4, 2021 via Alone Records.
Album order available on Bandcamp and Big Cartel.
Digital (Spotify).
Track Listing:​
"Crucible"
"Fallen Angels Prayer"
"Mark of The Wolf"
"Enchantress"
"In Metal We Trust"
"Into Oblivion"
"Ride the Dragon"
"Evangelion"