Carl Canedy is a drummer of legendary status. For years, people have known him from the veteran New York heavy metal band THE RODS, which is fronted by Lead Singer/Guitarist David Rock Feinstein, who was the cousin of the late, great, legendary Ronnie James Dio. THE RODS have continued to have a cult following, with the band never breaking out in a huge way and seeing mainstream success like other metal giants such as BLACK SABBATH, IRON MAIDEN, or METALLICA but they really should have! We're not here to talk about THE RODS today but it's important to mention them here because today's interview is with THE RODS' drummer Carl Canedy, the drummer and backbeat of THE RODS all these years. 2021 saw the release of THE 450s' self titled album which features Carl Canedy as the drummer. In this exclusive KNAC.COM interview Carl talks about the new band THE 450s, the band's debut album, and all that went into the making of the album that was released at the very end of 2021. Carl also discussed the band's plans for the future.

KNAC.COM: Hello Carl and thanks for doing this interview for KNAC.COM. To many people like myself who have followed you over the years know you from THE RODS, but today we're talking about a new band you are a part of called THE 450s. After listening to the band's self-titled CD, it was quite clear that THE 450s sound nothing like THE RODS. I guess that would be part of the desire to get involved in a project like this being that at this point if you're going to be part of another band you'd want it to be different from THE RODS?

CANEDY: THE 450s was an opportunity to work with long time friends whom I respected and had worked with as both a producer and manager.

KNAC.COM: How did you first get involved with THE 450s?

CANEDY: Bob Jacobs, the executive producer, contacted me about doing a project with his brother Jim and Rhett. It was something that really interested me. Jim and Bob had been in ST. JAMES and Rhett was in YOUNG TURK. It was an interesting concept because Rhett is an artist who is all about feel and what works for him. The Jacobs brothers are more workman like. It was something I knew would either work amazingly well or would be a total fail. Fortunately itís been a big win.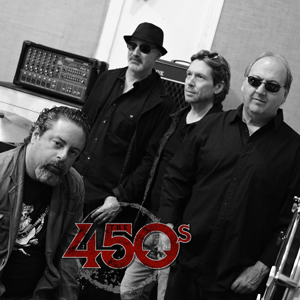 KNAC.COM: How did the band come up with the name THE 450s?
CANEDY: I always love this question. We had all tossed around names and I believe Rhett came up with the name. I believe itís a bit of a secret as to the meaning.
KNAC.COM: One thing I really enjoyed about debut CD is that not only does every single song on the CD really stand out but I can honestly say that the band has a really fresh, original sound and that none of the songs sound like any other band I've heard before. I mean nobody can accuse THE 450s of being a clone band of any band that came before. Did you have that feel yourself Carl as the album was being recorded and is that something that the band set out to accomplish?
CANEDY: I believe that the music is the result of our different approaches with a common goal to record an album we all loved. I definitely felt it when we recorded. We were all in the same room, along with Ryan Sambrook, the keyboard player, and we all could feel it coming together. I really enjoyed the process.
KNAC.COM: How do you feel about bassist Robert Jacobs and yourself working as a rhythm section?
CANEDY: Bob and I locked in perfectly. What you hear on the album is us playing live together. You can hear how locked in we are. We didnít use any digital tools, cut and paste etc., to create these tracks.
KNAC.COM: The band really seems to be on fire and comes alive on the debut CD. Carl, how much fun was it for you working with the rest of the guys in the band and helping to create what is now the sound of THE 450s?
CANEDY: I have been recording almost exclusively by remote. To be in a room with the band recording was a fantastic experience. One Iíd love to do again on the next album.
KNAC.COM: If it's even possible, pick a few of your favorite songs on the album?
CANEDY: Itís really tough because I love them all. "Flowers For Columbine", "Black Tar", "Lucy", "Gracie", "Drown", hahaha I can name them all.
KNAC.COM: What tracks on the album do you feel are really the highlights of your drumming?
CANEDY: I love my tracks on "Black Tar" and "Lust And Denial".
KNAC.COM: I must say that I really think people are going to enjoy hearing the vocals because Rhett really is quite a unique and talented singer. Rhett really makes each and every single track come to life, as he's a very emotive singer in that he puts every single bit of his heart and soul into each lyric as he sings! How impressed are you with Rhett as a singer?
CANEDY: Rhett always sings with passion and commitment. I also love his voice. He kills it every time out! Heís one of the best singers Iíve ever worked with. That is no diss to any of the great singers Iíve produced and/or worked with.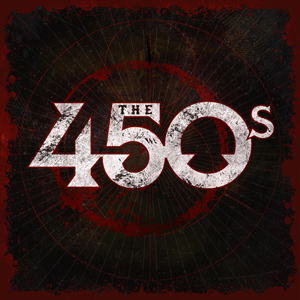 KNAC.COM: In addition to the vocals, the songwriting really shines throughout the album. Was everyone in the band involved with the songwriting process?
CANEDY: It was almost exclusively Rhett and Jim.
KNAC.COM: Any current or future plans to tour behind the album?
CANEDY: We would love to tour or do some festival dates. Covid is totally in charge at the moment.
KNAC.COM: Is there something that really stands out or a special memory you have from the recording of the CD that you'd like to share with the fans?
CANEDY: The camaraderie of working with my longtime friends and hanging out in Miami at a beautiful condo overlooking Biscayne Bay. There isnít much to complain about when the sessions are going well and weather is perfect.
Jason, thank you for the kind words and insightful questions. We truly appreciate your support!