Now I'm sure that to many people reading this interview that there's a pretty good chance that you've never heard of the band DAWN AFTER DARK and that's a real shame because DAWN AFTER DARK is a band that was formed back in 1986 and the band remained active until 1989. DAWN AFTER DARK was not heard from again until 2019, when they performed live for the first time in 30 years and they were very surprised to see the response they got at that first show.

DAWN AFTER DARK is a band that really should have been much bigger than they were and I'm so happy to see that it appears as though the band is getting a 2nd chance at their career. In this exclusive interview with KNAC.COM, DWN AFTER DARK Lead Singer Howard "Hojo" Johnson gets into a little of his own history and talks a little bit about what he did before forming DAWN AFTER DARK, talks in detail about the band's future and lets fans know what they can expect from the band going forward.

KNAC.COM: Hello and welcome to KNAC.COM Howard. I'd like to thank you for taking to me out of your very busy schedule to do this interview. I was very interested to learn that in the 80's you were a writer at Kerrang! magazine. Could you share with us how that opportunity came your way and what do you remember from your time working there?

JOHNSON: I was lucky. In 1981 there was a journalists strike and the UK music papers were affected. One or two strike breakers were left putting mags out pretty much without staff. I'd been producing my own metal fanzine at the time and had managed to pitch to one of the big music titles, Sounds, and get my first story published just as the strike took hold. I was 17. I got a call from a guy called Alf Martin, who was editing the recently launched Kerrang! He was desperate for content so he asked if I'd done any interviews for my fanzine. I told him I had three pieces and he said he thought he could use all of them. I couldn't believe it was that easy. Alf liked the pieces, invited me down to London to discuss working for Kerrang!, and a few days later I was on the road with Sammy Hagar. Almost Famous really was my life.

KNAC.COM: How many years did you work at Kerrang! and who were some of your favorite bands that you had the opportunity to cover?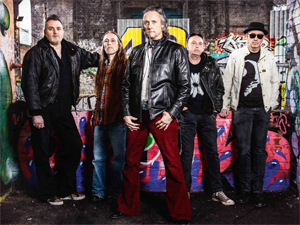 JOHNSON: I worked for Kerrang! as a freelancer for nine years, but never joined the staff. I was at a university in Birmingham for four of those years and then stayed in the city to start DAWN AFTER DARK. But I did lots of work for Kerrang! throughout that time. I was out all the time with IRON MAIDEN, who are great guys and I still talk to them today from time to time. I also loved working with THE CULT, because Billy Duffy grew up a few miles from me in Manchester, so there was a bit of a bond between us.
KNAC.COM: We talked a little bit about you being a writer at Kerrang! so I have to ask the question, did you always have the desire to become a singer and play in a band or did your interest in playing in a band come from your working at Kerrang!?
JOHNSON: I was probably too young to think about playing in bands when I was 17. Making music always seemed like some weird, unattainable alchemy. But I guess once I started to work with groups I gradually started to realize that it was something regular people could aspire to. So indirectly working at Kerrang! made me aspire to make music myself, yes.
KNAC.COM: What led to you leaving Kerrang! and was DAWN AFTER DARK the first band you were with after you stopped working there?
JOHNSON: It happened the other way around. I was in DAWN AFTER DARK while I was working for Kerrang!. I first hooked up with the other guys in '85 and we were gigging by '86. When I got kicked out of the band at the tail end of '89 I decided to move to London to work for Rod Smallwood and IRON MAIDEN's management team. I carried on freelancing for a bit, but then got poached by Metal Hammer. They offered me more money!
KNAC.COM: DAWN AFTER DARK is from Birmingham, England which is where BLACK SABBATH came from. With that being said, I have to ask if BLACK SABBATH had any kind of influence on you when you were growing up?
JOHNSON: I was too young to follow SABBATH in the Ozzy years, but remember hearing the Heaven And Hell album in 1980 while I was still at school. I thought it was incredible, so then went backwards to check out the Ozzy era. I have to say the Ozzy period is now my favourite. Band-wise there's not much of SABBATH's sound in DAWN AFTER DARK, just the odd doomy chord!
KNAC.COM: The band was signed to Chapter 22 originally and I understand released 3 EPs. Are those EPs still in print?
JOHNSON: Nope. They change hands on eBay for decent amounts of money these days. But when we recorded our debut album last year we re-recorded the three A-sides – "Crystal High", "The Groove" and "Maximum Overdrive" – at the request of our fans.
KNAC.COM: The band's initial run was from 1986-1989 and then in 1989 the band all of a sudden imploded. What led to the band's sudden breakup after only a few years together?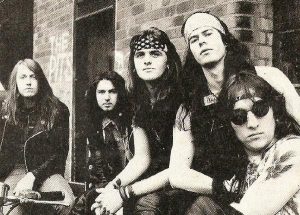 JOHNSON: The usual bullshit of arguing about money that didn't even exist. We were close to being offered a publishing deal and we couldn't agree on what the splits should be. I felt I was contributing more than some others. They didn't see it that way, and the numbers won out. I was told I was out.
KNAC.COM: Could you tell the story of how you came to name the band DAWN AFTER DARK?
JOHNSON: The alternative scene and the rock scene were starting to come closer and closer together in the UK in the mid to late '80s. I liked both scenes, but didn't want to be seen as gloomy, as a lot of the goth bands were back then. I wanted us to play like a hard rock band that liked alternative music. The name was there to signify that we weren't all doom, gloom and looking at our shoes. Lots of our artwork was and still is orange to signify the bright warmth of the sun, not the cold and dark of the moon.
KNAC.COM: In 1989 as I mentioned, the band all of a sudden imploded and then would not be heard from again until September 27th, 2019 which was when the band played live for the first time in 30 years. What led to the band getting back together after being apart for 30 years?
JOHNSON: I had no intention of playing in DAWN AFTER DARK again. It had been such a long time! I'd made my peace with the band's original drummer Tony Henderson sometime around 2006 and we'd become great friends. We even recorded some old songs for fun in 2008 without ever intending to release them. Then in 2019 a guy called Dean Brown contacted me. He now owns Chapter 22, which was our original label, and also promotes gigs. He told me he was putting a show together with BALAAM AND THE ANGEL, who were great mates of ours from back in the day. We often toured together and BALAAM were signed to Chapter 22 before they got a major deal with Virgin. Dean wanted us as special guests on the show and after a bit of thought we decided to do it. We didn't know what to expect, but on the day there were loads of old fans at the show wearing DAWN AFTER DARK t-shirts. We had such fun and it went down so well that Dean asked if we'd be interested in recording an album for Chapter 22. It was a no brainer.
KNAC.COM: I understand that the band has re-signed once again with Chapter 22 records. Talk about the decision to re-sign with them rather than look for a deal somewhere else?
JOHNSON: Chapter 22 really wanted us because of our shared history and because Dean is a huge fan of the band. We didn't look for any other label, and given the state of the music business it's not sure we would have found one. We love being on Chapter 22. Dean is always 100 percent behind DAWN AFTER DARK.
KNAC.COM: The band recently released a new single which was a remake of the band's classic song "Maximum Overdrive". Why after 30 years of inactivity did the band re-record an old song rather than return with an all-new song?
JOHNSON: Before we recorded the album we asked our fan base whether they wanted new recordings of old songs as well as stuff that had never been released before. They were adamant that the three singles should be on the album. We were happy with that because recording technology has come on so much since the '80s that we knew we could make those songs sounds a hundred times better. I don't think we were wrong!
KNAC.COM: I understand that the new version of "Maximum Overdrive" is being offered as a free download to the fans on the band's official website. Talk a little bit about the decision to do that.
JOHNSON: It is simply so that people can hear the band. There's so much noise out there these days that it's hard to break through. Offering the song for free means more people listen to the band. So if anyone wants it they can go to www.thedawners.com and enjoy.
KNAC.COM: The original version of "Maximum Overdrive" was produced by AC/DC Guitarist Stevie Young. How did DAWN AFTER DARK first hook up with him?
JOHNSON: Stevie used to run a rehearsal place in Birmingham. We started rehearsing there and got to know Stevie in 1987, just before he was called to go off on tour with AC/DC when Malcolm had some issues. We always loved the AC/DC Bon Scott era and Stevie's previous band STARFIGHTERS, so we knew that Stevie would like our sound and enjoy working with us. We asked him and he agreed to produce the "Maximum Overdrive" single. It was an honour to work with him.
KNAC.COM: The band's debut CD will be released in December of 2021. What can you tell us about the CD? Do you know if fans will be able to purchase physical CDs or will it simply be released digitally?
JOHNSON: It's available on CD and will be on vinyl too. The vinyl has been delayed because of the global shortage that everyone knows about. We need to sell product if we're to move forward as a band, so we'd urge people to support rock music by buying our New Dawn Rising album HERE.
KNAC.COM: What can fans expect from DAWN AFTER DARK in the next year ahead?
JOHNSON: 2022 is all about playing shows and promoting New Dawn Rising. If I say so myself we're a really good live act, so that's the focus. We need more people to be aware of DAWN AFTER DARK, and more people to be aware of New Dawn Rising. We've got plans for the UK and Europe for 2022 and of course would love to play in the US, the home of rock. But who knows whether that will happen? Fucking coronavirus!
KNAC.COM: Final question for you Howard. Has DAWN AFTER DARK ever been featured in Kerrang! Magazine?
JOHNSON: Yep, there were two major features in Kerrang! back in the '80s. Nowadays Kerrang! doesn't deal in classic rock bands anymore, but Classic Rock mag has taken up the mantle and has recently featured the band. So we still have our place!