Brian Tichy is a name that most Hard Rock/Metal fans will know because he's a very talented, unique type of drummer that really has a style all his own which is easy to understand that he has played with the likes of THE DEAD DAISIES, WHITESNAKE, OZZYOSBOURNE and BILLY IDOL to name just a few of the acts he's played with over the years. Just a few weeks ago I was on Facebook and I saw an ad for a Christmas CD, Merry Tichmas, which I found out was a solo Christmas CD by none other than Brian Tichy himself. What you get is a CD of 11 classic Christmas tunes that we all know and love. These are instrumental versions but I must tell you but Brian does one hell of a job covering these Christmas classics! While Brian is primarily known as a drummer he's a Multi innstrumentalist in that he also plays bass, guitar and can sing lead. There is one other musician that appears on the CD but you can read that in the interview. Please enjoy the interview in which Brian discusses his Merry Tichmas Christmas CD and also mentions that he also appears on BILLY IDOL's Happy Holidays CD which is another stocking stuffer I must recommend you get in addition to Brian's Merry Tichmas CD.

KNAC.COM: Thanks Brian for doing this interview for KNAC.COM. Today we are talking about your Christmas solo CD, Merry Tichmas. I was curious when you were growing up how much were you into Christmas music and talk a little bit about how the idea for Merry Tichmas first came up?

TICHEY: Hi! I was into the music as it perfectly suited the season. The songs are so well-written, crafted and produced. The writers and performers absolutely nailed the spirit of the season! I think just about all of the most well known Christmas songs are some of the most hooky and catchiest songs of all time!

I was on tour in Europe at the end of 2016, and being in different cities, seeing all the Christmas decorations everywhere made me miss home but also somehow just got me thinking it would be fun to pick my favorite Christmas songs and do them instrumentally, with the main melodic focus being performed on guitar. I didnít want it to be a ďhard rock/ metalĒ type record, not a ďlook at me, Iím a drummer but Iím trying to shred and show off my guitar skills on Christmas songsĒ either. I just wanted to play tasty and see if I could do the songs justice where theyíd fit in amongst all the versions we already know and love.
KNAC.COM: I really love your version of "Santa Claus Is Coming To Town". Talk about why that is one of the songs you wanted to cover on the album?
TICHEY: I just made a list of about 20 of my favorite Christmas songs and whittled it down from there. I love the Springsteen version but went for a different groove on my version, but I wanted to keep that one rockiní.
I also included the talk box on that song which definitely gave it a unique vibe, which also led me to think thatís probably a good song to go with as a single. You canít deny the pleasant ear candy of a talk box! Just ask Frampton, Joe Walsh, Joe Perry and Jeff Beck! After I finished that song I was so into the talk box I considered doing the whole record on a talk box! But I didnít want to overkill it.
KNAC.COM: Talk about some of the other songs on Merry Tichmas and if you could, talk about how the recording of this album compared to other albums you've been part of throughout your career?
TICHEY: Well, I tried to have each song have its own vibe on the record. I didnít want to repeat a groove or certain vibe too much. I also wanted to vary the sounds and tones of the guitar from song to song.
ďThe GrinchĒ is slinky and bluesy. ďHere Comes Santa ClausĒ is more old school rock with some Brian Setzer/Carl Perkins vibes. ďThe Xmas SongĒ is more jazzy. ďItís The Most Wonderful Time Of The YearĒ is an attempt at being a bit more big band-ish in the drum and bass department, with little implications of what horns might do, but playing those ideas on guitar. ďO Come All Ye FaithfulĒ is a 5 guitar harmony army in the spirit of Brian May. I just wanted to have fun with various vibes.
The recording process is unique as Iím only working with myself, so thereís no pressure from outside sources of any kind. You just have to be your own worst critic. But Iíve recorded in this way since having a 4-track in high school! Itís fun working in a studio with other people if you are part of a project, but since this was my own little idea, you just get into that mindset and go for it.
KNAC.COM: Do you play everything on Merry Tichmas or do you have other musicians play on the album?
TICHEY: Yes I play everything on it. But thatís really only drums, guitar, bass and percussion. Itís more about the recording process, getting good tones, coming up with cool arrangements and making it exciting with only 3 instruments to fill it all up. Thatís where the sleigh bells come in! You want to make something sound ďChristmasyĒ? Add sleigh bells!
With that said, there is one guest. My good bud, keyboardist extraordinaire Derek Sherinian (SONS OF APOLLO/BLACK COUNTRY COMMUNION/BILLY IDOL/DREAM THEATER) played on "The Little Drummer Boy". And Iím glad he did because what I had done was feeling a little bland and not so exciting. He came up and started throwing in his ideas and made the whole thing twice as good!
KNAC.COM: You've got a cool video for your cover of "You're A Mean One Mr. Grinch". I have to ask Brian, how big of a fan of you are How The Grinch Stole Christmas? I mean when you were growing up was that one of your all-time favorite holiday specials?
TICHEY: Without a doubt, I loved that special every year and always looked forward to it more than most of them. Dr. Seuss, man he just nailed it! But then again, he nailed it with everything he ever came up with!
KNAC.COM: How much do you enjoy watching holiday movies and listening to Christmas music this time of each year?
TICHEY: I think itís just a built in thing at this point. It feels right and it sounds right. Itís a part of life and part of the end of the year. Not everyone celebrates Christmas but it is the biggest holiday of the year as far as I can tell. So itís just something I, and many others, grew up with.
And regardless of religion and what gets shoved down our throats by the corporations who want to make a ton of money off of it etc, the simple meaning behind most of it, that we shouldnít let take a back seat even though holiday stress can get to us all, is be cool to everyone, be giving and caring and be happy when you make others happy. Give a little and watch how far it goes. No one forgets when someone does something nice for them. Now if we all kept that in our heads, just a little more throughout the rest of the year, the world would be a better place. Christmas and the holiday season shouldnít be the only time we go the extra mile. The rest of the year you donít have to worry about gifts and trees etcÖ, you just remember to be kind and considerate and see how that comes back to you.
KNAC.COM: How does it feel to have a Christmas album of your own and do you think you'd like to record more Christmas songs in the future?
TICHEY: Itís cool. I got it done. It sounds pretty good. People that have heard it like it. It would be fun to do another but I think I have to get this one on a label and have it pushed out there more as it was only done as a Pledge Music project.
KNAC.COM: Do you have a special Christmas memory that you'd like to share with us that really is special to you?
TICHEY: Well there are lots. The first that comes to mind as an adult is getting back into the mindset of being a child when you have kids of your own. They are so excited for Christmas and itís infectious! You want to give them the same feelings you had as a kid!
After that, the coolest memory of Christmas was getting my first drum set! Man, that still sits atop the list of coolest memories of my life! Getting that as a gift was amazing as being the owner of a drum kit meant ďyou can now do this all the time! And what else is cooler than playing drums!Ē That was 3rd grade and that feeling never stopped!
KNAC.COM: Have to ask you if you ever heard TWISTED SISTER's Christmas album and what did you think of that?
TICHEY: I havenít heard the full LP but I know Iíve heard some songs from it. Itís cool as thatís what youíd expect from them. On the other side, you have to check out Billy Idolís Christmas LP Happy Holidays that we made together in 2006, but he just had it remixed and rereleased this year! They did a great job! Well, this is NOT what youíd expect from Billy Idol and thatís what makes it great! He just owns it and if you think Billy Idol is one type of singer, take a listen to him singing holiday classics and you will be blown away!
KNAC.COM: What are the other songs that appear on Merry Tichmas?
TICHEY: "Winter Wonderland", "Holly Jolly Xmas", "Rockin Around The Christmas Tree", "Have Yourself A Merry Little Christmas"... I think all the others were already mentionedÖ..
KNAC.COM: How have all the Brian Tichy fans reacted to Merry Tichmas so far and for people who'd like to get their hands on your rockin holiday Christmas CD, how can they go about getting their hands on the album?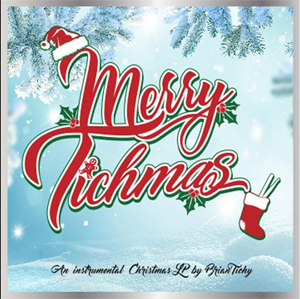 TICHEY: The response has been amazing! Every fan who bought it showed up on my front yard and started caroling to me and my family! It was like Woodstock meets Cal Jam! Ha! And if ya believe thatÖ No, itís been cool. Iím glad I did it. You can go to my website briantichy.com and order from there. You can check out the 2 vids on YouTube for "The Grinch" and "Santa Claus is Coling to Town". And I think the whole LP is on Spotify.
KNAC.COM: So I know a lot of things have changed with COVID-19 and so I have to ask, do you think there will be a Bonzo Bash or Randy Rhoads Remembered live event in 2022?
TICHEY: Yeah, at this point I donít think so. I have a busy year coming up that will be announced in January. And I donít know if I will have the many months of prep time for that sort of stuff. I managed to make it happen many times in the past but man, itís just a lot. And with my name attached to it as the founder, it has to be good and well planned. Anything thatís not happening or whatever falls on my shoulders.
So like I said, while itís a blast and the events have always been great, itís just quite a lot to go forÖ. But with that, letís not forget that John Bonham and Randy Rhoads rule!!!!
KNAC.COM: Could you give all the Brian Tichy fans out there an update on anything else that you're currently working on?
TICHEY: I will be involved in a new thing in 2022. Canít say yet but it will be fun!
KNAC.COM: Any special plans for Christmas or to rock in 2022?
TICHEY: NopeÖ hanging at home for Christmas! 2022, yes I will be rockiní as best I can