Live Photos By Larry Petro/Petrofyed Photography
He's been a Sunset Strip rock soldier, an electric gypsy, a Hollywood vampire, a grunge survivor who really could count a good number of the flannel-wearing faithful among his fanbase, and recently, a pirate. And with the recent release of L.A. GUNS' latest and 14th studio album Checkered Past, the veteran band's enigmatic frontman Phil Lewis is always striving to take things up a few notches musically. In this interview, both Phil and myself chat about the new album, some of the older albums, coming in like a cannonball on, well, the video for "Cannonball", and being one of Kurt Cobain's favorite bands just as Seattle was in bloom.
KNAC.COM: Phil! How're you doin'?
LEWIS: Fantastic, thanks! Another day, another week, another week's worth of press. The reaction's been absolutely fantastic. A lot of interest in a time where there aren't a lot of sales – certainly not a lot of live stuff going on – it's nice that the work we put in, we get some really good feedback. Love it.
KNAC.COM: That's good to hear. I've been raving about the new L.A. GUNS myself. So, I just wanted to know, other than the recent release of L.A. GUNS, although I think you already originally touched on it, on the new album Checkered Past, what other musical endeavors have the band been planning as of late now that pandemic restriction with regards to touring have been gradually starting to lift?
LEWIS: Well, the thing about this record and what you're talking about what else we've been doing is that while I was working on the vocals for this record, I was working on a Pete Way (UFO) tribute project – songs that Pete wrote before he passed, I was doing that with Mike Clink, and it was okay. It's party rock and it seemed kinda…fluffy, in comparison with what we've been layin' down with L.A. GUNS, and it does put it in perspective, because that's the way Pete rolled, y'know? It's like pub rock, it reminds me of good time pub rock, and there's nothing wrong with it. AC/DC made a great career out of it. But, yeah, apart from that, this record has been a prime refocus now for the best part of the last year. And I'm glad because the darkest points of lockdown – when it was really, really bleak – it was fantastic to have something to do, something to sink my teeth in, something I've really enjoyed. I really enjoyed this one. I've got this voice that comes out whenever we put a record out and says that "it's the best thing that we've ever done" but I really do feel that way about this one. We've come a long way from The Missing Piece and we've come light years from Cocked & Loaded.
KNAC.COM: Oh, yes, for sure. I've been revisiting your earlier material as well, and I found out as well that your early albums, such as your '88 self-titled debut and Cocked & Loaded a year later are pretty much 80's glam classics, some trad metal and even a bit of fast-sounding thrash/punk elements tossed in for good measure, which I found in songs such as, say, "Rip And Tear" and "Sex Action", for example.
LEWIS: Oh, yeah.
KNAC.COM: And I definitely noticed a larger-sounding vibe on the past couple of L.A. GUNS albums lately, especially on Checkered Past, and that was also moreso evident on one of the latest singles "Knock Me Down" and there was even a bit of a rootsy vibe that was goin' on in a song called "Get Along". Would you say that a lot of the inner turmoil that both you and Tracii (Guns) – forgive me for touching a bit on that – had kinda endured when the band before your split had inspired a lot of the later music paradigm shifts since The Missing Piece?
LEWIS: It's a bit like L.A. GUNS 2.0. I'd say with the records that you just mentioned, and Cocked & Loaded we started to get….I think we scratched the surface with Hollywood Vampires in terms of doing different things and coming up with our own vibe as opposed to being just another band – a good band – on the glam scene. We started to really forge our own identity with that, and it's just snowballed from there. And the L.A. GUNS 2.0 is just light years ahead musically, technically of anything we did back then, and I like to think that it's still fun. It's not quite as disposable, hopefully, from what we did back then. And I'm amazed that it's like 25-30 years later, people are still digging the work that we did back then and we never expected that and we're delighted by it. It just makes it really difficult for us when we have to compile a live set, when you're immersed in this new stuff. It's a shame, y'know, it's a shame when a good percentage of it – most of it – will never get played live, but you kinda have to not worry about that too much. But, yeah, we like to mix it up, and I think we both developed as songwriters and musicians. We have to after 40 years. You're in trouble if you don't. And we just get on much better than we ever did back then, so, that helps a lot too.
KNAC.COM: For sure. And I kinda hate to admit it because it was the only time I've seen you guys live, but I remember the show that I did go to see was when you were playing in my hometown of Ottawa and I'd noticed that you played a lot of the earlier stuff first but then you kinda saved a lot of the more recent stuff in between, and I found that you had a bit of a punk rock vibe but also a real 70's rock vibe, which really kind of appealed to me when I saw you guys play that time in Ottawa.
LEWIS: Thank you. It was actually a bit interesting, y'know? There are bands that have that one dimension and they're really, really good at it – I think of AC/DC or MOTORHEAD – and that's what they do. That's what they're known for. But we like to get it more varied and take a few more chances basically. And sometimes it works and sometimes it doesn't. But, yeah, we've always been that way. All of our records have always been very varied. We pride ourselves on that for sure.
KNAC.COM: And I also noticed as well that when you released The Devil You Know back in 2019 that you were starting to develop more of a strong SABBATH influence, particularly on that album. Did that have much to do with both your influence and Tracii Guns' influence? Because at the time, Tracii had started to steer the band in a heavier direction around the time when he returned. So, I just wanted to know what your take was on it.
LEWIS: Well, yeah. I mean, we're both huge SABBATH fans. Tracii and I are both children of the 70's, so anything like that – ZEPPELIN or SABBATH – those are our biggest influences. There was other stuff later, but for the most part that's where our roots lie, and if you could record a track like "The Devil You Know", and people go "God, y'know, that's kinda got a SABBATH vibe", but an early SABBATH vibe, not "Iron Man", but something off of the first SABBATH record, then our job's done. We definitely strive for something like that, and Tracii's a virtuoso on the guitar, and he could play sort of the Yngwie insane riffs in terms of speed, rather. But our roots are in the blues, and that becomes apparent too. So, yeah, the new album covers all of that – it's got heavy, it's got blues, it's got a little folk-y crossover Zeppelin III vibe going along, and it's doing great. The "Get Along" video dropped on Friday (October 22) on YouTube and we got 40,000 views over the weekend. So, we're doing something right. People are interested.
KNAC.COM: I think I was one of the people that checked out the "Get Along" video which I thought was actually very well-written. Probably one of your more profound lyrics that read like, in particular, the line "Don't you worry about figuring it out too late/The wrong path is just taking you around the gate/Sometimes you learn just along the way". Really, really profound and very eye-opening, taken from a fresh perspective.
LEWIS: Yeah…it's beautiful. As soon as I heard the music, it was like "yeah, that's the kind of picture I think the song should paint lyrically". And that's how it always works, Tracii comes up with these great, great ideas, and it's up to the rest of us to turn these ideas into solid, memorable songs, and we take the craft very seriously. Did you see the video for "Cannonball"?
KNAC.COM: I did, actually! I thought it was kinda cool and a bit funny in a way that you were dressed up as a pirate doing the vocals in the video! (laughs)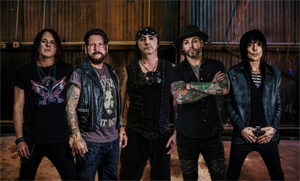 LEWIS: That's right. And a song like that leans to something pantomime in a context like that. And I really did enjoy getting my act on, dressing up and changing characters and playing a pantomime character in the video. So I wanted "Get Along" to be the complete polar opposite of that, and I think a lot of people….the "Cannonball" video, the views went through the roof. It's interesting, it's funny, it's good, and it's a little bit silly. And I think that people were really curious to see what we did next and I wanted it to be the complete opposite of the created character. I wanted it to be as down to earth – y'know, if I could've played it naked, I would have.
KNAC.COM: (laughs)
LEWIS: It's the next best thing. And it's refreshing, especially after the contrast too. So, I think, I play something surprising, the reaction that people got. Y'know, we're not trying to look gorgeous in it. We're not trying to look like we did in "Never Enough". We're not pretty boys no more. So, y'know, it is what it is – middle-aged working musicians. I just thought it would be the best way to promote it, to interpret it.
KNAC.COM: Cool. Actually, getting back to the video for "Never Enough", I've always wanted to know, because I know that immediately after that video had been released, I remember at the time when NIRVANA were coming out, the original video for "In Bloom" was coming out in a bit of a similar type of manner as well, where the band were playing on a TV show kinda reminiscent of THE BEATLES on The Ed Sullivan Show.
LEWIS: Exactly.
KNAC.COM: And I was wondering…did the band really take that idea from you? I was starting to wonder if they did, and for some reason, they got more credit for it than you did.
LEWIS: NIRVANA were big L.A. GUNS fans. Kurt (Cobain) loved L.A. GUNS.
KNAC.COM: (surprised): Really?
LEWIS: Oh yeah! Because we were always playing up there – all the guys from ALICE IN CHAINS, FAITH NO MORE, y'know that whole northern California Pacific Northwest. We'd be going up there while the whole grunge thing was coming together and those guys would come out to our shows all the time.
KNAC.COM: Oh, wow…I never had known that.
LEWIS: Y'know, whether they looked at our video and decided "We want to do it like that" because we looked at THE BEATLES and we saw The Ed Sullivan Show, so it's not entirely an original idea on our behalf. It was something that we interpreted. So, if Kurt was on the same page, then it worked. It worked for us, it certainly worked for THE BEATLES and it worked for NIRVANA too. So, yeah, it did work. I don't know…he never came out and said it, but I can tell you for a fact that everything you hear about him hating what LA stood for, what the late-80's LA stood for is not entirely true.
KNAC.COM: Wow.
LEWIS: There was a lot of what LA stood for in the late 80's that I can't stand either. So, nothing wrong with that.
KNAC.COM: Fair enough. That was kind of a revelation. I mean, after all, imitation is the sincerest form of flattery in this case.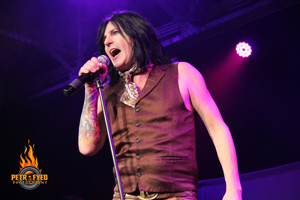 LEWIS: That's right.
KNAC.COM: But what was kinda interesting was that NIRVANA had actually two versions of that video that came out for "In Bloom" and I just happened to remember the first one – I'm not too sure which one had actually come out first, but I think it was the one where they were doing THE BEATLES on the old Ed Sullivan Show, or whether it was the one where they were just doing shots of themselves playing on the streets of New York City.
LEWIS: Right, right.
KNAC.COM: I think the one shot in New York City was probably the first one as far as I can understand. It was a bit too common and it doesn't really stand out.
LEWIS: I think at that stage, they probably realized "Oh shit! We got some money!" (laughs)
KNAC.COM: Yep! (laughs) That would be my guess!
LEWIS: And that changed everything.
KNAC.COM: Yeah, fair enough. Sub Pop Records eventually just cut the guys a cheque and afterwards, they were able to use the money to start directing better videos at the time.
LEWIS: That would be exactly right.
KNAC.COM: That's good. It kinda set that rumor to rest. So, are there any tours on the horizon? I know that it's a bit of a redundant question to be asking you guys.
LEWIS: Oh, no, no, no. It's always a very good question, actually. We have something…I won't say say a tour but a run in November – at the beginning of November when the record drops on November 11th….local LA shows like Palm Springs, a couple of shows in Vegas…it's about six of them and culminating with the Whisky show on New Year's Eve, which is traditional for us to do that. Obviously, we didn't do it last year because we were all locked up. But yeah, looking forward to that. Next year, February, we're going to be playing the Monsters Of Rock Cruise and then, in the summer, we have a full American tour. The dates are coming in every day with Tom Keifer (CINDERELLA). It'll be Tom Keifer, L.A. GUNS and FASTER PUSSYCAT as a package.
KNAC.COM: Oh wow! Hopefully I can make that one.
LEWIS: Yes, dates are coming in really fast.
KNAC.COM: Hopefully, I'll mention that to a friend of mine. You guys are familiar with the Brass Monkey when you played Ottawa a few times, right?
LEWIS: Yeah, of course! Downstairs.
KNAC.COM: Actually, I was there not too long ago when BUCKCHERRY came to town, so that was actually my first inside live gig that I'd seen in at least two years.
LEWIS: How did that go?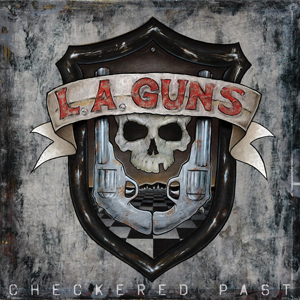 KNAC.COM: That went well. Apparently BUCKCHERRY had played for two nights. The thing was, they had a show in London, Ontario, that had gotten cancelled, so both the promoter and the bar's owner ended up trying to sell more tickets because of high demand and they were able to get BUCKCHERRY to do an extra show. So, the show I ended up going to was on (October) the 22nd but I had to work on the 23rd so I had to miss that show. But it was a good experience and everyone was following the rules, they were wearing masks and whatnot. It was overall a really good show.
LEWIS: I'm happy to hear that. I like that venue a lot, and I like the band a lot. I'm just happy to hear about that. It was a good turnout as you said, not overwhelming.
KNAC.COM: Yep. About 300 people.
LEWIS: Front and center? That's fantastic for a town like Ottawa.
KNAC.COM: Oh, yeah, it was a pretty good show. I mean, I've seen shows in the past where bands have actually done two sets. 2018, I think, was pretty much the banner year for shows at the Monkey. It was almost like my second home. I remember one time URIAH HEEP were playing there, and they're legendary, they've been around for like 50 years.
LEWIS: Fantastic! Listen, bud…I gotta get going. I got another one coming in a minute. I appreciate the call and support. Those were good questions, man, and next time we're up in the Monkey, come out and we'll take good care of you.
KNAC.COM: Alright! Thank you so much! Have yourself a great day. Peace out.
LEWIS: You too, buddy. Cheers!
https://www.lagunsmusic.com/
https://www.facebook.com/L.A.GunsOfficial
https://twitter.com/laguns
https://www.instagram.com/laguns/