CYPRESS HILL's performance wasn't ALL mellow though. They still can fire up a crowd just as easily as they can fire up a blunt and they finished their hour-long set with a trio of dance hits, including the crowd sing-a-long "Rock Superstar", the funky, beat driven "Insane In The Brain" and the set closer, a cover of HOUSE OF PAIN's classic "Jump Around" which had most of what was left of the equally exhausted and stoned crowd doing just that. All in all, it was a great party, and a great way to start the weekend.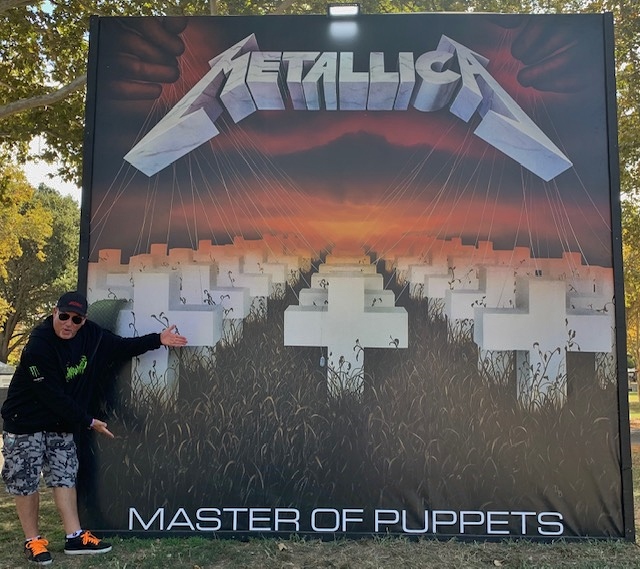 I arrived to Discovery Park early on Friday, Day 2 of the Festival, early enough to look around and see things before the majority of the crowd arrived. Upon entry, I saw a series of panels, about 15 feet by 15 feet, each adorned with a different METALLICA album cover, as well as one of them with a MISFITS cover, perfect for taking photos with, and I naturally did. As always, there were giant panels spelling out AFTERSHOCK as well for the same purpose. These are the kind of details that the people at DWP continue to do provide for attendees. There have been many things over the years that they have supplied. Who can ever forget the metal, fire breathing beast from the Louder Than Life Festival in Louisville as few years back?
I visited with a number of the vendors as well. "Blackened", the official whiskey of METALLICA, had a great booth and bar, which featured concoctions made specifically with Blackened Whiskey, as well as actual used METALLICA road cases for visitors to sit on or rest their drinks. Naturally, plenty of t-shirts and hats were for sale as well. I also had a great visit with festival veteran and artist Ron Williams, who is the proprietor of Ronzworld Guitars (www.itsronzworld.com), who hand-paints guitars with the festival logo. He also auctions them off and had a huge line of hand painted art panels and mini-guitars as well as a just opened gallery in Beacon NY. Always a pleasure meeting up with Ron, and we saw each other quite a bit over the weekend.
Speaking of artists, Sean Dietrich (www.seandietrichart.com) returned to the festival with an all new line of hand painted artwork, on a variety of surfaces, including canvas, tapestries, silicone mats, T-Shirts, even custom painted Zippo lighters and grinders for marijuana and other delights. His work is outstanding, and Sean is always on hand to answer questions about his creations. He debuted a new series of "Alice In Wonderland" themed pieces that you have just got to see for yourself. Log on to his site and check them out, you will be impressed. I sure was.
Being in California, and with marijuana basically legal, is like a dream come true for many who indulge. Although not really allowed on site, there were companies that provided a weed and by-products delivery service to places nearby the gates. One of them was Kolas who was a major partner in this year's Festival, so much so that one of the main stages was the "Kolas Stage". They partnered with Weedmaps, an app based company in the delivery service. They played a major role in the general happy moods of many attendees, and their respective booths in the "Loud Lounge" area near the Coors Light Stage provided lots of information and giveaways to attendees. The people at Phinest (www.phinestdistribution.com) a local Sacramento cannabis distributor were some of the friendliest people that I met all weekend. They were more than helpful when it came to answering questions, as well as enjoying the general atmosphere at the booth that they helped create.
The official merchandise booths were filled with every shirt, hoodie, hat, bandana, and more from virtually every one of the 60 or so acts that played the festival. There were also lots of new designs on the official Aftershock shirts as well, and by the end of the weekend most had sold out. Speaking of T-Shirts, Rita Haney, "Dimebag's Hag" was at a booth selling lots of Dimebag Darrell shirts and other swag. There was also a "General Store" that sold everything from sunscreen to masks, as well as various booths that supplied everything from pins, scarves and patches, to smoking supplies and hats.
There were plenty of food choices as well. Lots of food trucks serving up the typical BBQ and Mexican fare, as well as places like Phat Daddy's Creole, Hefty Gyros and Nash & Proper Hot Chicken. My personal "go to" place throughout the weekend were the various Drewski's Hot Rod food trucks that served up a delicious concoction of spicy fried chicken or pulled pork or brisket on a bed of fries or tater tots. It was then blended with mac and cheese and covered with a cheesy sauce and more. Sounds crazy, but the carbs were exactly what I needed for being on my feet all weekend and putting in the miles.
It was time for music. Fridays early afternoon lineup had some great highlights. Ayron Jones kicked things off on the Jack Daniels stage with some down and dirty straight ahead rock, and killed. Over on the Kolas Stage, CROBOT got things going in their own weird way. Quite the showmen, this band from Pennsylvania started with a narrated intro, giving way to singer Brandon Yeagley popping out of a giant egg or orb that was placed on stage right, and proceed to stalk the stage like a caged tiger throughout the set, belting out his vocals of their self-described "Dirty Groove Rock". Guitarist Chris Bishop rocked,and I noticed his "Guitar flips" were the best ones I had seen since the band CINDERELLA (another Pennsylvania band) first brought them to prominence in the 1980's.
DES ROCS did their thing for their fans, very up-tempo and tight. POP EVIL, who always seem to be on a DWP stage at just about every festival I attend, rocked their eight song set. Singer Leigh Kakaty even jumped into the audience and "walked" over the crowd. AVATAR is always a crowd favorite and today was no exception. With their colorful costumes, wind-milling their hair in unison, and singer Johannes Eckerstrom's painted "Kabuki-style" makeup, they always put on a total show, and it's always fun to watch and listen as they play a crunchy, heavy style of Scandinavian metal. Eckerstrom fired up the crowd throughout with his boasts of "We Are Avatar, and we will KILL you" and "We just STOLE this festival" as the band concluded their set.
I put in the mileage on feet walking between the Jack Daniels stage to catch DROPKICK MURPHYS and their brand of Celtic inspired rock, and the Coors Light Stage to see BUTCHER BABIES who screamed their way through a crowd pleasing eight song set. A highlight for me was their cover of the 1966 NAPOLEAN XIV classic "They're Coming to Take Me Away, (Ha Ha)". These ladies ramped up the energy and everyone had a blast.
SUICIDAL TENDENCIES closed out the Coors light stage and naturally, from the opening note, chaos ensued. If you have ever attended one of their shows, and I have been to many, as soon as drummer Dave Lombardo hits his first strike of the snare drum, the entire audience becomes a whirling, swirling pit of madness. Joining Lombardo in the rhythm section on this day was none other than Ty Trujillo, son of METALLICA bassist Robert Trujillo on bass. This kid has great chops, just like his dad, and he and Lombardo drove the band through some ST classics like the crazy opener of "You Can't Bring Me Down" and really showed his skills with the bass heavy groove of "Send Me Your Money". Singer Mike Muir is like a boxer onstage, and in constant motion, pumping up the crowd to insane levels all throughout the set. His adrenaline charged attitude is infectious and by the time they finished their set with "Pledge Your Allegiance", everyone was drained.
Over on the Kolas Stage, SEETHER did their thing for a different crowd. SEETHER plays well-crafted songs, and seem to be content with just playing them for their fans. There really isn't much chaos or jumping around at a SEETHER show except for a rogue fan every once in a while. The South African band, led by singer/guitarist Shaun Morgan, occasionally stomp around the stage but let the music do the talking. They played two of my personal favorites about midway through their eleven song set, the lovely "Rise Above This" from 2008, and the rocking "Bruised And Bloodied" which is, in my opinion, one of the best singles of 2020. Their fans came out in droves and their merchandise was everywhere. Ending their set with "Fake It" and the huge radio hit "Remedy" were tailor made for this crowd's excitement level to end at a peak. Props to SEETHER for making the most of their time slot.
RANCID, on the Jack Daniels stage, delivered a very fun and tight set considering their punk roots. Their blend of punk, roots rock and ska music blended in with the bands that followed, almost like a natural chord progression. Fittingly, their opening number "Roots Radicals" confirmed this. Singer/bassist Matt Freeman's rock sense, combined with guitarist/singer Tim Armstrong's almost wacky stage presence and punk rock sensibilities, along with a mostly punk-ska rhythm section is quite a mix of styles. And when, again blended together, you get a very unique flavor.
RANCID's nineteen song set kept evolving throughout, with plenty of material to please the masses. A great example would be about midway through the set when they did a very tight version of "Hooligans", a ska skanking classic from 1998. They followed up that by shifting gears into the revved up punk of "Side Kick" which brought out the moshers in the crowd. This happened again and again throughout the set, a constant mix of styles and tempos. By the time they closed out the set with a pair of favorites, "Time Bomb" and "Ruby Soho" from their classic 1995 And Out Come The Wolves LP, the smiling and worked crowd roared their approval. It was one of my favorite sets of the weekend.
Not to be outdone, VOLBEAT absolutely OWNED as they closed out the Kolas stage. After the long set from RANCID and their variety of sounds, VOLBEAT and their own style of souped-up rockabilly and metal hit this crowd like a hammer! To say this band is powerful would be an understatement. The continuously pulverizing rhythm section, combined with singer guitarist Michael Poulsen's pleading vocals and guitarist Rob Caggiano's crunchy blasts make this band one of my personal favorites to see live.
As the MOTORHEAD classic "Born To Raise Hell" was blasted through the PA system, VOLBEAT hit the stage and never stopped running. Opening with the stomping "The Devil's Bleeding Crown" the crowd immediately were banging heads in unison. The radio friendly "Lola Montez" followed. Caggiano, sporting a white fedora, seemed to be using his guitar like a machine gun as he chugged his way through the 14 song set looking like he never even broke a sweat. He just looks so comfortable up there.
VOLBEAT is always great at saluting their heroes. The Johnny Cash like "Sad Man's Tongue" even had a bit of Cash's "Ring of Fire" thrown in, and they even covered METALLICA's "Don't Tread on Me" a bold move, since they were going on next, but a nice wink to them as well. The band had performed this particular number previously on a METALLICA tribute album. The intro to "Dead But Rising" can still be attributed to a METALLICA riff as well before the band makes it all their own.
A highlight for many was the performance of a new song "Shotgun Blues" from their upcoming LP release. This went over very well with the fans such as myself who have been patiently awaiting new material. VOLBEAT finished up their set with "Still Counting" from 2013, and the band, now grinning as they faced their audience, who lovingly saluted the band for a really strong performance. It's not easy being the direct support band for a headliner like METALLICA, but VOLBEAT did it their way and it kicked ass.
The crowd then shifted from the Kolas stage to the Jack Daniels stage, for the most anticipated set of the weekend. The Mighty METALLICA has returned! I had never in all my years attending Aftershock seen it this crowded for one band. I found myself a spot on the slightly sloped VIP section, which was crowded body-to-body as far as my eyes could see. No "social distancing" would be happening. Hell, there were even a few people who climbed the surrounding trees to get a better view before being rousted by security who were really just doing their jobs. The atmosphere was electric.
Soon the lights dimmed and on the giant video screens flashed the familiar intro of a clip from Ennio Morricone's film The Ecstasy of Gold which the band has been using as their intro the last few years. And just like that, it was on. Showtime! METALLICA arrived onstage and immediately broke into a blistering version of "Whiplash" and the packed crowd went wild. It seemed that EVERY person in my vicinity was shouting, not singing the words to every song, but not being annoying, just passionate. This band is not just admired, they are LOVED.
"Ride The Lightning" and "Harvester of Sorrow", the classics kept coming. Old-school METALLICA being performed in Northern California. You could just feel the love from this crowd. And then they brilliantly down-shifted into "Cyanide" from the 2008 "comeback" album Death Magnetic. The fans ate it up. Even as the band cranked into music from their later career, which is always a subject of animosity with longtime fans, the songs channeled the fans feelings. But just like that, they performed "The Memory Remains" and no one left. Even James Hetfield was having fun with the crowd. "This one is from your FAVORITE album" he joked, as the band cranked out a blazing version of "Frantic" from the universally panned 2003 St Anger release. Luckily for us, Lars Ulrich's snare drum did NOT sound like a garbage can on this night.
Clips from their video of "One" accompanied the band's intro and still the crowd around me sang along like they were at a British football match. A brief explosion of fireworks emphasized the final notes of the song for an added effect. Guitarist Kirk Hammett really went off the rails during "Moth Into Flame", taking his wah pedal to new heights as the band hit their stride. "For Whom the Bell Tolls" again brought out the METALLICA faithful who stomped their feet and shook their fists so much that it really felt like an earthquake had hit Sacramento.
Staying with the choice classics, their version of the Irish standard of "Whisky In The Jar" was included, along with another return to their sophomore release and "Fade to Black", a very special song to those in the know to KNAC radio lore. For those unfamiliar, it was the last song played on Los Angeles radio station KNAC 105.5 before indeed, fading into black in 1995. It will always have a special place in my heart and I have to admit, I shed a tear or two thinking about it when I heard it and saw it performed so magnificently on this awesome evening.
As great as that was, what followed really set the crowd ablaze. "Master of Puppets" closed out the set and every note was absorbed by their loving fans and regurgitated (and I mean that figuratively, not literally…) back to the band. I really think of all their songs that this somehow is the most beloved, and from the smiles on the band's faces, they think so as well. James Hetfield looked particularly pleased and in a great mood as the band left the stage to a thunderous roar.
Returning for an encore was a given. This crowd demanded more and the band was up for it. Blasting out an incredible "Battery" got things rolling. "Fuel" followed and did just that, igniting the feverish crowd up for the insanity of where it all started, "Seek And Destroy" brought things to yet another level, energy wise. As crazy as things were all day and especially during METALLICA's set, this one took the cake as far as explosive attitudes. We were like one great big, 40,000 person adrenaline rush. As METALLICA cranked the song with as much grit as they did when they were literally teens, it fed the built up angst and passion of their audience who had now grown up taking these songs with them with every step and every level of their lives. When the song was over and the band had left the stage and the roar of the crowd eventually died down, it hit me. I had just seen the best set from the best band at the festival, and there were still two more days left, including another METALLICA set on Sunday night. THIS my friends is why I go to this event, year after year.
Saturday was a complete blur for me. After the onslaught of the METALLICA set and the deep sleep in my hotel room that followed, I arrived at Discovery Park for Day 3 of the festival, wired on my usual breakfast of a Monster Energy drink and not much more but my sense of, well, discovery. I was here to see bands that interested me and discover acts that I was mostly unaware of. That's the beauty of a festival such as this. Out of the sixty or so bands that played, I would get my very first look at about a third of them. There were plenty more that I would see for a second or third time and it's great to see how bands have progressed. Over the years, I have seen many bands "graduate" from playing small side stages to rocking the main stages as well as become international stars. Not one to brag about "I saw them before they were big" but to me, it is a lot like watching kids grow up. Just like a proud parent, I am always excited to attend and observe.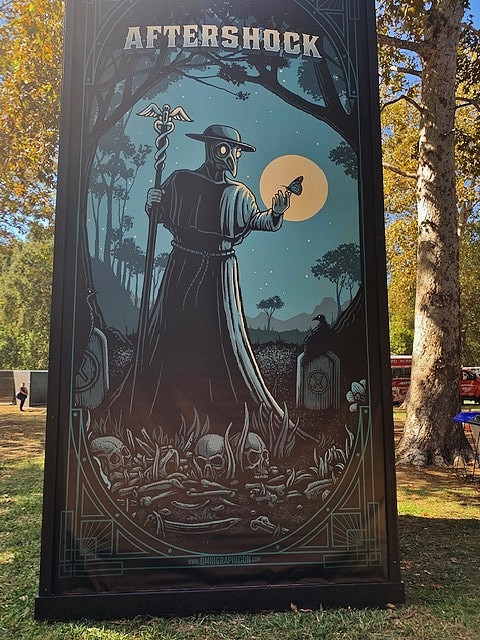 The first band on the Jack Daniels Stage was Arizona's THE BLACK MOODS. Being familiar with this three piece band's music gave me a heads up on what to expect and they did not disappoint. Very solid, straight ahead rock with their hit single "Sunshine" as its centerpiece, they rocked a quick 7 song set that also featured a new song, "Saturday Night" from an upcoming release as well as my favorite track of theirs, entitled "Bad News". They are a great band, very listenable.
I caught bits of sets from BLAME MY YOUTH and DED, who were terrific, before heading over to the Coors lights stage to see SOUTH OF EDEN, a band from Columbus, Ohio that I have come to know and enjoy. They are a very retro rock sounding and looking band with great stage presence, ala a young LED ZEPPELIN/GUNS N' ROSES vibe. As a matter of fact, they even covered both bands in their brief set, highlighted by singer Ehab Omran and his distinctive vocal wails. Combine those skills with guitarist Justin Young's solid guitar riffs and drummer Tommy McCullough's explosive drumming makes this band a must see for all rockers. They have an EP out called The Talk.
BADFLOWER, on the Kolas Stage, have definitely grown up since a first saw them a few years ago. They have a huge following and their new release This Is How The World Ends has had lots of rock radio support. That record was well represented right off the bat with three singles "Fuckboi", "Don't Hate Me" and "Johnny Wants To Fight" played back to back to back to start the show. Singer/guitarist Josh Katz spent less time opening up to the audience then the last time I saw them, and let the music do the talking instead. Their fans loved everything they did, and their mid-afternoon slot was very well attended.
An intriguing set by MACHINE GUN KELLY, also on the Kolas Stage, was a bit of a highlight as well. He has had a lot of press lately, both negative and positive. He has upset many in the rock community for his controversial quotes about beloved fellow performers as well as switched from being a rap artist to an actor to now fronting a rock band. Many in the crowd spent most of his set booing him. Others, mostly the younger people, were fanatical towards everything about his performance, and for them he put his focus. He dedicated his performance to a young fan whose souvenir poster of him, he claimed, was ripped apart from another overzealous attendee at another festival who disliked his remarks. Childish stuff indeed, but the show went on. It rocked! The band sounded tight, very similar in style to BLINK 182 I thought. Kelly even climbed on top of the tent above the sound board for part of his performance, and the place was literally buzzing.
Things got tricky for me as I ran to catch the first few songs from BODY COUNT on the Coors Light stage, before wading through the ever-growing crowd to see French metal gods GOJIRA. BODY COUNT, just like SUICIDAL TENDENCIES the day before, tore it up from the opening note of their first song. It just happened to be "Raining Blood/ Post Mortem". That's right, a SLAYER cover to open the show. Naturally, pandemonium in the crowd ensued and singer Ice-T and his mates slayed them into submission. What followed was an 11 song set of pure energy and madness cultivating in the most active mosh pit of the day so far. The entire area around the stage was one massive bowl of adrenaline. Guitarist Ernie C shredded, while Ice-T prowled and stalked the stage as he led the band to their eventual climax- the controversial "Cop Killer" from their 1992 debut LP. Most in the crowd pumped their fists and screamed every word. I was impressed, as were the band members.
GOJIRA, on the Jack Daniels stage, were in a class of their own on this day. Truly the heaviest of the metal bands that appeared on Day Three of the festival, these guys know their job and they do it well. Opening with "Born For One Thing" from their latest release Fortitude, the incredible drumming of Mario Duplantier is what really grabs you first. His technical skills are on par with the tremendous volume of the mix, which, as a fellow drummer, attacks my senses first and foremost. He truly is the driving force in this unit.
His brother, singer/guitarist Joe Duplantier and his deep growl are the band's signature. He always reminds me of the character Mick O'Brian played by actor Sean Penn in the 1982 film Bad Boys. His intensity with every song as well as his anguished facial expressions, mirror that role, played so brilliantly by Penn, way back when. That aside, his vocal technique on songs like "Stranded" and the progressive "Flying Wales" are truly unique. The packed crowd enjoyed every riff, and I saw many "air guitarists" channel lead guitarist Christian Andreu throughout the set which ended with a few new ones, "Another World" and the equally heavy "Amazonia".
Seeing my fellow Orange County mates OFFSPRING is always fun. These guys are always having fun and have plenty of hit material over the years, as well as a new release, their tenth entitled Let The Bad Times Roll to promote. I love a band with a sense of humor and after a long day of intensity, it was the perfect moment for some great music from a band that can laugh and have a blast. "You guys sound like a choir of angels, all two million of you, and you cuss like sailors" chuckled guitarist Kevin "Noodles" Wasserman to the crowd of about 35,000 or so.
Big hits like "Come Out And Play" and "Bad Habit" were crowd pleasers and really set them off in a whirling, twirling mosh that kept pace with the latter song's intense tempo, supplied for the tour by drummer Josh Freese, one of the best drummers I know. "Gotta Get Away", with singer Dexter Holland's nasally tone supplying the sing-along amongst the fans, was a highlight as was Noodles again hilariously addressing the dust clouds by saying that "there would be a lot of dirt boogers". Yeah, lots of laughs with this band. An interesting solo piano take on "Gone Away" by Holland gave a break to the frantic pace of OFFSPRING's music, but only temporarily.
More hits like "Why Don't You Get a Job" and the hilarious "Pretty Fly (For a White Guy)" kept whatever was left of the crowd's singing voices busy as they danced and moshed along. The band eventually ended the 15 song set with the crunchy "Self Esteem", what I consider the quintessential OFFSPRING song. Kudos to the band for a great set and once again to the folks at DWP who seemed to schedule the pace of the bands' sets perfectly.
What's next you might ask? How about a set from the newly reformed MUDVAYNE? Playing their second show since getting back together after a break of about 12 years or so, they thrilled the audience with a ten song set. The band, led by singer Chad Gray, were decked out to look like a combination of clown/aliens with lots of makeup and spiked hair, to go along with the frightening, blistering pace of their music, which the crowd ate up.
Opening with a charged up "Determined", it was nonstop angst from the get-go. Eerie lighting enhanced the spookiness of the set and the blistering pace only really slowed down about halfway through when "World So Cold" was performed. By the time they closed with "Dig" many in the crowd, including myself, were ready for a cold one. Judging from the crowd reaction, this was the most anticipated set of the day so far, but there was still one more.
THE ORIGINAL MISFITS as they were billed, featured singer Glenn Danzig, bassist Jerry Only and guitarist Doyle Wolfgang Von Frankenstien, performed almost 30 songs. They were joined onstage by drummer Dave Lombardo (formerly from SLAYER and who played with SUICIDAL TENDENCIES the day before) as well as guitarist Acey Slade. To say that the crowd was into it was an understatement. A huge surge within the crowd during the opening number "Death Comes Ripping" was scary. I honestly kept my distance and was glad I did. What followed was a goth nightmare and exactly what their fans have been waiting so long for.
The combination of the songs pace, the thrashing guitar and bass combo, of which a few were actually broken and thrown into the crowd, as well as Glenn Danzig's crooning vocals was a sight to be seen. "All Hell Breaks Loose", the frantic "Astro Zombies" and the beloved "Die Die My Darling" were exactly what the old school MISFITS fans have been hoping to hear and the entire area in front of the Kolas Stage looked like a war-zone. After a 7 song encore with two breaks, the band finished up with the classic "Attitude" which was a metaphor for the MISFITS' entire performance. Brilliantly punk with reckless abandon is what I can honestly say is what I witnessed.
On Sunday, Day 4, the final day of the festival, I took things casually. As a matter of fact, I got there kind of late, missing the first few bands. I DID, however, get there in time to see a magnificent performance from MAMMOTH WVH. For those that don't know, this is the band featuring Wolfgang Van Halen, son of the late (It STILL feels weird to refer to EVH that way…) Edward Van Halen. There has been a lot of hype and wonder about his live show, especially after releasing an absolutely brilliant debut album earlier this year. Strangely, there were not as many people packed into the Jack Daniels stage area when he appeared onstage at 2 pm sharp.
Opening with the heavy "Don't Back Down", MAMMOTH WVH rocked the small but mighty crowd. The band is well-rehearsed and sounded terrific. Wolfgang himself played very solid guitar and was standing behind a keyboard that he played every now and then. His singing voice reminds me of Mike Protich, who was the lead singer of Toledo, Ohio band RED SUN RISING. The song "You're To Blame" went over well as it's, in my opinion, the best song on the record even though there is not a bad one in the bunch. WVH seemed to be enjoying the performance even though he has been quoted as saying that he doesn't enjoy it as much as one would think. He mentioned that this was the first show that the band had booked for a live performance and thanked the audience for their support. The ballad "Distance" which was dedicated to his late father also went over well and I heard a few "We Love You Wolfie" screams from the audience. Bassist Ronnie Ficarro and drummer Garrett Whitlock were locked in for the intro to "Epiphany" which closed the all too brief set. I like what I saw and heard from this band. Not a bad way to start a Sunday in the park.
I caught a few songs from the always hilarious STEEL PANTHER after that. It's always great to see them play to an audience outside of Los Angeles as I have a few times. The humor of songs like "Asian Hooker" and "Weenie Ride" is juvenile, but I can't help but enjoy. Especially, when they literally "tea-bag" their audience with their on-stage banter in between songs. "Death To All But Metal" is an anthem for a generation of headbangers and closed out their set. Brilliant musicians all of them, and they are funny as hell in lyric as well as attitude.
I had recently seen BLACK VEIL BRIDES and IN THIS MOMENT the previous weekend so I didn't watch too much of their sets even though they pleased their fans with a killer combination of popular songs and theatrical stage shows. BVB has come a long way since I first saw them and have really come into their own. Their opening number "Scarlett Cross" is a great rock song. It has lots of heavy hooks as well as a sing-along chorus. They are very pop-metal. Young girls screamed and danced and sang along to "Knives And Pens" and the young guys played air drums and air guitar to "Crimson Skies". Basically, this band has something for everyone. Singer Andy Beirsack is a bonafide star and recently starred in the Amazon Prime Video series Paradise City.
IN THIS MOMENT is and always has been all about theatrics. Singer Maria Brink had more costume changes in the band's 6 song set than anyone outside of Lady Gaga. Appearing in a long robe and crown amid lots of smoke and lights, she descended a platform to wail a very creepy version of the old STEVE MILLER BAND hit "Fly Like An Eagle" before being undressed by her background dancers and changing between each song. She shrieked and pleaded with the audience enraptured by her every move before eventually adorning her famous "Dunce Cap" for the set ending "Whore", by far their most popular number.
Over on the Coors Light stage, GRANDSON with their brand of call and response material and onstage antics, as well as the Hip Hop rock blend of YELAWOLF, gave the mostly younger aggressive fans plenty of fuel to blow off steam. Back on the Jack Daniels stage, alt rockers PENNYWISE brought their madness to a packed house who loved everything their heroes brought to them. Highlights included bringing RISE AGAINST singer Tim McIlrath onstage about halfway through the set to help out on the MINOR THREAT classic "Minor Threat" as well covering AC/DC's classic "T.N.T." which had the entire crowd pumping their fists and shouting "OY" in a genuine show of togetherness. PENNYWISE closed out their show the way they usually do, with the combination of "Fuck Authority" and the always popular "Bro Hymn" the ultimate European-style soccer stadium sing- along, with a punk twist.
MASTODON rocked the Kolas Stage by bludgeoning their fans with their style of doom metal- meets technical metal during an awesome 10 song set. It actually seemed like it was over too quickly. The incredible breaks and chops of this band were amplified to new heights with "Megalodon". Their latest single "Fallen Torches" went over well with the pumped up crowd and they then switched gears, displaying their various styles, from the doomy, gloom of "Mother Puncher" to the set closing full on assault of "Blood And Thunder" that had many in the crowd being pulled over the rail to safety from the enormous pit that been building up intensity from the very beginning of the set.
Things then took a complete left turn when SOCIAL DISTORTION appeared on the Jack Daniels stage. Normally, where I live in Orange County in Southern California where SOCIAL DISTORTION is also from, whenever they play it becomes complete chaos. Tonight, a little after 6 PM on a Sunday, the 4th and final day of the festival, it may have been that either the crowd was waiting for the next bands or that they were getting tired.
SOCIAL DISTORTION singer Mike Ness even took notice. He spoke about how a Sunday crowd can lack energy and it seemed, at least during most of SOCIAL D's hour long, 11 song set that was totally the case. The band DID however play one of the best sets of the day. Opening with a cover of the ROLLING STONES "Under My Thumb" as well as their classic version of Johnny Cash's "Ring of Fire" they were at their tightest, but loose selves. Ness, sporting a "Jeromes Boxing Gym" T-Shirt and newsboy cap, tilted just right, rocked his beat up Gold Top Les Paul through a flurry of SOCIAL D hits, including "I Was Wrong" and "California (Hustle And Flow)". The listless crowd applauded each song, but I did notice a lack of chaotic pits as is the norm as I mentioned.
"All your bosses know that you're probably not going to show up for work tomorrow" a sarcastic Ness sneered before finishing the set with the wonderful "Story of My Life" which brought out at least some singing and moshing form the SOCIAL D faithful, including myself. Maybe it was because this was the largest crowd I'd ever seen at one of their shows, but something was just missing. Maybe I will run into the band at some point and ask their opinion. Again, I'm a fan and love everything they do.
By now I was getting tired and hungry. I headed to the huge expanded VIP section, which had quite a few food and drink options including another "Drewsky's" food truck, as well as lots of comfortable places to sit and watch the live feed of RISE AGAINST on the huge video screen. It also provided a giant sound system that was like being inside the Kolas Stage area a few hundred yards away. I found a beer, tipped the volunteer beer server handsomely, took off my shoes and enjoyed a carb-heavy feast as well as the set.
RISE AGAINST is a very aggressive rock band that I have seen many times. They have a ton of energy onstage and always look like they are having way too much fun to counter the anguished looks on their faces. I like a number of the songs that they played such as "Re-Education (Through Labor)" and the excellent "Ready To Fall" about halfway through the set. Great songs just like the band SEETHER who played the day before. As I sat in my comfy chair in the VIP area it occurred to me that I am missing something. Their stage show just doesn't do anything for me and most of their songs sound the same to me as well. They are very anti-climatic for the most part. Singer Tim McIllrath is a star for sure, but for some reason it just doesn't click with me. Maybe it was the anticipation for METALLICA's upcoming set that made me lose interest, but by the time they finished their set with "Savior" I was already packed in with the rest of the headbangers at the Jack Daniels stage awaiting our heroes from San Francisco.
Finally, the wait was over. Again, the house lights dimmed and on the giant video screen there appeared The Ecstacy of Gold film clip, just like it did on Friday. This time however, the band exploded into "Hardwired", my favorite track of their later material. Insanity once again ruled as the crowd greeted METALLICA with a roar and various pits started. People were in the trees and squashed against barricades and standing on picnic tables in the VIP area. The onslaught continued with "The Four Horseman" and then "Welcome Home (Sanitarium)". James Hetfield was in fine form vocally. I may have never heard him sing so well, in fact. His energy was like someone years younger. As Kirk Hammett nailed lead guitar solo after solo, Hetfield and bassist Robert Trujillo gathered around Lars Ulrich's drum kit, just as they had during so many rehearsals. This band was tight!
The video screens then showed a brief homage to the recording and release of the Black Album from 1991, as well as scenes from fans(many sporting KNAC shirts) waiting in line to purchase it some 30 years before. The band then reappeared onstage and, to celebrate the anniversary of its release, performed the ENTIRE Black Album with a twist - IN REVERSE ORDER! I must admit, I was tipped off to this possibility beforehand but seeing METALLICA perform it live just like they did when I saw them in 1991 gave me the same feeling that I had all those years ago. Judging from the crowd's enthusiastic reaction, I was definitely not alone.
"Here comes the Black Album for you" exclaimed Hetfield, who led the crowd in singing along during "My Friend of Misery". Trujillo and Ulrich were locked in throughout the set. Again, this was a very well-rehearsed METALLICA. "Of Wolf And Man" was riff after riff of everything that I love about this band. "Nothing Else Matters" was pretty much a sing-along for the many in the audience that were drunk or stoned to their limit.
After a very heavy "Through the Never" Hetfield again addressed the crowd. "Are you having fun yet?", followed by a playful "Well, knock it off" was a great way to connect with his audience. The charge of "Don't Tread On Me" and the simulated sitar of Hammett's guitar intro to "Whenever I May Roam" set the crowd pushing forward and into the pits. Donning an acoustic guitar for "The Unforgiven" was Hetfield's welcome way to settle the crowd down, if only temporarily.
Hetfield again thanked the crowd and hilariously referred to it as "The Aftershave" Festival, before leading the crowd into "Sad But True". Kirk Hammett, sporting a jean jacket adorned with black bats on it, was in a world of his own on stage left cranking out constant crunchy chords on his assortment of guitars. He really is the glue that keeps this boat afloat, and has been for years.
During the opening chords of "Enter Sandman" suddenly I felt room to move. It seems like many in the crowd were heading to the exits after a long day on their feet. No big "woop" I thought, more room for me to rock out. And I did just that, right up until the song's end. The band then left the stage, but the crowd stayed and screamed for more. And then they returned, going all the way back to the Ride The Lightning LP with the combination of "Fight Fire With Fire", to which the suddenly re-energized crowd went ballistic. The band was now firing like a cannon, fittingly. An absolutely thunderous "Creeping Death" followed and again, it was mayhem at Discovery Park. It was the perfect way to end not only the set, but the festival as well. Did I mention fireworks? Oh yes, there was a brief fireworks display as well as the band thanked the faithful and left the stage.
I headed to the media tent and grabbed a drink to compose myself. It was then that I realized that my legs were no longer working and my feet were killing me. I found the coziest chair in the place and sat with my drink and reflected. Not on just this weekend's festivities, but all that has gone on through the last year and a half and how it has effected festivals like this or even small shows for that matter. One of my great joys of live music had returned in a huge way with some of the best bands on the planet, including the kings of the metal genre who had just slayed an adoring crowd for the second of two nights.
I am fortunate to be in a position where I can attend such events, and the fact the good people of DWP acknowledge my presence year after year is something that I cherish. All that they have gone through to accommodate 40,000 fans per day for 4 days is something that should be looked at with awe and amazement. Their team and protocols for keeping everyone safe and comfortable and fed and happy in spite of the crippling virus that has affected the entire world is not short of astounding. It is not something to be taken lightly and I applaud their efforts with all I have left in my exhausted self. EVERY bit of this and their other events is carefully thought out and addressed with everyone's best interests and I cannot thank them enough for what they do. Hats off to DWP and their team, the bands, the crew, the vendors, the volunteers, and the city of Sacramento for once again making my experience one of pleasure. Looking forward to next year's Aftershock Festival. Hope to see you there!
aftershockfestival.com
www.dannywimmerpresents.com