Photo Credit: Brendy Wijdeven
"We don't force anything. It either comes or it doesn't. Which in a way makes it easy to do. We have riffs that have been sitting around for like 15 years and then we finally find a way to use them. I don't like doing anything half-assed! You're either inspired or you're not. We've tried forcing things in the past and it just doesn't work. We leave it. We let it marinate for a while and come back to it when the time is right. It's all very organic. We're not 'math rock'. We don't set out to do something different, it's not predetermined at all", says NASHVILLE PUSSY guitarist RUYTER SUYS when asked about their approach to writing for an album. KNAC.COM caught up with Suys as they prepared to perform in Houston at The House of Blues on November 5th, 2021. It was also supposed to be the release date of their new live album Eaten Alive and also the birthday of Suys. Eaten Alive is now set for release on December 10th, 2021 via Slinging Pig/MVD Entertainment Group. Enjoy the interview.
KNAC.COM: Eaten Alive was scheduled for release today, your birthday. It was pushed back to December 10th, 2021. Happy Birthday!
SUYS: Thank you. It was scheduled to be released today. But something happened. It might be pressed in China or something or the CDs might be stuck in some shipping container somewhere...I know there's a vinyl shortage. I'm sure there's a plastic shortage, which affects CDs too. It's insane! Did we not learn how to do anything in this past year?!
KNAC.COM: You'd think that things would have been buttoned up as the release date approached.
SUYS: We certainly would never trust a record company and certainly not our own! [laughs]
KNAC.COM: You released a couple live DVDs and a couple live albums, one being a bonus disc...
SUYS: Yeah, Live In Nottingham.
KNAC.COM: What makes Eaten Alive different from the previous live recordings?
SUYS: What's similar is that we have the same producer, which is the same guy that recorded the album in Nottingham. I think recording that album almost served as an audition for him making this album. He's a fan of the band and a soundman. He came out and recorded it. Fuck, did he do a good job! We were utterly blown away by the results. He is now our soundman in Europe. We had to hire him. We said, "You're ours forever now dude! He's great at capturing the band". Fans have been begging us for a proper live album for as long as we have been around. You can look at our studio albums as 'clean' . This live album captures all the 'dirt' that we are known for! [laughs]
KNAC.COM: I agree the band has a certain energy that can only be captured in the live setting.
SUYS: It should be experienced in person, but if you can't get there, this is pretty goddamn close!
KNAC.COM: Was this one show that we hear or is a collection of performances from throughout Europe?
SUYS: It was recorded in Scotland, England and Wales, most of the Kingdom.
KNAC.COM: Was there any 'tuning up' or 'sweetening' of this record?
SUYS: [laughs] Oh no, you'll know when you hear it that we didn't fuck with anything! [laughs] It's a warts and all performance! [laughs]
KNAC.COM: You're doing some shows in the southern United States at the moment. You have something like three dates left on this run. After this, Eaten Alive gets released in the U.S. and then I imagine the first quarter of '22 you back on the road doing what you do?
SUYS: I'm sitting in front of the House of Blues right now. The album will be out in December, but I have no idea what the plan is for 2022 at the moment. I do know we have to head to Europe to do some shows that should have taken place last year but were postponed. We have a shitload of festivals and club dates. We always get on these fantastic festivals in Europe and are always very grateful for that. Unfortunately, the entire live music world is 100% clusterfucked worldwide at the moment! We're just waiting to get the call. I'm sure whatever we get asked to do will be fabulous!
KNAC.COM: NASHVILLE PUSSY is such a versatile band. I've seen you duke it out in the clubs headlining or supporting MOTORHEAD in theaters or supporting ZZ TOP doing sheds. If you can find a band that can hang you'll fit in there nicely.
SUYS: [laughs] That's right! [laughs]
KNAC.COM: As far as downtime with the pandemic, have you used some of the time to get working on song ideas for the next studio album?
SUYS: No. We're always compiling riffs. We have a backlog of 100s of riffs. We send them to each other, but when we get into the writing process, we try to get rid of some of the shit that we've compiled! [laughs] In the meantime, Blaine [Cartwright] has written and recorded a new album with NINE POUND HAMMER. That just came out, like a couple of weeks ago. It's called When The Shit Goes Down!
KNAC.COM: Don't tell him this, but I have it. The label sent me a CD, I just haven't had the chance to listen to it.
SUYS: [laughs] Check it out! It was produced by DANIEL REY who produced the last NASHVILLE PUSSY album. He really put his shine on that! It's great! This is the best NINE POUND HAMMER album to date. They've been getting rave reviews! This is a must for PUSSY fans, a lot of them have never heard NINE POUND HAMMER before and they're like what the fuck?! [laughs]
KNAC.COM: Your Up The Dosage [2014] album really hit the spot. I think it's become my favorite NASHVILLE PUSSY album to date. Don't get me wrong I enjoyed Pleased To Eat You too, but Up The Dosage rules.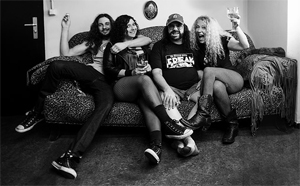 SUYS: I'm glad you liked it so much! That's fucking awesome! That was an inspiring album! You could almost call it a 'breakthrough album'. I learned this great recording technique, we have talked about this before, but it's getting it right the first time! [laughs] I became the 'one take' tape machine on that one. I did all of the guitar tracks in one shot!
KNAC.COM: How much does it change the band when you have a drummer like JEREMY THOMSON that comes from the PHIL RUDD school of drumming to someone that has more rock 'n' roll chops, like BEN THOMAS?
SUYS: I don't know, but I can tell you that it's really inspiring. It's opened some more doors for us. He's represented what NASHVILLE PUSSY is all about. He's from Atlanta. He's in tune with funk and soul of Atlanta; he combines what we like and merges it with hard rock. It's really exciting playing with a guy that really knows that shit! We all speak the same language, pretty much.
KNAC.COM: How long has he been in the band?
SUYS: He's been in the band 3-4 years. He's played on Pleased To Eat You and now Eaten Alive.
KNAC.COM: And the next album and the album after that...
SUYS: That's right! And the tours! I have this dream that JUDAS PRIEST will tour with URIAH HEEP again and ask us to support them!
KNAC.COM: Did you catch the tour they did across North America with URIAH HEEP supporting? It was incredible!
SUYS: We didn't'! We would have loved to have seen that, but we had a show the night they played in Atlanta. We heard rave reviews! Of course, I love JUDAS PRIEST, but I fucking LOVE URIAH HEEP! I'd love to share the stage with my heroes and fire a light under their asses! [laughs]
KNAC.COM: Speaking of lighting a fire under the asses of your heroes, you did a lot of touring with Lemmy and MOTORHEAD and then there was the ZZ TOP tour…
SUYS: We did a bunch of direct support with MOTORHEAD, we played with every incarnation of MOTORHEAD since we released our debut with various incarnations of NASHVILLE PUSSY. [laughs] We were cut from the same cloth as MOTORHEAD, there is no doubt about that. When we first went on the road with them, we didn't know what to expect. They're our heroes. They fucking schooled us! They loved having us out with them and they were so much fun! I just can't speak any higher of Lemmy and MOTORHEAD. He was a wonderful person and friend. He's a scholar and a gentleman! I'm still smiling about the ZZ TOP tour! [laughs] I think I have told you before that on that ZZ TOP tour, was the first standing ovation that we have received! [laughs] We have NEVER had a standing ovation before, but we've NEVER played to people sitting down before! [laughs]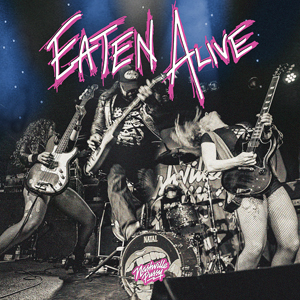 KNAC.COM: I remember you telling me about that!
SUYS: ZZ TOP fans have been around! [laughs] When they stand up, they're going to feel it the next day! [laughs] They really liked us! [laughs]
KNAC.COM: What was the biggest takeaway from that ZZ TOP tour?
SUYS: Billy [Gibbons] was such a super sweet guy to us. He loves the blues. He was really supportive and really encouraging to us. To have the blessing from The Reverend Billy was something else. You can't put a price on that! [laughs] He did the same stunt that he has done with a lot of other people, where he puts his guitar over mine and he had me play it. He wanted me to check out the feel of his guitar! He plays guitar strings that are so thin that they're like fucking spider webs! [laughs] He told me that B.B. KING said to him, "Why want to work so hard? Get lighter strings.''
KNAC.COM: Any memories on DUSTY HILL that you'd like to share from that tour?
SUYS: The whole thing was incredible! I remember that we were cravaning, our bus chasing their bus. We were playing a lot of super fancy wineries in California. I remember, we'd wake up on-site next to ZZ TOP's bus in the morning. I remember that we'd all walk into the venue with our toiletries and we'd brush our teeth together and stuff. Then we'd sit down and have breakfast together. It was like a little family, really wholesome! [laughs] I looked forward to seeing DUSTY HILL walking in with his toiletry bag and saying "good morning" to each other. I had to pinch myself! [laughs]