The Gold & Grey: An Exclusive Interview With GINA GLEASON Of BARONESS

By Krystiee Lee, Editor
Friday, November 5, 2021 @ 9:27 AM

| | | |
| --- | --- | --- |
| | | "I'm really excited that everyone has this same mentality that this doesn't have to stop and we can just keep going and making records and trying new and weird things." |
Band Photo Credit: BARONESS
Starting tomorrow, November 6th, for the first time since the pandemic, Georgia founded band BARONESS will be hosting an 'Intimate Evening Tour' with a setlist chosen entirely by fans. BARONESS released their latest 17-track album Gold & Grey, in the summer of 2019. Last week, I was able to chat with Gina Gleason, lead guitarist and backing vocals since 2017 on what to expect with this intimate tour, new record details, and life since lockdown.
KNAC.COM: You will soon embark on an intimate tour this fall in which the fans get to choose the songs played. How excited are you personally, and as a band, to be returning to the stage?
GLEASON: Personally I'm like over the moon excited but at the same time its accompanied by the fear of "Is this going to be okay?" or "is this too soon?" while thinking about the safety of people coming to the shows and all. In a perfect world, if we could just focus on playing a show and hanging out with people it would be even more awesome but I'm still just extremely excited.
KNAC.COM: Completely understand, hopefully soon we can get back to that point.
GLEASON: As a band we all feel the same way, on one side we are all so fucking stoked and then on the other side we just want to do everything we can to make sure it runs smooth and figuring out all precautions we should take for everyone, especially the band and the crews.
KNAC.COM: Given all the different protocols out there, will the band be implementing any of their own policies, or is it mainly up to each venue?
GLEASON: As far as what the audience can expect, really everything is so different state by state, but we haven't said anything about our specifics and leaving it up to the venues themselves. I work at a venue here in Philadelphia when we aren't on tour.
KNAC.COM: No way! I had no idea.
GLEASON: It's a pretty cool venue, it's called Union Transfer.
KNAC.COM: What exactly do you do there?
GLEASON: I just work as a stage hand and it's a super fun and great venue, and really almost feels like a family. But we've done the whole "if you're not vaccinated as an audience member, bring a 48-hr negative test" and then have everyone stayed masked. Thankfully, everyone has been really respectful of that so far and basically seeing things as an employee's point of view, you know? I mean we are lucky enough to have shows know and I think everyone understands that this is just something we have to do for now to be able to keep that.
KNAC.COM: Exactly!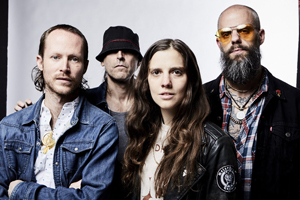 GLEASON: As far as ourselves, we are just going to try really hard to not go to restaurants and go out much, I mean typically when we go on tour we like to explore the city and see what's going on… so that will be a little different this time but again, we are just happy to be on tour so whatever we have to do to keep us able to do that…we will do it. Whatever it takes.
KNAC.COM: For this particular tour, how did you guys decide on letting the fans be the ones to choose the setlist?
GLEASON: Honestly, we were just talking about what we could do to make this tour a little bit different and we thought it would be cool to play more intimate venues and after more of just thinking and talking about it… since the BARONESS catalog is so vast and since we are also still finishing a new record so we are not necessarily promoting anything specifically new since our last one came out in 2019… so this tour, for us, is just a cool way to lead up in support of something new, and play whatever you guys want to hear. For me, I was a huge massive fan of the band before I joined, so I'm just stoked to learn all the older songs and stuff from the EPs and I'm just really going deep nerd into all of it. We just thought it would be something special and different and even John made this awesome screen-printed poster of his artwork with each city on it, all the ticket holders will receive.
KNAC.COM: Wow, that's amazing and sounds like a badass experience.
GLEASON: Yes!! We just hope that people just really have a great time and leave thinking "Wow that was an experience and a really cool evening." Really, that's the ultimate goal.
KNAC.COM: Since you were unfortunately unable to tour for the Gold & Grey album, will you be playing any of that material for this tour if the fans for some reason don't choose much from it?
GLEASON: Yeah! I think so, we haven't really put this out there specifically, but the goal is to kind of have a set of all the voted songs and then a short acoustic set, plus a set of just some other stuff we can play and throw in that night… just different stuff that we've been working on, so yeah, we will definitely be doing a lot of stuff.
KNAC.COM: Which songs are you personally hoping the fans choose?
GLEASON: I really love all of the Gold & Grey stuff because of having the experience to make the album with them so it's fun when we get to try new things... Like, if we did this in the studio this way, we can maybe switch it up a bit and do something a little different onstage. I also always loved the Blue record... It's always been my favorite as far as what stood out to me the most. All of those songs from Blue like "Jake Leg" and "Swollen And Halo" just absolutely rule to me. So far people are choosing a really broad spectrum of songs which is awesome and keeps it interesting for us.
KNAC.COM: How have you been able to keep yourself busy with your extended time off the road besides working as a stage hand?
GLEASON: That luckily started back up this August so that's been super cool! Before that we've been spending a lot of time just working on new music and even decided last winter, "Hey, let's go get an Airbnb and be a pod again" with just the four of us. It was awesome and we recorded and wrote the bulk of an album and have been working on it since then with all the leftover things that need to get accomplished. So that's kind of been the bulk of it really. I started teaching guitar lessons on Zoom which is so much fun and rad, too.
KNAC.COM: Is it difficult not being able to teach one on one?
GLEASON: Surprisingly it's okay. Everyone is rad, I mean there's definitely some comedy in it since you know we are doing it through a computer screen but I mean it's amazing I even get to do this.
KNAC.COM: Crazy how much we have had to learn lately on how to depend on software like Zoom instead of being hands-on or up close and personal.
GLEASON: Right?! Like a life lesson, it's so cool that we can do that. It's cool that I can facetime Nick and Sebastian in New York and talk about whatever it is, easily. I even have a student who lives in Sweden and we get to hangout on Zoom every Monday morning and talk about guitar nerd stuff so I'm just really grateful for that.
KNAC.COM: That's amazing, I'm sure even the scenery in the background of the Zoom call is still just as incredible.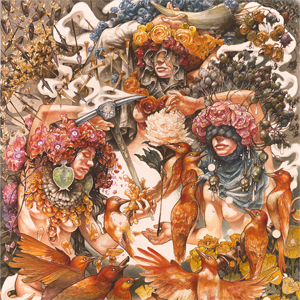 GLEASON: Absolutely, Sweden is such a beautiful place, it's awesome there. It's one of the last places we went to on our last tour with VOLBEAT and you know, that was when we were opening for them on these big stages but whenever we could, we would try to play these intimate little shows on our days off and really, whenever there was time… and I remember in Sweden, we played at this place that looked like it used to be a slaughter house... or like a butcher house, I don't even know what it was but the walls were metal and the floor looked like something you can just hose down bile and blood, it was crazy... just some random place in in Stockholm, Sweden.
KNAC.COM: How many people were at that particular show?
GLEASON: Actually, there was about 100 people crammed in there and we played like this awesome show and then a couple days later we came home and then next thing you know the pandemic happened.
KNAC.COM: One moment you're living the dream and then the next moment you're on lockdown.
GLEASON: Yes!!! It really makes you feel like you can't take anything for granted, as cliché as that sounds. It's like holy shit we are truly lucky.
KNAC.COM: Going back on the new record currently in progress, is there any update on that, or maybe a release date soon?
GLEASON: We went really crazy in the pandemic, which I'm sure every band did, but we did this thing where every Friday whatever we worked on, on our own instruments, or really whatever we did that week, we all four put it in a shared Dropbox and then we would all jump on a Zoom call and hangout and listen to what everyone did and talk about it. It turned out that everything we all worked on was awesome. I mean, in BARONESS in my experience, those three guys are so openminded and professional and they always have really openminded ideas on music and how to structure even the smallest cell phone recorded idea and are just really positive about everything. So, we have all this music and took the bigger, more developed chunks to our little Airbnb studio and self-engineered and self-produced a record's worth of new songs. So you know, now we are just working on finishing the vocals and finishing the last ties. The challenging thing is finding the pockets of what things to write about. From a lyric standpoint, that feels not so much like we've been, you know, sitting in quarantine.
KNAC.COM: Do you help with any of the writing process or lyrics?
GLEASON: John mainly writes the lyrics, I love reading and writing lyrics and I try to help when I can by throwing some lines out there. There are some songs on the last record that me and Nick wrote which is cool and with this record we are all trying to be "all hands on deck" as much as we can, but since ultimately John is the one who is obviously singing these lyrics, I kind of understand the fact that he wants it to come from him and his own feelings, you know?
KNAC.COM: Absolutely
GLEASON: So, I really think going back on tour will be the best thing to catapult this record being done and it'll just really be awesome.
KNAC.COM: Heading into your third year as lead guitarist for BARONESS, how excited are you for the band's future and your personal role within the band?
GLEASON: I'm really excited that everyone has this same mentality that this doesn't have to stop and we can just keep going and making records and trying new and weird things. It feels like every year we stumble into a new territory and realize "hey we can do this!", like in 2019, we stumbled into "we can do acoustic shows… let's play acoustic shows", so we did!
KNAC.COM: Which the fans love!
GLEASON: Yes! And we love it too! It's super fun for us, so I'm really looking forward to seeing what else we can stumble into as a result of just having fun, playing together, and working on new ideas. I'm super stoked. I just hope we keep touring and making records.
KNAC.COM: And doing cool shit.
GLEASON: Yes, and doing cool shit! Totally!
KNAC.COM: Hopefully can make your way to Houston sometime soon, too!
GLEASON: Hopefully soon! Houston is awesome! But cool things are definitely coming soon. I am just so stoked!
BARONESS: 2021-2022 TOUR
11.6, 2021 Ottobar Baltimore, MD
11.7, 2021 Richmond Music Hall at Capital Ale House Richmond, VA
11.9, 2021 Ace of Cups Columbus, OH
11.10, 2021 The Black Circle Indianapolis, IN
11.12, 2021 Barfly at Skyway Theatre Minneapolis, MN
11.14, 2021 The Hall at Fargo Brewing Company Fargo, ND
11.17, 2021 Lucky You Lounge Spokane, WA
11.19, 2021 Funhouse Seattle, WA
11.20, 2021 Funhouse Seattle, WA
11.21, 2021 Doug Fir Lounge Portland, OR
11.23, 2021 The Olympic Boise, ID
11.24, 2021 The State Room Salt Lake City, UT
11.26, 2021 Globe Hall Denver, CO
11.29, 2021 The Bottleneck Lawrence, KS
11.30, 2021 Off Broadway St. Louis, MO
12.1, 2021 Cobra Lounge Chicago, IL
12.3, 2021 El Club Detroit, MI
12.4, 2021 Mahall's Lakewood, OH
12.5, 2021 Mohawk Place Buffalo, NY
12.7, 2021 Saint Vitus Bar Brooklyn, NY
12.8, 2021 Saint Vitus Bar Brooklyn, NY
12.10, 2021 Middle East Upstairs Cambridge, MA
12.11, 2021 Kung Fu Necktie Philadelphia, PA
12.12, 2021 Kung Fu Necktie Philadelphia, PA
12.13, 2021 Kung Fu Necktie Philadelphia, PA
6.1, 2022 Parkbühne Leipzig, Germany *
6.2, 2022 - Jun 4, 2022 Mystic Festival Gdansk, Poland
6.4, 2022 Rock Am Ring Nürburg, Germany
6.5, 2022 Rock im Park Nuremberg, Germany
6.12, 2022 Download Festival Castle Donington, UK
6.16, 2022 Graspop Metal Meeting Dessel, Belgium
6.17, 2022 Hellfest Open Air Festival Clisson, France
6.20, 2022 Pustervik Gothenburg, Sweden *
6.21, 2022 Malmö KB Malmö, Sweden *
6.22, 2022 Open Air Vienna, Austria *
6.23, 2022 Tons Of Rock Oslo, Norway
6.28, 2022 Culture Factory Zagreb, Croatia
* - w/ MASTODON
Please log in to view RANTS