Live Photos By Krishta Photography
THE DEAD DAISIES are touring in support of their album, Holy Ground. Recorded in 2019, prior to the pandemic, the band is finally able to tour again. Itís been a long, strange couple of years and itís great to see bands playing live gigs after what seemed like an eternal hiatus.
I recently got the chance to talk to Doug Aldrich, guitarist for THE DEAD DAISIES. Dougís resume includes LION, WHITESNAKE, DIO, HURRICANE, HOUSE OF LORDS, BAD MOON RISING, BURNING RAIN and REVOLUTION SAINTS. His guitar playing is soulful, and heavy. Hands down, he has the best hair in the business, and is one of the kindest, most humble humans on the planet.
KNAC.COM: Good morning! How are you doing?
ALDRICH: Iím good! Weíre heading out West, weíre in Dallas today. Iím looking forward to tonight.
KNAC.COM: I get to see you guys in Portland, Oregon. Itís on a Tuesday night, but I canít think of a better way to spend it than to come see your show.
ALDRICH: Well, thereís always good TV on Tuesday. [Laughs]. Weíre happy you can come out. Itíll be great.
KNAC.COM: Iím super excited. I worked with Joe (Sutton) and Brian (Tichy) doing Bonzo Bash for a couple of years. Man, I miss those shows.
ALDRICH: I love Bonzo Bash. I totally miss it too. I think it was 2019 when we had the last great one. Yeah, I really miss it. For a couple of years, I was the house guitar player and it was such a great challenge to learn or kind of learn those parts correctly and remember them all. The drummers are just phenomenal.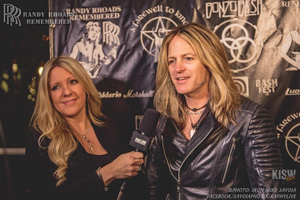 KNAC.COM: Iím not sure if Brian and Joe will bring that back during NAMM again or not. Itís such an expensive production.
ALDRICH: I just noticed theyíre doing one in Kansas City. Itís a houseband from Kansas City, and then a bunch of Kansas City drummers. It was called the Kansas City Bonzo Bash. With the same logo, so? Maybe Brian is doing a few shows that way?
NOTE: This Kansas City Bonzo Bash show was NOT endorsed by Brian Tichy or Joe Sutton. The artwork and name were stolen and a Cease and Desist had been issued which the party complied.
KNAC.COM: I think I first met you back in the DIO days. Seriously. You havenít aged. I want to first of all know, where you keep your Dorian Gray, I need it in my house now, and I want every regiment you use. [Laughing]
ALDRICH: I have aged. I just have to work a little harder to try to keep in shape. Work on my face and my hair and my body, itís just a little more effort. I appreciate it.
KNAC.COM: Oh lordy, you have to work a little harder? [Laughing]
ALDRICH: Okay, like the photographer that travels with us (Oliver Halfin), heíll take like a hundred shots of us. Somewhere in there, thereís got to be a good shot of us. His job is to get good shots of us. He always takes care of us.
KNAC.COM: As a photographer myself, I donít think itís much of a feat with you.
ALDRICH: I appreciate it. I see pictures of myself and I just cringe at times. Thereís nothing you can do about it. Just try to age and be comfortable with it and do your best within reason. During Covid, like all of us, I put on a little bit of weight. It was kind of bumming me out. When we got back into rehearsals for the first time, I blew something out in my back and had a sciatic thing down my butt and my leg. I couldnít really work out. But I got it fixed. Iíve finally been able to get to the gym. It feels really good. Iím not to my target spot yet, but definitely Iím so happy Iím healthy and I can run.
KNAC.COM: Itís so important. Movement is life.
ALDRICH: Absolutely.
KNAC.COM: So, youíve been with THE DAISIES since 2016, and I just have to say thereís been a lot of lineup changes, 22 in all. Is someone in the group just that hard to work with or is it a natural progression?
ALDRICH: [Laughs] Thatís funny. No, thereís no one whoís hard to work with. If there were, weíd get rid of him. Some of that is that in the very beginning the band was trying to figure out what direction to go. It wasnít really a set lineup in the first place. It was whoever was available would come in and jam and do a show or whatever. When they got Marco Mendoza and John Corabi, thatís when it became a solid lineup. With Richard Fortus, Dizzy and David and Brian Tichy. Thatís when they did the Revolucion record. I think thatís when it was really solidified. At that time there were probably 5 different people coming and going. Thatís kind of the original idea that David had. He didnít want it to be a situation where anyone felt obligated. He wanted people to feel free to do what they want. Come and go. Put your stamp on the music while youíre there. When it came time, John wanted to take some time off to do his solo stuff and a book. And then Glenn came in. In a really cool way, itís like a new era of the band. In the same way like DEEP PURPLE when they went from Ian Gillan to David Coverdale and Glenn coming on, that was like Mark III. This is kind of like Mark III or IV for the DAISIES. Itís interesting.
KNAC.COM: I have to make note that Glenn took the place of not one, but two guys.
ALDRICH: Thatís right. We talked to Marco. He had been doing his solo stuff and in between tours between THE DEAD DAISIES, Marco would never go home. He would just be constantly on the road working. He was getting beat up. His leg and his hip were kind of messed up. He said, ďI wanna take some time off.Ē He had to get some surgery done. It was all amicable. We love Marco. We love John too!
KNAC.COM: I love Marco too. Iíve known him for a very long time. I was kind of surprised to see John Corabi leave the band.
ALDRICH: Yeah, you never know. I mean, thereís always room for anybody to come back at any point. The thing is that with John, we were so busy the few years I worked with him, we didnít really have a chance to do anything other than THE DAISIES. He did put out a live record featuring his MOTLEY CRUE stuff, but he didnít have time to support it. I think he just wanted to have some time. Weíre in touch. Heís super happy. Heís working on a book right now out in L.A. Sounds like itís going to be really cool. So yeah, weíre all just moving forward with our own things. We are super excited to have Glenn and have a fresh start.
KNAC.COM: I canít wait. Iím super excited to see this. You also have Tommy Clufetos.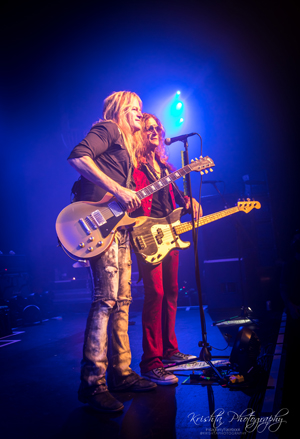 ALDRICH: Yes! Heís a powerhouse. Heís just incredibly heavy. Thatís the beauty of those lineup changes when they do happen. We can revisit a song and do it in a new way. Thatís kind of what weíve been doing with the older songs.
KNAC.COM: He replaced Deen Castronovo. Both Deen and Marco are doing the JOURNEY gig now, right?
ALDRICH: Yeah. Iím really happy for Deen. For Marco as well. I think thatís a great lineup with Neal, Arnel, and John. Marco is great. And as for Deen, thatís where he belongs.
KNAC.COM: I agree. I think that itís cool that everything heís gone through, he had THE DAISIES to get his feet back on the ground and get centered again.
ALDRICH: Yeah, it was good. First of all, heís my friend. Heís friends with Marco. Heís tight with Corabi. It was awesome that he was able to just get back into it and he was in touch with Neal the whole time. I think Neal was bound by contracts and then things changed and Deen got the call. I was just very happy for him.
KNAC.COM: Deen just had surgery too. Lordy. Everybody is getting surgeries, hip and back problems. Is it our age? [Laughing]
ALDRICH: Deenís probably stems from so many years of drumming. Marco just works so hard. He never goes home. How can you do it? My situation was just being out of shape and popping something in my back and my sciatica. I went to chiropractors all over and finally I got back to L.A. and to my guy. Heís amazing. He sorted me out. Iíll tell you, I was wondering if I was ever going to get back to normal.
KNAC.COM: Iím so glad you seek self care. Itís so important. So, my friend Brent Angelo has a big question for you. He asks: As a first 500 member, the band has really evolved. Will the live show focus on just the new material, or will there be a focus to include older songs throughout the bandís history?
ALDRICH: I think it's always going to be a throwback to some of the earlier stuff because theyíre good tunes. For example, weíre doing "Lock ĎNí Load", which is the first recording David Lowy made with Slash on guitar and Richard Fortus. We put a brand new spin on it with Glenn. Itís really cool. It was more rock with an acoustic guitar pick sound, now weíre doing it with a cleaner guitar, kind of in the vein of Tom Petty. Itís really interesting. And Glenn sings the hell out of it. So itís really cool.
KNAC.COM: Are you still doing your BURNING RAIN gig?
ALDRICH: Not really. We were working on this new record in 2019, and I had put out a record in 2019 in between. I did a little acoustic tour of Europe and that was really fun, but it wasnít really possible to get the band going at that point. Once Covid hit, everybody shut down. Itís always going to be my pet band, my project. Right now, itís THE DEAD DAISIES that Iím focusing on.
KNAC.COM: You released the album Holy Ground in January of this year, was it recorded before the pandemic or during?
ALDRICH: It was recorded before. We solidified things with Glenn in 2019. We went to a studio in the south of France. It was unbelievable. We all lived together. We could basically wake up, go get breakfast, and walk down the hall to the studio. I had never done that before. It was really cool. It helped us gel and really focus. We never focused that hard at home when you have distractions or whatever. This house in France is in the countryside and thereís nothing else happening. We knocked out the record at the end of 2019, and we had a bunch of plans to tour and whatnot. So we waited. We didnít release the album during Covid, because we didnít have the vehicle to tour. We waited and put out a few singles during the year and did what we could to keep in touch with our friends and fans around the world with social media. Then we kicked off the tour this year in January.
KNAC.COM: Man, itís been a weird time. Iím one of the photographers for FOREIGNER. I was just out with them a few weeks ago. Theyíve been super careful about keeping their tour bubble tight and feeling really great that theyíve kept safe. I got to pick a couple of shows to shoot. I sent in my vaccination card and negative covid test. I get there and the tour manager says, ďWeíre all safe here. You can take your mask off. Letís get a picture of you with the band.Ē Two days later, many in the camp tested positive for Covid. Gahhh.
ALDRICH: Oh no!
KNAC.COM: I know! Two negative tests so far for me. Keeping my fingers crossed. But they were so excited that they only had to get through November and were so far keeping safe, and bam! So how are you guys doing out there with so many bands stopping and going and getting Covid?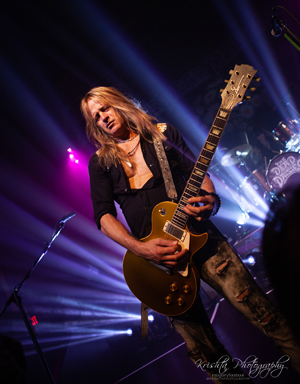 ALDRICH: Touch wood, weíre okay. You never know. Stories like that just freak me out.
KNAC.COM: Sorry! I know. Itís just so frustrating when youíre being so careful and not letting people inside that bubble.
ALDRICH: That sucks. That means they had to cancel dates?
KNAC.COM: Yeah, a bunch of postponements and reschedules. Back to you guys. You guys please just be safe out there.
ALDRICH: Weíre trying! We are trying our best to make it through. We have a couple of gigs and a little time off in L.A., then weíre off for about 10-days before we go to the UK. Weíre really excited about that. We just need to be careful and stay healthy. THE DEAD DAISIES would usually be open to the fans all the time. We love it. Meet & Greets. Weíd do Meet & Greets no charge. Just hanging out. Right now we canít do that. Letís hope that next year, weíll be in better shape. Weíll get there.
KNAC.COM: It sounds like you and Glenn, and actually the whole current lineup really gel together with the writing process. Is this your favorite? I mean, you canít really say what your favorite isÖ[Laughs]
ALDRICH: Yeah, we do. Weíd all grab acoustic guitars and just start throwing ideas around and weíd come up with basic ideas and record it on our iPhone just to document everything. Then weíd go back and revisit it. When Glenn joined the band, I knew some of the stuff that Glenn would like. He likes heavy grooves and heavy riffs. He was doing the same thing for the band, coming up with music and titles and things. We basically got together and had a little bit more formed before we sat down. For example, I had a piece of music that I laid out there in a complete form, knowing that everyone was going to put their stamp on it, but it gave everybody an idea of what I had going on in my head. We all took each otherís song ideas and put our stamp on them as best we could. I knew Glennís background really well. I grew up listening to him. I had learned a bunch of his stuff. Weíve been friends for a long time.
KNAC.COM: Out of all the bands youíve played with over the years, do you have a favorite? Maybe not just musically, but because of who you were playing with? Like a fun group of guys that you just loved hanging out with?
ALDRICH: My very first band, those are always special memories. I just had dinner with the drummer of LION, which was my very first signed band. It was great. This guy was very successful in business, but he couldnít play drums after an injury. Iím sitting in this house, this amazing piece of concrete and I was thinking about when we were kids starting LION, we were like sleeping on the floor and we didnít have furniture. I remember him being like, ďDude, I got a can of tuna. I can get my protein for the month.Ē Thatís how it was for our bands back in the 80s. That was a special time. Of course playing with DIO, with Ronnie was amazing. There was a real camaraderie. Then of course working with David Coverdale. Working so close was like a pinch me, is this real moment. THE DEAD DAISIES have a good camaraderie as well. It reminds me of DIO times, when weíre touring together as a band should and stick together all the time, supporting each other. I really feel like itís a family, so itís cool.
KNAC.COM: I want to see the documentary that Dave Grohl did, I think itís called What Drives Us, about bands getting in that van and how important that time is and sticking together.
ALDRICH: I heard about that one. He does great documentaries. I canít wait to see that. Heís such a talent. Itís great what Dave Grohl has done for Rock & Roll. Heís really carried a lot of weight. Iím a fan of his. I wouldnít say I was influenced by him in a direct musical kind of way, but I think heís important in a way like John Lennon. Not to compare apples to oranges, but he definitely carries a lot of weight with people.
KNAC.COM: Heís so humble and approachable too. Everything about him is great. Heís a fan himself and itís fun watching him, almost like heís in disbelief with some of the guys he plays with. I saw him with Paul McCartney and he kept looking out at the audience like, ďHoly shit, Iím up here playing with a BEATLE.Ē
ALDRICH: Exactly. Thatís whatís so cool. He's really a super, sweet, thoughtful, kind, generous person. Heís also an amazing talented musician. And heís a star.
KNAC.COM: So true. Youíre a Gibson boy. I love all things Gibson. Your Goldtop is amazing. Iím so glad to see that company turn things around. Have you gotten to work with JC?
ALDRICH: Heís done a great job. Heís a good man.
KNAC.COM: Totally, another super humble guy.
ALDRICH: Heís been extremely helpful and nice to me. I saw him at a NAMM show and he goes, ďLet me know if you need anything.Ē It was like, ďI donít need anything, but thank you so much. It was nice to meet you and youíre doing great.Ē Finally I saw a guitar and I called him and I go, ďI told you I didnít need anything, but I saw this guitar and I want to see if I can have some assistance in acquiring it. Whatever we can work out.Ē He made it happen. Heís just great.
KNAC.COM: So you got the guitar.
ALDRICH: Iím sitting here looking at it right now. I mostly, like I love Goldtops. I think itís the most beautiful guitar ever made. That was my first good guitar when I was a kid was a Ď73 Gold Top. I have a couple of Sunbursts. I had a Gary Rossington Tom Murphy aged, that was really nice. I had a couple other Sunbursts I collected. But the flame and the coloring on this Sunburst is just, itís exactly what Iíve always wanted. It plays amazing. I look at it and itís like, ďCome here! Come to me. Come to me!Ē I checked into my hotel yesterday, and I sat down with it for a couple of minutes and before I knew it, it was a couple of hours. Time to go to dinner. [Laughs].
KNAC.COM: Is it a heavy guitar? So many Gibsonís tend to be heavy.
ALDRICH: I do have some Les Pauls that are pretty heavy. Like in the mid 70ís, the Customs were pretty heavy. These new ones are really weighted really correctly. Theyíre around 9 pounds.
KNAC.COM: Okay, last, youíve had Don Jamieson out with you. I have seen him with bands before. I love that there is some comedy between sets at shows. Itís such a great transition. Brilliant.
ALDRICH: Absolutely. I couldn't agree more. It really helps the flow as well. We have THE BLACK MOODS out with us. Theyíre a great band. Great group of guys. They kick off the night and theyíve got some really great, catchy songs, some that have charted really well. While they do the changeover, Don gets up and does his part. It keeps the flow going.
KNAC.COM: Everybody should take Don out with them! [Laughing]
ALDRICH: Heís a sweetheart and very talented.
KNAC.COM: Thanks so much Doug for taking some time with me today.
ALDRICH: Looking forward to seeing you.