JEFF SCOTT SOTO has worked with some of the greats in the genre, YNGWIE MALMSTEEN, AXEL RUDI PELL, TALISMAN, SOUL SIRKUS, JOURNEY, amongst them. KNAC.COM caught up with Jeff to discuss his new album, a collection of songs from his back catalog. The album is titled The Duets Collection, Vol. 1 and was issued on October 8th via Frontiers. Soto covers tracks from his time with YNGWIE MALMSTEEN to EYES to TALISMAN to material from the Rockstar soundtrack. As the title suggests, Soto has asked some friends to be a part of the album. The guests include, ERIK MARTENSSON [ECLIPSE, W.E.T.], ERIC MARTIN [MR. BIG], JOHNNY GIOELI [HARDLINE], DEEN CASTRONOVO [REVOLUTION SAINTS, JOURNEY], NATHAN JAMES [INGLORIOUS], RUSSELL ALLEN [SYMPHONY X], RANAN ZONTA [ELECTRIC MOB], DINO JELUSICK [TRANS-SIBERIAN ORCHESTRA], MATS LEVEN [CANDLEMASS, TRANS-SIBERIAN ORCHESTRA], BJ [SPEKTRA, SOTO], and ALIRO NETTO [SHAMAN, QUEEN EXTRAVAGANZA].

KNAC.COM: Weren't you the guy that posted something a couple days ago about Facebook and Instagram being down? I was trying to find it and I wasn't able to track it down. I thought that was comical!

SOTO: [laughs] Yeah, that was me! I said something like 'man, it was amazing how I didn't miss or maybe the world didn't miss the access to social media that we got taken away for a few hours'!

KNAC.COM: It was almost like living back in the early 90s or something?

SOTO: It felt kinda good! I'm not gonna lie! [laughs] Social media adds so much pressure of having to follow up. In many ways it has changed what we do in the form of promotion. I use it as a promotion machine. I keep posting content and people keep following up on it. I love not having that pressure, it was fantastic!

KNAC.COM: I did see a new tweet you sent out with the photo of your two dogs, they're twins and they're 9 years old. As a dog lover, I like seeing what some of my favorite musicians have as pets.

SOTO: I get you. All my life, as far as I can remember, I've had a dog and even cats! They add a level of comfort and security to your life. You know you're responsible for these creatures. You know you want to give them the best life and what you get in return is just as rewarding.
KNAC.COM: I have to ask you about SONS OF APOLLO, you released the latest album MMXX and were going to do an extensive tour of North America, but you headed to Europe. I think you did a handful of shows out there, before the pandemic broke. You called the tour after a few dates and if I recall, you barely made it back to the United States before things were locked down.
SOTO: Yeah, we literally pulled the plug on this just as things were heating up. Trust me, we went back and forth on that decision. We thought about soldiering on...the decision changed at least 30 times during the course of 48 hours. Final decision was made when we were going from Europe over to Russia or somewhere else where it was a fly in date. All the dates would be flying in and dealing with all of these other countries etcetera. It was at that point that we thought we'd get stuck somewhere and we decided to do the right thing and go home.
KNAC.COM: Sadly, the pandemic dealt a kick in the nuts, so to speak for the promotion of the record. You're picking that up, though, right?
SOTO: Oh, absolutely...for starters, the album will be two years old by the time we get back out there touring. One of the reasons that we didn't go back and do something new, was because we wanted to stay on course. We had an album to support, it would have been a shame to not support it, even though time was ticking. It was becoming older, but it was a strong album and it would have been a shame not to tour behind it. I think that was the main reason why we didn't start working on new material. I think we will be discussing that soon when we gather together for the South American tour.
KNAC.COM: I saw the first tour in Portland. It was a fun show, you added a couple covers to fill a little more time. It would have been great to see a set with a 50/50 split of stuff from both the records.
SOTO: Yeah, that's kind of what we were doing, the majority of the material was from the new album, since it was to promote that album. It was weird because we had to cut so many songs from the set from the first album. It's hard to reflect on that...it's just such a shame. I'm not going to say it just happened to me because it happened to everyone, it happened to the world. It affected my peers, the fans, the industry, the bands and the artists. We were all affected. I can't sit here and cry over the same spilled milk that we're all crying over. All I can say is, let's try to rebuild, move forward from it and not dwell on it.
KNAC.COM: You've been doing some stuff with JASON BEILER from SAIGON KICK, it's acoustic based. You're playing songs, it's fun, low-key and it works incredibly well. I have seen you guys do that on THE MONSTERS OF ROCK CRUISE.
SOTO: It was mainly that Jason embarked on that side of his career, he felt that the whole SAIGON KICK thing is passe and he doesn't want to do the band thing anymore. He's such a great songwriter. He came to the realization that he might be better suited at this point in his life, his career and age to do more of a 'stripped down' singer/songwriter type of thing. He was doing that already and along his travels he would invite special guests or friends, depending on what city he was doing it in. He knows I have this 'bucketlist' affinity to sing a SAIGON KICK set. I love the material, that band and everything that they did. I especially love the first two albums. He knew that I knew the wealth of that material. We do a lot of those songs. He invited me to do that with him when he was doing it in L.A. He asked me to do a few songs. It wasn't just 1 or 2 songs and see you later and thank you very much. He said, "Man, that was so much fun and it adds a new element to what I'm already doing. Maybe we could do more of this". I was so game! We did some more and we've built it into something that is really, really special.
KNAC.COM: You did some background vocals on some SAIGON KICK stuff, so you guys go way back.
SOTO: I met Jason back when he was the touring guitarist for TALISMAN. He was on the first tour that we did. TALISMAN was not intended to continue at that point, we just went all our own ways. He then started SAIGON KICK, so he put the band together as a result of that. It wasn't until two years after that, we got together and did the second TALISMAN record, which set the course for the next 17 years of the band.
KNAC.COM: This ties in with The Duets Collection Vol. 1 album. I was surprised that he didn't appear on the album. Is there a chance he'll make the second volume?
SOTO: One of the main reasons for the singers that I chose, they had to be some of my favorite singers and they'd have to be under the Frontiers umbrella, but I also wanted them to fit properly. Jason has such a unique voice, he's best at doing what he does by himself for his music. There's a lot of artists out there that are like that. DAVE MENIKETTI is one of them. I asked if he wanted to come and perform with us once. I asked if he wanted to learn a couple of our songs. He said, "Bro, I'm not really a covers guy. I'm just not good at interpreting someone else's vision. I'd be good if we did a couple of Y&T songs. I'm good at what I do". I totally get that. I don't think Jason's wheelhouse is within anything that I do. I'm sure if I really dug deep I could find something. The songs that were selected by myself and the label, I couldn't find anything that I thought his voice would work on.
KNAC.COM: The Duets Collection, Vol. 1 is a great collection for the diehards and for the casual fans to sample some stuff that they might not have otherwise heard before.
SOTO: Yeah, I think it's a 'win-win' for everybody, I think...I don't want to sound cocky by saying that being on my record would be great exposure for some of the other singers, because they are great with their respective bands. It's a 'win-win' for, for instance, RANAN ZONTA from the band ELECTRIC MOB who did "Colour My XTC" with me on the record, they are just starting their first album just dropped. They are just learning who they are, him appearing with me might help out and I win because they have fans who don't know who I am, so I'm getting residuals from that. It's a 'win-win' for all and it's about putting together the Frontiers umbrella together and we're doing what we're doing for them as well.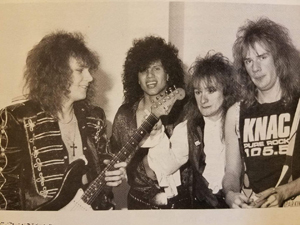 KNAC.COM: So was this Frontiers coming to you and asking if this was something that you'd like to do, or was it you that wanted to make a record like this?
SOTO: It was me calling them to find out what we were doing in the next year. We always do these annual meetings to plan what is next, whether it is the next JSS album or whatever. I called them for an additional meeting, because we'd already had the annual meeting. Their priority was that I finish a new album which I'm finishing up as we speak. It was decided that the focus be on that to commemorate the 20 years that we've been together. As we were discussing that, I mentioned that we didn't know how long this was going to last, we didn't know when we'd be able to play live, when I could tour, promote etc. I said, "Please let's come up with something where we can continue putting out content that won't conflict with the big picture". The first thing that they said was, "How about doing a covers album? We could do that". I shot that down because I have been on so many tribute albums already and have done so many covers! You can throw a stone and end up with material for three albums based on the number of cover albums that I have been featured on. To do a covers album and do what Yngwie did on Inspiration, which featured inspired artists...I thought that might be geared to a select audience. I didn't want to do that. I thought if we're doing a covers album then why not do a JSS legacy album where we can tap into as much stuff from my career as possible. That intrigued them. I took it one step further and said, "Instead of re-singing everything all over and having people listen to the same stuff that they've heard hundreds of times over...let's do it as duets". Things exploded from that point forward. You touched on another thing where there might be rock fans that might have heard of me. They would like me if they heard me. Hopefully something like that adds to the big picture here.
KNAC.COM: I've picked out four tunes that I'm loving. I really liked that "Livin' The Life" made it on here.
SOTO: Oh, wow! I like hearing what people's thoughts are on the selections. One thing that people love is that I went back to my time with Yngwie. "Livin' The Life" is a great one and I'm glad that you said that. Everything that made it on this album represents the different facets of what I do. This album has turned out to be a labor of love for me.
KNAC.COM: "Don't Let It End" is also one of my favorites on the album. You have two powerhouse vocalists displaying their abilities on that.
SOTO: Oh yeah, by design I chose Dino [Jelusick]. I really wanted him on that song. There's a legal entanglement that I won't get into between Dino and Frontiers, there was question if it would happen or not. I was so happy that it made it and we were even able to make a video for it! It was all about the music and all about the agenda that I have behind this album. I love that his appearance on this will give Dino another level of attention by him doing this with me. It will give attention to his own music.
KNAC.COM: I just saw the video for "Don't Let It End" this morning. I love it. Are there plans for more music videos?
SOTO: Yeah, there's a new one coming out tomorrow for "I'll Be Waiting", the cover with ALIRIO NETTO. That drops on the same date that the album is released, which is tomorrow. And we have one more...this is the most videos I've done for any album! Our video director in Brazil loves this and he offered to give us additional content. He was so excited about doing the videos. We really utilized resources, his talents, his generosity and my time when I went there. We have four videos for this album! The fourth one will be for "Holding On" which features BJ from SPEKTRA.
KNAC.COM: I was pleasantly surprised by the next two tracks that made the album. The first was "Coming Home" from SOUL SIRKUS. The band didn't get their due in North America. You can speak to this, the fans that picked up this album, they absolutely love it.
SOTO: I gave Frontiers the responsibility of choosing what they wanted on this album. I'd say that they choose about 80 to 85% of the songs that made this album. They wanted me to do a SOUL SIRKUS song, but they wanted me to do something else. I was like, "Okay that sounds cool but the song wasn't a single". There's just something about "Coming Home" that just meant more to me, because it was the first song that I did with Neal [Schon], when we were writing material for the album. It was also the only song that had that 'JOURNEY-sque' sound to it. I didn't want that album to sound like JOURNEY but that song I wanted to give the JOURNEY treatment. I wanted to pay homage to STEVE PERRY and their legacy and everything that they gave me as a singer and as a fan. That song has heavy, heavy JOURNEY overtones and undertones. I told Frontiers that I wanted to do that song because it was one of the more JOURNEY related songs. I said, "If I can get Deen [Castronovo] we would have such magic on it". That was the one song that made the album that I did not think I would be able to pull off.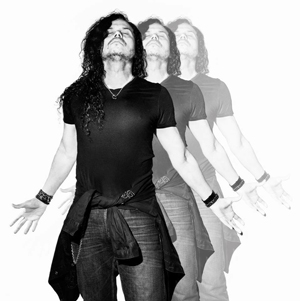 KNAC.COM: When did Deen come on board with SOUL SIRKUS because he wasn't on the line-up that recorded the album?
SOTO: He was the first drummer and on the first version of the album. The first album was released independently. When Deen left the band and we signed the worldwide deal, we thought that it was an injustice to our new drummer VIRGIL DENOTI. We knew that he would change a lot of the perspective of what was already on the album and he would do it his own way. So rather than have him change Deen's parts live we decided that we'd have him recut the drum tracks because it featured a drummer that was no longer in the band. We added some new songs and we remixed the album. It was like a new album.
KNAC.COM: I love that record.
SOTO: Thank you!
KNAC.COM: I'm digging the fact that you added "Callin' All Girls" on here. I remember hearing that song on Z-Rock which was a hard rock & metal station that had an affiliate in Portland, Oregon. I remember hearing that song and pulling over to listen to the entire song. Then I was like, "I have to find out who this is". I found out it was by EYES and that you were the singer in the band. It surprised me that it was you, since you came from working with Yngwie. Tell me about selecting that song? Was it once again the label asking if you'd like to do that one? Or was this you bringing the song to the table?
SOTO: It was a bit of both. First, going back to the band EYES, that song and that style vs. the style of music that I launched my career with, which was more of the 'heavy metal' side of things, was 1 trillion percent by design, I was trying to shift my image and what people saw me as. From 1984 to about 1989, I was seen as the 'guitar players' singer'. I did albums with ALEX MASI and Kuni and all of these guitar heroes and that is all I was seen as. I was like, "I need a major overhaul. They see me as a 'metal guy' and a guy that just sings on guitar players' albums". The band EYES was a perfect vehicle for me to tap into the music that I love listening to. I also liked bands anywhere from DEF LEPPARD to BON JOVI. The flavors of the year of that decade. I felt that I needed to give my career an overhaul before I got too stereotyped! [laughs] So going back to your question, Frontiers wanted me to do it. In the beginning, I didn't know how I felt about that song. You've heard and read this a million times in interviews. I think you've seen the interview with JANI LANE about the whole "Cherry Pie" thing and he didn't want that to be the antithesis of what people thought of him. Unfortunately, that's what happened with him. "Callin' All Girls" is a genre written song. It's written for the genre of a time of parties, girls and that kind of stuff. Now it doesn't hold the same weight as it did back when it was released. I mentioned that in my EPK. The vocals are so high! The vocals are so high and only go higher! I thought that I might have to bring in a girl to sing some of the parts! [laughs] Then I thought, "Hold on a second. A girl singing on a song called "Callin; All Girls"? That might be a little strange". [laughs] So I threw that idea away and sought a singer that could give it that soulful, bluesy feel and be able to hit the notes and that was RUSSELL ALLEN. I love RUSSELL ALLEN's voice, it's much like mine, people just think that he's 'just' this SYMPHONY X singer, but they don't realize that when he goes out on his own he's this bluesy singer that hits it out of the ballpark.
KNAC.COM: He's great on there. It's great to hear Russell do something that is out of the box. We know him from like what you said SYMPHONY X and also ADRENALINE MOB and TSO. He's also more versatile than he's gotten credit for. This version still captures the vibe you went for on the original. I had to listen to them both back to back. The new version has a little more grit to it.
SOTO: I 100% agree with you.
KNAC.COM: I hope there's a Vol. 2 either in the can or at least in the talking stages? I assume this was driven by the pandemic and downtime as a result of it. As we move forward, hopefully there's more normalcy and you're able to tour. You have a TSO tour this fall/winter.
SOTO: [laughs] You almost answered the question yourself! [laughs]
KNAC.COM: Oh, no.
SOTO: [laughs] Well, when I answer it you'll see how you pretty much answered it. [laughs] I knew that I would get more traction if I added the moniker of Vol. 1. There was NEVER talk about doing a volume 2 or 13! The reason that I did that was because I wanted to plant the 'psychological seed' by telling people this is 'Vol. 1', you're giving the audience the power if they like it and they like what I did with this. There's a wealth of material and I could do more. In doing Vol. 1 it does add a level of anticipation that there will be more, but guess what? If this doesn't sell and isn't well received, Vol. 1 will be the only one released! [laughs] Yes, I will be getting back to work and yes, this album would have probably not have happened had it not been for the lockdown. Having said that, if this thing has demand I would love to do more. So you guys like this? I'll do more. If you don't. I will move forward.
KNAC.COM: Last question, I was going to sneak this in, so I'm glad that you mentioned tribute albums. You've appeared on many and you've done so many great renditions. Some of my favorites are your versions of "Hush" and "Save Me". What's your favorite rendition of a song?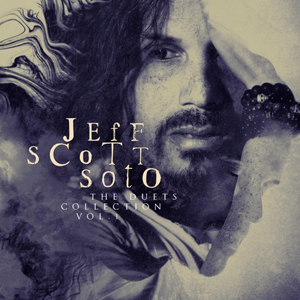 SOTO: That's a difficult one, because I love all of my appearances on those tribute albums. I love those records and those songs. I got to work a lot with BOB KULICK, God rest his soul. He was always hiring me for those things, he knew that I would give it my all and that it wasn't just a paycheck. I give you the vocal and I'm done. He knew that I would give it that little extra thing. I approached those records like I would my own. I wanted people to listen to the songs and enjoy them. I think the one that really stands out to me was the VAN HALEN one….
KNAC.COM: "So This Is Love".
SOTO: Correct. I have a kind of a funny story behind that. I can't do that trademark DAVID LEE ROTH thing that he does...you've heard it on all of those VAN HALEN records. It's impossible! I don't know very many people that can do that. He's like the only guy that could do that! It was his own personal trademark. I can do it, but my voice has to be completely blown out! [laughs] So check this out, I said yes to doing the song. I'm driving home from the studio and I'm going over the song and I'm trying to get those 'yipes', because I'm trying to get those on the song because I want to be as true as possible. They weren't coming out! I remember in the past when my voice was blown out after partying, not enough sleep, singing all night and I'd wake up the next day and my voice was trashed! That 'yipe' happens even without trying! [laughs] So I went to try to hit a high note and that 'yipe' happened! [laughs] On my way to the studio I was singing the whole way there, trying to blow out my voice! [laughs] I'm sure I scared a number of people on the way to the studio as I was trying to blow my voice out! [laughs] When I blow out my voice it gets 'gravelly'. When that happens it's about as close as I can get to capture that DAVID LEE ROTH vocal. I was able to do those 'yipes'. If you listen back to that, you're gonna go holy shit! [laughs] You're going to think it sounds like Dave! The only reason that I was able to do that was because I blew my voice out! [laughs]
KNAC.COM: Thank you JEFF SCOTT SOTO. Now I'm going to have to dust off that VAN HALEN tribute album and listen back to "So This Is Love".
SOTO: [laughs] Thank you! I gotta say, even though it's not what it used to be, I'm mighty grateful that the 'mighty' KNAC still exists! It was such an important part of our time and our generation. I'm glad that you're still out there in some capacity. It's still very exciting. The fact that you're interested in what I'm doing is rewarding.