A Blessed Man: An Exclusive Interview With JOHN CORABI

By Ruben Mosqueda, Contributor
Wednesday, September 22, 2021 @ 1:24 PM

| | | |
| --- | --- | --- |
| | | "...when I found out that he's the one who replaced me in THE DAISIES, I was like "that doesn't suck'. If you gotta be replaced by somebody who else than a legendary Rock & Roll Hall of Famer, GLENN HUGHES, awesome!" |
Live Photos By Larry Petro/Petrofyed Photography
KNAC.COM caught up with JOHN CORABI on September 9th, 2021. John has a new tune "Cosi Bella" which he released as a stream on August 30th, 2021. "You know what dude, not to sound weird, but I sit here sometimes and I think...what do I have to do to be as popular as NIKKI SIXX or STEVEN TYLER? Then on the other hand, I look at things and I have a beautiful home, a beautiful wife, great kids, I have a beautiful motorhome that I can travel around America in. I throw an acoustic guitar in there, some merch underneath and I just go. The fact that I still get offers to come and play shows, people are still listening to my music, people still want to talk to me...okay. I'm pretty blessed". It's always a blast to catch up with John. Enjoy the interview.
KNAC.COM: The Unplugged record you released was one of the 3-4 records that helped me pull through my divorce.
CORABI: I guess "Crash" was one of your favorites?! [laughs]
KNAC.COM: Of course! [laughs] I really related to that song. It's really weird how sometimes music comes at you at the right place and right time.
CORABI: I wrote that song because I was going through the same thing that you were going through. I was living in L.A. at the time. L.A. has always been one of these towns where the simplest, the most down to earth and normal girls go to L.A. from somewhere else, for whatever their reasons are. They get there and they start looking at the other girls who are wearing their JIMMY CHOO shoes and the Gucci bags and the convertible Mercedes. They'll ask the other girls how they got all that stuff and they'll find that they're dating this doctor or this lawyer, you know what I mean? I was going through one of my many relationship breakups, I sat down and wrote that song. As a songwriter you don't know how these lyrics and these songs are going to affect other people. You're going through your thing I am writing down on paper and I'm putting music to it. I play that song now or "Mother, Father, Son" or whatever other song...I have people come up to me and tell how much that song meant to them because of what they were going through at the time. It helped people get through whatever was going on in their lives at the time. Another song that I hear a lot from the fans about is "Robin's Song" from the UNION record. I was going through a breakup during that time too. I'll do acoustic shows and someone will yell out "Robin's Song". I've met people after the shows and they've told me how "Robin's Song" has helped them get through the breakup with their wife. What do you say? That's the beauty of music man, it's pretty awesome.
KNAC.COM: "Cosi Bella" is currently available on streaming platforms. Is this song a precursor to a new album?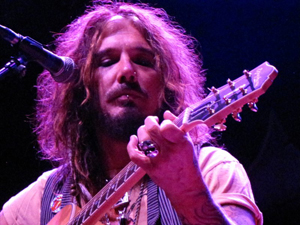 CORABI: What I'm going to do...MARTI FREDERICKSEN, the guy that I co-wrote the song with and who produced it...Marti was the catalyst. He asked why I was doing a record? The more he talked to me about it, the more he convinced me to try releasing a single. His logic was that the established bands and artists made records because they knew how many records they were going to sell based on their fanbase. He said, "John you've always been this unknown commodity. The new way of doing things is digital releases. You release 3,4,5 songs then do an album". The plan is to eventually do vinyl and CDs, but when you really think about it, the days of Tower Records and Sam Goodys, Wal-Mart or K-Mart...they're gone! This is what GENE SIMMONS was talking about when he made that "rock is dead'' comment. It's not because of audience attendance at the shows, they're still showing up. It how the audience...since the invention of the cell phone...you have a computer in your pocket! You have Pandora, Spotify and all of these things built into your phone. You've got millions of songs at your fingertips! Virgin Superstore is out of business, Tower Records is out of business, Sam Goody is out of business...God even record labels are starting to drop like flies! Mom and Pop stores are few and far between. The new thing is digital releases. It's a new world for me. I have no idea how to do this. This is my first song, I have a bunch lined up and ready to go. We're mixing and mastering them as we speak. I'd like to drop a new song with a video every month to month and a half. Let it stew for a little bit and drop another single with a video and see what happens. Over the past 10 years I have sold my records in one of three places, either Amazon, on my website or at the shows. You're not going to find JOHN CORABI Unplugged at the Mom and Pop shops, Wal-Mart, K-Mart or Best Buy. That's my three outlets, so that's what I'm doing.
KNAC.COM: What's the story behind the new tune?
CORABI: I wrote the music first. The song was somewhat inspired...okay if I may, it's a long story here. It came about when THE DEAD DAISIES went on to record the album Burn It Down, prior to us getting ready to write as a band. I live in Nashville and Marti lived in Nashville at the time. I called him up to see if he was interested in working on a couple of ideas that we could submit to the band. He agreed. One of the songs that I had, he wasn't too crazy about the chorus that I had. We worked on it together, I recorded it on my phone. It was really rough, it was an acoustic guitar and two guys scatting on it. Once we all got together, I took it to the band, I played it to them. Collectively, they got what I was trying to do, but it wasn't in their wheelhouse. So, I just stashed it. We did the Burn It Down album and toured. Then 2020 came along, I called Marti because I wanted to do an album. I needed his help. He agreed. I pulled that out of the hat again. He said, "Really like that idea". I said, "I heard this "Penny Lane" vibe to it. I hear this BEATLES meets "Killer Queen" by QUEEN". I understood what I said, then COVID hit! Everyone went under a rock for a few months. I was here at my house, I was new to using Pro-Tools and I didn't just want to sit around on my thumbs. I wanted to be productive so I started laying it down. I did the piano, the acoustic guitars and I did what they call a MIDI drum track on a drum machine with a rough bass guitar on it. I took that, put it in an email and sent it to Marti. He loved the idea and knew where I was going with it. He had his son Evan replay the drums, Marti replayed the bass giving it more of a McCartney feel to it. So then, I had to sit down and write some lyrics. I really didn't have an idea of where I was going with it. It was weird, the first line came to me out of nowhere, "Here's a little song about a woman I know". I was like, "Cool". It just wrote itself! I didn't have anybody in mind. The one thing that is pretty much across the board, either male or female, there's that one person from your past...where you catch yourself thinking, "Man. I kinda screwed that one up. I wish I could do a do-ever". It might even be the girl who you knew in 3rd grade who you never had the guts to talk to her and share your peanut butter and jelly sandwich with. I think everyone has the one that got away and that is what this song is about.
KNAC.COM: As I mentioned, you've done a lot of acoustic gigs over the years. How was it to plug back in?
CORABI: It was great! I love QUEEN! The song that really opened my eye to them was "Killer Queen". The lyrics are a little dark on that one! Apparently it's about a hooker! [laughs] If you listen to the melody and the main part of the song, it's this 'power-pop' song. BRIAN MAY comes in with this killer guitar solo! I've always wanted to write something like that or close to it. Also, one of my all-time favorite BEATLES songs is "Penny Lane". I don't know what it is about that song...if you asked me to break it down, in a million years I don't think I'd be able to tell you why I like it! [laughs] That song always reached out to me and I always thought it was brilliant. This is my version of something that I always loved.
KNAC.COM: You've done a number of covers over the years, everything from "Maggie May", to "Patience", to "Oh, Darling", to "Only You Can Rock Me", and "Used To Love Her". What's been your favorite?
CORABI: [pause] I have to be honest with you. You just mentioned it. "Patience". I was just listening to that, I have no idea how I got listed as the singer on that? It's not me, dude! It might kind of sound like me, but I didn't record that song! I don't know how or why I'm listed as the singer on that song? I think it might be JANI LANE singing on that!
KNAC.COM: Is it really?
CORABI: Well, I'm not sure, but it's not me! It's funny because that's one of the most streamed and played songs on my Spotify playlist. I was listening to it the other day. My wife looks at me and says, "That's not you singing on that". I replied, "I know". I don't know why...that's not me singing on that song.
KNAC.COM: That is you on "Used To Love Her", right?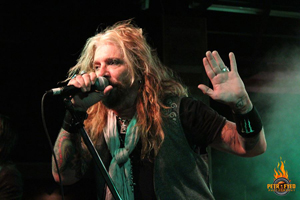 CORABI: That is me. "Patience", that isn't me singing on that!
KNAC.COM: "Patience" aside, what was one of your favorite moments as far as covers?
CORABI: I have to be honest with you, because I've done a lot of them. [long pause] I'm not proud that I did as many as I did...or some of the ones that I did. At the time Cleopatra Records was doing all of the 'tribute' albums and I got asked to do them. They were paying really well! I'll be frank here, I kinda needed the money! I would go in and sing a UFO song or whatever. I'd walk in, they'd have the tracks done, I'd read the lyric and I'd record it, then they'd give me a check at the end. I would do 3, 4, 5 of them at a time. I was almost like being a 'session musician'. It was back in the day when I was going through all this shit with MOTLEY, UNION was struggling to get off the ground, I had child support, alimony and bills to take care of. I needed the money! There's a few that I'd like to take back, but for the most part, I really don't have any regrets about them, they served their purpose. I would say...man, I have to think about this. Which ones do I like? I do love "Maggie May", which you mentioned. I also like the one I did with THE DEAD DAISIES of "Midnight Moses"...that came out great! Oddly enough, I just did one with BRIAN TICHY and ROBBIE CRANE not that long ago. Brian called me and asked me to do one for "Chip Away At The Stone". That was a lot of fun and that is one of my all-time favorite AEROSMITH tunes.
KNAC.COM: If you had the opportunity to catch THE STADIUM TOUR, would you? If so, what song would you be most looking forward to hearing?
CORABI: I probably wouldn't go….I went to go see MOTLEY back when my tenure with the band ended. I saw them at The Hollywood Bowl, they were playing with AEROSMITH. It was 'brutal' because I wound up answering questions from the fans that recognized me. For that reason I probably wouldn't go. There's multiple reasons why I wouldn't go, but I use that one for this interview. I do have to say that for me, one of my absolute favorite MOTLEY songs is "Primal Scream". I love that tune, I love the riff, I love the drum beat, everything about it. I loved performing that one live. My relationship with them…if you've followed things…
KNAC.COM: I understand, no need to get into the muck here.
CORABI: Thank you.
KNAC.COM: What's your favorite song on the MC '94 album?
CORABI: Just from a Monday Morning Quarterback perspective...the one where everyone was really firing on all cylinders...I would have to say "Misunderstood". It's such a huge, epic song with the strings...but I don't know, I might have to consider "Drift Away".
KNAC.COM: Which song did you have the most input on?
CORABI: I think that would have to be "Drift Away". I had written that song toward the end of THE SCREAM. As much as I liked touring and being a musician, I was starting to realize it wasn't all that I read in the magazines. I remember at that time my son had just been diagnosed with diabetes, he had been in intensive care in L.A. for a week and I wasn't able to be there for him, because I was committed to all of these people who relied on me to be on stage. I had to leave everything to my wife. I wasn't making a lot of money, I was struggling with my finances...you read about LED ZEPPELIN and AEROSMITH and you think "Oh yeah, I want to be a 'rockstar' like that". You don't realize until you're there of all of the sacrifices, all of the things that we're missing out on at home, your kids growing up, graduating from school, getting married...I admit I was a non-existent dad. It was due to the fact that I was doing something that I loved to do and it was also paying the bills. There's sacrifices that were made along the way and that song is about me reflecting on things. That's where the line "Stare inside the mirror and I don't know who I see" comes from. It's like I'm asking myself if this is what I really want? It was a self-reflective song. So. from a personal point of view, it's "Drift Away". I remember I brought that song to the guys. They heard it. They loved it, but nobody else did. Not the management. Not the record label. It took the band and BOB ROCK pretty much having a 'hissy fit', insisting that the song get on the record. That's one of the songs that a lot of the fans can relate to, because like me, there were times in life where they haven't been sure if they were on the right path. That was brought in a finished tune and there was one that I did on the Quaternary record, it's called "Friends", that was me being excited about where I was, but also missing the people back home and being 'normal'.
KNAC.COM: If you were a naked baby on the cover of an iconic album sleeve, how traumatized would you be about it as an adult?
CORABI: [bursts into laughter] I'm glad you asked that! [laughs] I have been seeing all of these reports for the last two weeks now...I have to be honest with you, that guy is a complete and total goofball! If you want to be mad at somebody, go talk to your parents! That's the first thing! The second thing, you made a fucking poster with a collection of photos at different stages of your life! You were embracing it when you were doing that poster...why are you bitching about it now?! That whole story when I read it, I was like "are you fucking kidding me?" This is as bad as the woman that goes into McDonald's and orders a hot coffee and spills it on herself and sues them because the coffee was hot!!! I don't understand that reasoning. That dude...I hate to use the term 'idiot', but you're kind of an 'idiot', dude! [laughs] Now he's 'traumatized', in his 30s?
KNAC.COM: Which was more 'surreal', joining MOTLEY or having GLENN HUGHES replace you in THE DEAD DAISIES? He's featured on "Misunderstood" doing background vocals, is he not?
CORABI: That's right, but let me tell you what is 'surreal', okay? When I was rehearsing with MOTLEY...I was in the band for maybe a month, if that. All of a sudden this guy comes in, you have to keep in mind, I didn't recognize him at the time. Glenn had some issues in his past, when I saw him he had gained some weight, he had cut his hair off. So when he walked into the room I didn't recognize him. I was introduced and was told "Hey, this is Glenn". I was like, "Hi Glenn, nice to meet you". I was then told, "Hey, that's GLENN HUGHES". I was like, "Oh shit, this is the guy who I stayed up till 1o'clock in the morning watching in his white satin outfit at The Cal Jam, with waist length hair, doing those banshee screams on "Burn". Oh, my God". That was 'surreal', because I was meeting someone that has always been one of my favorite singers. Meeting Glenn was 'woah'. Then he sang on the record with us, again 'surreal'. Then when we played at the Palladium, he came on stage and sang with me. Then, when I found out that he's the one who replaced me in THE DAISIES, I was like "That doesn't suck'. If you gotta be replaced by somebody who else than a legendary Rock & Roll Hall of Famer GLENN HUGHES, awesome! We communicate with each other quite often via text or direct message. The minute I put out "Cosi Bella" and I posted the video, Glenn contacted me and he said "Great song Sir. Best of luck". I really admire Glenn. I think he's got an insane voice and what a great bass player too!
Please log in to view RANTS