Photo Credit: Dwayne Cathey
Black Metal inherently makes one think of the vast cold of a Norwegian landscape, but over the years, the frigid angst that personifies the genre has become an international phenomenon that has spawned bands from the most unlikely places. Deep within the Lone Star State is an underground that would surprise the casual listener, but those in the black metal scene know who to listen to and where to find it; And arguably the best black metal band in Texas is Houston's NECROFIER. Bursting onto the scene in 2018, the band gained momentum and started gathering attention from not only fans but their black metal contemporaries.
Comprised of vocalist and guitarist Bakka Larson, drummer Dobber Beverly, bassist Mat Valentine, and guitarist Josh Bokemeyer, NECROFIER has recorded and is gearing up for the October 2021 release of their first full length album, Prophecies of Eternal Darkness. The band was snapped up by Season of Mist and recently enjoyed a handful of Gulf South tour dates with GOATWHORE and FROZEN SOUL. It's hoped that a larger scale tour will be possible if the current situation with Covid continues to abate and bands are able to book shows and travel.
"The show in Austin was sold out but you could tell there were people that didn't show up, however it was still great," Larson said, referring to the recent short tour. "Of course last night (the night before the band's August 15th Houston date) was in Dallas at Gas Monkey and it was outside, and there were probably five hundred people there. It was insane!"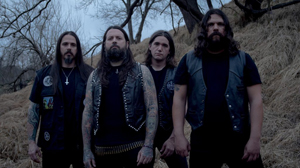 Larson's other musical projects enabled him to have a connection with GOATWHORE that in turn spawned the direct support slot in the short tour.
"I've known them forever and have done shows with them with some of my other bands," he said. "When we put together NECROFIER we fit perfectly with their sound and did some shows with them a few years ago and it went really well so we wanted to do it again."
The band initially released a video for the first single from the upcoming album entitled "The Black Flame Burns" (video on KNAC.COM HERE) and more recently they completed and posted a video for "Madness Descends" (video also on KNAC.COM HERE) and both videos have extensive traffic on YouTube. Additionally, reviews of their music and live performances have been unanimously positive, which only encourages the band and their fans to continue the trend. The band has grown since their inception and the project is one the members have done in addition to other projects for which they are individually involved.
"I had a lot of ideas that went along with "The Black Flame Burns" and my friend was our director and he also wanted to go with that one, so we mapped it out and it turned out great," Larson said. The reception was outstanding and the band moved forward with the second video shortly after.
Coming together as a band was very natural for the members. They all knew each other from various projects and once they decided to work together the music melded them together as a tight knit unit.
"I had a bunch of black metal songs written and wanted to do something with them and Dobber had a (social media) post about wanting to do something so we connected and it just happened really fast. Musically we have only collaborated in NECROFIER even though I have worked with him in a managerial capacity and helping out with his other band (OCEANS OF SLUMBER). So far the feedback on the new music has been positive and we think it will be well received," Larson said.
The writing process was something that came naturally for the band and Larson and his cohorts fleshed out material they had been working on for a period of time.
"Usually when we write we come up with something and then work on it all together and track it. It may start with a couple of riffs or with just a song idea and then we try to figure out what works for everyone in the band," Larson said. "Ultimately it becomes and song and we keep going in the same direction with more material."
The band had a two year hiatus between their last live performance and the stint with GOATWHORE and the excitement over the show was so high that the heavy level of interest caused the need for a room with increased capacity for the Houston hometown show. White Oak Music Hall hosted the show and it went from the upstairs room to the larger room downstairs.
"The event sold more tickets than the upstairs room could handle so they moved it downstairs," he said. "It is great that we had to move it downstairs and it also helps in the current (Covid) environment to have more space."
The current state of the world has an impact on a band's touring plans, but NECROFIER hopes they will be able to tour and perform at festivals after the album's fall release.
"I don't know when we could go to Europe because everything is so iffy regarding travel and Covid, but I am hoping for something in the spring," Larson said. "We have events booked but we will need to see how things are going. It seems like the news around how people will attend shows and regarding masks and vaccines and the like just keeps changing so we will see how it all pans out in the end."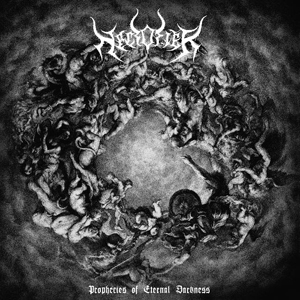 With a stellar release on tap for October 22nd and a growing fan base, the band is proud of the music they have created.
"I think my favorite track is "Unholy Hunger"," Larson said. "We are going for the old school black metal sound, and the tie into it having a southern sound is really relevant if we were being compared to European black metal bands like ROTTING CHRIST and reflecting on the fact that their sound if different from the bands in Norway and so on. Our tones are warmer and bigger, and it doesn't have that same guitar tones that a band like MAYHEM would have."
In this new age of black metal romanticism, NECROFIER stands out; they are technically good musicians and they have been able to keep true to the deep roots that form the thought processes of black metal. They have been able to stay in line with the ideology and style that is significant in the genre and they have a formula that works. It will be with great pleasure that they will unleash their full album onto the black metal scene and the world.
For more information you can visit the band on Facebook at:
https://www.facebook.com/Necrofier/