Where's Waldo?: An Exclusive With Keyboardist JIMMY WALDO Of BLACKTHORNE And ALCATRAZZ

By Ruben Mosqueda, Contributor
Thursday, September 9, 2021 @ 11:25 AM

| | | |
| --- | --- | --- |
| | | "Musically...I think the grunge thing really killed us! Grunge was huge at the time and in all fairness to CMC, they were fighting an uphill battle from the minute they took the record." |
Keyboardist JIMMY WALDO, best known for his time with ALCATRAZZ, caught up with KNAC.COM on August 26th, 2021 to discuss the reissue of BLACKTHORNEís Afterlife album along with a second disc of unreleased and rare material, Donít Kill the Thrill. Thatís two album packages issued by Store for Music. For those that arenít aware, BLACKTHORNE featured Waldo, frontman GRAHAM BONNET [RAINBOW, MSG, ALCATRAZZ], the late BOB KULICK [MEATLOAF, SKULL] on guitar, CHUCK WRIGHT [QUIET RIOT. HOUSE OF LORDS] on bass and the late FRANKIE BANALI [QUIET RIOT, W.A.S.P.] on drums. ďThese guys did a great job with the album. The packaging is great. The mastering is very good. They put a lot of effort into this. Iím very proud of this one. This will stand the test of time. This was done rightĒ, says Jimmy with enthusiasm. We will catch up with Jimmy again in the near future as ALCATRAZZ will be issuing a new album in October. For now, enjoy this one.

KNAC.COM: How did you meet BOB KULICK?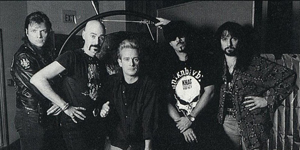 WALDO: I met him in New York at a KISS show. We really hit it off. I remember someone telling me, ďYouíre going to meet Bob and youíre really going to love him.Ē They were right! I knew his history and I said, ďWe have to get together and do something sometime.Ē We both moved to L.A., neither of us knew that the other had moved there. I reached out to him sometime later and found out he lived in L.A. too! We got together and started writing songs. We sorted through the material and we decided it was time to form a band and make a record. GRAHAM BONNET was living in Australia by that time. He had reached out to me a couple of times, and he wanted to come back to the United States. We got Graham back here to sing on it. Thatís how this whole thing got started. Once we had all the songs together...I had played in QUIET RIOT with FRANKIE BANALI and CHUCK WRIGHT. I knew those guys really well...I love Frankie's playing and I love Chuck's playing. I reached out to them and we went in and rehearsed the material and we got in the studio and recorded. It was real simple and no big deal...
KNAC.COM: The label that released Afterlife was CMC International and they had a decent track record for signing hard rock and metal bands. Tell me about signing with them and the promotion behind the album. I recall seeing ads for the album in RIP Magazine. There was a music video...
WALDO: They did a little promotion...it was Tom Lipsky [founder]. Heís a good guy. I liked him a lot. Musically...I think the grunge thing really killed us! Grunge was huge at the time and in all fairness to CMC, they were fighting an uphill battle from the minute they took the record. We couldn't get booked. We played a few shows, but for the most part nobody wanted to touch us. The record came out in Japan. Graham, Bob and I went to Japan to do a promotion for it. There was a lot of excitement when it first came out. It didnít do well in Japan. It didnít do well in the United States...it really didnít do well anywhere!
KNAC.COM: Were you surprised that Afterlife didnít do well in Japan? That part of the world is generally very supportive of hard rock and metal.
WALDO: Youíre right. Japan has been very supportive of this kind of music. I had been there in the past with ALCATRAZZ. I was shocked that it didnít do anything over there. When we went there to do the promotion for the record, we were received very well. We did all the major press there, TV shows, magazines and a live performance. It really went well. For some reason, no one bought the record.
KNAC.COM: What does that do to a band when you put this kind of effort into the making of the album and your craft? If I recall you had a hand in writing about half the album.
WALDO: Yes, youíre correct. It was really disappointing. But I have realized over the years, youíve just got to move on. You just canít beat a dead horse! It was obvious that it wasnít going to work because of the grunge thing. This kind of music was not on the radar at all. We knew a lot of people at bigger labels here in the United States that were our friends. The consensus amongst them was that we were fighting an uphill battle. We heard stuff like, ďWeíre not signing bands like you. Weíre signing pop artists, alternative rock and grungeĒ. Even having friends in other labels wasnít helping us. We did get another deal through POLYDOR RECORDS who wanted us to do another album. Then Graham left! He took the advance and left! When he left Polydor didnít want to do it then...they felt the band was falling apart. Frankie then went on the road. I forget who he went on the road with, but he had to work. So, we decided to change the name, which we did. We changed the name to MURDERERíS ROW and we got DAVID GLEN EISLEY to sing. We did a record for a much smaller label in Japan. It was a good record. CHUCK WRIGHT played bass, JAY SCHELLEN [HURRICANE] played drums...itís a great record! Thereís some really good songs on there. Some of those songs were meant for use for the second BLACKTHORNE record. The songs on this package on the second disc Donít Kill The Thrill were for use on the next BLACKTHORNE album. Sadly, it just wasnít meant to be. I always wanted this stuff to be released. These are great songs, they sound good and we just need to put them out there for the fans. It was our manager GILES LAVERY who was at my house a couple years ago when I was getting ready to move from L.A. to Chicago. We were finishing up an ALCATRAZZ album at the time. I was cleaning out my garage and Giles saw a box of tapes. A few of the tapes were labeled ĎBLACKTHORNEí. He was a huge BLACKTHORNE fan. He said, ďMan, we have to listen to these.Ē He took the tapes, which were 16-track reel to reel, 8-track reel to reel, 4-track cassettes, cassette mixes and DAT tapes. We took them all out and had them transferred to pro-tools so we could listen to them and that is where we came up with the rest of the material which makes up Donít Kill The Thrill. Iím just glad to have those songs released. I had those tapes in my garage for years, since 1993! BPB and I kept writing and we kept putting songs together, then we did the MURDERERíS ROW.
KNAC.COM: How grateful were you that there wasn't any deterioration of the tapes?
WALDO: Very! The guy that did the transfers for the bulk of the stuff is really picky. He bakes the tapes. Thatís the first thing he does. They all played fine! From there we had them mastered, we worked with a really good group of mastering people that worked on Afterlife. Iím really happy with it. Itís not like you make any money on records. I wanted to do this to have it out. Iím proud of this album. Iím proud of the band. Iím just sad that Bob and Frankie arenít here to see this. I know Bob would have really loved this and Frankie would have too. I see this as a way of getting some more of their performances out there. Itís a way for people to get a chance to hear them. Thatís a real shame, but thatís the way it goes.
KNAC.COM: I donít recall how much live promotion did you do behind Afterlife.
WALDO: We didnít get to play much, but when we did it was great! I donít know if you remember FOUNDATIONS FORUM?
KNAC.COM: Oh, yes I do!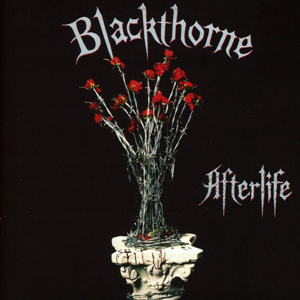 WALDO: We played that at the Burbank [California] Hilton. That was a funny story. It was YNGWIE MALMSTEEN, DREAM THEATER and BLACKTHORNE performing. I donít know who came up with the running order of who played when. Yngwie went on first, he brought the house down! He played his ass off! I love Yngwie. He used flash pots and pyro and stuff. It was a big room that held like 1,000 people or something. We went on after him and we were like three songs in and the fire department showed up! The fire alarms had been set off because of the smoke from the flash pots! We were shut down and we went back to the dressing room. We were like, ďWell, thatís the way it goesĒ. Yngwie came rushing into our dressing room, he was very apologetic. He was like, ďMan, Iím so sorry.Ē He thought that we were going to think that he did that on purpose. We knew that he didnít. I went to the bar and he and I hung out and talked for a bit, they cleared the air in the place and then DREAM THEATER went on and they had a great show. The place was packed. It all worked out. I donít recall if that was the last thing that BLACKTHORNE did. Regardless, we played a few clubs in California. We played in Santa Cruz, San Francisco, and then we played in Phoenix [Arizona]. We didnít sell many tickets, there wasnít much interest.
KNAC.COM: I was surprised about that, since BLACKTHORNE was a Ďsupergroupí.
WALDO: Well, I didnít think of us as that or in that league. I appreciate you saying that. Certainly, Frankie, Graham, Chuck and Bob are amazing musicians with amazing history. It was fun and it was easy, because those guys...we were all on the same page musically.
Please log in to view RANTS