Doro Photo Credit: Jochen Rolfes
"When I heard the [background] vocals on "All We Are", I knew it was special. It was such a powerful feeling. When I was recording it and putting my vocals on it, I thought it was a cool song. The background vocals and everyone belting it out...it made that song," DORO PESCH thinking back on her signature song and set closer. KNAC.COM caught up with DORO on 8.19.21 as she was doing press for her new live package. DORO will be releasing a live album/concert of the WARLOCK classic album Triumph and Agony for its 35th anniversary. The new release is titled Triumph and Agony Live and will be issued on DORO's own imprint Rare Diamonds on September 24th, 2021. DORO went on to say, "I love performing "All We Are" with the fans all these years later. I love the fans and I live for the fans and I am so grateful to them".
KNAC.COM: It wasn't that long ago that I was speaking with you about your last collection Magic Diamonds. Give those that might have missed that the first time around.
PESCH: Yeah, the feedback from the fans on Magic Diamonds was great. Last year when we found out that we couldn't tour because of the Coronavirus...we had so many festivals and shows lined-up. Everything got moved or canceled! I thought, "Oh man, what should I do? I need to work on a new album". So, I was in the studio doing just that. During that time, I thought it would be a good time to go through my archives and maybe put out a new 'best of' album. Just for kicks! I thought I would select my favorite 15 songs, either re-record them or select some nice live versions of them. As I was doing this, the list grew from 15 to 25 then 35 songs! In the end, we ended up with 56 songs! [laughs] We decided to put them out as Magic Diamonds-The Best of Rock and Rare Treasures. The fans like hearing rarities and rare live recordings, so we gave it to them. Yeah, so we put that out in November. On that record the was a live version of "Make Time for Love" from the Triumph and Agony record. It was recorded in Spain, because it was one of the appearances where we performed Triumph and Agony in its entirety. So, when I heard that song, I was like, "Wow! That needs to make it on the Magic Diamonds record." That is how it started, I knew we needed to put something out for the anniversary of Triumph and Agony. I went back and listened to all of the live recordings we did of the Triumph and Agony album, from Graspop and Sweden Rock and the North American tour. The Sweden Rock Festival was the first time we performed the album in its entirety. The magic was great, the fans' response was great and the sound was great, it was just top-notch. I think that because of the virus, it allowed me the time to put this and Magic Diamonds out. If we were touring like we had initially hoped, I don't think we would have released these special releases. I had not time to think about what has been going on, I had no time to feel depressed, because I've been busy doing something through the lockdown! [laughs]
KNAC.COM: The Triumph and Agony Live album, like Magic Diamonds, will be issued on your own Rare Diamonds.
PESCH: Yes! I love old school stuff. I like vinyl, so I can put out these special packages on vinyl. I have some special box sets that I'm releasing for Triumph and Agony Live for some of the diehards. We have this very cool figurine that is a recreation of the album artwork. You put that in your house next to your KISS dolls! [laughs] I just saw the prototype. It looks great! It's all hand painted. I told the lady that makes them, I said, "The warlock needs to look more mean and I need more make-up". We even made a life size cardboard standup of the album cover! One of the fans on my Facebook page said she wanted one to put up on her window or on her front door! Can you imagine that? No one will come to the door uninvited! So we'll put this out then the new album, which is ready, will be put out by Nuclear Blast.
KNAC.COM: So for clarification, your label Rare Diamonds, it will be to release a special product. New music will be through Nuclear Blast, is that right?
PESCH: Yes. That is right. I formed my own label because I got the rights back to some of my old records, which include Calling the Wild and Classic Diamonds. People can't buy them anymore because they are not available. I want to put them out myself. So, we formed Rare Diamonds. When we put these albums out we will make them more special and we'll put some special packages, box sets, double vinyl or four times vinyl! I think there are some metal heads that would really like that. I love that stuff too! [laughs] I love vinyl. I think it sounds better. It has more soul and more feeling.
KNAC.COM: You mentioned that you obtained the rights to some of the back catalog. I assume it's from the 00s forward until the Nuclear Blast era?
PESCH: Yeah.
KNAC.COM: I love Calling The Wild, it's an underrated record. I've not asked you this before. How did you decide to include a cover of BILLY IDOL's "White Wedding" on the album and are you aware if Billy has heard your version?
PESCH: I don't know if he has ever heard it. I know at one time we had the same bookkeeper! [laughs] I was living in Manhattan and she was living there too. She retired so there was an opportunity to play that for him! [laughs] I would like for him to listen to it and I would like to hear what he thinks of it. I liked the song and we tried it out for the album. It just had this magic that fit the whole album. I have great memories of Calling the Wild, it has two duets on it and it was also my first time singing a song with LEMMY [KILMISTER]. It was "Alone Again". Lemmy wrote it on acoustic guitar. I remember the first time he played that for me in the hotel room. I can tell you that the song moved me to tears. I said we need to record that for the album. We went to the studio and Bob Kulick recorded it. Bob produced the album and played on it too. Lemmy played on it too. He played some beautiful acoustic guitar on it. Then we also recorded the MOTORHEAD classic "Love Me Forever". I think that album has some many great moments on it. Thank you for mentioning it.
KNAC.COM: You gave a little bit of the backstory on how Triumph and Agony Live came to be. The album is a fan favorite and an album that casual fans are familiar with. As you listened through the live recordings that you have for this album, how much more special has this album been for you?
PESCH: Recording Triumph and Agony has a lot of great memories, I always wanted to go to America. It was always my dream to go to America. I had a little promotional tour for three days on the True As Steel album. I was in New York and I totally fell in love with the United States. It was such a great time for metal. I met somebody whose name was JOEY BALIN on that promotional tour. We really hit it off and he and I wrote the songs for the Triumph and Agony album. We recorded the album at The Power Station studio in New York with Joey producing. It was a wonderful studio. I think it was one of the best studios available at the time. There was so much magic and atmosphere in the making of the album. We also used a great engineer, STEVE RINKOFF was his name, he became the engineer for JIM STEINMAN. He was super talented and super nice too. COZY POWELL played on one song, he actually played on many songs. I wanted someone with a lot of power on "A Touch of Evil". I said to my manager, "I really need someone with energy and power. I have a song where I really want to scream and do a song that is really insane". He said, "Okay, I think I have somebody in mind, just go to the studio there will be somebody waiting for you". I went to the studio the next day and it was COZY POWELL! So he played on "A Touch of Evil" and then the next day I recorded my vocals. I was screaming! Then there was some lightning outside. We could see it through the window. Then the power went out. The guys in the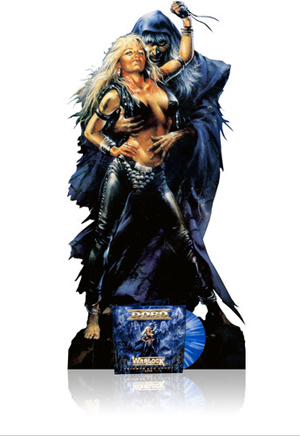 studio said, "Doro, what did you do? That was great." The next day I went back into the studio and we listened to the vocals and it was great! We thought that we'd have to recut them, but we just kept them. It was a combination of Cozy's power drumming and my screaming...I don't know where I got that energy for that! [laughs] We have just the best memories of making that album. We didn't know that this would be such a big record for us. When we went in to record "All We Are" we actually went out to the street and asked people to help us record the background vocals. So we got all these people that agreed to be on the record. They were so nice and happy to be on the record. Then we called some of our friends too. I remember I was sitting in the studio with the engineer watching everyone singing "All We Are". After listening to that, I felt that it could be the first single for the record. So, as you know it was the first single, it was the first video and we shot it at the L.A. River Basin. There was a time when we had Headbanger's Ball and it was going strong and the video was getting played. What a time. All these memories came back to me when we did Triumph and Agony Live. Every song is a killer song...even the ones that we never played live! We had such a great time playing that live. You can see how overjoyed we were in the footage. It looks great. It sounds great and every song is meaningful and powerful. Every show after the release of Triumph and Agony we performed "All We Are". There have been times where we even performed it 2-3 times in a set! [laughs] There have been times where people have wanted to hear it more than once! [laughs] It was just unbelievable! I think because it's very powerful, uplifting and it's timeless.
KNAC.COM: I think the whole record is timeless, it's as relevant today as it was then.
PESCH: I think so too. Thank you!
KNAC.COM: I was aware that COZY POWELL was on "A Touch of Evil", but you're saying he was on other songs on the album as well?
PESCH: Yeah, he plays more on the record but he was credited on "A Touch of Evil".
KNAC.COM: Anyone that has followed your career likely knows that if you're going to record this album live in its entirety, you're going to have to move the sequencing around, because you close with "All We Are". That song opens the album!
PESCH: We decided to start the live record with "A Touch of Evil" which we think is great. It's mysterious and heavy. I really felt out the setlist. I always go by my gut instinct and the approach was similar here. We played it and when we rehearsed it, we felt we had it right. We don't always start with "A Touch of Evil" because I could blow out my voice so there were nights where we'd start with "I Rule The Ruins". "Touch of Evil" is one of my favorites because it's just so crazy and stuff! [laughs] For our regular setlists we change things a lot. I change the set depending on where we are playing, sometimes heavier stuff other times more 'anthems'. I drive the guys in my band crazy! [laughs] I like to always make it different and always an adventure.
KNAC.COM: Sometimes when we get live albums from artists they are a collection of songs from select performances from different shows. Why did you not go in that direction and put together the album from various performances? Were you that impressed with The Sweden Rock performance?
PESCH: The Sweden Rock festival was the first time that we played the album. There's something about the first time you do something. It's special and undeniable. There's just so much magic there! Even when I'm in the studio and I'm laying down my vocals, oftentimes the first take is the best. I always try to do it better and better, but we always go back to the first take.
KNAC.COM: Was this truly live, this performance, or did you have to go back and touch up some things?
PESCH: We cleaned up a couple of things, like some noise from a cable, some feedback, but that was it. This is a live album with not much cleaning up, just some little touch ups. There weren't any microphones in the audience. They sounded great so I insisted that we bring the volume of the audience up. It took us about six months to get this sounding like we wanted it. It was tricky, but it was worth it.
KNAC.COM: We lost MIKE HOWE a few weeks ago. Your last full U.S. tour was with METAL CHURCH, if I recall correctly. Do you have a few words on that?
PESCH: It was in 2019. It was just such an awesome package. We go on so great! We love those guys in METAL CHURCH. Mike was such a sweetheart! He was such a sensitive, sweet, soulful guy. Toward the end of the tour we'd sing "Breaking The Law" together. It brought back great memories of my first tour supporting JUDAS PRIEST. It brought back a lot of memories. The bands played their hearts out and Mike just belted it out with me. We bonded as singers and became friends. I looked forward to doing a future tour with them, because we go on so well. It was a great package and we have the same manager now. I actually mentioned that to our manager and there was talk about possibly doing something together again. When I got the news...it was so sad. He was such a special person. He always seemed so happy and he always made the fans feel so good. What a voice! I hope he's forming another band in heaven. What a loss for the metal community. I feel bad that I didn't know he had something going on. We stayed in contact through our manager. I'm devastated.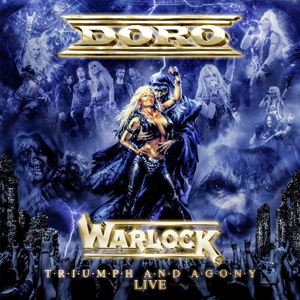 KNAC.COM: You have some loyal people in your band. I want to ask you specifically about JOHNNY DEE. He's been there for a while and he's a fantastic drummer.
PESCH: He's been with me since 1993! He and Nick Douglas, our bass player, have been in the band since 1990.
KNAC.COM: You've got a tight rhythm section for sure.
PESCH: I guess we get along great?! [laughs] Johnny is a great guy and we're really great friends. We play great music. We live together great. It's just like having family...your brothers are there with you. I always wanted to have brothers and sisters. I'm an only child. This is a way I can have brothers. They watch out for me and I watch out for them! We understand each other without words. Onstage we don't have to even look at each other, we just know what to do. I loved Johnny when he was in BRITNY FOX. We had a drummer at the time, we went on tour and he wasn't cut out for touring. He missed his family and needed to leave the band. I was scared because we didn't have a drummer! Someone said, "Well, what do you think about JOHNNY DEE? Let's look at him." I said, "JOHNNY DEE?! I remember him from the "Girlschool" video." I flew to Philadelphia, I met with him and I knew he was the drummer for this band. We did one rehearsal, but we didn't even need to do it. In talking with him he was the drummer for the band.