Canadian rocker Danko Jones has been doing his own thing for a quarter of a century. Since forming in 1996, the band has released nine albums, performed countless international tours and shared bills with legendary bands such as MOTORHEAD, GUNS Ní ROSES and THE ROLLING STONES.

On the bandís 10th full-length album, Power Trio (released on Aug. 27 via Sonic Unyon), the trio of Jones (vocals/guitar), John ďJCĒ Calabrese (bass) and Rich Knox (drums), slam home 11 straightforward bangers with a groove-based, dirty garage/punk rock flavor, delivered with the bandís tried and true working man ethos.

During a recent Zoom chat from his Toronto home, Mr. Jones spoke with KNAC.COM about his new album, the bandís musical chemistry and work ethic, its perseverance and more.

KNAC.COM: Youíve been rocking out for 25 years as a band. What do you attribute to this longevity?

JONES: Basically, there was no Plan B. So thereís nothing else I can do! Weíve been doing this for 25 years ó JC and I ó so after 25 years, all the skills you had 25 years ago kind of fade away. This is all we can do. I think because we donít have a record company giving us $5 million dollars to fund everything that we do, we got to just do it.

KNAC.COM: It seems like your demeanor is authentic and real and that you have a passion for what you do. Does your upbringing have anything to do with your work ethic?

JONES: Maybe. Thatís for my therapist to decide. I think itís just a sink or swim situation. Weíve been thrown out into the water for so long and like I said, everything we used to know how to do is faded and this is all we know how to do. In order to pay the rent and bills, you got to keep working. Especially these days when streaming has sucked the life out of the music industry to the point where bands can really only really chisel out an income stream from touring, so itís thrown us out on the road. I personally donít like touring. I love playing live and I love getting on stage for that hour and a half, sometimes half an hour. But everything offstage I donít like. But thatís how we have to do it because thatís how we can exist as a band. From the outside, it might look like we have a strong work ethic ó and I think there is one ó but I think it was not so much from growing up or from my childhood, it was more the realization that if you want to do this, thereís no other choice but to buckle down and work. When we first started 25 years ago, I wanted to see the world. I never had ventured outside our country very much, so it was a chance for me to do it in a form or scene that I love, which is rock music. But we could only do that if we kept our eyes on the prize.
KNAC.COM: Of course the pandemic affected the whole music industry, but how much of a hit did you take ó whether it be personal, financially, emotionally ó being cooped up at home and not being able to tour?
JONES: I think a lot of people in entertainment took a bigger hit than most during the pandemic because thatís how we make money and live is by being around people. Even though other people were temporarily out of work, eventually they were able to work form home or get back to their jobs in a sterile, controlled environment. But the paycheck was still coming in. We had five tours cancelled in 2020 and all of our festival shows were of course cancelled. But what was the scariest was not knowing if we would be able to do it again. A two-to-five year absence would mean that the band is done. It was an anxiety-filled 2020. I just wanted to curl into a ball and go under the covers and wait till it was over. I donít know if I took a mental health hit going through that, we donít know, I guess weíll all have to wait a few years on that. It took itís toll. Putting out this record was the only positive creative thing that I did. I didnít want to do it, but JC forced my hand because he basically said if we donít have a record when this thing is done, then weíre done. But I found that it was a nice bit of release from the constant worry and I was able to take my mind off the pandemic. Then lo and behold we have enough songs to make an album. It did help me mentally making this album.
KNAC.COM: You wrote the new record during lockdown and were sending files back and forth while social distancing. Was this process more difficult compared to your usual way of making an album?
JONES: We are an organic band in that way, we only write records in a room together bashing it out until something sparks, but thatís all we know. The pandemic forced us to make this record away from each other. I personally did not want to get into a room with them and jam, I was so scared and filled with fear that I would transfer it to a family member. We very cautiously tried to do this file sending thing, which weíve never done before. We were writing the record before the pandemic, so we had a few ideas that actually made the record. The first song that we wrote from beginning to end was during the lockdown. That song was ďBlue Jean Denim JumpsuitĒ, I think itís track 6 on the record. That was the song for me that kept us moving forward on the album. I credit that song for giving me hope that we could actually do this. From there, we just kept going.
KNAC.COM: Album closer, the AC/DC-esque ďStart The ShowĒ is such a great end to the record. Was it difficult sequencing the track order?
JONES: JC sequences the album, but we did have a talk about the album. I think there was a sequence where ďStart The ShowĒ was the lead-off track and it was just too on the nose, too predictable to have it as the first song. It made more sense to put it as the last song because you would listen to the album and that would be the end and then youíd think, ok lets go to the live show kind of thing. Thatís where it kind of leads to. The song was written from beginning to end during the pandemic. I just had the riff and JC put that whole song together. He could hear that AC/DC in it and he actually references the For Those About to Rock album. The lyrics for ďStart The ShowĒ, generally speaking during that summer of 2020 is when I wrote all the lyrics for this album and that was the only thing on my mind; the desire to play live and see live shows. So, it had to eventually make it on the song.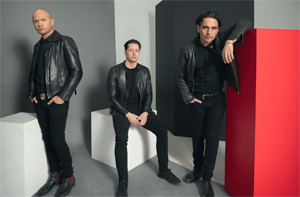 KNAC.COM: MOTORHEADís Phil Campbell does the solo on ďStart The ShowĒ. I know you have a great history with MOTORHEAD, but how did you ask him to play on it?
JONES: It was the only song that I didnít have a guitar solo for it going into the studio to record it, so that left an empty hole that I had to figure out. It also sparked the discussion of maybe we should get a guest soloist. We hadnít had someone guest on our albums since í06 with John Garcia (ex-KYUSS) on our album Sleep Is The Enemy, he sang on a song called ďInvisibleĒ. The album title was already figured out before the recording, which was Power Trio. So JC said 'why donít we get Phil Campbell because he was the guitarist in the most powerful power trio that ever wasÖ MOTORHEAD'. We reached out to Phil and he said yes and just threw down that solo. Itís kind of an ode to MOTORHEAD, too.
KNAC.COM: The production on the record is very clear but with just enough grit. What were you going for with the overall sound or tone? It doesnít sound like thereís too much studio trickery or overdubs.
JONES: Eric Ratz produced this album and he also mixed it. He did Fire Music and Wild Cat. He also engineered our very first single that got played on Canadian radio and Much Music on the video station. Weíve known Eric for many years. First of all, to be a good producer, you have to be a good hang, to hang with the band. You have to get along with all kinds of personalities in any band, which Eric can. Heís so good at getting a good guitar sound. The only way I gauge a good guitar sound is by the sound Iíve been making since I was a little kid when I was trying to make a sound of an electric guitar by playing air guitar. That sound is what I chase for every album till this day. So if the guitar sound sounds like that, then I know we got it. Eric has a really good knack at getting it and he has some really good studio stuff that he uses.
KNAC.COM: With your long friendship with JC, whatís your camaraderie and musical chemistry like? It seems like you trust each other a lot, but whatís your friendship based on?
JONES: We started the band together and itís a partnership thatís been going on for 25 years. I personally think weíre very different people. If we were a brain; heís left and Iím right. He takes care of all the administrative stuff; he was the defacto manger for years. He still has a huge role in the management of the band. And when it comes to the creative aspect of the band, heís really good at arranging the songs and putting them in the right place and getting them ready for the studio. Itís very simplified; I would be the right side. I come up with most of the riffs. But for the most part thatís how it goes, Iíd say 80% of the time.
KNAC.COM: However, youíve been through a lot of drummers, but Rich has been behind the kit since 2013 ó the longest of any drummer in the band. What has made him work out for this long?
JONES: First of all, you have to be able to hang with us; be a nice guy and not be a dick. Heís just a nice dude, a down to earth guy ó not pretentious or arrogant. I donít know why itís so hard to ask for that in rock music but it is! (laughs) I donít want to talk bad about past drummers because they donít have a platform like I do to defend themselves. All I can say in a roundabout way is that Rich is a nice, normal dude. Then, heís the most schooled drummer weíve ever had and the best drummer with the most finesses and the best touch. Heís the total package and I just wish we had him from the beginning and then we wouldnít have had to go through all these drummers. But it took all these drummers to find him and now that we have, things are great. Music attracts odd personalities; entertainment does. And sometimes it festers and becomes an issue. You have to keep yourself in check a lot of the times, but some people go unchecked. Thatís when problems arise. So, weíve been lucky with Rich.
KNAC.COM: Do you feel your band still doesnít get enough love in the US? I feel that youíre still very underrated. How do you feel?
JONES: I feel that, but itís also because the US is 50 countries, really. Itís not 50 states, itís not one country. If you are a band trying to break America, itís 50 countries you have to break. Even though you can be well known in lets say, Arizona, Massachusetts doesnít know who you are. Or vise versa; you could be great in New York state, but nobody in California knows who you are. Especially if youíre a foreign band. Then you add onto the fact that we donít have an American domestic record label backing us up with a lot of money. People donít realize that some of the bands that you know about are only because the record label pumps so much money that eventually they got in front of your face. So, thereís all kinds of things like that.
KNAC.COM: I donít think the band has anything planned live for the rest of this year but you have a European tour planned in 2022. However, thereís two upcoming live streams on August 28th. These shows will be streamed live from Bridgeworks in Hamilton, Ontario?
JONES: Yes, thereís two sets. Weíll be doing one for Europe and one for North America. We did one at Bridgeworks, which is a venue. The only people who will be there will be the crew, working on the live stream, and our crew for just us. We did one there in March; we did two live streams over two days, and weíre going to do two live streams in one day this time. Itíll be the most work weíve done in 18 months!