Injected Exclusive: Just What The Doctor Ordered

By Keith McDonald, Contributor
Saturday, February 9, 2002 @ 8:12 AM

| | | |
| --- | --- | --- |
| | | Injected Frontman Danny Grady |
Not too many people outside of Atlanta have heard of the band Injected - just yet. The upstart band have just released their debut album Burn It Black via Island-Def Jam. Injected started out playing any little hole in the wall that would allow them to play their brand of heavy material with it's hint of surging rhythms and strong melodies. The band, consisting of Danny Grady on vocals, Jade Lemons, guitar, Steve Slovisky, bass and drummer Chris Wojtal recorded their debut at the legendary Bearsville Studios in upstate New York with Marvelous 3's Butch Walker at the helm. They combined Butch's pop side with the band's metal side creating a tightly pressed package of songs that touch on society's ills including alcohol addiction and depression and finds itself filler-free. I had the opportunity to speak with lead singer Danny Grady who filled me in on what's been going on.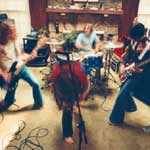 KNAC.COM: How did the band start? How is the Atlanta scene these days?
DANNY: We were all high school friends who played in bands with and around each other for most of our lives. Everyone else got day jobs, so here we are...The Atlanta scene is great. There's not the pressure of being a New York or an L.A. so there's a lot of variety amongst the bands. Great clubs and venues, although you do have to work hard to get a following, just like any other city.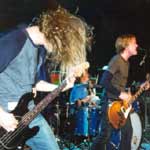 KNAC.COM: How did you land at Island/Def Jam? It seems IDJ is one of a few labels that actually promote the artists they sign. Do you agree?
DANNY: Island Def Jam just had a different dynamic than any other label we talked to. It was obvious the first day we visited them. You just felt that they had something going on that other labels didn't. This was before they broke Sum 41, Saliva and Hi-Fi, so they were in essence a young, unproven excited label and we were a young, unproven excited band. We definitely identified with that, and several months later I'm proud to say we're on Island.

KNAC.COM: What are your tour plans?
DANNY: As much as possible. No one really knows who we are outside the industry. And those people get free CDs anyway, so…
KNAC.COM: What single is currently at radio? How has it done so far? Will there be a video?
DANNY: The first single is "Faithless." We've done a video for it, which we wrote the treatment for, another cool thing about the label. They let us pick that up and run with it.



"I like being in a RAWK band, but I want the songs to have a certain humanity and truth to them. Otherwise they're just words on a page."

KNAC.COM: Your songs touch a number of social issues (alcohol, depression, etc.). How did this come about?
DANNY: I just like writing about anything interesting or compelling. Those issues, by nature, are very compelling from a human perspective. Of course, I like being in a RAWK band, but I want the songs to have a certain humanity and truth to them. Otherwise they're just words on a page.

KNAC.COM: Where does the songwriting come from? Who handles it?
DANNY: I write all the lyrics and melodies, and the band fleshes out the music. Pretty standard. The music itself is definitely more of a band effort lately, which has been fun. Sometimes Jade or Steve will come up with an idea, and I'll write a song around it, but lately it's been a nice little collective.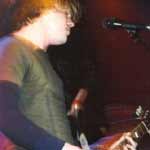 KNAC.COM: Who are your influences?
DANNY: I would say that we all love 70s music in general, everything from the arena rock to AM gold. Of course we loved the early '90s. Other than that we're typical musicians, anything with a rhythm or a melody we'll give a chance. And if it's good, it definitely gets under our skin.

KNAC.COM: Tell me about the recording process of your album (producer, etc.)
DANNY: We recorded it with our good friend Butch Walker at the helm. Butch is a great songwriter, so we almost always had the same goal for a song. We used the studios in Bearsville (amazing) and Butch's studio in Atlanta. We pretty much stuck to using hometown people on the record as engineers and techs and that made it incredibly fun. Mixing was done by Rich Costey, who definitely added a lot of his own sound to it. I really couldn't be happier with it.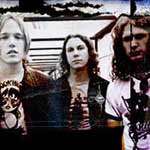 KNAC.COM: Do you find it harder for bands in your genre to break into the mainstream?
DANNY: I think it's hard for virtually any band to break into the mainstream if you're doing your own thing. The style we play isn't tied to any current trend or commercially proven sound, so of course there's going to be some difficulty converting people. Oh well.

KNAC.COM: What's the future for Injected?
DANNY: Tour, tour, tour, tour….


Please log in to view RANTS