You Think You're Tuff: An Exclusive Interview With TUFF And METAL SLUDGE's STEVIE RACHELLE

By Ruben Mosqueda, Contributor
Tuesday, July 13, 2021 @ 6:22 AM

| | | |
| --- | --- | --- |
| | | "Getting on MTV is like getting on every radio station in the country at one time on steroids! It changed my life in a lot of ways, not in the way that it changed the lives of METALLICA or BON JOVI, but it was like hitting the lottery in a way." |
"I got a call from Steve Brown [TRIXTER] when he heard the remastered record. He thought it sounded great! I hold a guy's opinion like that in really high regard. He knows his stuff and someone whose opinion I really respect," says TUFF frontman Stevie Rachelle. Stevie Rachelle and TUFF are celebrating the 30th anniversary of the band's debut album What Comes Around Goes Around. He has remastered and released the album on his own RLS Records imprint. You also know Rachelle as the CEO and mastermind behind METAL SLUDGE, which gained notoriety in the late 90s. KNAC.COM caught up with Rachelle to talk in-depth on the process of obtaining What Comes Around Goes Around from Rhino Entertainment, working with Warner Music Group and the Atlantic Recording Corporation. We had to include a little something from someone who was also instrumental in the making of this album. "One of my earliest records just got re-released, TUFF from 1991. The singer Stevie Rachelle was probably the hardest working guy in show business back then, flyering The Sunset Strip and hustling until he got the band a deal with Atlantic [Records]" - TUFF producer Howard Benson via his Facebook page.

KNAC.COM: Walk me through on how you obtained the 'masters' for What Comes Around Goes Around? I think there's this kind of myth that after 30-35 years the master tapes get reverted to the recording artist.

RACHELLE: As far as that number 30 years or 35 years, the tapes get reverted back to the owners...honestly, I don't even know how that works. I don't know what level of 'truth' any of that holds. What I do know is that I have seen bands that are a little on the more 'obscure' side getting their albums reissued. I'll give an example, the label Rock Candy [Records] have done a lot of reissues of not always big bands. They did some DIRTY LOOKS records.

KNAC.COM: One that comes to mind that they reissued is CATS IN BOOTS who were here and gone, relatively quickly in the United States.

RACHELLE: Right! That's one, but with respect, they were on the very bottom of the deep end. CATS IN BOOTS isn't a band that got a lot of press or got a lot of mileage. There have been a number of these 'boutique' labels that have reissued some of these records. In recent years, as we have seen them pop up on Blabbermouth and sites like that, I saw that KIX got the rights back to Blow My Fuse and remixed and remastered it and released a 30th anniversary edition. They called Re-Fused or Re-Lit and then they did that with Midnite Dynamite too.
They were also an Atlantic band, they also weren't a band that sold millions of units. I reached out to [producer] Beau Hill first. We never worked with Beau, but I have met him over the years. I looked in my phone and I had his number! I called him and asked him how he got involved with that. He said that the band asked him, but the band did everything. So through some of my other contacts I got in touch with KIX. I found out that [bassist] Mark [Schenker], who is technically the 'new guy', he has been in the band for like 20 years now. I spoke with Mark on how they were able to get those master tapes for their Atlantic albums. So, Mark gave me some names and they were names that I had received from Steve Brown from TRIXTER. Steve and I were talking a while back about him trying to get back some of the TRIXTER albums and I was aware that this process was a lot of piece work! [laughs] It was a lot of jumping through hoops! I would email this person from Rhino [Records], this person from WEA [Warner/Elektra/Atlantic], then this person from Warner Music, and this person from Atlantic.
I eventually got a reply and was directed to this person at the audio department and then this person in the catalog department. One email turned to two, then to ten, to twelve, then from two people, to eight people to a dozen people! Next thing you know we've been corresponding for two months, then four, then six and then eight! Eventually, I got it approved! I had to answer the questions, who are you, what do you want to do with the recording? I let them know that I was the singer in the band and that I'm still the singer in the band. I let them know that we are still active, I let them know that I have also released many albums independently on my imprint RLS Records. I wanted them to know that I had some experience in this. I was given some forms that I needed to fill out. I sent them and I waited. It's not Atlantic Records though, it's Rhino Entertainment and Warner Music Group. They control the Atlantic Records catalog. They're not sitting around thinking about us. They'll reissue something like TWISTED SISTER's Stay Hungry because it's a platinum seller like they did with the SKID ROW debut album. They remastered it and added bonus live tracks from their club days. They're not waiting around to release TUFF music! So instead of just having stuff like us sitting around they worked out a way to have us license it. They came up with this formula, they let me know how it worked and the process that I had to follow. Then I got to work. The CDs are finished and in people's hands, including yours! We have vinyl coming soon.
KNAC.COM: I have mentioned to you how I've played this in the car at home and even streamed it. You didn't do what a lot of people do when they reissue albums. You didn't get into 'brickwalling' or the 'loudness war', which often happens.
RACHELLE: No, I didn't. Thank you for the compliments! I have a lot of very good compliments on the end result of What Comes Around Goes Around. These are people that got a chance to hear the audio files before the physical album was released the consensus was that it sounds incredible! They have since seen the physical product and they think that it really looks good too! Sometimes, when you get a reissue you open the CD up and get an insert with the cover art and some brief liners and that's it. We expanded our booklet from twelve pages to sixteen on the reissue. The original booklet issued by Atlantic was white pages with black text, outside of the cover. It had the lyrics and the 'thank yous'. I didn't think it was organized all that well to tell you the truth! So much more could have been done with it. So we went the extra mile on this new package, individual shots of the members, studio shots, and a lot of great additional content.
Then there's the sound. People want to know what exactly we did to it! [laughs] Listen, I'm the first to admit, I'm not an engineer. I'm not a studio cat. I'm not a mixer. I have worked with people who do great work, including Paul Tavenner who has basically mastered everything that I have put out since 1994. He's got an insane number of credits to his name. He's worked with rock, jazz, R&B and other genres across the board. He's one of those guys that you start talking with about music and then you think you're talking to someone that works for NASA! [laughs] He's just this very intelligent, musical guru kind of guy! [laughs] He knows his stuff when it comes to sequencing and mastering. Your comment about it being a 'wall of sound' was people's concern. We didn't want that. We didn't want it to just blast through the speakers like that. He did an incredible job, everythings separated and I think it came out great.
KNAC.COM: I think the diehards were the ones concerned because if you get in the 'make it louder' race, sure it will be loud but if you dial up the volume, you get some loss and it just sounds like shit.
RACHELLE: That's it!
KNAC.COM: We know about the additional content within the booklet and the sonic improvements of the album. Was there additional material laying around? Why not include it? Did you consider including some demos to this package?
RACHELLE: What made the record is all we had. There wasn't anything more. As far as demos? It crossed my mind for a split second. We didn't do that because RLS Records has released [TUFF] The Glam Years that not only includes demos with me but also Jim Gillete [NITRO]. We released the demos and we've done the obscure track here and there, live tracks, b-sides and stuff like that. We have dug everything up! There's nothing left! This record as high quality as it is, it was on a major label budget with Howard Benson producing [BANG TANGO, P.O.D., PAPA ROACH] and Sir Arthur Payson mixing the album...I didn't want to throw on anything that didn't have anything to do with this record. We went into this record, we did pre-production, we recorded ten songs and it was done. The demos that we had done previously for songs like "Good Guys Wear Black" and "Forever Yours" which made the record. Those demos were done well before that. They weren't done as part of this process. In order to add additional content, then that becomes another part of the contract for the licensing of the album. Part of the agreement with Rhino was that I would release the album and it would be within the terms that I would not change anything on the cover. I could add content to the booklet, but the cover would remain as is. If I wanted to add additional studio songs or b-sides, they'd have to approve all of it. I could have done that, but I would have had to wait for the approval process. With as many hoops that I had to jump through, obstacles, turns and talk to this person for this, then that person for that, that would be adding another passenger to this, another flight and another set of luggage. It was just better to keep it as is, but remastered and an expanded booklet. I'm proud of the decision, so far it appears to have been a 'home run' with the fans.
KNAC.COM: What's the story behind how you wound up working with Howard Benson?
RACHELLE: We got signed to Atlantic. I was 24 at the time, [bassist] Todd [Chase] and [guitarist] George [DeSaint] were both 23 and [drummer] Michael [Lean] was 22. We were young, but we had been a band for a while, so we had experience. If you're signed to a major label under the guidance of a label like Atlantic Records, you have a lot of say in the beginning. So for example, when a band like WARRANT gets signed to a major label, they get into the studio then the producer thinks that they need to bring in another guitarist, because the guitarists aren't getting it done. Listen, I'm sure that WARRANT wasn't happy about it. I'm sure they thought 'fuck you Columbia! We're not bringing in anybody!' While they might have wanted to say that, you just don't do that. A guy like Beau Hill had already produced stuff like RATT which was multi platinum. He did WINGER which went platinum and he did KIX who had a gold album. So Beau had success behind him. WARRANT were the new kids on the block, so they had to fall in. When our manager said, "Well, they're sending over some producers that they want us to talk to". I was like who's 'they're", is it somebody at Atlantic? We were a small signing, so we weren't going to get a guy like Bob Rock or someone like that. We couldn't say that we wanted Michael Wagener or they could go fuck themselves! [laughs] It just wasn't going to happen like that. We had to just wait and see what they gave us. So we got George Tutko [707, ROD STEWART, THE LONDON QUIREBOYS] and Howard Benson. We met George, we knew his work and he was a nice enough guy and he left. Then Howard came in, I loved what he did with BANG TANGO, SWEET F.A. and PRETTY BOY FLOYD. He also worked with SOUTHGANG! He had worked with bands that were from our genre. They were starting out as 'baby bands', like us.
We loved Howard, he was nice, organized and very personable. Don't get me wrong, George was too, but I think Howard was giving us the vibe that he wanted to be the guy. He confirmed it later on when we met with him again. He said "I want to produce your record. I want to be the guy. Pick me". How could you say no to a guy that was laying it out like that and had made some records that we were familiar with? I remember we were in this shitty little studio in some warehouse in Burbank [California], when he said that. It really stood out to me and we went with Howard. We started pre-production and he said, "Every day Monday through Friday for the next two weeks we're going to be in the studio from noon to six working on songs". That's exactly what we did. I remember he would look at lyrics and he'd push me to improve and make them better. I remember once we had the songs we were told that we'd begin recording on December 26th, 1990. The producer is like the football coach in that he is able to determine what everyone excels at and what we need to work on. Howard was great at that, even then. We learned a lot from him. It's not at all surprising that he has gone on to production with some of the biggest bands in the rock and pop world today.
KNAC.COM: You mentioned Sir Artur Payson. Is he who I have heard that he is or is he a real legit guy? That's not Desmond Child using an assumed name is it?
RACHELLE: No, no, no. [laughs] No disrespect to 'delusional' fans, but whoever started that...they're full of shit! That's like 'bigfoot' shit! [laughs] Sir Arthur Payson IS a 'real' guy! He's a real fucking person. I sat in the same room with the guy! I thanked him for mixing our record. As you know he's got credit on other records. He's worked with RATT and BON JOVI and others.
KNAC.COM: I think where that started was because of that RATT record [Detonator]. That's the album where Desmond Child has a number of co-writes on there and Jon Bon Jovi made an appearance. That album was produced by Sir Arthur Payson and Desmond Child and there was some internet post that Desmond used Payson as his pseudonym from there forward. I was always curious about that and you'd be one that would tell it like it is.
RACHELLE: Just in knowing Sir Arthur or Arthur at the time...he was a 'nice' man, he was a 'mature' man, He was very quiet and wasn't some loud and brash guy. In the age of social media people always want to know where so and so is. I'll give you an example: Bobby Dall [POISON] hasn't ever been on social media, right? You can say the same for C.C. [Deville]. They are nowhere in sight as far as that is concerned. Bret Michaels? He's everywhere! I think he's on every social media platform out there. He's like, "Hey, I'm working out today or I'm throwing around the football. Hey, I'm on my way to a gig or I'm hanging out with the guys in WARRANT". Rikki Rockett is the same, he's out telling you about martial arts, he's out with his kids or riding his bike. Some people are like that, then there are people that are not on 'the grid'. When people aren't in the public eye people think they're in rehab or they're sick or something. I've heard just what you said about Sir Arthur Payson that it's either Desmond Child or Jon Bon Jovi's alter ego. Not the case. Sir Arthur Payson is a private, older guy that didn't like the spotlight. You could Google Desmond Child and find all sorts of photos of him with Cher and the other artists who he either produced or he wrote or co-wrote songs with. You'd be hard pressed to find any photos of Sir Arthur Payson because he's not that kind of guy. He was a 'behind the scenes' kind of guy and he wanted to keep it that way.
KNAC.COM: One thing that TUFF did get was a hit music video which made it onto Dial MTV. Tell me about how huge it was for TUFF to get the video for "I Hate Kissing You Goodbye" on that daily video countdown show.
RACHELLE: Getting on DIal MTV was a huge deal at the time. I think anyone over the age of 40, they'd remember that countdown show. It changed the way people live and it affected their lives. Man, everything from Michael Jackson videos to Madonna videos to George Michael videos to GUNS N' ROSES to NIRVANA...all of that stuff that was on MTV. We were selected to be on there. We didn't control that, we were a 'baby band' on Atlantic Records. We were thrilled to be on there with labelmates who all released records around the same time. I remember we were in there at the same time with SKID ROW who had released Slave To The Grind, RUSH who had released Roll The Bones, KIX had the Hotwire record and there was probably a FOREIGNER record out at the time, there was some BAD COMPANY record and some Phil Collins or GENESIS record out at the time. Then AC/DC had something out and then MR. BIG, which was a collection of all-stars all in one band. Also, SAIGON KICK was also out about that time too. Then WINGER!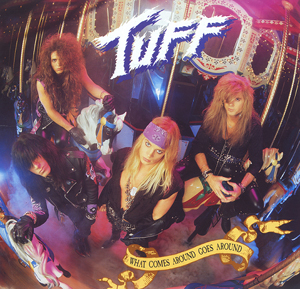 So there's like a dozen rock records right there. Our managers were pushing the buttons and contacting the publicity department and the radio department and asking them to get TUFF on a tour, on the radio and on MTV. Here we were fighting for everything we can, but at the end of the day it's a room of like five to ten people who were in control of MTV. At some point all the record labels that released a music video, didn't matter if it was a rock band or someone from another genre, you'd have to go through this 'board room' to get approval to get your video considered to be played for the week. At some point our video got put in the pile of videos to play on the channel. We get a phone call from management that MTV is adding our video. We were told, "MTV loves your song and they love your video and you're getting added into rotation next week". We were like, "Okay great". We were excited, but I don't think we grasped at how big of a deal that really was for us. If you're on a radio station in Columbus it's awesome. Getting played in Detroit is great or getting played on K-ROCK in L.A. or The Blaze in Chicago or getting on rotation in St. Louis or wherever you're at...Portland or Seattle. Getting on a radio station is just awesome. Getting on MTV is like getting on every radio station in the country at one time on steroids! You're not only hearing the song but now you're watching this mini-movie that goes along with the song. It was like having the 3-4 minute infomercial for your band and for your song. Now you have the viewers watching this going "Oh, my God, now I have to go to the store and buy that". It changed my life in a lot of ways, not in the way that it changed the lives of METALLICA or BON JOVI, but it was like hitting the lottery in a way. I'm grateful for getting a taste of that. I got a chance to tour in England, going overseas in the fall of 1991. We got a chance to play at the famous Astoria Theatre, which is no longer there but that was a highlight for us. It was incredible we played in front of this capacity crowd and our video was on MTV in England, we had multiple features in Kerrang! Magazine. We had already toured a lot across the United States, but getting on a plane, then flying across the Atlantic Ocean, where people drive on the other side of the streets and people call cigarettes 'fags' and they call French Fries 'chips'. So we're like 'chips', we'll have some then come to find that the 'chips' we know here are 'crisps' there. [laughs] It was surreal to get on stage and then watch people sing along to "Good Guys Wear Black". We weren't at home anymore, we were in another country, across the Atlantic Ocean.
Please log in to view RANTS