Band Photo Credit: Elijah Shark
Drummer Roger Earl, one of the founding members of FOGHAT got his start with SAVOY BROWN in 1968 before departing in 1970; he later surfaced with FOGHAT along with 'Lonesome' Dave Peverett on lead vocals and guitar, bassist Tony Stevens and guitarist Rod Price. Chances are you've heard FOGHAT's renditions of Willie Dixon's "I Just Wanna Make Love To You" or Chuck Berry's "Maybelline" at one point or another on classic rock radio; if not there's no doubt you've heard two of their original tracks, "Slow Ride" or "Fool For The City". There's no question, if you're a fan of classic radio you're quite familiar with the band's signature albums; 1972's Foghat, 1975's Fool For The City, and their live 1977 effort simply titled Live. FOGHAT have been releasing music consistently since their incarnation through the 80s, 90s and into the new millennium. While recent albums don't gain much fanfare by critics they are consistently good and are a welcome addition to any fan's collection.
Fast forward to 2021 where we find singer/guitarist Charlie Huhn sitting in for the late 'Lonesome' Dave Peverett; a role which Huhn has been in since 2000. Huhn was born in Portland, OR and later relocated to Michigan where he was raised. He landed on people's radar when he stepped into the vacancy left in Ted Nugent's band when singer/guitarist Derek St. Holmes departed. Huhn went on to be part of Nugent records Weekend Warriors ['78], State of Shock ['79], Scream, Dream ['80] and Intensities In Ten Cities, a live album issued in 1981. Huhn then moved on to other projects, amongst them German hard rock act VICTORY. He's worked with German guitar virtuoso AXEL RUDI PELL and a revamped HUMBLE PIE reformed by drummer Jerry Shirley.
Huhn has been on the road performing with FOGHAT across the country cranking out the hits alongside some new cuts. Huhn has recorded three studio albums with FOGHAT, Family Joules, Last Train Home and most recently 2016's Under The Influence. Huhn has also been a part of three live albums and a couple of DVDs. The most recent release is coming on July 16th, 2021. The set is a CD and a DVD recorded at Daryl's House and it's titled 8 Days On The Road.
Huhn shared the story of how he landed the gig in FOGHAT with KNAC.COM when we spoke with him on July 5th, 2021. "I was playing with HUMBLE PIE, I was in that band for about 12 years. We were opening for FOGHAT in Toledo [Ohio]. Well, as it turns out the band [FOGHAT] was watching us. I guess they were curious who was singing the Steve Marriott parts. That was the first time I saw them and they had the original band back together. So a few years later when Dave [Peverett] was on his deathbed he gave Roger the nod to move forward. Dave said 'get him in the band.' I was honored to have been asked and have been in the band since," says Huhn humbly.
One might ask with a band like FOGHAT that can tour behind all the classics and live on the band's legacy, why issue new music? Huhn explains, "We're not a legacy or novelty act. We're serious about our craft. We don't want to fall into that trap where we don't 'create' something new. I have to say that it's Roger that has kicked us in the ass. He's like "Okay it's time to start writing a new album". That helps get things going". FOGHAT presents a high energy, boogie rock show that is respectful to the band's past with a few current nuggets sprinkled throughout.
Says Huhn of the band's passion for making new records and performing new material: "This is my 21st year in the band. Can you believe that? I guess they're stuck with me now?"
KNAC.COM: This is your 21st year in the band. That's incredible. Does it seem like it's been that long?
HUHN: That's right! It doesn't seem like it's been that long. I think because this is so much fun. Roger in his British humor said recently, "Charlie, you've been in the band longer than the original band was together". [laughs]
KNAC.COM: You were in HUMBLE PIE right before the FOGHAT gig, right?
HUHN: That's right. I played with Jerry Shirley in HUMBLE PIE from 1988 to 2000. In 1998 we had a show in Toledo [Ohio] where we opened for FOGHAT. At that time it was the original line-up of the band. I had never seen the band before, so I looked forward to seeing them. When we were on stage Roger and Dave Peverett were watching and they were pleased with what they saw in my performance. When Dave was struck with cancer and he became terminally ill, he spoke to Roger and suggested that he ask me to sing in the band and continue forward. I just got lucky.
KNAC.COM: I was aware of your work with [Ted] Nugent, you mentioned HUMBLE PIE, VICTORY and ALEX RUDI PELL. Was landing the FOGHAT gig 'surreal' too because it sounds like you were a fan of the band and this came out of what seems nowhere.
HUHN: Yes, it was. In fact, I even had a dream about being at a FOGHAT concert, this dream was about 10-15 before I was in the band. I was walking up the aisle in what appeared to be an arena type show. I was walking straight up to the front and I looked at Rod Price and he looked and he pointed at me. I gave him the 'thumbs up', then I looked at Dave and he looked at me. It was almost like there was some kind of sanctioning that was going on. It was a really strange dream then, but then when I was in the band, it was 'surreal' like you said. I had a day job at the time and I heard that 'Lonesome' Dave had passed due to cancer. Then the next day I got a call from Roger asking about singing for FOGHAT.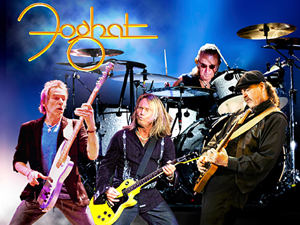 KNAC.COM: You have a new live album 8 Days On The Road, but it's not just an album or CD but also a DVD of your performance live from Daryl's House. Tell me about when the performance was recorded and why now is the right time to release this package.
HUHN: That club is great; it has video and audio recording capabilities. They have a great crew and it's such a great, 'intimate' club. It's not 'stuffy' like an expensive dinner club. It has this 'for the people' type of feel to it. The audience is right there in front of you. It wasn't a show where there's a huge security barrier between you and the band. It's in your face and that suits us well. The people there were really into it and we really fed off of that as musicians. Even though that was a 'small town' New York type venue, it was hitting on all cylinders for us.
KNAC.COM: I assume the pandemic postponed the release of 8 Days On The Road?
HUHN: It delayed it's release a little bit. We had edited it and mastered it and all of that during the pandemic. Initially, we had a tentative release date for earlier in the year. So as a result it's now due on July 16th. It was recorded at the tail end of 2019, so the performance is relatively recent. The band was firing on all cylinders since it was toward the end of our tour. I love it once we get working from muscle memory.
KNAC.COM: You did three studio albums with FOGHAT and I believe this would be the third live album you have done.
HUHN: Yeah! Roger likes to record! [laughs] I think that's wonderful!
KNAC.COM: I love the live records. It captures the energy of the band. They sound like true 'live' albums with no tinkering to them.
HUHN: That's exactly right. That's one of the things about Roger and the way he plays and the way the bass and drums...together sound like a locomotive! Then the guitars come in just to help enhance that. It's like a freight train coming down the tracks when Roger starts playing. It's just really cool.
KNAC.COM: Having seen it first hand, there's something about this older dude in the back having a blast. It puts a smile on your face.
HUHN: Oh sure! I know what you mean. When I first got into the band I told Bryan Bassett how much of an honor it was to play with him. He just brings so much into the band with his playing too. There's accuracy, energy and feeling to his playing. I'm so blessed because he's so damn good too! Playing with these guys helps me step up my game.
KNAC.COM: What's the one song in the set that you look to performing night after night?
HUHN: [long pause] I want to say "Fool For The City". I'm being honest with you, there's actually more like 8-9 songs that I look forward to performing every night. I really enjoy "Stone Blue". It's right at the top of my range and it's always a real challenge for me.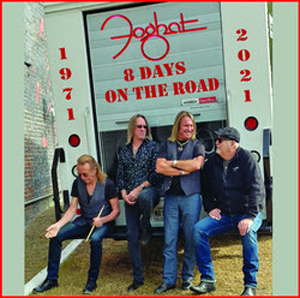 KNAC.COM: The last studio album was Under The Influence which was released in 2016. Will FOGHAT cut a new studio album? I ask because there are classic bands that have moved away from that in recent years.
HUHN: We love creativity. We're going to start working on new music in the next month or two. We all have ideas and we'll work on them and see what comes of it. We intend on continuing to record new music. As you said, our last album was Under The Influence and we also have Last Train Home and Family Joules before that. Roger can't wait to get us back in the studio which is great because we want to create new music too.
KNAC.COM: And you guys have some shows coming later in the year and more going into 2022. Must be wonderful coming out of this pandemic.
HUHN: It is. I call it coming out of 'experimental retirement'. [laughs] We're ready to get back out. I kept myself in shape by picking up my guitar a few times a week and keeping my skills sharpened up. It will be great to get back out there and get into a groove.
KNAC.COM: Last thing, you did quite a bit of recording with Ted Nugent. Care to share a story about your time playing with him?
HUHN: Yeah, I joined in the late 70s and I was in my late 20s at the time. So many great memories, from recording Weekend Warriors in Miami, we lived there for a couple of months. That album went platinum the first week that it came out! I have fond memories of the tour, then all the festival appearances in Europe and Japan. It was all like a dream. The three studio records that I did with him all went gold, so I was really proud about that. It was just all a wonderful experience. We still talk to this day. I think that was a great gig and springboard to launch my music career.