A Cloud's Silver Linings: An Exclusive Interview With ANTHRAX's CHARLIE BENANTE

By Charlie Steffens aka Gnarly Charlie, Writer/Photographer
Thursday, June 10, 2021 @ 12:42 AM

| | | |
| --- | --- | --- |
| | | "When this hit, we weren't getting any answers, there was so much uncertainty. Like, how much longer is this going to go on for? What are we doing about it? It was just a shitty time." |
Photo Credit: Jimmy Hubbard
It would be safe to say that the events of the last year served as impetus for artists in every medium to create. For ANTHRAX drummer Charlie Benante, this proved to be true, and it stretched him as a musician in a way he might not have had the pandemic not hit.
Benante recalls February 2020 when he said he was practically immobilized, stuck to the 24-hour news cycle on his TV and phone: "When this hit, we weren't getting any answers, there was so much uncertainty. Like, how much longer is this going to go on for? What are we doing about it? It was just a shitty time."
Benante's girlfriend, BUTCHER BABIES singer Carla Harvey, saw him becoming more depressed and offered what turned out to be the best medicine: get off the couch and do something creative, whether it was drumming or writing new music. Initially, that process was like taking baby steps for Benante. He set up his electronic drum kit and started playing along to the music he grew up listening to. Just doing that, he began to feel inspired, and as a result his depression lifted. "She really pushed me to do this more than anyone else. She really pushed me to do more artwork, to do more more music. So I really owe her a lot for this."
Energy begat energy and Benante's creative fire was lit. "I was busy, doing this and then doing artwork. I spent those Covid months indoors, but like just a mad professor." Figuring that his other musician friends were having the same struggles as he had been experiencing, Benante started asking around to see if anyone wanted to jam, quarantine style via computer, and maybe make a video. Thus, a 'quarantine jam series' of videos began to accumulate on Benante's YouTube channel that featured notable musicians from the rock and metal world, many of whom Benante has known for decades. Corey Taylor (SLIPKNOT), Ra Diaz (SUICIDAL TENDENCIES), Alex Skolnick (TESTAMENT), John 5 (ROB ZOMBIE), Mark Osegueda (DEATH ANGEL), along with fellow ANTHRAX bandmates Frank Bello, Scott Ian, and Jon Donais, as well as Harvey, are some of the talent on the star-studded roster.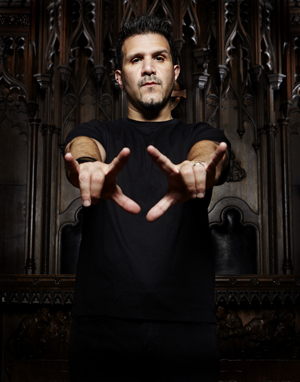 Silver Linings is Benante's new album, born out of those quarantine jam sessions. "The album is not a solo album," he insists. "It's basically a year in the life of what happened during this pandemic and how I just pushed myself and pushed some other people to be creative and create something that not only helped us but helped other people along the way. The people that that I chose--they are so grateful that they lent their talent to do it, because they wanted to have some fun, too, and break out. They brought their talent to it in a big way. And I think it shows on every song."
To break out and switch from their typical musical genres is what a few of Benante's guest vocalists were able to do. DEATH ANGEL's Mark Osegueda sang lead on two covers: U2's "City of Blinding Lights" and the MOTHER LOVE BONE classic "Chloe Dancer/Crown of Thorns". It's likely he always had it in him, but Silver Linings gave him the platform to shine differently than as he does performing his usual frontman duties.
"I always heard this quality in Mark's voice," says Benante. "I heard this kind of Bono-ish type of tone, and I knew he could fucking nail it. And with the two of them together, him and Frank (Bello) together, I knew that they could really do justice to the song. Maybe I pushed them out of their comfort zone. But I think the result was totally worth it."
Like Osegueda, perhaps the metal community will be turned on their ear when they hear Carla Harvey show her true mettle as a singer with Tom Petty and MASSIVE ATTACK covers.
In addition to drums and percussion, Benante plays guitar, bass, and piano on the album; the highly respected drummer really shows his facility as a musician who can play several instruments. "I had to teach myself how to play piano," he insists. "It taught me a lot. A lot of people just think of musicians as, 'Oh, he's just the drummer.' I'm more than a drummer," he affirms. "I write most of the songs for the band and I explore other things to only make it that much better. I've always tried to do that and explore and not just kind of paint myself into a corner. I always was open-minded about music because it's such a language that if I spoke in all different types of genres of music, then I would be reaching more people with it."
Sometimes you need to get a good old-fashioned ass-kicking from life to elicit change. Benante says that the tough times gave him the opportunity to evaluate things in a way he might not have done otherwise: "I would see people complaining a lot online about things. And I would always say, 'Man, you've been given this opportunity to… maybe change the course of things and structure your life in a different way and maybe teach yourself something new."
NOTE: Check out Benante Jams - Silver Linings on Benante's YouTube channel to see the videos of the songs on the album. There is a trove of other killer cover songs performed by the miniaturized super groups—each featuring Benante's drumming, of course. One example: Benante on drums, Ra Diaz on bass, and Alex Skolnick on guitar, playing blistering covers of "YYZ" and "La Villa Strangiato" by RUSH. Then there's the FEAR's punk rock classic, "I Don't Care About You" with FEAR featuring vocalist Lee Ving and original ANTHRAX bassist Dan Liker. Or the slamming cover of SOUNDGARDEN's "Rusty Cage" with AIC's William Duvall on vocals. So much great content.
TRACKLISTING FOR SILVER LININGS
"City of Blinding Lights"/U2 - Frank Bello, Mark Osegueda, Charlie Benante
"Chloe Dancer / Crown of Horns"/Mother Love Bone - Mark Menghi, Mark Osegueda, Charlie Benante
"Teardrop"/Massive Attack - Carla Harvey, Ra Diaz, Charlie Benante
"Run DMC"/Run DMC - DMC, Rob Caggiano, Ra Diaz, Charlie Benante
"Rhiannon"/Fleetwood Mac - Mark Menghi, Jennifer Cella, Randy McStine, Charlie Benante
"Yer So Bad"/Tom Petty - Carla Harvey, Ra Diaz, Charlie Benante
"Transylvania"/Iron Maiden - Snake Sabo, Frank Bello, Jon Donias, Charlie Benante
"Presto Vivace"/U.K. - Ra Diaz, Alex Skolnick, Jordan Rudess, Charlie Benante
"Bad Guy"/Billie Eilish - Ra Diaz, Charlie Benante
"Jimmy James"/The Beastie Boys - Ra Diaz, Charlie Benante
"All The Way"/KISS - PJ Farley, Joe McGinness, John 5, Charlie Benante
"Mr Speed"/KISS - Joe McGinness, PJ Farley, Charlie Benante
"Public Image"/Public Image - Hank Von Hell, Dave Brownsound, Jason "Cone" McCaslin, Charlie Benante
"Funny Vibe"/Living Color - Ra Diaz, Corey Glover, Henry Flury, Charlie Benante
Please log in to view RANTS